Investing
The COVID-19 correction
Five observations about the market reaction to COVID-19
---

Our Top Market Takeaways for the week ending February 28, 2020.
Update
What we know about COVID-19
This has been a tough week. Health and human safety are the most important things, and our thoughts are with those affected by the coronavirus outbreak. Our Chairman of Market and Investment Strategy, Michael Cembalest, published a piece earlier this week that walked through many of the facts surrounding COVID-19. Our key takeaways:
New cases inside of China are declining (this is good news), but new cases outside of China are rising (this is very concerning).
As of 6:30 a.m. EST, there are 83,704 confirmed cases of COVID-19 globally, 78,824 of which are in Mainland China (over 94%).
South Korea, Italy, Iran and Japan have the largest number of confirmed cases outside of China (3,488 total). There is also an outbreak on a cruise ship that has infected almost 700 individuals.
There are currently 60 confirmed cases in the United States, which are scattered around the country. For comparison, during the H1N1 pandemic in 2009, over 60 million Americans were infected, while the U.S. flu season, per the CDC, has seen over 29 million flu illnesses, over 280,000 hospitalizations, and over 16,000 deaths.
The mortality rate of the disease is highly dependent on factors such as age and pre-existing conditions. Based on statistics from China's Center for Disease Control, the overall mortality rate is somewhere between 2.2% to 3.5%, but the mortality rate for individuals younger than 60 is well below 2%. Ditto for those with no pre-existing conditions.
Markets, to us, don't seem to be pricing in the human toll from the virus. From a human perspective, everyone's individual health is of utmost importance, but from an economic and markets perspective, the percentages matter. So far, the percentages are small. What markets do seem to be pricing is that those percentages will rise meaningfully outside of China, and that policymakers will take dramatic steps to contain the virus (quarantines, travel bans, etc.). A side effect of those containment strategies is economic disruption. So from a market practitioner's standpoint, we have to stay focused on the potential economic toll of the outbreak, and what that means for capital markets.
Observations
Five observations about the market reaction
(1) When it finally happened, it happened fast
As of Thursday's close, the S&P 500 had fallen 12% from its recent peak. Any drop of 10% or more is typically referred to as a "correction." It only took six trading days for the index to fall from its peak into correction territory, which is the fastest ever. But weakness in markets didn't actually start with the stock market.
When headlines of coronavirus first started to appear globally on January 21, Brent crude (-21% since then) and gold (+4.5%) were the first to react. Equity markets actually remained resilient up until this week, when word came that cases of coronavirus had spiked outside of China.
Reports of cases in Italy precipitated a -14% decline in the FTSE MIB since its peak on February 19, and similar news in South Korea—a key player in global tech supply chains—catalyzed an -11.5% decline in the KOSPI since its February peak. Selling has also been broad-based. Only around 2.5% of stocks in the S&P 500 are above their 10-day moving averages—the lowest percentage since December 2018.
What is perhaps most important about the correction is the degree to which stocks outside of the United States were outperforming stocks in the United States. The MSCI World ex-USA Equity Index has lost -7.4% since last Wednesday versus a loss of -12% for U.S. stocks. Our explanation: Markets in the United States are not only dealing with the prospect of the disruption from the virus, but also the increasing likelihood that Bernie Sanders will win the Democratic nomination.
We are also watching the bond market very closely. The bellwether 10-year U.S. Treasury bond is now yielding less than 1.20% for the first time ever, signaling a substantial flight to quality. Markets are now pricing in three rate cuts from the Fed this year. This sounds a little high to us, but directionally seems right (we see two cuts at this point).
(2) Corrections are normal
While the speed of the decline has been noteworthy, we are compelled to offer some important perspective. Corrections are actually not unusual at all. In fact, over half of all calendar years since 1980 have suffered a 10% (or worse) market correction. And despite this, the S&P 500 has delivered a positive return to investors in a full 75% of all years.
Also worth noting is that, at the time of each correction, it always seems "different this time." We make no claim to know where the virus issue heads next. But we always squirm when we hear that "this time is different." To make the point, does anyone remember, say, 2010? From April to July, the S&P 500 plunged a whopping -16% (by the way, we aren't even counting this as a separate correction in the table below since the market hadn't yet recovered back to its pre-crisis high). But does anyone remember why? Anyone? Bueller?
At the time, it was pretty scary. First, there was a massive oil spill in the Gulf of Mexico. Then there was the infamous "Flash Crash," where the market fell 1,000 points for no reason. And finally, a "soft patch" in the economic data following the end of QE1 had people convinced we were going right back to the financial crisis. Of course, none of this would bear out, and the S&P went out to another 10 years of gains.
The table below shows the full history of corrections and bear markets (from prior peaks) since 1980. On average, corrections and bear markets take 171 days from peak to trough, with an average decline of 23.4%. It has taken an average of 269 days to get back to peak. The S&P 500 has never failed to regain a prior high.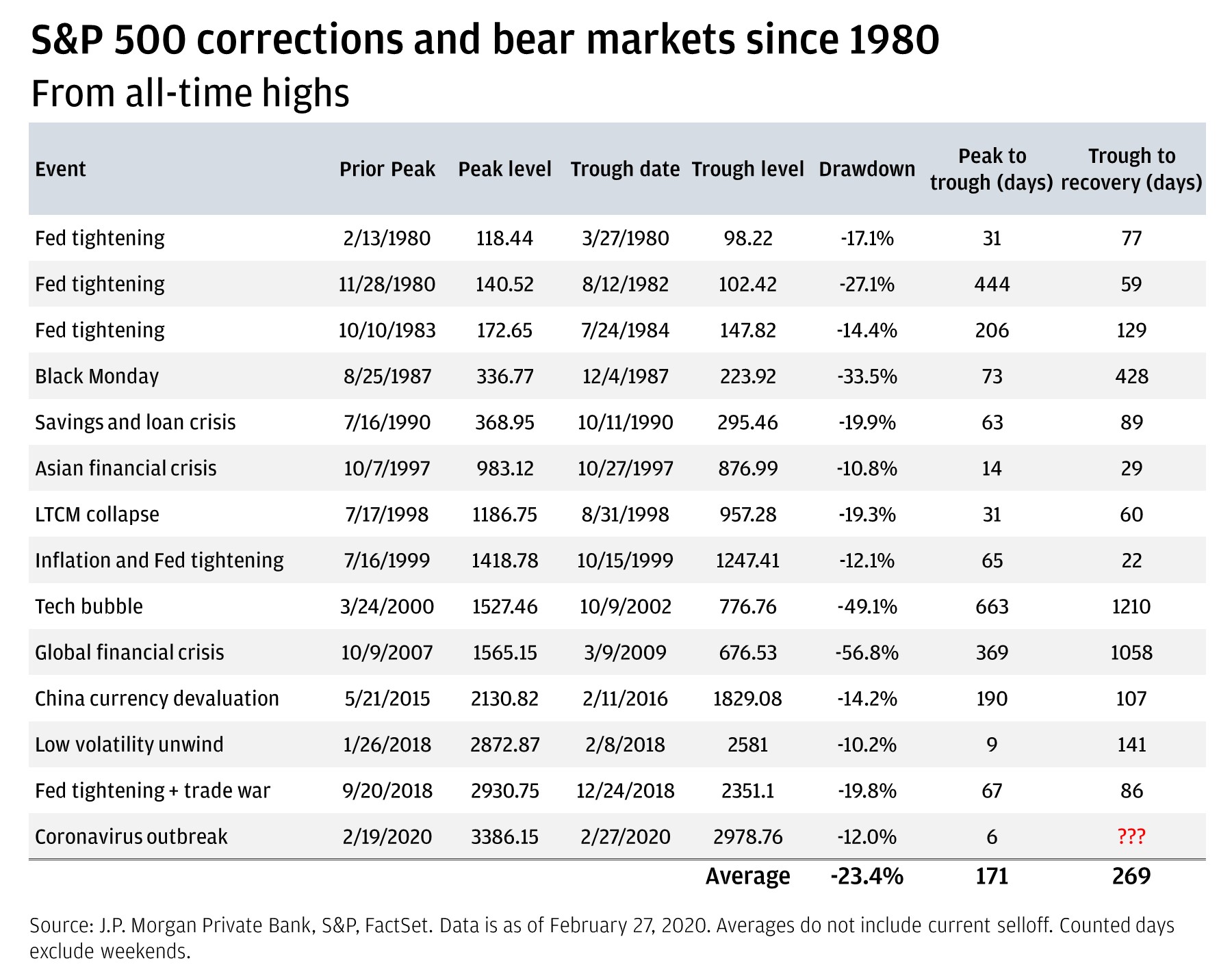 Chart shows the full history of corrections and bear markets (from prior peaks) since 1980, totaling in 14 events. The graphic shows the number of days from peak to trough, and then the number of days back to recovery. It shows that in all of the past events, the S&P 500 has never failed to regain a prior high.

(3) We diversify for exactly this reason
If we never thought an unexpected event could cause the market to fall, we would only ever advise you to own stocks. But we know that's not realistic. So we use bonds and other diversifiers to help smooth out the ride on the journey to achieving your financial goals. Like auto insurance, you never hope to actually need the protection, but you are sure glad you have it when something goes wrong.
More pointedly, we have actually taken many steps to reduce portfolio risk over the last 12–18 months, including reducing equity overweights, eliminating corporate high yield bonds and adding to core bonds. Given the performance of bonds, gold and other diversifiers during this period of volatility, we are pleased with how portfolios are performing and positioned.
To make the point more clearly, the chart below shows the basic historical performance of the S&P during downturns versus a hypothetical portfolio of 60% developed world stocks and 40% U.S. bonds.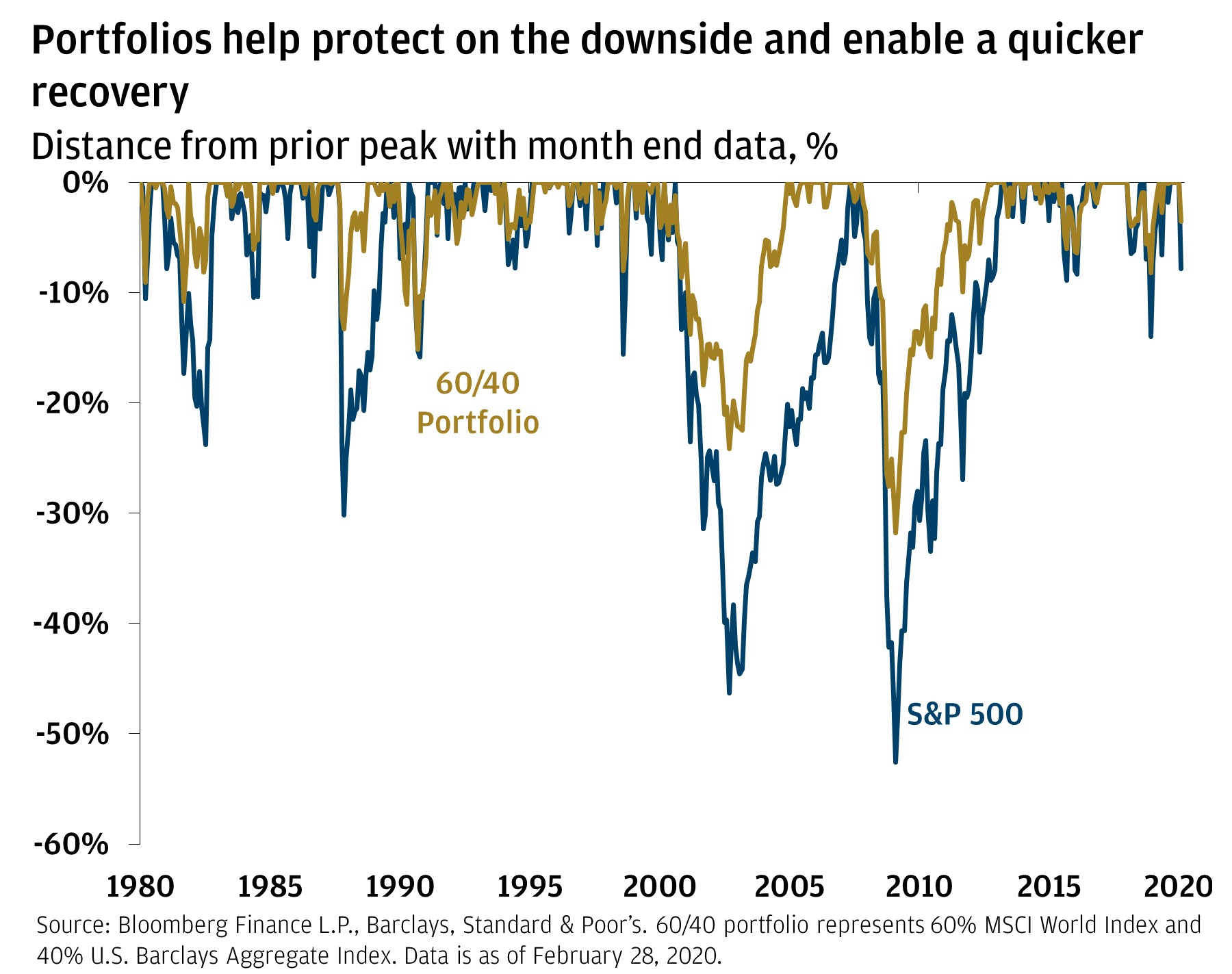 Chart shows the performance from 1980 through 2020 for S&P 500 historical performance versus a hypothetical portfolio of 60% developed world stocks and 40% U.S. bonds.

(4) There may be a bright spot or two
To be sure, there are still plenty of clouds, including U.S. bond yields below 1.2% for the first time ever, weaker job openings data, and softness in some measures of activity, such as freight volumes.
But as unnerving as the recent price action may be, we want to highlight one or two potential bright spots. The CSI 300 (onshore Chinese equities), has already bounced +7% from its February 3 lows. It could be because the spread of new virus cases has peaked in China and/or that China is set to inject stimulus. Meanwhile, gold, which is viewed as a safe haven, has pulled back a smidge from its recent highs on Monday. Economic data has basically been solid, with U.S. new home sales reaching a post-financial crisis high, and European economic sentiment improving.
We should also remember that the U.S. economy is underpinned by a healthy consumer. Debt service is at a 40-year low, unemployment is at a 50-year low, borrowing costs are at record lows, and gas prices and inflation are low.
(5) What to do about all of this?
First, we feel the portfolios we manage are built to weather these kinds of storms. Second, we wish to remind you of the three themes we have been focused on since last year. They are [1] Finding Growth in a Low-Growth World, [2] Investing through Uncertainty and [3] Harvesting Yield.
Nothing about the COVID-19 outbreak causes us to question these themes. The thesis behind the secular growth areas that we have identified (digital transformation, healthcare innovation and sustainability) is still very much intact. The virus also presents the kind of uncertainty that long-term investors constantly have to deal with. We are focused on strategies that can help diversify portfolios by accessing uncorrelated return streams. As for yield, well, U.S. 10-year Treasury bonds are at all-time lows. Income-focused investors should expand their toolkits to include things like real estate or high-quality, dividend-paying equities.
Overall, we prefer stocks over bonds. Right now, we think the S&P 500 will be able to earn about $174 per share. That implies a forward price-to-earnings multiple of 16.9, which is still above average. However, we think investors should also recognize the valuations relative to fixed income. Current P/E multiples imply an earnings yield of around 5.9%, while the U.S. 10-year Treasury yield is 1.16%. This means that equity investors are earning a 4.8% premium over Treasury bonds.
What investors need to understand is that equity volatility is the price they pay for capital appreciation over the long term. Volatile environments can serve as a clear point to reassess whether or not your portfolio is tailored for not only your risk tolerance, but also your risk capacity and the level of risk that's required to achieve your goals. Over all else, investors should make sure that their portfolios are built to weather storms like these, and reap the rewards of investing through uncertainty.
All market and economic data as of February 2020 and sourced from Bloomberg, FactSet and Gavekal unless otherwise stated.
We believe the information contained in this material to be reliable but do not warrant its accuracy or completeness. Opinions, estimates, and investment strategies and views expressed in this document constitute our judgment based on current market conditions and are subject to change without notice.
RISK CONSIDERATIONS
Past performance is not indicative of future results. You may not invest directly in an index.
The prices and rates of return are indicative, as they may vary over time based on market conditions.
Additional risk considerations exist for all strategies.
The information provided herein is not intended as a recommendation of or an offer or solicitation to purchase or sell any investment product or service.
Opinions expressed herein may differ from the opinions expressed by other areas of J.P. Morgan. This material should not be regarded as investment research or a J.P. Morgan investment research report.
Important Information
All companies referenced are shown for illustrative purposes only, and are not intended as a recommendation or endorsement by J.P. Morgan in this context.
All market and economic data as of February 2020 and sourced from Bloomberg, FactSet and Gavekal unless otherwise stated.
The information presented is not intended to be making value judgments on the preferred outcome of any government decision.
This material is for informational purposes only, and may inform you of certain products and services offered by
J.P. Morgan's wealth management businesses, part of JPMorgan Chase & Co. ("JPM"). Please read all Important Information.
The MSCI China Index captures large- and mid-cap representation across China H shares, B shares, Red chips, P chips and foreign listings (e.g., ADRs). With 459 constituents, the index covers about 85% of this China equity universe. Currently, the index also includes Large Cap A shares represented at 5% of their free float adjusted market capitalization.
The Standard and Poor's 500 Index is a capitalization-weighted index of 500 stocks. The index is designed to measure performance of the broad domestic economy through changes in the aggregate market value of 500 stocks representing all major industries. The index was developed with a base level of 10 for the 1941–43 base period.
The STOXX Europe 600 Index tracks 600 publicly traded companies based in one of 18 EU countries. The index includes small-cap, medium-cap and large-cap companies. The countries represented in the index are Austria, Belgium, Denmark, Finland, France, Germany, Greece, Holland, Iceland, Ireland, Italy, Luxembourg, Norway, Portugal, Spain, Sweden, Switzerland and the United Kingdom.
This material is for informational purposes only, and may inform you of certain products and services offered by
J.P. Morgan's wealth management businesses, part of JPMorgan Chase & Co. ("JPM"). Please read all Important Information.
GENERAL RISKS & CONSIDERATIONS
Any views, strategies or products discussed in this material may not be appropriate for all individuals and are subject to risks. Investors may get back less than they invested, and past performance is not a reliable indicator of future results. Asset allocation does not guarantee a profit or protect against loss. Nothing in this material should be relied upon in isolation for the purpose of making an investment decision. You are urged to consider carefully whether the services, products, asset classes (e.g., equities, fixed income, alternative investments, commodities, etc.) or strategies discussed are suitable to your needs. You must also consider the objectives, risks, charges, and expenses associated with an investment service, product or strategy prior to making an investment decision. For this and more complete information, including discussion of your goals/situation, contact your J.P. Morgan representative.
NON-RELIANCE
Certain information contained in this material is believed to be reliable; however, JPM does not represent or warrant its accuracy, reliability or completeness, or accept any liability for any loss or damage (whether direct or indirect) arising out of the use of all or any part of this material. No representation or warranty should be made with regard to any computations, graphs, tables, diagrams or commentary in this material, which are provided for illustration/reference purposes only. The views, opinions, estimates and strategies expressed in this material constitute our judgment based on current market conditions and are subject to change without notice. JPM assumes no duty to update any information in this material in the event that such information changes. Views, opinions, estimates and strategies expressed herein may differ from those expressed by other areas of JPM, views expressed for other purposes or in other contexts, and this material should not be regarded as a research report. Any projected results and risks are based solely on hypothetical examples cited, and actual results and risks will vary depending on specific circumstances. Forward-looking statements should not be considered as guarantees or predictions of future events.
Nothing in this document shall be construed as giving rise to any duty of care owed to, or advisory relationship with, you or any third party. Nothing in this document shall be regarded as an offer, solicitation, recommendation or advice (whether financial, accounting, legal, tax or other) given by J.P. Morgan and/or its officers or employees, irrespective of whether or not such communication was given at your request. J.P. Morgan and its affiliates and employees do not provide tax, legal or accounting advice. You should consult your own tax, legal and accounting advisors before engaging in any financial transactions.
IMPORTANT INFORMATION ABOUT YOUR INVESTMENTS AND POTENTIAL CONFLICTS OF INTEREST
Conflicts of interest will arise whenever JPMorgan Chase Bank, N.A. or any of its affiliates (together, "J.P. Morgan") have an actual or perceived economic or other incentive in its management of our clients' portfolios to act in a way that benefits J.P. Morgan. Conflicts will result, for example (to the extent the following activities are permitted in your account): (1) when J.P. Morgan invests in an investment product, such as a mutual fund, structured product, separately managed account or hedge fund issued or managed by JPMorgan Chase Bank, N.A. or an affiliate, such as J.P. Morgan Investment Management Inc.; (2) when a J.P. Morgan entity obtains services, including trade execution and trade clearing, from an affiliate; (3) when J.P. Morgan receives payment as a result of purchasing an investment product for a client's account; or (4) when J.P. Morgan receives payment for providing services (including shareholder servicing, recordkeeping or custody) with respect to investment products purchased for a client's portfolio. Other conflicts will result because of relationships that J.P. Morgan has with other clients or when J.P. Morgan acts for its own account.
Investment strategies are selected from both J.P. Morgan and third-party asset managers and are subject to a review process by our manager research teams. From this pool of strategies, our portfolio construction teams select those strategies we believe fit our asset allocation goals and forward-looking views in order to meet the portfolio's investment objective.
As a general matter, we prefer J.P. Morgan managed strategies. We expect the proportion of J.P. Morgan managed strategies will be high (in fact, up to 100 percent) in strategies such as cash and high-quality fixed income, subject to applicable law and any account-specific considerations.
While our internally managed strategies generally align well with our forward-looking views, and we are familiar with the investment processes as well as the risk and compliance philosophy of the firm, it is important to note that
J.P. Morgan receives more overall fees when internally managed strategies are included. We offer the option of choosing to exclude J.P. Morgan managed strategies (other than cash and liquidity products) in certain portfolios.
The Six Circles Funds are U.S.-registered mutual funds managed by J.P. Morgan and sub-advised by third parties. Although considered internally managed strategies, JPMC does not retain a fee for fund management or other fund services.
LEGAL ENTITY, BRAND & REGULATORY INFORMATION
In the United States, bank deposit accounts and related services, such as checking, savings and bank lending, are offered by JPMorgan Chase Bank, N.A. Member FDIC.
JPMorgan Chase Bank, N.A. and its affiliates (collectively "JPMCB") offer investment products, which may include bank-managed investment accounts and custody, as part of its trust and fiduciary services. Other investment products and services, such as brokerage and advisory accounts, are offered through J.P. Morgan Securities LLC ("JPMS"), a member of FINRA and SIPC. Annuities are made available through Chase Insurance Agency, Inc. (CIA), a licensed insurance agency, doing business as Chase Insurance Agency Services, Inc. in Florida. JPMCB, JPMS and CIA are affiliated companies under the common control of JPMorgan Chase & Co. Products not available in all states.
References to "J.P. Morgan" are to JPM, its subsidiaries and affiliates worldwide. "J.P. Morgan Private Bank" is the brand name for the private banking business conducted by JPM.
This material is intended for your personal use and should not be circulated to or used by any other person, or duplicated for nonpersonal use, without our permission. If you have any questions or no longer wish to receive these communications, please contact your J.P. Morgan representative.
© 2020 JPMorgan Chase & Co. All rights reserved.