Investing
How to increase the global food supply
---
A growing demand for more and better food, combined with supply constraints, are creating an immediate multi-billion-dollar opportunity for innovation and investment in agricultural technology.
The need is great and rising: Population growth and rising incomes are driving what is expected to be an exponential increase in global food requirements. As the world's population approaches 10 billion by 2050, demand for agricultural output will rise by roughly 50% from 2013 levels.1
Desire, too, is increasing. As people's income levels rise in many parts of the world, they want more and better quality food and more protein. Meat production is expected to double by 2050. Yet producing beef requires 20 times more land, and emits 20 times more greenhouse gases per unit of edible protein, than growing plants does. If cows were a country, they'd already be the third-largest greenhouse gas-emitting nation.2
In fact, sustainably meeting the demand for more food is one of the greatest challenges of this century.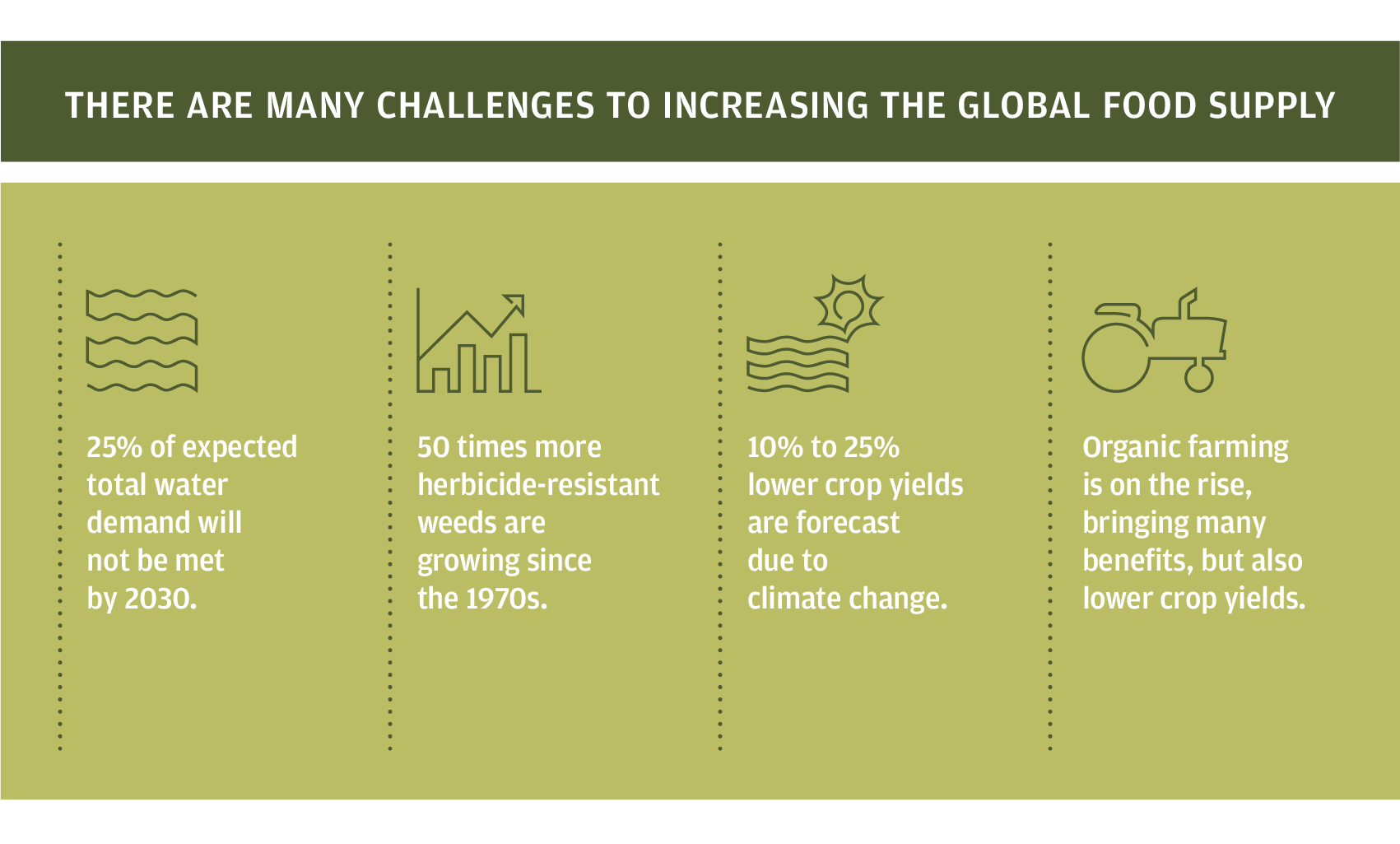 Innovating
Hundreds of companies—from start-ups to global market leaders—are already involved in the agricultural technology (ag tech) industry seeking to develop and pilot solutions for more efficient food production.

Many of their advances focus on increasing crop yields, using technologies from big data to bioscience. Others are creating new ways of producing food altogether, such as indoor vertical farms or plant-based alternatives to meat. For example:
Autonomous vehicles, robots and drones may transform the farm landscape, creating efficiencies by reducing the manual labor traditionally required.
Tractors and other vehicles may soon drive themselves while robots will weed and harvest fields. There is scope for even more efficiency if large farm equipment migrates to a sharing platform similar to the car-sharing platforms that consumers use.

Drones can produce 3D maps to help farmers plan their seed planting patterns, manage irrigation and nitrogen levels in the field, spot diseases, identify water needs and even remotely shoot pods containing seeds and nutrients into the soil. The market for drone-powered solutions is estimated to be $325 billion.3
Bioscience and biotechnology offer many innovations aimed at improving crop yields, whether through improved pest resistance and climate resilience or more efficient resource use.
The industry now includes:
Biologics—creating substances from biological material
Biopesticides—controlling pests with micro-organisms or natural products
Biostimulants—using agents to boost plants' nutrient intake
Crop protection—using chemicals and seed technology
Vertical and indoor farming—growing without sun or soil in a fully controlled environment
Next-generation fertilizers— using waste as an input, designed to regenerate and emit fewer greenhouse gases
Investing
Ag tech is rapidly developing, with opportunities to invest at many stages. The industry includes ag biotech, farm management software, farm robotics and equipment, bioenergy and biomaterials, novel farming, agribusiness marketplaces and midstream and innovative food.4
Traditionally, much of the investment in agriculture has been through internal research and development (R&D) efforts at agribusiness companies. But a survey of these executives showed that most would like internal R&D to account for only 40% of investment and would like half of investments to occur through external partnerships and mergers and acquisitions.5
Venture capital (VC) is one of the main channels for external investment in ag tech. The broad ag tech industry raised $16.9 billion in VC funding in 2018, a record-breaking year. Upstream ag tech opportunities (in areas that are closer to the farm rather than the consumer) grew by 44.3% from 2017 to 2018, reaching $6.9 billion invested in 809 deals.6
But investors also can find opportunities in the public markets. Many large cap public companies are involved in agrifood through specific divisions or by investing in start-up companies. These can include companies across industries as diverse as technology hardware and software, biotechnology, farm equipment, chemicals and agricultural products.
Be sure to speak with your J.P. Morgan Advisor how you might invest in ag tech—and the future of our world's food supply.
Footnotes:
1 "The Future of Food and Agriculture: Trends and Challenges, Food and Agriculture Organization of the United Nations, 2019.
2 Ibid 1; "What's after what's next? The upside of disruption: Megatrends shaping 2018 and beyond," EY, 2018.
3 "Clarity From Above: PwC Report on the Commercial Applications of Drone Technology," PwC, May 2016.
4 "Agfunder Agrifood Tech Funding Report: Year Review," AgFunder, 2018.
5 Decker Walker, Torsten Kurth, Jonathan Van Wyck and Melissa Tilney,"Lessons from the Frontlines of the Agtech Revolution," BCG, October 2016.
6 BCG, 2016.
Important Information
This material is for information purposes only, and may inform you of certain products and services offered by J.P. Morgan's wealth management businesses, part of JPMorgan Chase & Co. ("JPM"). Please read all Important Information.
GENERAL RISKS & CONSIDERATIONS
Any views, strategies or products discussed in this material may not be appropriate for all individuals and are subject to risks. Investors may get back less than they invested, and past performance is not a reliable indicator of future results. Asset allocation/diversification does not guarantee a profit or protect against loss. Nothing in this material should be relied upon in isolation for the purpose of making an investment decision. You are urged to consider carefully whether the services, products, asset classes (e.g. equities, fixed income, alternative investments, commodities, etc.) or strategies discussed are suitable to your needs. You must also consider the objectives, risks, charges, and expenses associated with an investment service, product or strategy prior to making an investment decision. For this and more complete information, including discussion of your goals/situation, contact your J.P. Morgan representative.

NON-RELIANCE
Certain information contained in this material is believed to be reliable; however, JPM does not represent or warrant its accuracy, reliability or completeness, or accept any liability for any loss or damage (whether direct or indirect) arising out of the use of all or any part of this material. No representation or warranty should be made with regard to any computations, graphs, tables, diagrams or commentary in this material, which are provided for illustration/reference purposes only. The views, opinions, estimates and strategies expressed in this material constitute our judgment based on current market conditions and are subject to change without notice. JPM assumes no duty to update any information in this material in the event that such information changes. Views, opinions, estimates and strategies expressed herein may differ from those expressed by other areas of JPM, views expressed for other purposes or in other contexts, and this material should not be regarded as a research report. Any projected results and risks are based solely on hypothetical examples cited, and actual results and risks will vary depending on specific circumstances. Forward-looking statements should not be considered as guarantees or predictions of future events.

Nothing in this document shall be construed as giving rise to any duty of care owed to, or advisory relationship with, you or any third party. Nothing in this document shall be regarded as an offer, solicitation, recommendation or advice (whether financial, accounting, legal, tax or other) given by J.P. Morgan and/or its officers or employees, irrespective of whether or not such communication was given at your request. J.P. Morgan and its affiliates and employees do not provide tax, legal or accounting advice. You should consult your own tax, legal and accounting advisors before engaging in any financial transactions.
IMPORTANT INFORMATION ABOUT YOUR INVESTMENTS AND POTENTIAL CONFLICTS OF INTEREST
Conflicts of interest will arise whenever JPMorgan Chase Bank, N.A. or any of its affiliates (together, "J.P. Morgan") have an actual or perceived economic or other incentive in its management of our clients' portfolios to act in a way that benefits J.P. Morgan. Conflicts will result, for example (to the extent the following activities are permitted in your account): (1) when J.P. Morgan invests in an investment product, such as a mutual fund, structured product, separately managed account or hedge fund issued or managed by JPMorgan Chase Bank, N.A. or an affiliate, such as J.P. Morgan Investment Management Inc.; (2) when a J.P. Morgan entity obtains services, including trade execution and trade clearing, from an affiliate; (3) when J.P. Morgan receives payment as a result of purchasing an investment product for a client's account; or (4) when J.P. Morgan receives payment for providing services (including shareholder servicing, recordkeeping or custody) with respect to investment products purchased for a client's portfolio. Other conflicts will result because of relationships that J.P. Morgan has with other clients or when J.P. Morgan acts for its own account.

Investment strategies are selected from both J.P. Morgan and third-party asset managers and are subject to a review process by our manager research teams. From this pool of strategies, our portfolio construction teams select those strategies we believe fit our asset allocation goals and forward looking views in order to meet the portfolio's investment objective.
As a general matter, we prefer J.P. Morgan managed strategies. We expect the proportion of J.P. Morgan managed strategies will be high (in fact, up to 100 percent) in strategies such as, for example, cash and high-quality fixed income, subject to applicable law and any account-specific considerations.
While our internally managed strategies generally align well with our forward-looking views, and we are familiar with the investment processes as well as the risk and compliance philosophy of the firm, it is important to note that J.P. Morgan receives more overall fees when internally managed strategies are included. We offer the option of choosing to exclude J.P. Morgan managed strategies (other than cash and liquidity products) in certain portfolios.
LEGAL ENTITY, BRAND & REGULATORY INFORMATION
In the United States, bank deposit accounts and related services, such as checking, savings and bank lending, are offered by JPMorgan Chase Bank, N.A. Member FDIC.

JPMorgan Chase Bank, N.A. and its affiliates (collectively "JPMCB") offer investment products, which may include bank managed investment accounts and custody, as part of its trust and fiduciary services. Other investment products and services, such as brokerage and advisory accounts, are offered through J.P. Morgan Securities LLC ("JPMS"), a member of FINRA and SIPC. JPMCB and JPMS are affiliated companies under the common control of JPM. Products not available in all states.
References to "J.P. Morgan" are to JPM, its subsidiaries and affiliates worldwide. "J.P. Morgan Private Bank" is the brand name for the private banking business conducted by JPM. This material is intended for your personal use and should not be circulated to or used by any other person, or duplicated for non-personal use, without our permission. If you have any questions or no longer wish to receive these communications, please contact your J.P. Morgan representative.
© 2019 JPMorgan Chase & Co. All rights reserved.
---