Philanthropy
How can we end homelessness in the U.S.?
Philanthropy plays a crucial role in helping the homeless in our cities and communities. Find out how you can make a difference.
---
Across the country, communities are grappling with solutions to end homelessness. Philanthropists have long played a crucial role in funding social services; however, there are opportunities to tackle the issue with new approaches that aim to make homelessness a rare, brief and non-recurring situation.

Homelessness affects a wide variety of people. In 2017, at least 1.4 million people lacked an adequate residence at some point during the year, according to government estimates.1 Given that poverty is a key driver, low-income families and older adults are at increased risk. Minority groups experience homelessness at higher rates. Others include victims of domestic violence, children aging out of the foster system, struggling college-aged students, individuals with criminal records, military veterans and people with disabilities, including mental illness. While the causes of homelessness are often complex, understanding and addressing its common triggers are critical. These include:
Insufficient housing options
Stagnating wages
Inadequate or nonexistent healthcare
Poor support systems or safety nets in the event of a reversal of circumstances
Systemic issues such as racial inequality or economic disparities
Those facing this growing problem experience higher rates of illness, with a life expectancy of just 48 years. Not only is housing a critical component in ensuring that people can lead healthier lives, it can also reduce the overall cost to society by addressing some of the issues related to homelessness.
Homelessness on a single night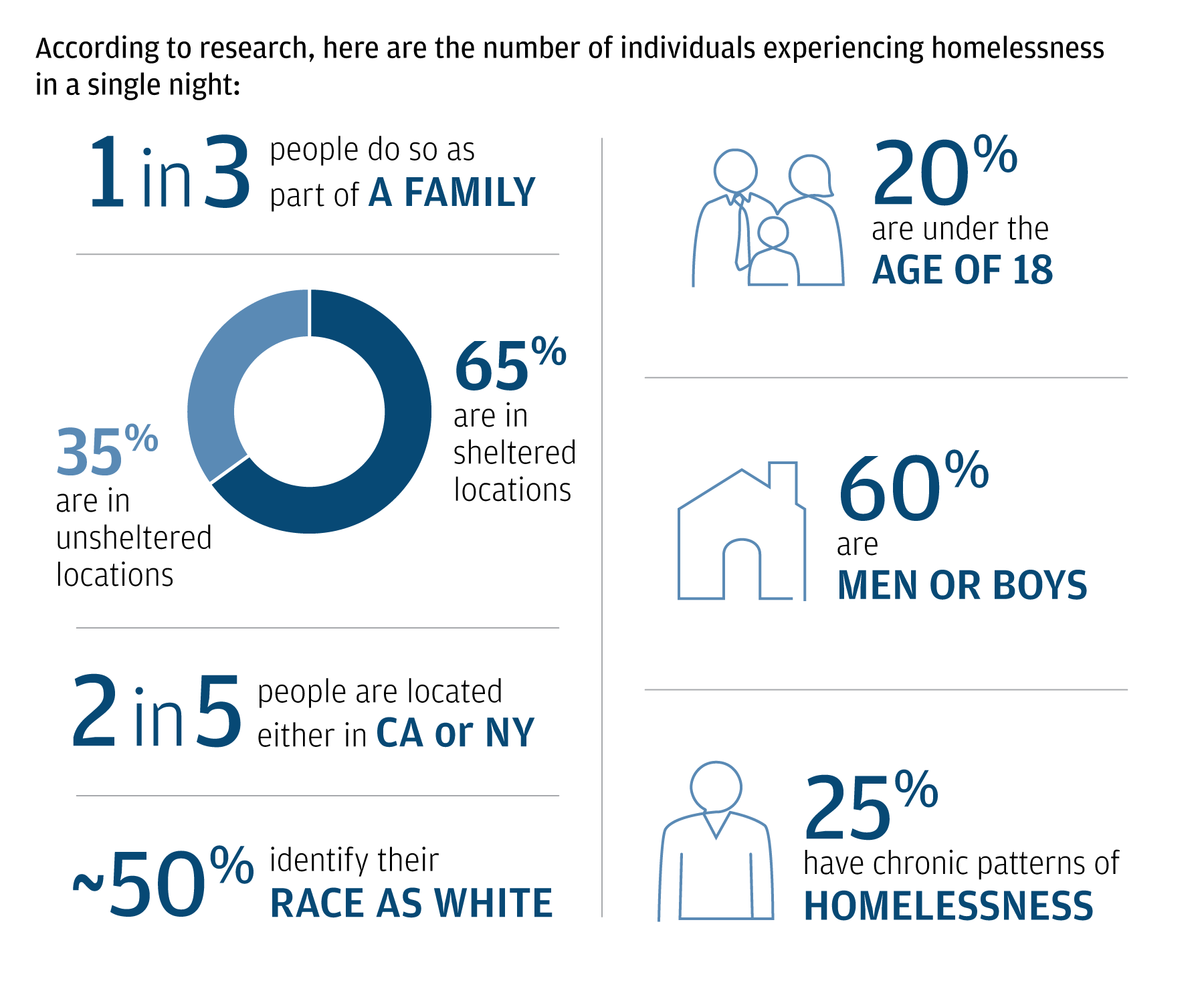 Source: The 2018 Annual Homeless Assessment Report (AHAR) to Congress, Part 1.
The graphic shows key statistics about people experiencing homelessness, including their age, gender, location and race.
---
What can be done?
The good news is that there are solutions to end homelessness. Various outreach groups have collected evidence showing that the following interventions work:
Provide crisis management services: A coordinated effort from various community organizations is needed to ensure that individuals and families get rapid help, tailored to their situations.
Apply a "housing first" approach: Providing safe, decent housing is the best and most cost-effective method. Support is given without any preconditions of employment, lack of criminal background or sobriety.

Rapid rehousing provides short-term housing assistance and services.
Permanent supportive housing provides ongoing support for independent living by offering housing in addition to continued care and services.

Integrate healthcare: Integrating housing and healthcare improves health outcomes and provides a platform for delivering healthcare services.
Catalyze employment opportunities: Interventions that provide skills training, integrate employment programs with homelessness assistance programs, and offer related services can help more people find stable employment.
During this season of giving, many of us are thinking about ways we can contribute more, both locally and globally. Learn how we can assist you on your philanthropic journey, and how the J.P. Morgan Securities Charitable Gift Fund might help you make a greater impact.
How cities are making an impact

Many cities have employed initiatives to try to address this epidemic. Recognizing the link between health and homelessness, in July 2019, Baltimore announced a two-year pilot program with 10 area hospitals to provide 200 individuals and families with permanent housing plus "wraparound" services, such as help paying utility bills and providing transportation for medical appointments, plus $2 million in funding.3
As the city with the second-highest number of the homeless in the United States,4 Los Angeles has been working with local philanthropists to address the problem in a number of ways—from founding Home for Good, which has aligned over $1 billion toward helping the homeless, to helping to pass two key pieces of legislation that are projected to generate $4.7 billion, and which have already produced tangible benefits.5, 6

City spotlight: Houston

To counter a 25% jump in its homeless population from 2010 to 2011, the Houston community redesigned its plan to tackle the issue by bringing together over 100 stakeholders—the city, housing authorities, social service providers, philanthropists and businesses—into a collaborative called The Way Home. The goal was to better coordinate efforts, improve policies and procedures, and create more accountability and transparency. Since 2012, Houston has found homes for approximately 17,000 individuals. That's a 54% decrease in overall homelessness in the Greater Houston area in the past eight years.7 What's more, 90% of those housed had not fallen back into homelessness two years after receiving services. Houston's results show the power and potential of collaboration.8
There are a number of ways philanthropic endeavours can play a key role in creating opportunities for impact:
Facilitate systems change: Foster collaboration among various stakeholders to help identify gaps, streamline inefficiencies and facilitate knowledge sharing.
Support advocacy effort: Raise awareness among the public and policymakers, and support organizations that advocate for better policies.

Increase housing availability: Support programs that fund housing redevelopment, renovation or new construction, and encourage landlords and property managers to rent to low-income persons.

Provide preventive support: Support a range of preventive services such as setting up funds or providing zero-interest loans, expanding access to legal support and facilitating low-cost medical care.
Invest in data and research: Invest in data to improve understanding of the nuances, drivers and solutions to homelessness, helping case managers to connect vulnerable people to the aid and services they need.
Philanthropy has a unique role in creating profound change. Whether supporting immediate needs in a community or working to address the country's structural and systemic barriers, philanthropists have numerous opportunities to ensure that more people have a place to call home.

1 The U.S. Department of Housing and Urban Development. The 2017 Annual Homeless Assessment Report (AHAR) to Congress, Part 2. October 2018. Available at: https://files.hudexchange.info/resources/documents/2017-AHAR-Part-2.pdf
2 Meredith Cohn, "City, Baltimore Hospitals Partner on Plan to House, Care for 200 Homeless People." The Baltimore Sun, July 2, 2019. Available at: https://www.baltimoresun.com/health/bs-md-ci-homeless-support-20190702-story.html
3 Lisa Burgunder, "Johns Hopkins Collaborates on Plan to House, Care for Baltimore's Homeless Population." The Hub, Johns Hopkins University, July 9, 2019. Available at: https://hub.jhu.edu/2019/07/09/johns-hopkins-hospital-housing-health-care-baltimore-homeless/
4 The U.S. Department of Housing and Urban Development, The 2018 Annual Homeless Assessment Report (AHAR) to Congress, Part 1. December 2018. Available at: https://files.hudexchange.info/resources/documents/2018-AHAR-Part-1.pdf
5 The Center on Philanthropy & Public Policy, Scaling Up: How Philanthropy Helped Unlock $4.7 Billion to Tackle Homelessness in Los Angeles. August 2019. Available at: http://cppp.usc.edu/the-role-of-philanthropic-leadership-in-scaling-resources-to-address-homelessness/
6 Anthony Clark Carpio, "Majority of Local Voters Support Measure H—Quarter-Cent Sales Tax to Address Homelessness." Burbank Leader, March 10, 2017. Available at: https://www.latimes.com/socal/burbank-leader/tn-blr-me-measure-h-20170310-story.html
7 Aaron Howard, "Anchorage Mayor Cites Houston Model for Best Practices to End Homelessness." Jewish Herald Voice, June 13, 2019. Available at: http://jhvonline.com/anchorage-mayor-cites-houston-model-for-best-practices-to-end-homelessness-p26128-89.htm
8 Schaefer Edwards, "New Data Shows Promising Decline in Greater Houston Homelessness." Houstonia, May 17, 2019. Available at: https://www.houstoniamag.com/articles/2019/5/17/2019-homelessness-count-houston-harris-county-coalition-for-the-homeless-way-home
Important Information
The information presented is being provided for informational and educational purposes only. It is not intended nor should it be relied
upon as investment advice, guidance or a recommendation to purchase, hold or sell any investment or strategy.
LEGAL ENTITY, BRAND & REGULATORY INFORMATION
In the United States, bank deposit accounts and related services, such as checking, savings and bank lending, are offered by JPMorgan Chase Bank, N.A. Member FDIC.
JPMorgan Chase Bank, N.A. and its affiliates (collectively "JPMCB") offer investment products, which may include bank-managed investment accounts and custody, as part of its trust and fiduciary services. Other investment products and services, such as brokerage and advisory accounts, are offered through J.P. Morgan Securities LLC ("JPMS"), a member of FINRA and SIPC. JPMCB and JPMS are affiliated companies under the common control of JPM. Products not available in all states.
References to "J.P. Morgan" are to JPM, its subsidiaries and affiliates worldwide. "J.P. Morgan Private Bank" is the brand name for the private banking business conducted by JPM. This material is intended for your personal use and should not be circulated to or used by any other person, or duplicated for non-personal use, without our permission. If you have any questions or no longer wish to receive these communications, please contact your J.P. Morgan representative.
© 2019 JPMorgan Chase & Co. All rights reserved.
---