Retirement
The power of a goals-based approach to wealth
---
Financial markets can offer a great opportunity to grow wealth, but volatility can make investors uneasy, ushering in feelings of fear, or even greed. Reacting to market movements may sometimes seem like the right thing to do for the short term—but what about the long-term consequences?
Let's take a look at the beginning of 2018. The U.S. equity markets started out with a bang. The S&P 500 hit a record high of 2872.87 on January 26, marking the index's 14th record close in January alone—the most record closes in any single month since June 1955.
However, as the weeks progressed, the markets took a swift turn lower. Volatility skyrocketed, and the market swung wildly intraday. On February 9, the S&P closed at 2619.55, having lost about 9% of its value from its record high just two weeks earlier. Did this reflect fears of lower future corporate profits and higher inflation? Were trading algorithms shifting market dynamics? Or maybe the quick drop was due to investor worry over the future health of the U.S. economy?
Then, the following week, markets quickly reversed course and exploded higher again: The S&P 500 jumped 4.3%, posting its biggest weekly gain in five years. What should investors do? Buy, sell, hold?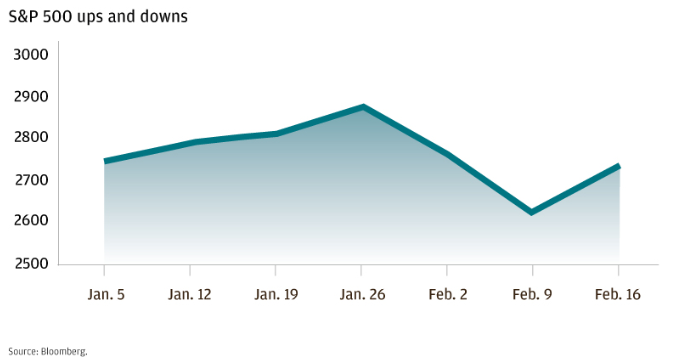 Focus on yourself, not the markets
While it can be tempting to analyze moment-to-moment market movements, and let those drive your decisions, research suggests that this approach actually diminishes returns. DALBAR's annual Quantitative Analysis of Investor Behavior showed that the S&P 500's 20-year annualized return was 7.68%, while the average equity mutual fund investor saw only a 4.79% return on the same basis. That nearly 3% difference is often attributed to investors' reactions to the markets.1 Indeed, there is ample evidence from the field of behavioral finance suggesting that people tend to react to markets in a way that lowers returns.2 Many people tend to "buy high" and "sell low," which can cause them to "churn and burn" their own portfolios.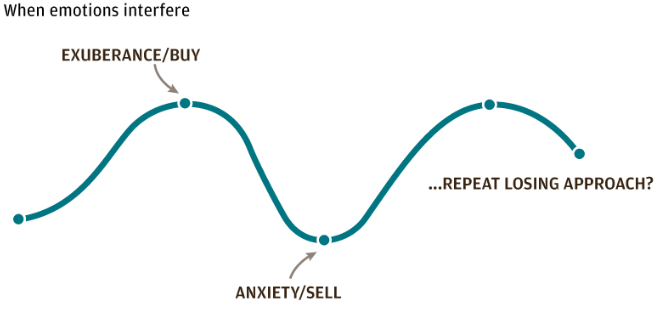 How can we avoid decisions that might lead to poor outcomes, and instead position ourselves for potential success?
Reframing financial decision making is a crucial starting point. Rather than reactively focusing on elements that are out of our control—markets, economies, policymakers, and the like—we can instead proactively focus on elements that we can control.
What is your money's job?
There are a number of factors that are within your control, but perhaps the most critical component in every wealth strategy is explicit identification of the primary purpose, or intent, for your money. In other words, what job do I want my money to do for me? When your decision-making process serves the primary intent for your wealth, you then have a guidepost to understand if there is truly any action that needs to be taken, given market (or other) events.
Imagine young entrepreneurs in their early 30s with no children. The couple eventually want to provide for their lifestyle when they sell their business. They have many working years ahead of them and have no intention of using their investments for decades. So for them, market volatility may be largely irrelevant. Why? They are more able to wait out ups and downs, ultimately taking advantage of potential investment returns over multiple decades.
Now imagine the same couple, but they are now in their 60s. They have three adult children and no other source of income outside of their investment portfolio. They not only need to sustain their spending, but would also like to provide for family members. So in addition to revisiting their portfolio risk level, they may want to consider factors that go far beyond investment decision making.
For example, how long do they want the money they give to their family to last? Within the children's lifetimes, or well beyond? Also, what is the most tax-efficient way to give to their family? And, based on that level of giving and their own needs, do they have enough to maintain their lifestyle? This may necessitate a dialogue with professionals about wealth structuring, investing, borrowing, income and estate tax considerations, and more. Identifying a primary intent moves a focus on investments to the broader purpose of wealth, which can align overall wealth strategy and decision making with the individual's or family's goals.
Taking a goals-based approach
To have your money work toward your goals, it helps to identify with one of four "foundational intents" for wealth.3
1. Spend: To support your lifestyle goals with the assumption that all wealth will be spent in your lifetime.
Spending all of your wealth during your lifetime can be by choice (e.g., "I'd like to bounce my last check"), or by necessity (e.g., "I feel that I may not have enough during my lifetime based on my current spending").
Traditional goals in this category focus on generating lifestyle income now or in the future, and on educational goals for children and/or grandchildren. Many people believe this is the easiest intent to manage. However, if you are truly attempting to achieve a zero balance sheet at the end of life, the risks are many (especially of over- or underspending). These continuous risks make stress-testing and contingency planning essential. Just think, would you be comfortable using equity in your home if you unexpectedly lived to 100? Reviewing your plan at least once annually on an ongoing basis can help minimize these risks.
2. Divide: To identify a set amount of money to either create a minimum wealth level or to leave to designated beneficiaries.
Many people who focus on division are interested in "keeping it simple" with respect to the path their wealth will take at the end of life. Why? Some feel they want beneficiaries to have complete control over the money they receive, or it feels like too much effort to create a "trust and estate plan."
Others are reluctant to discuss their wealth or aren't ready to commit to gifting to the future recipients. The key focal point is that the wealth goes to the intended place, and that the plan is reviewed on an annual basis—especially later in life when preservation can become more appealing. For example, when gifts become larger than anticipated, there may be a greater focus on sustaining the wealth for third and fourth generations. Also, it can be more apparent whether family members are psychologically ready to productively receive wealth and what governance may or may not be needed.
3. Preserve: To create a strategy and family culture that enable wealth to last through multiple generations.
The desire to preserve wealth across generations is enormously complex—often in unexpected ways. To support an estate plan where assets are meant to be preserved, family culture and dynamics need to be considered.
Promoting a positive family culture to foster the stewardship of wealth may require answering challenging questions such as: When are trust distributions so large they risk stifling the beneficiary's growth and development? The answer lies beyond just dollar amounts: It also depends on the level of engagement in deliberate and structured communication with beneficiaries about financial values, accountability and governance. The key to success here often depends on how well you align a wealth strategy and structure with a family culture designed to support them.
4. Grow: To create a strategy and family culture that enable wealth to grow in perpetuity (often via a family business or pooled family investments).
Perhaps the most complex of the four intents, this category requires multigenerational succession plans, as well as business and wealth strategies that are truly owned and governed collaboratively by family members. Even the best laid-out approach can end in very public and painful family disputes, making predefined exit strategies essential. To this end, a key starting point can be to identify whether your family has the human infrastructure (e.g., family members who also have a desire to grow) to support this path for your wealth.
From awareness to action
Establishing a primary intent—whether it be Spend, Divide, Preserve or Grow—can empower you to reframe financial decision making. It can motivate you and your family to collaborate, and help your professional advisors work with you to answer the following questions:
Do I have just enough, more than enough or not enough to achieve my primary intent?
Establishing the resources available—now and in the future—to serve your or your family's intent is critical. If there is not enough, working to adjust the levels of cash flow needed can help get you back on track. If there is just enough, continual monitoring of the situation may be essential. And if there is more than enough, perhaps there are other goals or opportunities to explore.
Who should be involved in the financial decision making, and when?
Establishing a group of decision makers and a culture that can support the desired intent is also important. For example, if family members don't know they will be receiving large amounts of wealth, they may not have the information or tools to successfully steward the money or a family business across multiple generations. Working with professionals to communicate the right amount of information at the right time can help you or your family meet the desired outcomes.
For a more detailed discussion on this topic, please contact your J.P. Morgan advisor. He or she is always available to answer your questions and to help you with any of your financial planning needs.
IMPORTANT INFORMATION
Purpose of This Material
For Informational Purposes Only: JPMorgan Chase & Co., its affiliates, and employees do not provide tax, legal or accounting advice. This material has been prepared for informational purposes only, and is not intended to provide, and should not be relied on for, tax, legal and accounting advice. You should consult your own tax, legal and accounting advisors before engaging in any financial transaction. The information presented is not intended to be making value judgments on the preferred outcome of any government decision.
The information provided may inform you of certain products and services offered by J.P. Morgan's wealth management businesses, part of JPMorgan Chase & Co. ("JPM"). The views and strategies described in the material may not be suitable for all investors and are subject to risks. This material is confidential and intended for your personal use. It should not be circulated to or used by any other person, or duplicated for non-personal use, without our permission. Please read this Important Information in its entirety.
Legal Entity and Regulatory Information
Bank deposit accounts and related services, such as checking, savings and bank lending, may be subject to approval are offered by JPMorgan Chase Bank, N.A. Member FDIC.
JPMorgan Chase Bank, N.A. and its affiliates (collectively "JPMCB") offer investment products, which may include bank-managed accounts and custody, as part of its trust and fiduciary services. Other investment products and services, such as brokerage and advisory accounts, are offered through J.P. Morgan Securities LLC (JPMS), a member of FINRA and SI
PC. Annuities are made available through Chase Insurance Agency, Inc. (CIA), a licensed insurance agency, doing business as Chase Insurance Agency Services, Inc. in Florida. JPMCB, JPMS and CIA are affiliated companies under the common control of JPMorgan Chase & Co. Products not available in all states.
Non-reliance
We believe the information contained in this material to be reliable and have sought to take reasonable care in its preparation; however, we do not represent or warrant its accuracy, reliability or completeness, or accept any liability for any loss or damage (whether direct or indirect) arising out of the use of all or any part of this material. We do not make any representation or warranty with regard to any computations, graphs, tables, diagrams or commentary in this material, which are provided for illustration/reference purposes only. The views, opinions, estimates and strategies expressed in it constitute our judgment based on current market conditions and are subject to change without notice. We assume no duty to update any information in this material in the event that such information changes. Views, opinions, estimates and strategies expressed herein may differ from those expressed by other areas of JPM, views expressed for other purposes or in other contexts, and this material should not be regarded as a research report. Any projected results and risks are based solely on hypothetical examples cited, and actual results and risks will vary depending on specific circumstances. Forward looking statements should not be considered as guarantees or predictions of future events. Investors may get back less than they invested, and past performance is not a reliable indicator of future results.
Risks, Considerations and Additional Information
There may be different or additional factors which are not reflected in this material, but which may impact on a client's portfolio or investment decision. The information contained in this material is intended as general market commentary and should not be relied upon in isolation for the purpose of making an investment decision. Nothing in this document shall be construed as giving rise to any duty of care owed to, or advisory relationship with, you or any third party. Nothing in this document is intended to constitute a representation that any investment strategy or product is suitable for you. You should consider carefully whether any products and strategies discussed are suitable for your needs, and to obtain additional information prior to making an investment decision. Nothing in this document shall be regarded as an offer, solicitation, recommendation or advice (whether financial, accounting, legal, tax or other) given by JPM and/or its officers or employees, irrespective of whether or not such communication was given at your request. JPM and its affiliates and employees do not provide tax, legal or accounting advice. You should consult your own tax, legal and accounting advisors before engaging in any financial transactions. Contact your J.P. Morgan representative for additional information concerning your personal investment goals. You should be aware of the general and specific risks relevant to the matters discussed in the material. You will independently, without any reliance on JPM, make your own judgment and decision with respect to any investment referenced in this material.
J.P. Morgan may hold a position for itself or our other clients which may not be consistent with the information, opinions, estimates, investment strategies or views expressed in this document. JPM or its affiliates may hold a position or act as market maker in the financial instruments of any issuer discussed herein or act as an underwriter, placement agent, advisor or lender to such issuer.
© 2018 JPMorgan Chase & Co. All rights reserved.
---