Investing
Market Thoughts: What do rising interest rates mean for your portfolio?
---


We're passing the one-year anniversary of when the world began to move into lock down. We've seen a healthy twelve-month run higher across risk assets.
Market Thought Video Series
KEY TAKEAWAY
We've seen revenue and earnings surprise to the upside versus expectations across global markets. That strength is allowing equity markets to grow into valuation levels.
With a year of lockdowns behind us, vaccinations accelerating and sidelined cash continuing to rise, markets should have a few solid but bumpy months ahead.
Can a quick sprint higher in government bond yields provoke an equity market correction? Yes. The important question to ask is whether it can derail where we are in the recovery cycle.
The world is a little less scary and a little more hopeful. I believe that leaves investor sentiment ready to lean a bit further into risk assets, especially into market drawdowns.
We're passing the one-year anniversary of when the world began to move into lockdown. On a point-to-point basis, we've seen a healthy twelve-month run higher across risk assets. That said, how we got here has truly been remarkable.
As we moved through the fourth-quarter earnings season, there was resounding confirmation that, both for revenue as well as earnings, we continue to see significant positive surprises versus expectations. As analysts inch up their earnings forecasts, it feels like there is upside embedded in the outlook – in particular for 2022. Earnings strength is allowing equity markets to grow into valuation levels. That's a sign of a healthy macro environment, as we begin to transition to mid-cycle. It's been quite a ride.
With a year of lockdowns behind us, vaccinations accelerating and cash holdings continuing to climb, markets should have a few resilient but bouncy months ahead. The comps on a year-over-year basis for economic, revenue and earnings growth only get easier from here. The same needs to be said about inflation – it's moving higher.


Inflation is coming
Inflation is moving higher. There, I've said it. With all of the hand wringing about the fear of rising and runaway inflation, pundits are ahead of themselves. Inflation is coming. We want it to, because higher inflation validates the normalization of economic growth and recovery.
In Federal Reserve (Fed) Chair Powell's recent semi-annual Congressional testimony, he anchored on the devastation labor markets have seen (Figure: 1), in particular across the service sector. Powell emphasized the division and economic disparity the pandemic has wrought and concern about the more lasting damage it will do.


Figure: 1. The U.S. labor market is recovering slowly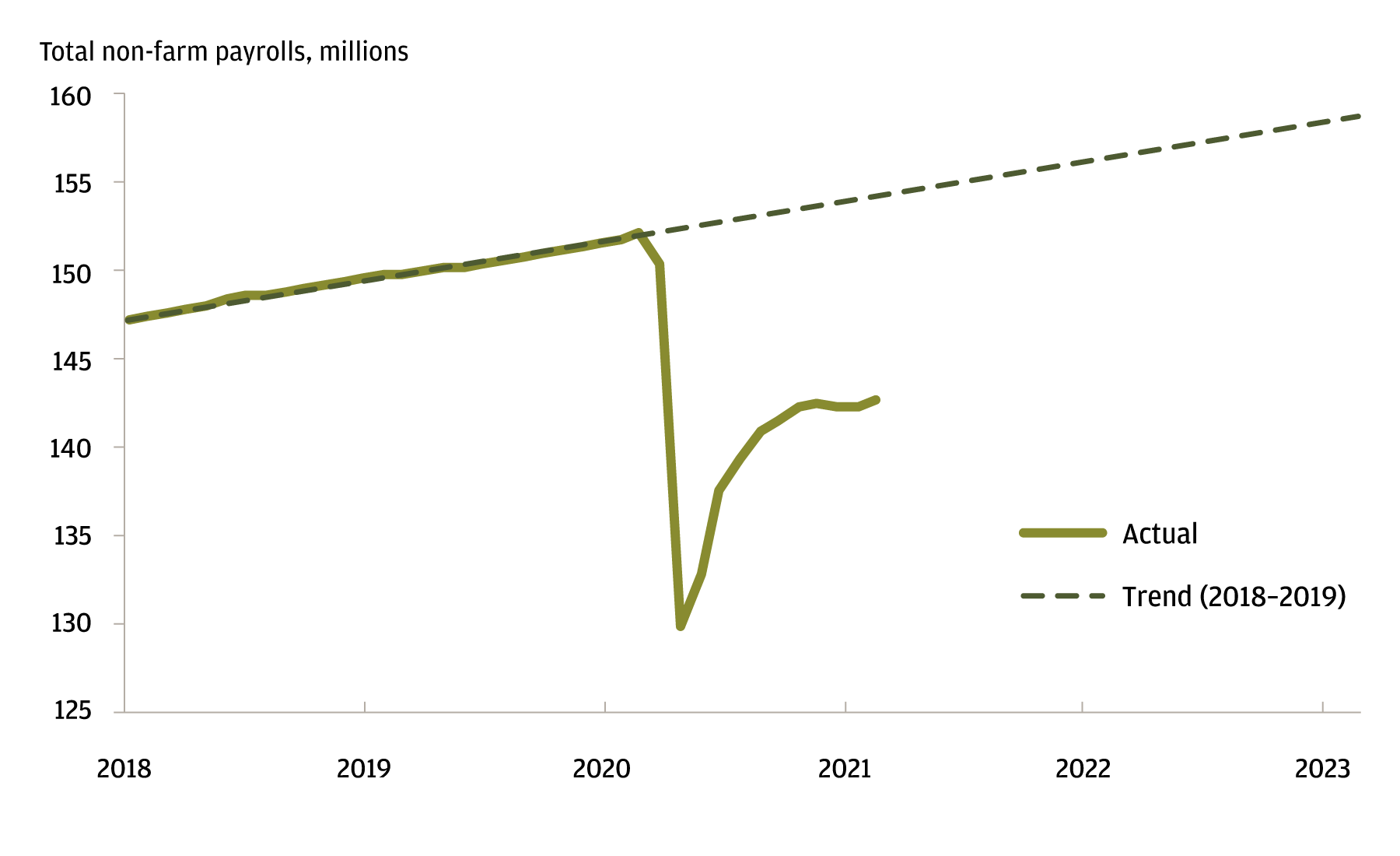 Source: BLS, Haver Analytics, CIO calculations. Data as of February 2021.
We have some 10-million Americans out of work that had been employed pre-pandemic. It's why the recent stimulus package was needed. That said, helicopter money needs to end. It may eventually ignite more durable inflation but today, I believe this isn't an urgent concern.
Chair Powell has repeatedly made clear he expects to see inflation accelerate. The Fed intends to let inflation overshoot temporarily as part of its shift to flexible average inflation targeting. I believe the Fed will wait to see a sustained level of inflation above its target and a robust labor market recovery before tightening (Figure: 2).


Figure: 2. U.S. inflation remains low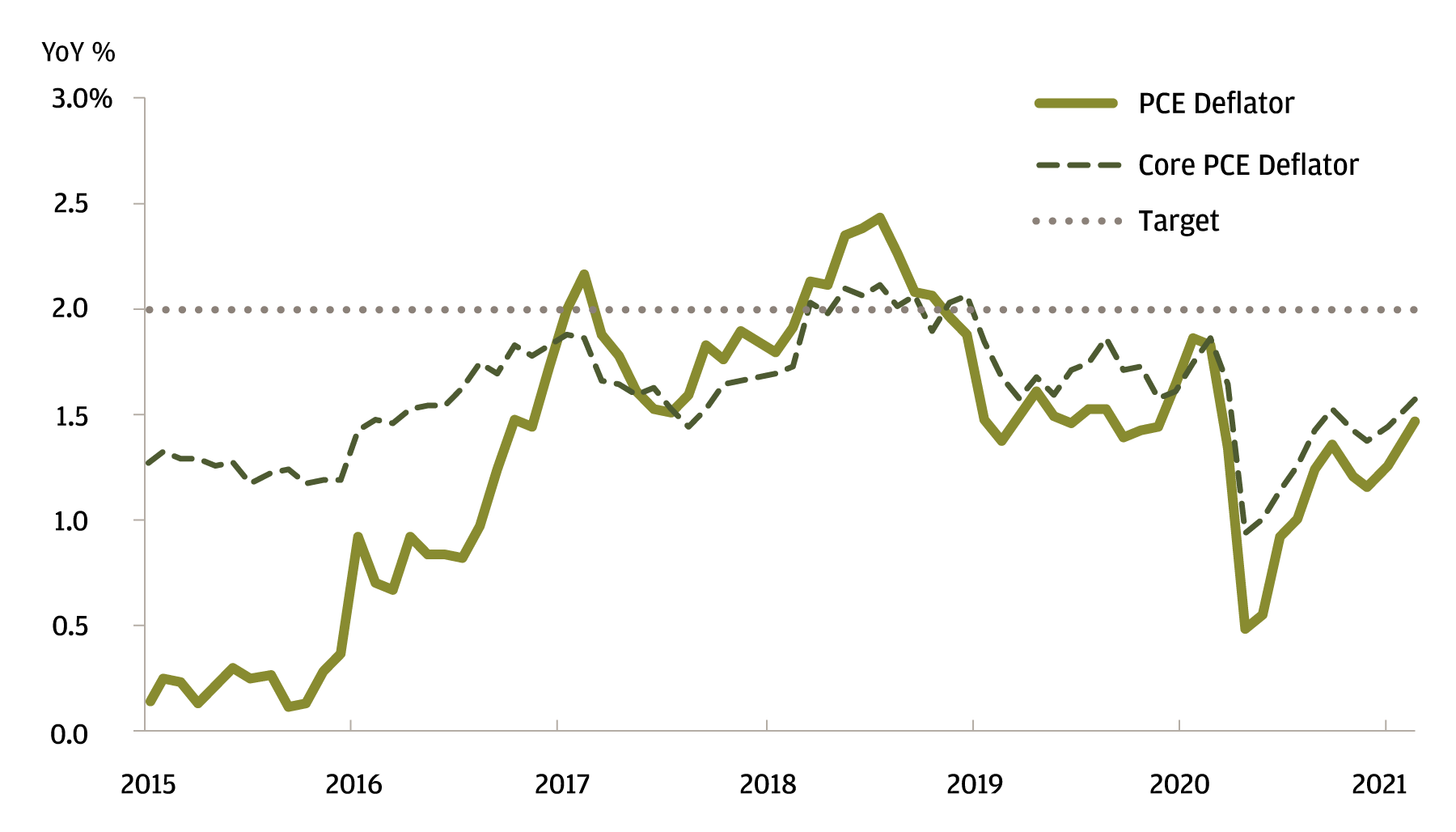 Source: BEA, Haver Analytics, Data as of January 2021.
The bond market continues to anticipate those headlines, pushing longer-dated bond yields higher. But there is a big difference between rising and persistent inflation. I believe the key to sustained, higher inflation resides in the recovery of the labor market. That's where I'm keeping my focus.
There is one reflection that I think is being missed in the current inflation narrative. Nominal yields are moving higher, but real yields aren't following at the same pace. That has increased breakeven inflation expectations, but not enough to force central banks to quickly tighten. This is likely to be reassuring for risk assets.
We are underweight fixed income in multi-asset portfolios. We're well diversified in what we own across fixed income allocations, not to mention positioning across the bond curve. We've reduced duration across portfolios and we remain overweight extended credit.
For portfolios that own hedge funds, they remain a strong complement to our core fixed income positioning. Hedge funds performed well against core bonds last year. I expect they will do the same this year as well.


Cautious not bearish
Can a quick sprint higher in government bond yields provoke an equity market correction? Yes. The important question to ask is whether it will derail the recovery. I believe the answer to that question today is no. For the next few quarters, the data simply doesn't argue for either a sustainable inflation melt-up or collapse in the global economy.
While exuberant, investors are behaving rationally. Valuations feel a little ahead of fundamentals. Markets do that on occasion. We may be on our way to a slow building bubble, but I think it's far ahead of us. That doesn't mean we can't see a market correction along the way.
I think it might be helpful to see a market pullback. It would help shake off some of the hubris around the view that markets only move in a straight line higher. They don't. I mention this to help frame how we are positioned across portfolios and why diversification matters more than ever.
Extended credit continues to perform well. We own high yield in multi-asset portfolios as a complement to core fixed income. Our view remains that high yield will outperform core bonds this year, with significantly less duration, as interest rates press higher.
Like equity markets, high yield is expensive. What I think investors are missing from the narrative is that if our base case recovery outlook is correct, high yield has strong fundamental tailwinds behind it for support.
We expect revenue and earnings growth will continue to improve. That translates into stronger cash flow to service debt. We view high yield as primed for a rating cycle that skews to the upside. Fallen angels (downgraded credits from investment grade 'falling' into high yield) are no longer the pressure point they were last year. Over the next two years we expect to see credit upgrades outnumber downgrades.
As 'junkier-junk' companies continue to issue debt – either to refinance near-term maturities or husband cash as they get through the vaccination cycle – immediate default risk declines (Figure: 3). There is going to be a day of reckoning for companies that will eventually fail. Right now, that day is being pushed further out. Zombie companies aren't going away, they're just being driven back.


Figure: 3. USD high yield issuance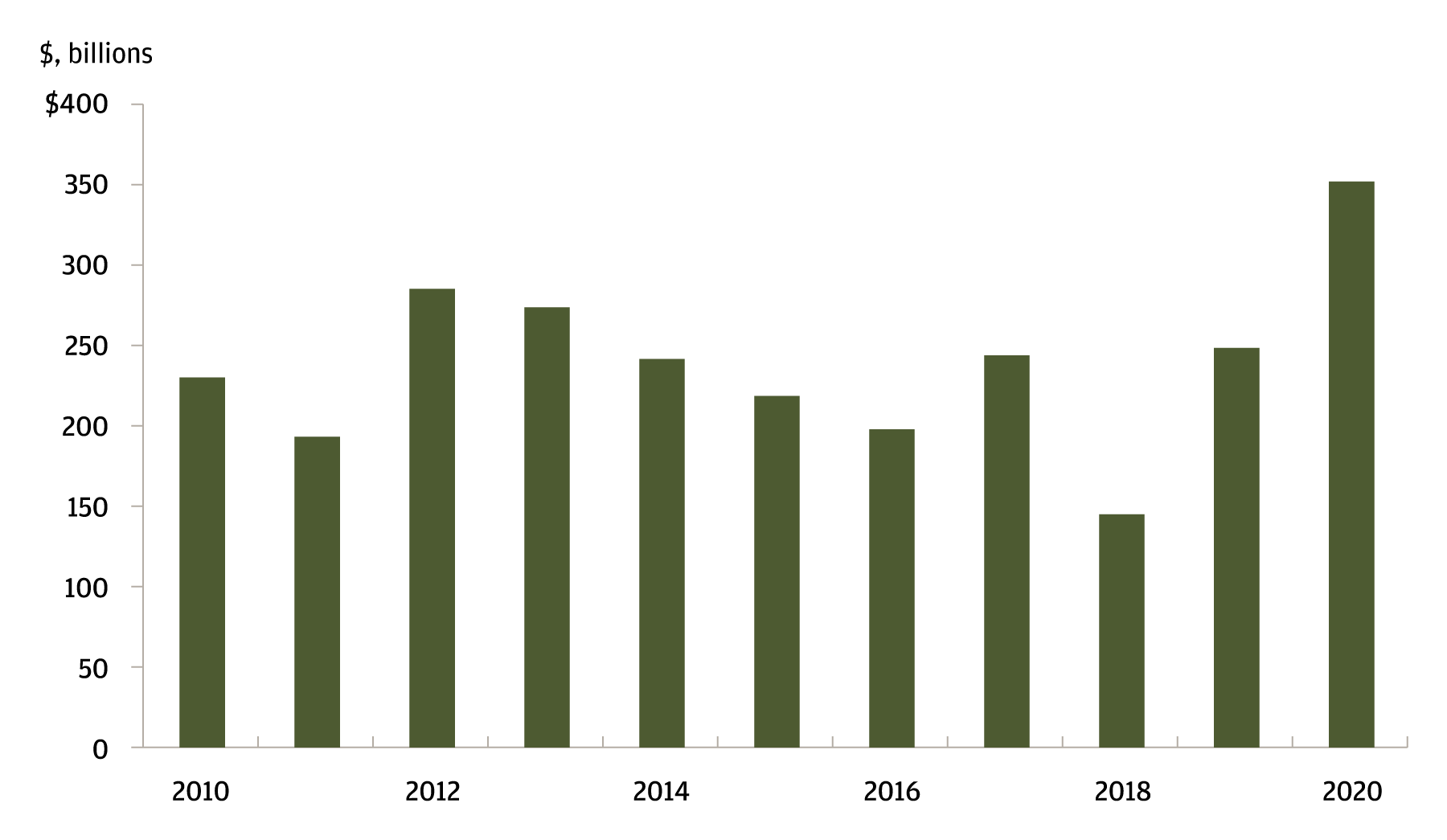 Source: Bank of America, Data as of December 2020.
Given where we are with valuations across all risk assets, I want to make sure we're well diversified in our risk taking. We have the right amount of risk in portfolios to weather bouts of volatility. In a more lasting sell off, we have the ability to dial up risk when and where we see the right opportunities. Steady hands are the key to staying invested.


Two steps forward, one step back
We are holding onto overweight positions in emerging markets (EM) and U.S. equities, funding our EM overweight from an underweight to Europe. That said, we reduced our underweight in Europe and have added to developed equity markets in Asia.
With U.S. equity markets having run hard, we believe equity markets outside of the U.S. can continue to play a bit more catch-up. There is a valuation gap between U.S. and non-U.S. equity markets that continues to look interesting – in particular, in a post-pandemic global recovery.
Markets seem due for a pause. Two steps forward, one step back. The key for risk assets is whether rising inflation stays linked to stronger growth; so far, it has been. Additionally, it is important that central banks continue to emphasize their commitment to easy money – that is, not tightening too soon. So far, so good.


An exhilarating start
Given the pace of recent events, headlines and the velocity which investors have engaged with markets, 2021 is off to an exhilarating start. I remain constructive about the economic outlook this year.
I think economic and earnings growth continue to skew to the upside. For the first time in five years, it feels like the consensus earnings outlook is being understated coming into a new year. Markets expect earnings to grow into valuations. We do as well.
Valuations are high across asset classes. That puts markets a little ahead of themselves, but for the right reasons. We continue to believe this year will be a year of stabilization and recovery. Interest rates should keep pressing higher, as will inflation. We are doing a lot to diversify risk and enhance portfolio yield. With intra-asset class valuation dispersion high, I still believe what we are doing within each asset class is as important as our cross-asset class positioning.
Markets may be in for a bumpy ride, but I believe nowhere near what we saw in 2020. Portfolios remain positioned with a view that stocks and credit markets outperform core bonds. Hedge funds remain – as they were last year – a strong pairing to core bonds. Laggards across equity markets should continue to play catch-up to last year's leaders. It's why we continue to lean into cyclicals.
I am smart enough to know what I don't know about what lies ahead, as we continue to see the virus and its variants tamed. We're a long way from where we were a year ago. However, 'normal' is going to be a relative observation for the next few quarters.
The world is a little less scary and a little more hopeful. On the margin, I believe that leaves investor sentiment leaning further into risk assets, in particular during pullbacks. There is simply too much in sidelined savings looking to earn a return greater than cash, ready to buy market dips.
I think the next quarter begins to mark the 'end of the beginning' of this kick started cycle. That's an observation, not a word of caution. Right now, there is room for the recovery to run further.