Investing
2020 U.S. election primer
Our Top Market Takeaways for the week ending November 8, 2019.
---
Markets in a minute
A bird in the hand…
Stocks keep climbing higher. This week, we've seen the S&P 500 close at all-time high levels two more times. Just a couple weeks ago, investors were grappling with the fact that equities were stuck in a months-long trading range. Since then, there's been a marked shift in sentiment that's helped the S&P 500 break through its ceiling.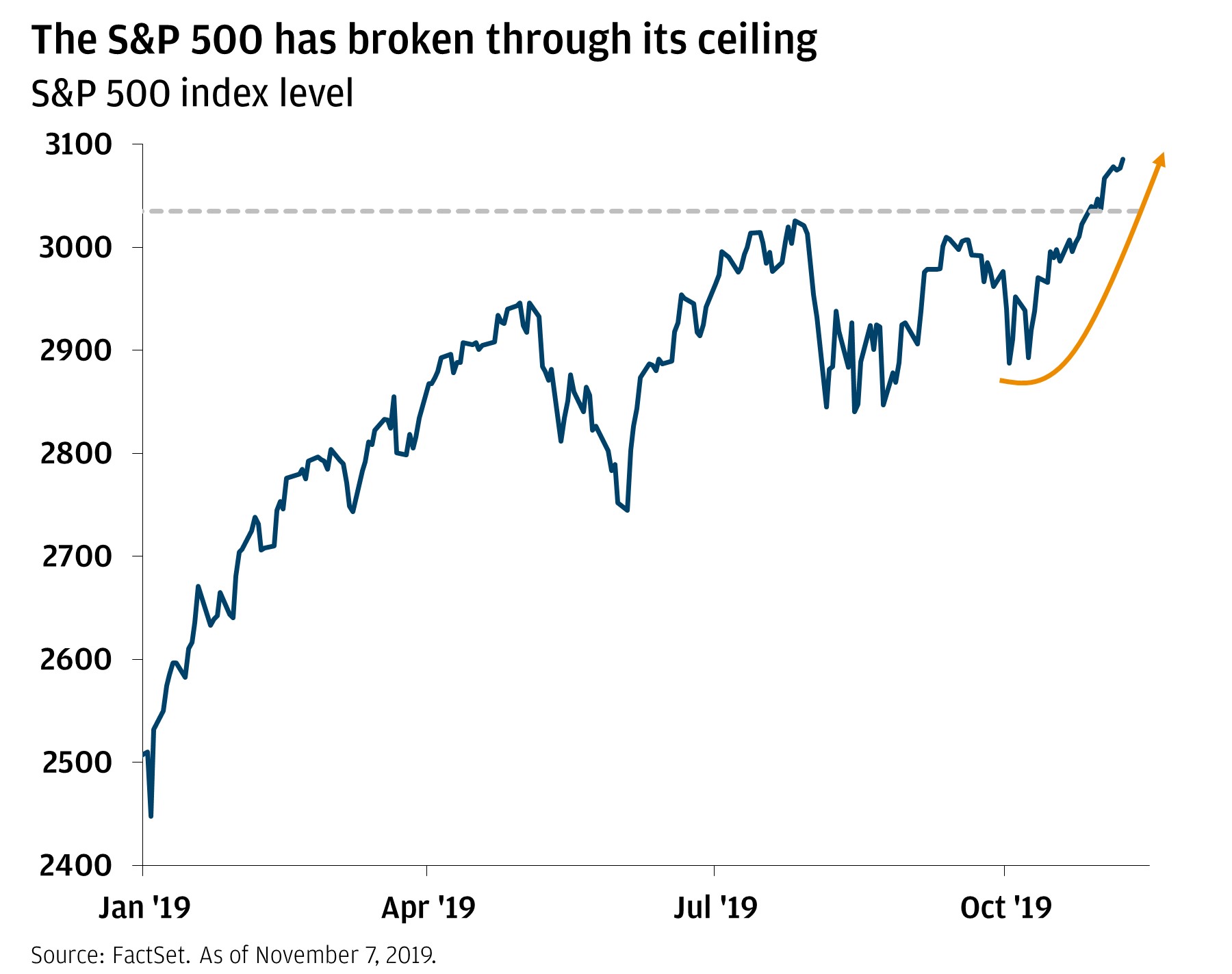 Early signs of stabilization in global economic data and a better-than-feared third-quarter earnings season have played a part in tempering pessimism. The real lift, however, has come from increased hopefulness on the trade front. Following news that the United States and China started working on details of a "phase one" deal a few weeks ago, investors learned on Thursday that there's discussion of including a cancellation of existing tariffs as part of the deal. Comments from officials suggest that these tariff rollbacks would happen in phases, and that the United States and China would remove the same amount of tariffs at the same time.
Given that trade tensions have been one of heaviest worries burdening investor sentiment this year, the relief rally in risk assets makes sense. We would be remiss not to point out the concurrent selloff in bonds. Amid the risk-on tone in equities, Treasury yields have jumped, with the 10-year starting Friday more than 20 basis points higher than it was one week ago (it's currently around 1.90%).
We're as glad as any investor to see progress in trade negotiations, but to be clear, we'll believe in a deal when we see one. The course of the trade war has shown us how quickly its tides can change, and there have been some reports trickling out that the tariff rollbacks are far from a sure thing. A bird in the hand is worth two in the bush. As we wrote in last week's Top Market Takeaways, we expect that the U.S. economic expansion will continue through 2020, supporting further upside for the market. We think that calls for a modest overweight to stocks over bonds. There are, however, some risks (including trade negotiations) that are still on the horizon, and that's why our current positioning across asset classes has become more defensive in nature.
Spotlight
2020 U.S. election primer: 5 FAQs
In our markets discussions with clients, one topic is starting to come up frequently: the 2020 U.S. election. While most of us were taught that it's best to avoid talking about politics in public, we have to when it could impact investments. When we analyze elections, we focus on the economic and financial market implications, and what it might mean for our clients' personal financial—not on what policies we think are best. With that, let's take a look at five of the most frequently asked questions we've been hearing:

1. What are President Trump's chances of re-election? And what happened to checks and balances? What is going on with Congress?
Glad you asked! National polls imply that a Democratic candidate has a lead on a Republican candidate at this point, and prediction markets give the Democratic nominee an edge as well. On an individual level, it should be noted that former Vice President Biden polls a little better when compared to President Trump than Senator Warren does. Despite the disadvantage according to polls, the President still has a good chance at re-election. An incumbent president has never failed to win a second term if the economy avoids recession in the lead up to the election. Therefore, we would say that the presidential election is a toss-up at this point.
The question of Congress is crucial. Most of the transformative policies that Senator Warren is promoting would require votes from both the House and the Senate. The House is currently controlled by Democrats, and it seems more likely than not that it will remain that way into 2020. But without flipping the Senate, a potential progressive president would likely face insurmountable hurdles in passing the most transformative proposals (like Medicare for All). Finally, even if the Senate does flip, the Senate majority leader would likely have to do away with the filibuster in order to pass policies that do not have bipartisan support.

2. Who do we think is going to be the Democratic candidate?
It is way too early to make any sort of realistic prediction. At this point in the 2012 cycle, Rick Perry was leading the Republican polls. In 2007, Hillary Clinton had a massive lead over Barack Obama, and John McCain had been written off by many pundits (Rudy Giuliani held the lead in Republican polls). In October 2003, Wesley Clark and Howard Dean were leading the Democratic polls. John Kerry didn't emerge as the frontrunner until well after the Iowa Caucus.
Prediction markets suggest that Elizabeth Warren and Joe Biden are the frontrunners, and the national polls agree. Just a month ago, markets seemed convinced that Senator Warren would be the Democratic candidate, but since then her implied odds have fallen from over 50% to around 32%. On Thursday night, there were reports that former New York City Mayor Michael Bloomberg is preparing to enter the race. All of this is to say that a lot can change between now and Super Tuesday on March 3, 2020, when we will start to get a sense of who the Democratic nominee will be. Regardless, most of the below will concentrate on Senator Warren because she is the candidate that most investors seem focused on.
Whenever the party control of the White House changes, the swing of the policy pendulum creates anxiety and uncertainty for markets.
3. Why are investors already nervous about a Warren presidency?
Whenever the party control of the White House changes, the swing of the policy pendulum creates anxiety and uncertainty for markets. And in 2020, that swing could be significant. To illustrate, let's consider the links between candidates' policy proposals and their potential market impact.
In the case of Senator Warren, based on her platform and campaign rhetoric, the links are easy to find. Proposals to reverse the corporate tax cuts of 2017, to curb or eliminate share buybacks, to tax profits over $100 million, to break up big tech and banks, and to create financial transactions taxes would all be negative to markets. We haven't even mentioned the frictions caused by a much more stringent regulatory environment or support for organized labor. Let's be clear: Rearranging the current economic system is a feature of the Warren campaign, not a bug. Further, the policies would stand in stark contrast to the "business-friendly" elements of the current administration. Regardless of personal political views, investors need to be realistic: A change of this magnitude would likely result in some volatility.

4. So what policy proposals from Senator Warren are most likely to be enacted in the event that she wins the presidency?
We put together a handy table with different Senate scenarios. Quick takeaways: In our view, "Medicare for All" and a full "Green New Deal" are the most unlikely proposals to pass, but an increase in corporate and individual taxes is a real likelihood in the event that Senator Warren wins the White House and Democrats control the legislative branch. Also note that the regulatory environment is driven by the executive branch alone, so the Financials, Tech, Healthcare and Energy sectors seems particularly exposed even if the Senate remains under Republican control. But remember, the chances of all of Senator Warren's agenda becoming policy have to be lower than the chances of Senator Warren becoming the Democratic nominee (~33% based on prediction markets) and then winning the presidency (~19% based on prediction markets).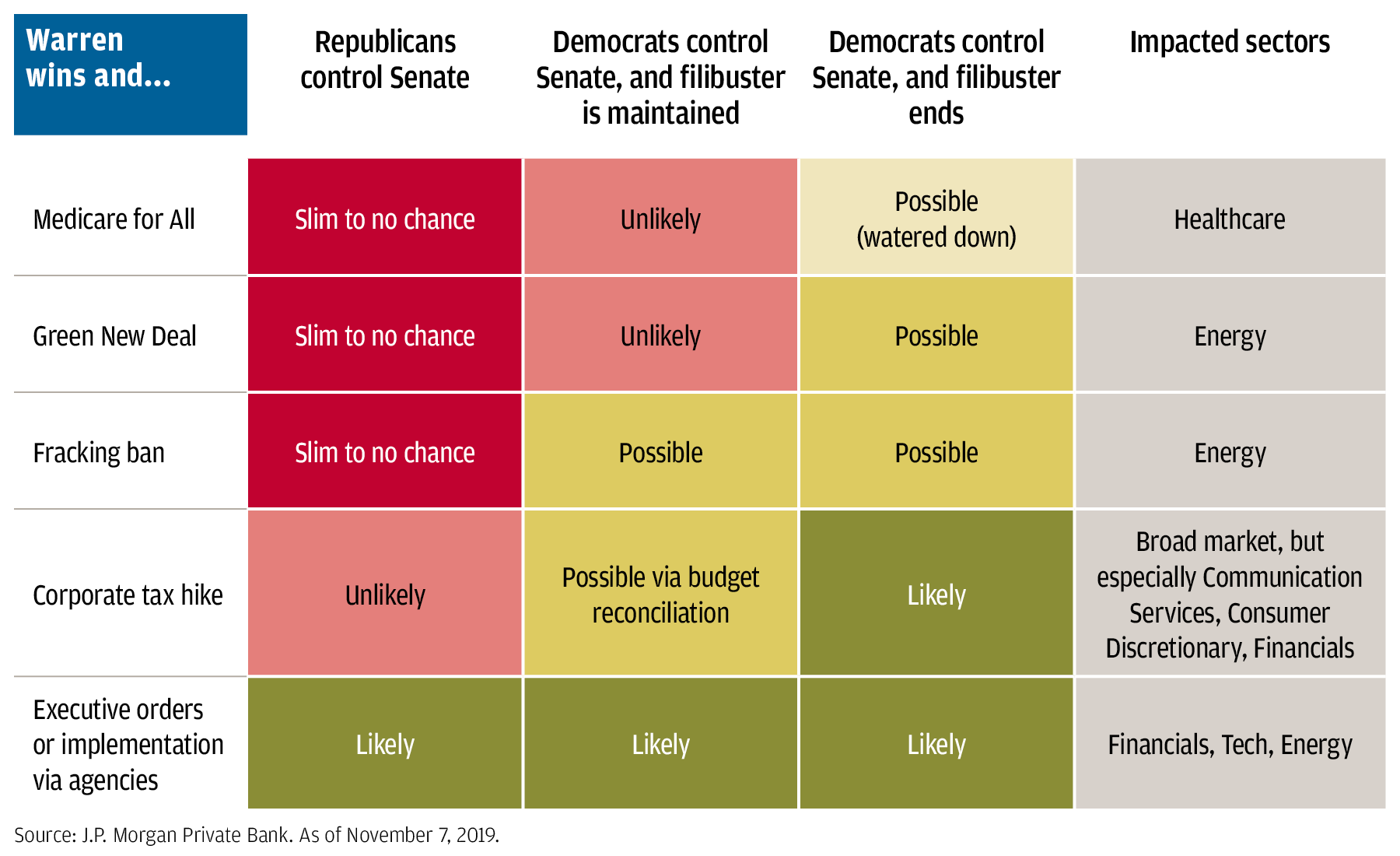 The chart shows the policy proposals from Senator Warren that are most likely to be enacted in the event she wins the presidency, along with the impacted sectors.
---
5. OK, let's recap: The Democratic frontrunner has many positions that are perceived to be unfriendly to business and markets. Why wouldn't I take my chips off the table/why wouldn't I wait until after the election to invest?
Does this sound familiar? "Obama will kill the stock market." Or, "If Trump wins, the market will crash." If you bought into those proclamations, you would have missed out on tremendous equity upside. We think the most important question is: Do you need to invest to reach your investment goals? If so, the most valuable ally that you have is time, and exchanging time for "clarity" has rarely been a winning proposition. Indeed, there has been no discernible difference in returns in election and non-election years. This is because, over time, the economy grows and carries corporate earnings with it. Over the long term, we don't expect this relationship to change. While we acknowledge that this particular election is likely to lead to more volatile markets, we don't think it will be enough to derail a disciplined, goals-based, long-term investment plan. Further, our view on the business cycle is clearer: The global manufacturing slump is showing signs of bottoming, services and the consumer still look healthy, and inflation remains benign. All of this should sum to about average investment returns for investors, no matter what the election results might bring.
Here are two things you can do to prepare. First: Review your plan. Make sure the risks you are taking in your portfolios are aligned with your perceived time horizon and investment objectives. That is what should be the ultimate driver of long-term asset allocation, not speculation on presidential election results. Second: Diversify. Geographically, the United States has outperformed the rest of the world for the better part of the decade. Global economic data could be starting to form a bottom, and, for once, there seems to be less political risk outside the United States than inside it. Within the United States, we would suggest reviewing positioning to ensure that investors aren't overexposed to some of the sectors that are most at risk in the event of a progressive presidency.

A bonus question: Didn't the polls get it wrong last time? How can we rely on them to give us a clear picture this time?
Because of President Trump's "surprise" victory, we don't blame those who are skeptical of polls, but hear us out for a second. In 2016, the final RealClearPolitics poll suggested that Hillary Clinton would win the national popular vote by 3.3%. In fact, she won the national popular vote by 2.1%. The polls underestimated President Trump, but not by that much. It seems to us that it wasn't the polls that were flawed, but rather the interpretation of the polls.
Models (like Nate Silver's on fivethirtyeight.com) that accounted for state-level polls and the Electoral College (which actually determines who the president will be) gave Donald Trump something like a 30% chance to win the election. If there is a 30% chance of rain on the day of your barbeque, you will probably spend some time working on a plan B (or at least look up a pizza joint nearby). While the national polls suggested a tight race that gave a slight edge to Clinton, and more sophisticated models gave President Trump a 1-in-3 chance, markets had clearly priced in a much higher likelihood of a Clinton victory.

The lesson for this time: Understand that a close poll suggests a close race, and recognize that market pricing might misinterpret what polls really suggest. Final point: We also reference "prediction market" odds in this piece. Similar to polls, these are just tools that we will use to attempt to determine how markets are perceiving the chances of events. They are by no means perfect, but they are useful in triangulating market perceptions.
All market and economic data as of November 2019 and sourced from Bloomberg and FactSet unless otherwise stated.
We believe the information contained in this material to be reliable but do not warrant its accuracy or completeness. Opinions, estimates, and investment strategies and views expressed in this document constitute our judgment based on current market conditions and are subject to change without notice.
RISK CONSIDERATIONS
Past performance is not indicative of future results. You may not invest directly in an index.
The prices and rates of return are indicative, as they may vary over time based on market conditions.
Additional risk considerations exist for all strategies.
The information provided herein is not intended as a recommendation of or an offer or solicitation to purchase or sell any investment product or service.
Opinions expressed herein may differ from the opinions expressed by other areas of J.P. Morgan. This material should not be regarded as investment research or a J.P. Morgan investment research report.
Important Information
All companies referenced are shown for illustrative purposes only, and are not intended as a recommendation or endorsement by J.P. Morgan in this context.
All market and economic data as of November 2019 and sourced from Bloomberg and FactSet unless otherwise stated.
The information presented is not intended to be making value judgments on the preferred outcome of any government decision.
This material is for informational purposes only, and may inform you of certain products and services offered by
J.P. Morgan's wealth management businesses, part of JPMorgan Chase & Co. ("JPM"). Please read all Important Information.
The MSCI China Index captures large- and mid-cap representation across China H shares, B shares, Red chips, P chips and foreign listings (e.g., ADRs). With 459 constituents, the index covers about 85% of this China equity universe. Currently, the index also includes Large Cap A shares represented at 5% of their free float adjusted market capitalization.
The Standard and Poor's 500 Index is a capitalization-weighted index of 500 stocks. The index is designed to measure performance of the broad domestic economy through changes in the aggregate market value of 500 stocks representing all major industries. The index was developed with a base level of 10 for the 1941–43 base period.
The STOXX Europe 600 Index tracks 600 publicly traded companies based in one of 18 EU countries. The index includes small-cap, medium-cap and large-cap companies. The countries represented in the index are Austria, Belgium, Denmark, Finland, France, Germany, Greece, Holland, Iceland, Ireland, Italy, Luxembourg, Norway, Portugal, Spain, Sweden, Switzerland and the United Kingdom.
This material is for informational purposes only, and may inform you of certain products and services offered by
J.P. Morgan's wealth management businesses, part of JPMorgan Chase & Co. ("JPM"). Please read all Important Information.
GENERAL RISKS & CONSIDERATIONS
Any views, strategies or products discussed in this material may not be appropriate for all individuals and are subject to risks. Investors may get back less than they invested, and past performance is not a reliable indicator of future results. Asset allocation does not guarantee a profit or protect against loss. Nothing in this material should be relied upon in isolation for the purpose of making an investment decision. You are urged to consider carefully whether the services, products, asset classes (e.g., equities, fixed income, alternative investments, commodities, etc.) or strategies discussed are suitable to your needs. You must also consider the objectives, risks, charges, and expenses associated with an investment service, product or strategy prior to making an investment decision. For this and more complete information, including discussion of your goals/situation, contact your J.P. Morgan representative.
NON-RELIANCE
Certain information contained in this material is believed to be reliable; however, JPM does not represent or warrant its accuracy, reliability or completeness, or accept any liability for any loss or damage (whether direct or indirect) arising out of the use of all or any part of this material. No representation or warranty should be made with regard to any computations, graphs, tables, diagrams or commentary in this material, which are provided for illustration/reference purposes only. The views, opinions, estimates and strategies expressed in this material constitute our judgment based on current market conditions and are subject to change without notice. JPM assumes no duty to update any information in this material in the event that such information changes. Views, opinions, estimates and strategies expressed herein may differ from those expressed by other areas of JPM, views expressed for other purposes or in other contexts, and this material should not be regarded as a research report. Any projected results and risks are based solely on hypothetical examples cited, and actual results and risks will vary depending on specific circumstances. Forward-looking statements should not be considered as guarantees or predictions of future events.
Nothing in this document shall be construed as giving rise to any duty of care owed to, or advisory relationship with, you or any third party. Nothing in this document shall be regarded as an offer, solicitation, recommendation or advice (whether financial, accounting, legal, tax or other) given by J.P. Morgan and/or its officers or employees, irrespective of whether or not such communication was given at your request. J.P. Morgan and its affiliates and employees do not provide tax, legal or accounting advice. You should consult your own tax, legal and accounting advisors before engaging in any financial transactions.
IMPORTANT INFORMATION ABOUT YOUR INVESTMENTS AND POTENTIAL CONFLICTS OF INTEREST
Conflicts of interest will arise whenever JPMorgan Chase Bank, N.A. or any of its affiliates (together, "J.P. Morgan") have an actual or perceived economic or other incentive in its management of our clients' portfolios to act in a way that benefits J.P. Morgan. Conflicts will result, for example (to the extent the following activities are permitted in your account): (1) when J.P. Morgan invests in an investment product, such as a mutual fund, structured product, separately managed account or hedge fund issued or managed by JPMorgan Chase Bank, N.A. or an affiliate, such as J.P. Morgan Investment Management Inc.; (2) when a J.P. Morgan entity obtains services, including trade execution and trade clearing, from an affiliate; (3) when J.P. Morgan receives payment as a result of purchasing an investment product for a client's account; or (4) when J.P. Morgan receives payment for providing services (including shareholder servicing, recordkeeping or custody) with respect to investment products purchased for a client's portfolio. Other conflicts will result because of relationships that J.P. Morgan has with other clients or when J.P. Morgan acts for its own account.
Investment strategies are selected from both J.P. Morgan and third-party asset managers and are subject to a review process by our manager research teams. From this pool of strategies, our portfolio construction teams select those strategies we believe fit our asset allocation goals and forward-looking views in order to meet the portfolio's investment objective.
As a general matter, we prefer J.P. Morgan managed strategies. We expect the proportion of J.P. Morgan managed strategies will be high (in fact, up to 100 percent) in strategies such as cash and high-quality fixed income, subject to applicable law and any account-specific considerations.
While our internally managed strategies generally align well with our forward-looking views, and we are familiar with the investment processes as well as the risk and compliance philosophy of the firm, it is important to note that
J.P. Morgan receives more overall fees when internally managed strategies are included. We offer the option of choosing to exclude J.P. Morgan managed strategies (other than cash and liquidity products) in certain portfolios.
The Six Circles Funds are U.S.-registered mutual funds managed by J.P. Morgan and sub-advised by third parties. Although considered internally managed strategies, JPMC does not retain a fee for fund management or other fund services.
LEGAL ENTITY, BRAND & REGULATORY INFORMATION
In the United States, bank deposit accounts and related services, such as checking, savings and bank lending, are offered by JPMorgan Chase Bank, N.A. Member FDIC.
JPMorgan Chase Bank, N.A. and its affiliates (collectively "JPMCB") offer investment products, which may include bank-managed investment accounts and custody, as part of its trust and fiduciary services. Other investment products and services, such as brokerage and advisory accounts, are offered through J.P. Morgan Securities LLC ("JPMS"), a member of FINRA and SIPC. Annuities are made available through Chase Insurance Agency, Inc. (CIA), a licensed insurance agency, doing business as Chase Insurance Agency Services, Inc. in Florida. JPMCB, JPMS and CIA are affiliated companies under the common control of JPMorgan Chase & Co. Products not available in all states.
References to "J.P. Morgan" are to JPM, its subsidiaries and affiliates worldwide. "J.P. Morgan Private Bank" is the brand name for the private banking business conducted by JPM.
This material is intended for your personal use and should not be circulated to or used by any other person, or duplicated for nonpersonal use, without our permission. If you have any questions or no longer wish to receive these communications, please contact your J.P. Morgan representative.
© 2019 JPMorgan Chase & Co. All rights reserved.
---