Wealth Planning
Why borrow when you have money?
---
In a recent J.P. Morgan survey, more than 65% of our clients said they view keeping cash on hand as a missed opportunity to grow their investments and other assets. And 73% said they prefer not to liquidate investments when they have to meet a large unexpected expense.1
These survey results did not surprise us, as many clients choose to access credit both to meet their unexpected obligations and to take advantage of timely opportunities—without disrupting their carefully planned portfolios.
Expanding your options
How do you make sure you have cash when you need it? One of the most strategic, yet sometimes overlooked ways is to establish a line of credit based on your portfolio.
We've seen clients tap into these lines of credit to:
Purchase real estate for cash in a competitive market and put permanent financing in place down the road

Bridge a liquidity gap when they need funds immediately and expect cash flow from a bonus or sale of a business in the near future

Respond to time-sensitive market and business opportunities
Borrowing to invest
Many sophisticated investors use portfolio lines of credit so their investments can do double duty: let them respond to immediate investment opportunities while staying invested for the long-term benefit.
This approach may makes sense. Our research consistently finds that, historically, one of most effective ways to compound wealth has been to stay invested through economic and market cycles, despite episodes of volatility. (See "Stay invested to stay ahead" below.)
Also, borrowing to invest may help U.S. taxpayers enjoy an important tax benefit: Interest on loans used for investment purposes can be deductible. So, although taxes should never drive investment decisions, it is wise to keep in mind that investing tax-efficiently can save money—which may be particularly helpful in an environment of more modest equity returns.

Stay invested to stay ahead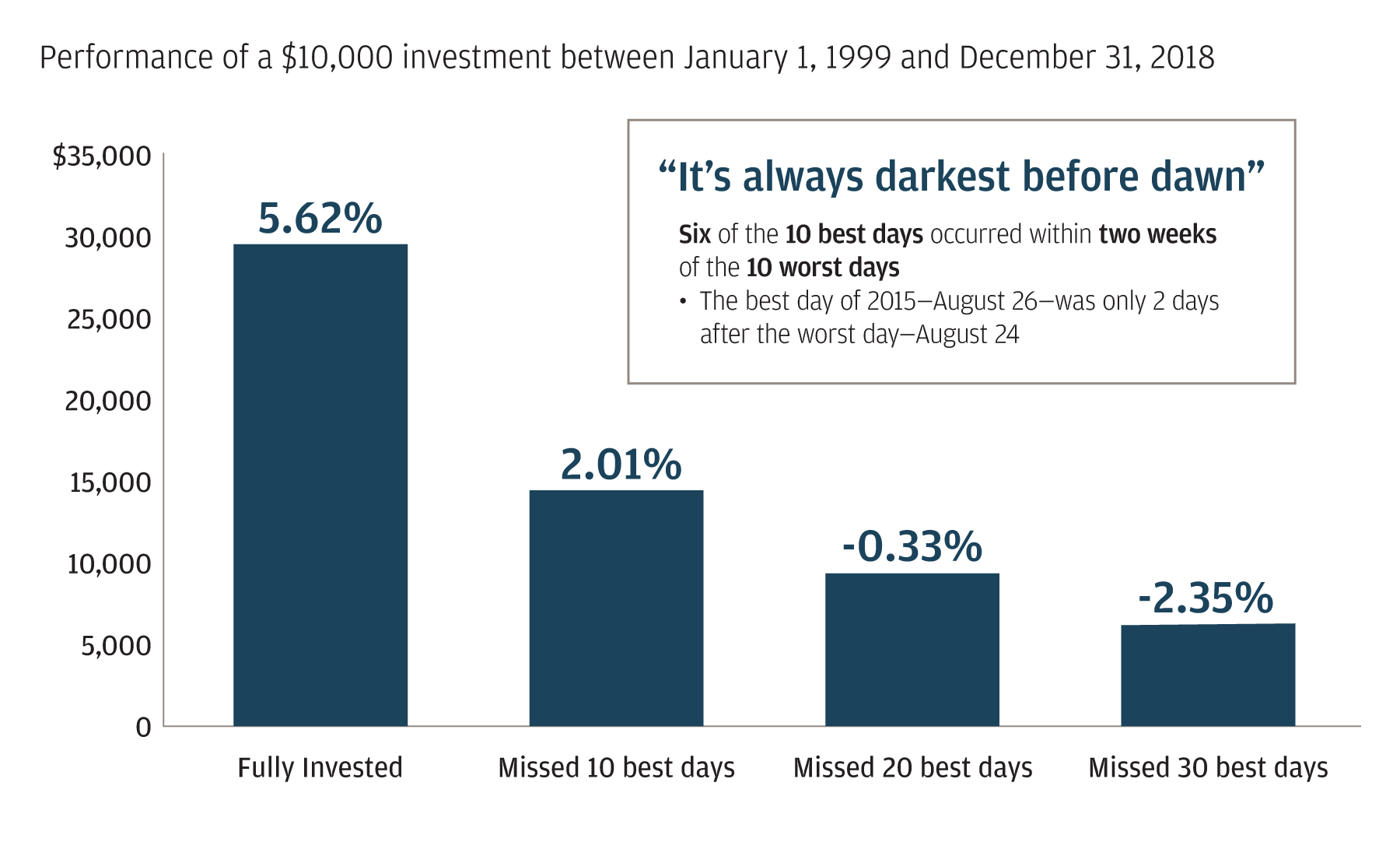 The chart above highlights that a portfolio that stayed fully invested during this time period (despite the highs and lows of the market cycle) saw the highest return.
Source: J.P. Morgan Asset Management analysis using data from Morningstar Direct. Returns are based on the S&P 500 Total Return Index, an unmanaged, capitalization-weighted index that measures the performance of 500 large capitalization domestic stocks representing all major industries. Past performance is not indicative of future returns. An individual cannot invest directly in an index. Data as of December 31, 2018. Analysis is based on the 2018 J.P. Morgan Guide to Retirement.
For illustrative purposes only. This information does not reflect the performance of any specific investment scenario.
The views and strategies described herein may not be suitable for all investors, and more complete information is available which discusses risks, liquidity, and other matters of interest. This information is not intended as an offer or solicitation for the purchase or sale of any financial instrument. Outlooks and past performance are no guarantee of future results. It is not possible to invest directly in an index. Please refer to "Definition of Indices and Terms" for important information.
How a portfolio line of credit works
Portfolio lines of credit can be particularly attractive because they typically offer low rates and have a streamlined approval process, due to the surety of the assets pledged. Borrowers pledge securities in an account and are free to trade in that account so long as they maintain the collateral levels to support the line of credit.
Borrowers are usually charged an index-based variable interest rate. Repayment terms are flexible, with interest paid only on the amount borrowed.
Of course, borrowing against securities has its risks. Among them: market fluctuations may cause the value of the assets to decline, which could trigger a need for additional collateral or liquidation of securities.
Looking at your big picture
Having a flexible liquidity plan in place can be a strategic complement to your investment portfolio to help meet your financial goals—your J.P. Morgan team is available to help you evaluate your options.
To get started, you may want to:
Identify your goals for the next 6–12 months
Evaluate all your borrowing options
Inventory your liabilities in light of low interest rates now available
We also offer a helpful Bucket List series of articles:
Lines of credit are extended at the discretion of J.P. Morgan, and J.P. Morgan has no commitment to extend a line of credit or make loans available under the line of credit.
1 J.P. Morgan Chase Client Survey, June 2018, of 551 primary or shared decision makers with net worth of $500k–$10MM+
Important Information
This material is for informational purposes only, and may inform you of certain products and services offered by J.P. Morgan's wealth management businesses, part of JPMorgan Chase & Co. ("JPM"). Please read all Important Information.
GENERAL RISKS & CONSIDERATIONS
Any views, strategies or products discussed in this material may not be appropriate for all individuals and are subject to risks. Investors may get back less than they invested, and past performance is not a reliable indicator of future results. Asset allocation does not guarantee a profit or protect against loss. Nothing in this material should be relied upon in isolation for the purpose of making an investment decision. You are urged to consider carefully whether the services, products, asset classes (e.g., equities, fixed income, alternative investments, commodities, etc.) or strategies discussed are suitable to your needs. You must also consider the objectives, risks, charges, and expenses associated with an investment service, product or strategy prior to making an investment decision. For this and more complete information, including discussion of your goals/situation, contact your J.P. Morgan representative.
NON-RELIANCE
Certain information contained in this material is believed to be reliable; however, JPM does not represent or warrant its accuracy, reliability or completeness, or accept any liability for any loss or damage (whether direct or indirect) arising out of the use of all or any part of this material. No representation or warranty should be made with regard to any computations, graphs, tables, diagrams or commentary in this material, which are provided for illustration/reference purposes only. The views, opinions, estimates and strategies expressed in this material constitute our judgment based on current market conditions and are subject to change without notice. JPM assumes no duty to update any information in this material in the event that such information changes. Views, opinions, estimates and strategies expressed herein may differ from those expressed by other areas of JPM, views expressed for other purposes or in other contexts, and this material should not be regarded as a research report. Any projected results and risks are based solely on hypothetical examples cited, and actual results and risks will vary depending on specific circumstances. Forward-looking statements should not be considered as guarantees or predictions of future events.

Nothing in this document shall be construed as giving rise to any duty of care owed to, or advisory relationship with, you or any third party. Nothing in this document shall be regarded as an offer, solicitation, recommendation or advice (whether financial, accounting, legal, tax or other) given by J.P. Morgan and/or its officers or employees, irrespective of whether or not such communication was given at your request.
J.P. Morgan and its affiliates and employees do not provide tax, legal or accounting advice. You should consult your own tax, legal and accounting advisors before engaging in any financial transactions.
IMPORTANT INFORMATION ABOUT YOUR INVESTMENTS AND POTENTIAL CONFLICTS OF INTEREST
Conflicts of interest will arise whenever JPMorgan Chase Bank, N.A. or any of its affiliates (together, "J.P. Morgan") have an actual or perceived economic or other incentive in its management of our clients' portfolios to act in a way that benefits J.P. Morgan. Conflicts will result, for example (to the extent the following activities are permitted in your account): (1) when J.P. Morgan invests in an investment product, such as a mutual fund, structured product, separately managed account or hedge fund issued or managed by JPMorgan Chase Bank, N.A. or an affiliate, such as J.P. Morgan Investment Management Inc.; (2) when a J.P. Morgan entity obtains services, including trade execution and trade clearing, from an affiliate; (3) when J.P. Morgan receives payment as a result of purchasing an investment product for a client's account; or (4) when J.P. Morgan receives payment for providing services (including shareholder servicing, recordkeeping or custody) with respect to investment products purchased for a client's portfolio. Other conflicts will result because of relationships that J.P. Morgan has with other clients or when J.P. Morgan acts for its own account.

Investment strategies are selected from both J.P. Morgan and third-party asset managers and are subject to a review process by our manager research teams. From this pool of strategies, our portfolio construction teams select those strategies we believe fit our asset allocation goals and forward-looking views in order to meet the portfolio's investment objective.
As a general matter, we prefer J.P. Morgan managed strategies. We expect the proportion of J.P. Morgan managed strategies will be high (in fact, up to 100 percent) in strategies such as, for example, cash and high-quality fixed income, subject to applicable law and any account-specific considerations.
While our internally managed strategies generally align well with our forward-looking views, and we are familiar with the investment processes as well as the risk and compliance philosophy of the firm, it is important to note that J.P. Morgan receives more overall fees when internally managed strategies are included. We offer the option of choosing to exclude J.P. Morgan managed strategies (other than cash and liquidity products) in certain portfolios.
The Six Circles Funds are U.S.-registered mutual funds managed by J.P. Morgan and sub-advised by third parties. Although considered internally managed strategies, JPMC does not retain a fee for fund management or other fund services.
LEGAL ENTITY, BRAND & REGULATORY INFORMATION
In the United States, bank deposit accounts and related services, such as checking, savings and bank lending, are offered by JPMorgan Chase Bank, N.A. Member FDIC.
JPMorgan Chase Bank, N.A. and its affiliates (collectively "JPMCB") offer investment products, which may include bank-managed investment accounts and custody, as part of its trust and fiduciary services. Other investment products and services, such as brokerage and advisory accounts, are offered through J.P. Morgan Securities LLC ("JPMS"), a member of FINRA and SIPC. Annuities are made available through Chase Insurance Agency, Inc. (CIA), a licensed insurance agency, doing business as Chase Insurance Agency Services, Inc. in Florida. JPMCB, JPMS and CIA are affiliated companies under the common control of JPMorgan Chase & Co. Products not available in all states.
References to "J.P. Morgan" are to JPM, its subsidiaries and affiliates worldwide. "J.P. Morgan Private Bank" is the brand name for the private banking business conducted by JPM.
This material is intended for your personal use and should not be circulated to or used by any other person, or duplicated for non-personal use, without our permission. If you have any questions or no longer wish to receive these communications, please contact your J.P. Morgan representative.
© 2019 JPMorgan Chase & Co. All rights reserved.