Investing
The silver bullets
Did Congress find a silver bullet last night? 
---
Our Top Market Takeaways for March 25, 2020.
Spotlight
The silver bullets
On Monday, we discussed three problems that the economy and markets would have to work through before they could find a bottom.
The spread of COVID-19
The issues in credit markets that are inhibiting borrowing in the real economy
The government's ability to bridge the private sector's gap while social distancing halts revenues
What makes this crisis different is that there are silver bullets for each problem that could drastically change the outlook for the better.
A vaccine or antiviral medication that mitigates the threat of COVID-19
The Federal Reserve and other central banks alleviate issues in debt markets
The government bridges private sector revenues and worker's wages until the disruption has passed
Now, this isn't a folk tale. Silver bullets don't come easily in the real world, and when they do, they often present externalities of their own. Vaccines take time. Central bank balance sheet expansion has been controversial for a decade. Congress and the Administration had to go through several rounds of negotiations before finally reaching a deal for a fiscal package late last night. But in today's note, we wanted to explore the likelihood of the silver bullets saving the day.
A vaccine or antiviral medication
First, let's state the obvious. We aren't experts in medical treatments or scientific research. However, our Chairman of Market and Investment Strategy, Michael Cembalest, has been at the forefront of translating the latest scientific findings to investors, so please visit his dedicated page for details. According to Michael, there are no less than 32 vaccines, antiviral medications, antibodies, or immunomodulators currently in development. Needless to say, the medical research community is working tirelessly to find a medical solution to this problem. While the idea of a vaccine is exciting, the problem is that an expedited process to get a vaccine to patients could be 12–18 months. There will likely be a vaccine developed at some point (given the advances in technology over the last 10 years), but it will still take time for the proper testing and the manufacturing buildout to take place.
Our verdict is that there is likely to be a medical solution to COVID-19 at some point in the future, but it does not seem imminent. In the short term, it seems like social distancing is the best way to reduce the threat of the virus.
The Federal Reserve and other central banks alleviate issues in debt markets
We touched on this on Monday, but one of the most troubling features of markets over the last few weeks has been the scramble for cash, and its adverse impact on monetary policy. This is a complex topic, so we will try to simplify it. The Federal Reserve uses interest rates to influence economic activity. The effectiveness of that policy is constrained by the degree to which debt market pricing cooperates with the Fed's policies. Lowering the federal funds rate does not help if banks don't actually end up lending to each other at those lower rates (shown in the chart below comparing LIBOR to OIS). Said differently, pushing borrowing costs down does not help if the rates that businesses and consumers actually transact at, such as mortgage rates, are more expensive than usual relative to Treasury bonds (chart shown in our note from Monday).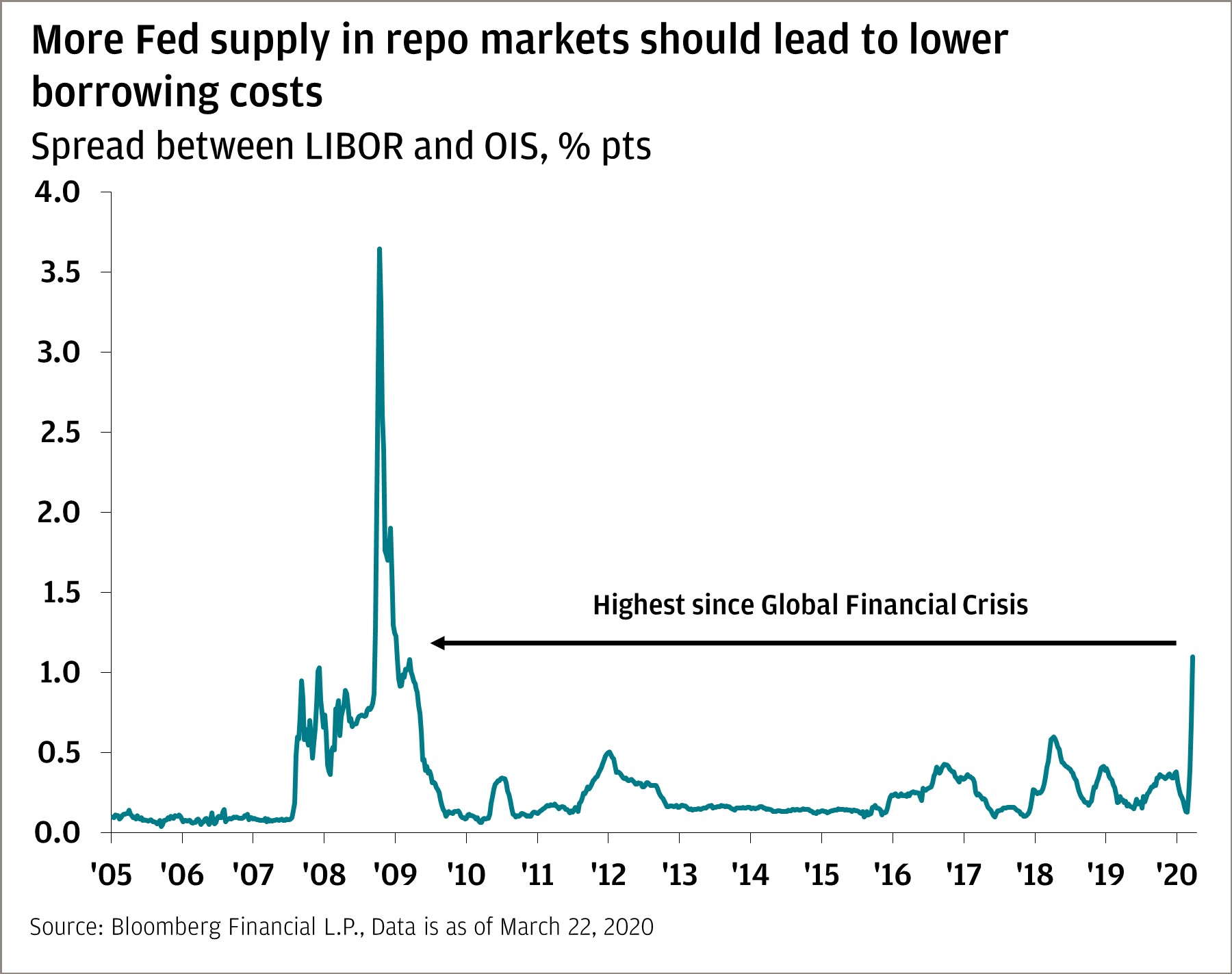 The line chart shows the spread between LIBOR and OIS from 2005 through March 22, 2020. It shows that this spread is currently at its highest level since the Global Financial Crisis.
That is why the Fed has dusted off so many of its Global Financial Crisis era facilities and created some new ones (the Fed can buy corporate bonds now, for example). It is trying to lower borrowing costs across loan tenors and borrower types. In general, the Fed is creating new reserves to support demand for debt. More demand leads to higher prices, which leads to lower interest rates (that's the idea at least). We have already started to see the Treasury market react to these new measures, and we are confident that other segments (like money markets, mortgages and corporate bonds) will follow suit.
Could the Fed's silver bullet have costs down the line? Perhaps. Since 2010, there have been arguments that quantitative easing would lead to a "debasement" of the U.S. dollar and spiraling inflation. However, the problems in fixed income markets and the real economy are immediate, and the Fed needs to fix them before worrying about side effects. Second, if there is anything that the post–Global Financial Crisis period suggested, it is that central bank balance sheet expansion has not caused inflation to rise. For investors, the best solution is probably to not fight the Fed and look for opportunity in dislocated fixed income markets. At the same time, it could make sense to hold gold in case the negative externality of inflation does happen this time.
The verdict on the Fed is that it is the closest of the three to finding a true silver bullet for their problems.
The government replaces private sector revenues and workers' wages until the disruption has passed
The stock market is fixated on Congress. On Sunday, S&P 500 futures lost -5% after a procedural vote failed in the Senate. Yesterday, the S&P 500 gained almost +10% (which would be a good year, let alone single day) on headlines proclaiming the Republicans and Democrats were close to an agreement on a massive bill to respond to the COVID-19 crisis. Overnight, the press reported that lawmakers had come to an agreement on a roughly $2 trillion stimulus package. The size of the bill isn't going to be the problem. Now, we are focused on the design.
A silver bullet in the bill would have been a mechanism through which the government could replace business revenues while the COVID-19 shutdown lasts, contingent upon the businesses retaining and paying their workers. Of course, there would be bureaucratic and logistical hurdles to that solution (this is the government we are talking about), but, in theory, it would allow small and medium-sized businesses to maintain all of their human and physical capital so that they can ramp up quickly when the threat from the virus has passed. This is critical, because small and medium-sized businesses make up 83% of employment in the United States. Over 30 million workers are in the industries most exposed to social distancing. Right now, it seems more likely that the thrust of the fiscal response will be a combination of small and medium-sized business loans and a massive expansion of unemployment benefits. That is better than no response, but it isn't quite as optimal as the "silver bullet."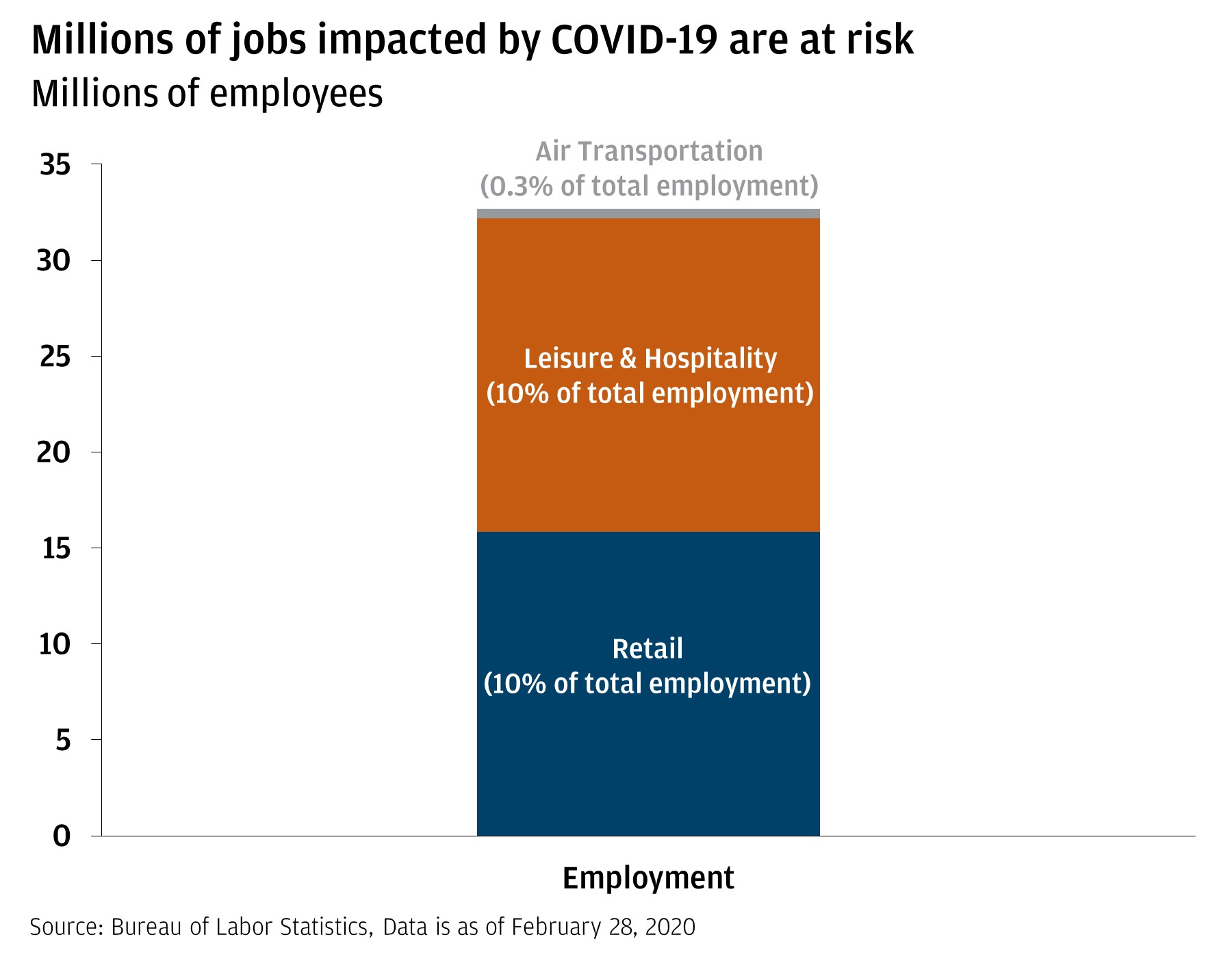 The stacked bar chart shows the millions of employees who have been impacted by COVID-19 as of February 28, 2020. It shows the breakdown between retail, leisure & hospitality, and air transportation employees.
Let's take a nail salon for example. It is closed because of social distancing measures. And demand is being destroyed (you aren't going to get double the amount of manicures in the second half of the year because you missed the first half). It employs 30 manicurists. It isn't sure how long this shutdown will be in place, but the salon knows it has to start cutting costs to survive. It has probably started laying off manicurists already, but maybe not all. If the government's response was to replace the salon's revenue as long as it maintained its payroll, it would probably not lay off any more workers and wait out the virus. Once the virus passes, it would be up to speed fairly quickly.
Now, since the response seems to be a scheme of loans and expanded unemployment benefits, the salon is more likely to lay off the manicurists (because they are receiving a good portion of their incomes through unemployment benefits anyway), and taking the loan would be a hard decision. Further, there is a chance the salon can't make the rent and it loses its location before it can make a decision. In this sense, it would be much harder for the salon to get up to speed once the virus passes. When you aggregate this scenario up to the whole economy, it suggests that the more workers are laid off, the longer the economic recovery will take.
There have been reports that the loans could be entirely forgiven if the businesses who take them maintain their payrolls. That would be a positive development and would make the loan scheme very close to the silver bullet that we outlined. If that is the stipulation, then the rise in the unemployment rate would be lower than it otherwise would have been, but the details are still scarce.
The verdict here is that the bill as designed isn't [quite] a silver bullet for the economy, but looks robust enough to cushion the economic fallout. We will give it a bronze.
In the end, we can't make investment decisions based on hoping for silver bullets. That is why the portfolios we manage are the most defensive they have been since the Global Financial Crisis. However, markets are beginning to present targeted opportunities in high-quality assets that we think can generate outsized returns. While it is nearly impossible to call a bottom in broad markets, we believe it is time to focus on adding those specific exposures.
All market and economic data as of March 2020 and sourced from Bloomberg, FactSet and Gavekal unless otherwise stated.
We believe the information contained in this material to be reliable but do not warrant its accuracy or completeness. Opinions, estimates, and investment strategies and views expressed in this document constitute our judgment based on current market conditions and are subject to change without notice.
RISK CONSIDERATIONS
Past performance is not indicative of future results. You may not invest directly in an index.
The prices and rates of return are indicative, as they may vary over time based on market conditions.
Additional risk considerations exist for all strategies.
The information provided herein is not intended as a recommendation of or an offer or solicitation to purchase or sell any investment product or service.
Opinions expressed herein may differ from the opinions expressed by other areas of J.P. Morgan. This material should not be regarded as investment research or a J.P. Morgan investment research report.
Important Information
All companies referenced are shown for illustrative purposes only, and are not intended as a recommendation or endorsement by J.P. Morgan in this context.
All market and economic data as of March 2020 and sourced from Bloomberg, FactSet and Gavekal unless otherwise stated.
The information presented is not intended to be making value judgments on the preferred outcome of any government decision.
This material is for informational purposes only, and may inform you of certain products and services offered by
J.P. Morgan's wealth management businesses, part of JPMorgan Chase & Co. ("JPM"). Please read all Important Information.
The MSCI China Index captures large- and mid-cap representation across China H shares, B shares, Red chips, P chips and foreign listings (e.g., ADRs). With 459 constituents, the index covers about 85% of this China equity universe. Currently, the index also includes Large Cap A shares represented at 5% of their free float adjusted market capitalization.
The Standard and Poor's 500 Index is a capitalization-weighted index of 500 stocks. The index is designed to measure performance of the broad domestic economy through changes in the aggregate market value of 500 stocks representing all major industries. The index was developed with a base level of 10 for the 1941–43 base period.
The STOXX Europe 600 Index tracks 600 publicly traded companies based in one of 18 EU countries. The index includes small-cap, medium-cap and large-cap companies. The countries represented in the index are Austria, Belgium, Denmark, Finland, France, Germany, Greece, Holland, Iceland, Ireland, Italy, Luxembourg, Norway, Portugal, Spain, Sweden, Switzerland and the United Kingdom.
This material is for informational purposes only, and may inform you of certain products and services offered by
J.P. Morgan's wealth management businesses, part of JPMorgan Chase & Co. ("JPM"). Please read all Important Information.
GENERAL RISKS & CONSIDERATIONS
Any views, strategies or products discussed in this material may not be appropriate for all individuals and are subject to risks. Investors may get back less than they invested, and past performance is not a reliable indicator of future results. Asset allocation does not guarantee a profit or protect against loss. Nothing in this material should be relied upon in isolation for the purpose of making an investment decision. You are urged to consider carefully whether the services, products, asset classes (e.g., equities, fixed income, alternative investments, commodities, etc.) or strategies discussed are suitable to your needs. You must also consider the objectives, risks, charges, and expenses associated with an investment service, product or strategy prior to making an investment decision. For this and more complete information, including discussion of your goals/situation, contact your J.P. Morgan representative.
NON-RELIANCE
Certain information contained in this material is believed to be reliable; however, JPM does not represent or warrant its accuracy, reliability or completeness, or accept any liability for any loss or damage (whether direct or indirect) arising out of the use of all or any part of this material. No representation or warranty should be made with regard to any computations, graphs, tables, diagrams or commentary in this material, which are provided for illustration/reference purposes only. The views, opinions, estimates and strategies expressed in this material constitute our judgment based on current market conditions and are subject to change without notice. JPM assumes no duty to update any information in this material in the event that such information changes. Views, opinions, estimates and strategies expressed herein may differ from those expressed by other areas of JPM, views expressed for other purposes or in other contexts, and this material should not be regarded as a research report. Any projected results and risks are based solely on hypothetical examples cited, and actual results and risks will vary depending on specific circumstances. Forward-looking statements should not be considered as guarantees or predictions of future events.
Nothing in this document shall be construed as giving rise to any duty of care owed to, or advisory relationship with, you or any third party. Nothing in this document shall be regarded as an offer, solicitation, recommendation or advice (whether financial, accounting, legal, tax or other) given by J.P. Morgan and/or its officers or employees, irrespective of whether or not such communication was given at your request. J.P. Morgan and its affiliates and employees do not provide tax, legal or accounting advice. You should consult your own tax, legal and accounting advisors before engaging in any financial transactions.
IMPORTANT INFORMATION ABOUT YOUR INVESTMENTS AND POTENTIAL CONFLICTS OF INTEREST
Conflicts of interest will arise whenever JPMorgan Chase Bank, N.A. or any of its affiliates (together, "J.P. Morgan") have an actual or perceived economic or other incentive in its management of our clients' portfolios to act in a way that benefits J.P. Morgan. Conflicts will result, for example (to the extent the following activities are permitted in your account): (1) when J.P. Morgan invests in an investment product, such as a mutual fund, structured product, separately managed account or hedge fund issued or managed by JPMorgan Chase Bank, N.A. or an affiliate, such as J.P. Morgan Investment Management Inc.; (2) when a J.P. Morgan entity obtains services, including trade execution and trade clearing, from an affiliate; (3) when J.P. Morgan receives payment as a result of purchasing an investment product for a client's account; or (4) when J.P. Morgan receives payment for providing services (including shareholder servicing, recordkeeping or custody) with respect to investment products purchased for a client's portfolio. Other conflicts will result because of relationships that J.P. Morgan has with other clients or when J.P. Morgan acts for its own account.
Investment strategies are selected from both J.P. Morgan and third-party asset managers and are subject to a review process by our manager research teams. From this pool of strategies, our portfolio construction teams select those strategies we believe fit our asset allocation goals and forward-looking views in order to meet the portfolio's investment objective.
As a general matter, we prefer J.P. Morgan managed strategies. We expect the proportion of J.P. Morgan managed strategies will be high (in fact, up to 100 percent) in strategies such as cash and high-quality fixed income, subject to applicable law and any account-specific considerations.
While our internally managed strategies generally align well with our forward-looking views, and we are familiar with the investment processes as well as the risk and compliance philosophy of the firm, it is important to note that
J.P. Morgan receives more overall fees when internally managed strategies are included. We offer the option of choosing to exclude J.P. Morgan managed strategies (other than cash and liquidity products) in certain portfolios.
The Six Circles Funds are U.S.-registered mutual funds managed by J.P. Morgan and sub-advised by third parties. Although considered internally managed strategies, JPMC does not retain a fee for fund management or other fund services.
LEGAL ENTITY, BRAND & REGULATORY INFORMATION
In the United States, bank deposit accounts and related services, such as checking, savings and bank lending, are offered by JPMorgan Chase Bank, N.A. Member FDIC.
JPMorgan Chase Bank, N.A. and its affiliates (collectively "JPMCB") offer investment products, which may include bank-managed investment accounts and custody, as part of its trust and fiduciary services. Other investment products and services, such as brokerage and advisory accounts, are offered through J.P. Morgan Securities LLC ("JPMS"), a member of FINRA and SIPC. Annuities are made available through Chase Insurance Agency, Inc. (CIA), a licensed insurance agency, doing business as Chase Insurance Agency Services, Inc. in Florida. JPMCB, JPMS and CIA are affiliated companies under the common control of JPMorgan Chase & Co. Products not available in all states.
References to "J.P. Morgan" are to JPM, its subsidiaries and affiliates worldwide. "J.P. Morgan Private Bank" is the brand name for the private banking business conducted by JPM.
This material is intended for your personal use and should not be circulated to or used by any other person, or duplicated for nonpersonal use, without our permission. If you have any questions or no longer wish to receive these communications, please contact your J.P. Morgan representative.
© 2020 JPMorgan Chase & Co. All rights reserved.