Investing
The importance of policy
What's priced in? Where do we go from here?
---
Our Top Market Takeaways for March 18, 2020.
MARKET UPDATE
The saga continues
Following the S&P 500's largest daily decline since 1987 (-12.0%), markets clung to the idea that fiscal stimulus might be right around the corner. The S&P 500 recovered +6.0% yesterday (doesn't seem like much compared to the +/-9% days as of late, but it's still above the ~5% daily swings implied by the VIX and above the 4.4% average daily move during this bear market). International markets followed suit, as MSCI EM (+7.0%), MSCI China (+6.3%), Japan's TOPIX (+2.6%) and the Stoxx Europe 600 (+2.3%) all ended yesterday in the green. U.S. Treasury 10-year yields sold off for the fifth time in the last six days and are now back above 1.0%, sitting at 1.11%.
Today, markets are taking another turn lower. After a mixed night in Asia (CSI 300 -2.0%, TOPIX +0.2%), the Stoxx Europe 600 lost -3.9% and the S&P 500 is back under pressure, down nearly -9.0% at 2:00pmET. We expect daily swings like these to continue in the weeks ahead as markets work to price in the extent of the economic decline.
So what was *new* in the news yesterday?
Most headlines were centered around U.S. fiscal policy and how it will be used to combat COVID-19's impact. The White House and Congress are trying to get something done ASAP, and they are floating the idea of a package worth at least $1 trillion. While exact details are not yet known, this package could include industry-specific support to those companies negatively impacted, as well as direct payments to Americans.
The Fed continued its rush of monetary stimulus. The Central Bank reintroduced Commercial Paper Funding Facility (CPFF), which is meant to ease liquidity concerns by opening a channel for primary issuance and providing corporates with funding.
Former Vice President Joe Biden swept Arizona, Florida and Illinois in another handful of primaries. Biden is a near certainty to win the Democratic nomination.
Bank of America's most recent fund manager survey showed the largest month-over-month drop in global growth expectations in its history (the survey started in 1994), and lowest global EPS expectations since the global financial crisis. The survey also showed that cash levels jumped from 4.0% last month to 5.1%, representing the fourth-biggest monthly increase in cash allocation since 2001.
Markets are clearly fixated on the policy response to the COVID-19 disruption, and we think the fiscal policy response will play a critical role in the path forward from here.
SPOTLIGHT
What's priced in, and where do we go from here?
The first step in determining where we're going is to examine an existing template. Almost exactly two months ago, the Chinese economy shut down in an effort to control the spread of COVID-19. We are just starting to get statistics that quantify the extent of the slowdown. They paint a historically weak picture for growth. As Alex Wolf (our Asia Strategist) noted, industrial production, retail and automobile sales, and fixed asset investment all suggested the largest contractions on record. An optimist could argue that things are getting better (all indications are that the economy is back running at 60%–80% of its full capacity), but Chinese growth in the first quarter was historically bad, and now the economy has to deal with tentative domestic and external demand as the virus spreads around the world.
Despite being the epicenter of the outbreak, Chinese assets have outperformed their global counterparts this year. Consider that the S&P 500 is down -25% year-to-date. Offshore Chinese stocks are down -15% year-to-date, while onshore Chinese equities are only down -9%. How can that be, you ask? First, it's worth noting that valuations for each market started at a different place: U.S. valuations were stretched by most estimates, while Chinese valuations were about in line with historical averages (in other words, Chinese stocks had less room to fall).
We also think it has a lot to do with both direct government intervention in the market itself and policymakers' proactive, coordinated and robust effort to backstop businesses and stimulate growth. Critically, the unemployment rate in China did not rise nearly as much as we would have expected, given the bleak growth rates, and government spending is going to contribute the vast majority of real GDP growth this year. Clearly, comparing the Chinese political machine to the United States is, to put it mildly, apples and oranges. But China's experience does suggest that the government will play a critical role in determining the ultimate severity and duration of the economic and market downturn.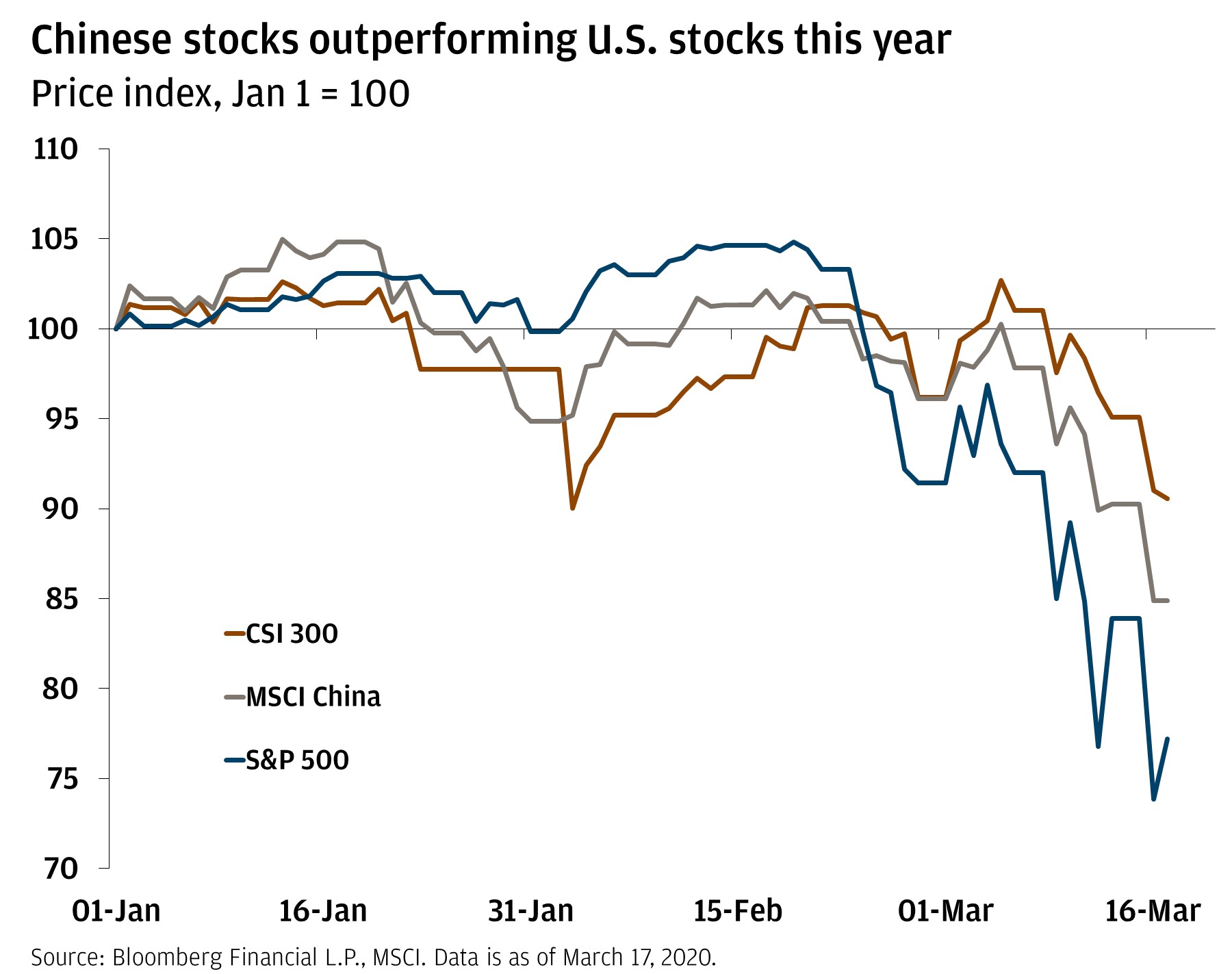 Line chart comparing Chinese stocks (CSI 300), MSCI China and S&P 500 from January 2020 through March 2020. The line shows that the S&P 500 has performed the worst during this time period.
So what growth outcomes are priced in now? It seems inevitable that the United States and Europe are likely to experience similar growth experiences through the rest of the first quarter and through the second quarter. Indeed, the current drawdown in equities (25%–30%), level of high yield and investment grade spreads (~900 and ~280), and move in Treasury yields all suggest that a major growth slowdown is coming. However, what does not seem priced is a deep recession characterized by stubbornly high unemployment and scar tissue that inhibit investment once the catalyst resolves itself.
Wait, how bad could it get? You might recognize this chart—we've used one similar to it in recent Top Market Takeaways notes. Last time we used it, we noted that the moves in assets have been commensurate with the average recession. This time, we compare them to a severe global recession, during which it would not be unheard of to see a -45% drawdown in stocks, high yield and investment grade spreads at 1,300 and 350, respectively, and Treasury yields close to zero. In that case, we are only around halfway there in terms of asset pricing.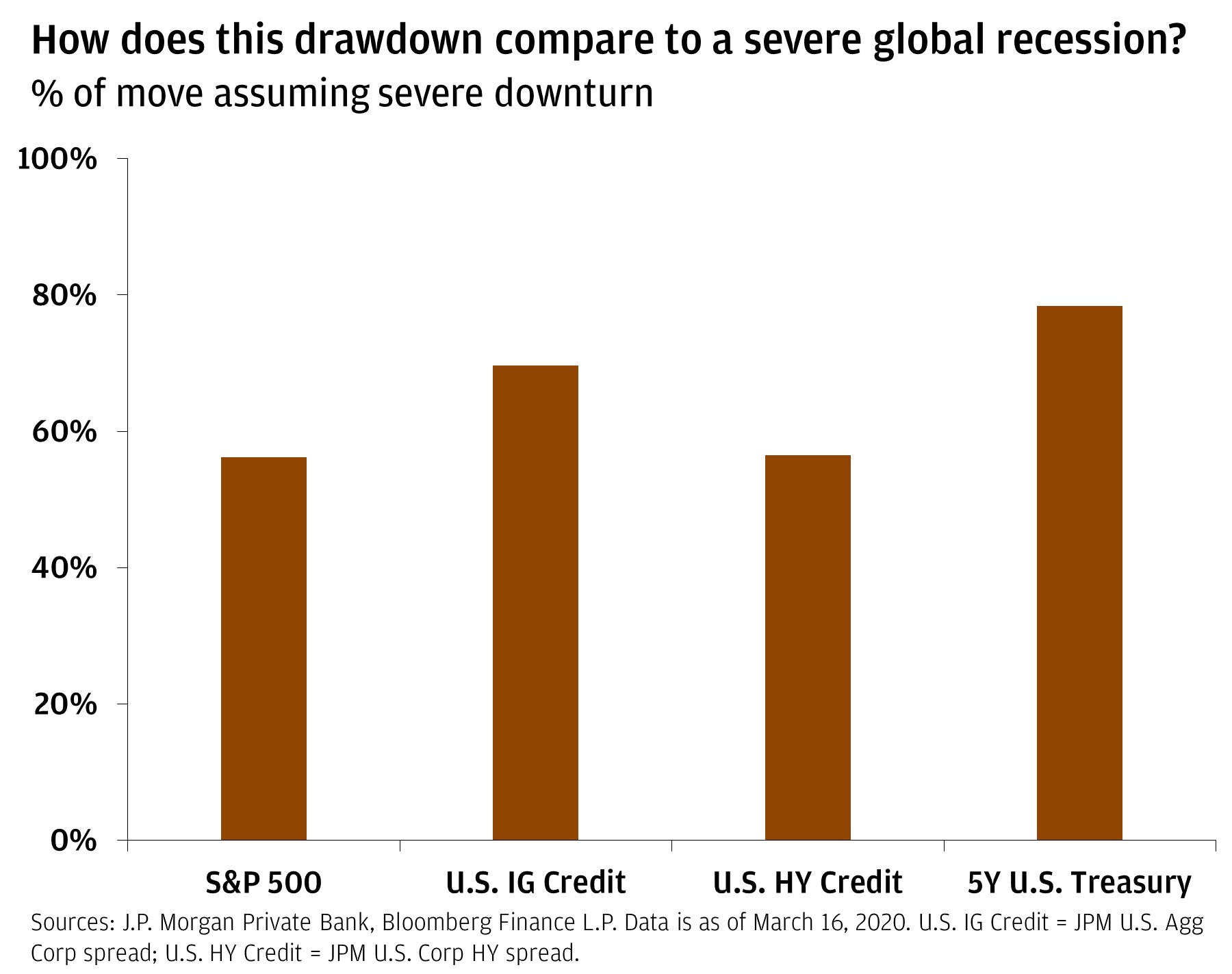 Bar chart comparing the percentage of move assuming severe downturn of the S&P 500, U.S. Investment Grade Credit, U.S. High Yield Credit and 5-Year U.S. Treasury. The chart shows that the 5-Year U.S. Treasury would see the largest downturn.
What is the difference between what markets are expecting now (a typical growth slowdown) or a global recession (where we would expect more downside)?
To us, it is simple. Markets are still expecting the rise in unemployment to be relatively mild (think a rise to around 4%–5.5%), and the combination of monetary and fiscal policy to keep credit flowing to the economy and to cushion the economic decline. Then, once the virus clears, the economy will need stimulus to get going again. This seems to be the path China is following, and the United States and Europe should consider following the same.
I get what the Fed is doing to support the financial system. How much fiscal stimulus do we really need?
A $1 trillion package would get the market's attention and cushion some of the decline. For context, the American Recovery and Reinvestment Act, which President Obama signed into law in February 2009, was an $831 billion package (~5.75% of that year's GDP).
To map that to unemployment, economists use a rule called "Okun's Law." Generally, you can estimate the change in GDP relative to potential by observing the change in unemployment. Thanks to algebra, and by making assumptions around fiscal multipliers (a measure of efficacy), we can solve for the degree to which stimulus could help offset a rise in unemployment.
In this example, we assume that the legislative package will come in three phases. The first one is already done, and focuses on the healthcare system and actually fighting the virus. The second phase is likely to come soon, and will likely focus on the sectors of the economy that are most at risk (airlines, travel and leisure, broadly). The final phase will likely focus on actually stimulating the economy out of the COVID-19 recession through broad measures. We show two "total" bars, one at $850 billion total and one at $1.2 trillion (which was the number floated by the Trump administration yesterday).
Using Okun's Law, we think that a ~$850 billion package could offset about half of the rise in unemployment that we see in an average recession.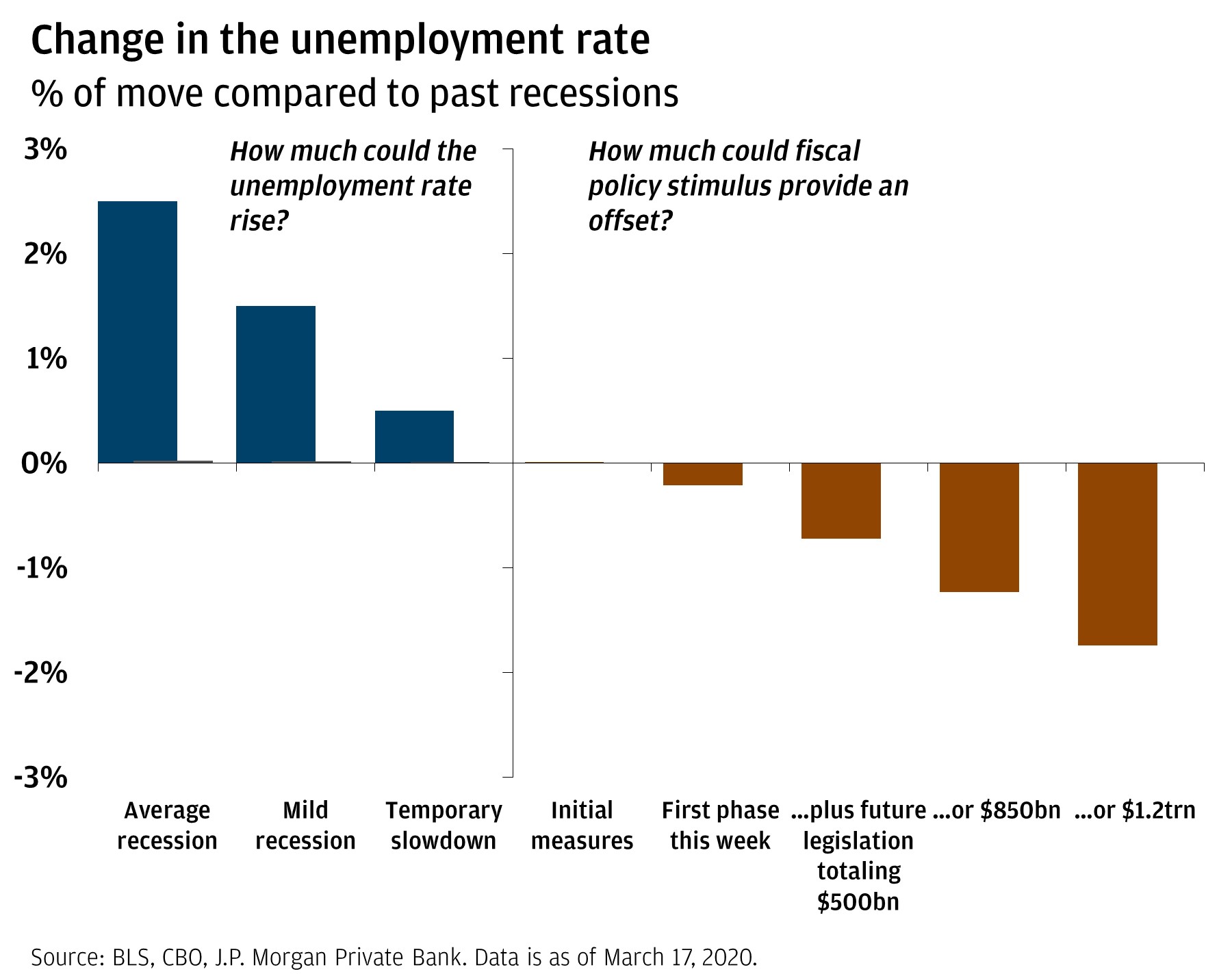 Bar chart shows change in unemployment rate (in percentages) across multiple scenarios—average recession, mild recession, temporary slowdown, initial measures of fiscal policy, first phase of fiscal policy this week, future legislation of fiscal policy totaling $500 billion or $850 billion, or $1.2 trillion.
Are you more concerned about quantity or quality? Great question! First, there is a size threshold that will be necessary to get the market's attention. After that hurdle is cleared, the quality of the legislation will be critical. If the bill is composed mainly of payroll tax cuts dispersed over a long period of time, that is very different from injecting cash directly into the hands of businesses and households that need it. There is also a distinction to be made between fiscal stimulus (designed to give the broad economy a boost) and fiscal support (which offers targeted relief to those who need it). We can break that down once we have a better sense of the actual legislation.
Overall, fiscal stimulus can be a powerful tool to mitigate downside. Avoiding a substantial rise in unemployment has massive implications for American workers, Main Street businesses and Wall Street asset prices.
All market and economic data as of March 2020 and sourced from Bloomberg, FactSet and Gavekal unless otherwise stated.
We believe the information contained in this material to be reliable but do not warrant its accuracy or completeness. Opinions, estimates, and investment strategies and views expressed in this document constitute our judgment based on current market conditions and are subject to change without notice.
RISK CONSIDERATIONS
Past performance is not indicative of future results. You may not invest directly in an index.
The prices and rates of return are indicative, as they may vary over time based on market conditions.
Additional risk considerations exist for all strategies.
The information provided herein is not intended as a recommendation of or an offer or solicitation to purchase or sell any investment product or service.
Opinions expressed herein may differ from the opinions expressed by other areas of J.P. Morgan. This material should not be regarded as investment research or a J.P. Morgan investment research report.
Important Information
All companies referenced are shown for illustrative purposes only, and are not intended as a recommendation or endorsement by J.P. Morgan in this context.
All market and economic data as of March 2020 and sourced from Bloomberg, FactSet and Gavekal unless otherwise stated.
The information presented is not intended to be making value judgments on the preferred outcome of any government decision.
This material is for informational purposes only, and may inform you of certain products and services offered by
J.P. Morgan's wealth management businesses, part of JPMorgan Chase & Co. ("JPM"). Please read all Important Information.
The MSCI China Index captures large- and mid-cap representation across China H shares, B shares, Red chips, P chips and foreign listings (e.g., ADRs). With 459 constituents, the index covers about 85% of this China equity universe. Currently, the index also includes Large Cap A shares represented at 5% of their free float adjusted market capitalization.
The Standard and Poor's 500 Index is a capitalization-weighted index of 500 stocks. The index is designed to measure performance of the broad domestic economy through changes in the aggregate market value of 500 stocks representing all major industries. The index was developed with a base level of 10 for the 1941–43 base period.
The STOXX Europe 600 Index tracks 600 publicly traded companies based in one of 18 EU countries. The index includes small-cap, medium-cap and large-cap companies. The countries represented in the index are Austria, Belgium, Denmark, Finland, France, Germany, Greece, Holland, Iceland, Ireland, Italy, Luxembourg, Norway, Portugal, Spain, Sweden, Switzerland and the United Kingdom.
This material is for informational purposes only, and may inform you of certain products and services offered by
J.P. Morgan's wealth management businesses, part of JPMorgan Chase & Co. ("JPM"). Please read all Important Information.
GENERAL RISKS & CONSIDERATIONS
Any views, strategies or products discussed in this material may not be appropriate for all individuals and are subject to risks. Investors may get back less than they invested, and past performance is not a reliable indicator of future results. Asset allocation does not guarantee a profit or protect against loss. Nothing in this material should be relied upon in isolation for the purpose of making an investment decision. You are urged to consider carefully whether the services, products, asset classes (e.g., equities, fixed income, alternative investments, commodities, etc.) or strategies discussed are suitable to your needs. You must also consider the objectives, risks, charges, and expenses associated with an investment service, product or strategy prior to making an investment decision. For this and more complete information, including discussion of your goals/situation, contact your J.P. Morgan representative.
NON-RELIANCE
Certain information contained in this material is believed to be reliable; however, JPM does not represent or warrant its accuracy, reliability or completeness, or accept any liability for any loss or damage (whether direct or indirect) arising out of the use of all or any part of this material. No representation or warranty should be made with regard to any computations, graphs, tables, diagrams or commentary in this material, which are provided for illustration/reference purposes only. The views, opinions, estimates and strategies expressed in this material constitute our judgment based on current market conditions and are subject to change without notice. JPM assumes no duty to update any information in this material in the event that such information changes. Views, opinions, estimates and strategies expressed herein may differ from those expressed by other areas of JPM, views expressed for other purposes or in other contexts, and this material should not be regarded as a research report. Any projected results and risks are based solely on hypothetical examples cited, and actual results and risks will vary depending on specific circumstances. Forward-looking statements should not be considered as guarantees or predictions of future events.
Nothing in this document shall be construed as giving rise to any duty of care owed to, or advisory relationship with, you or any third party. Nothing in this document shall be regarded as an offer, solicitation, recommendation or advice (whether financial, accounting, legal, tax or other) given by J.P. Morgan and/or its officers or employees, irrespective of whether or not such communication was given at your request. J.P. Morgan and its affiliates and employees do not provide tax, legal or accounting advice. You should consult your own tax, legal and accounting advisors before engaging in any financial transactions.
IMPORTANT INFORMATION ABOUT YOUR INVESTMENTS AND POTENTIAL CONFLICTS OF INTEREST
Conflicts of interest will arise whenever JPMorgan Chase Bank, N.A. or any of its affiliates (together, "J.P. Morgan") have an actual or perceived economic or other incentive in its management of our clients' portfolios to act in a way that benefits J.P. Morgan. Conflicts will result, for example (to the extent the following activities are permitted in your account): (1) when J.P. Morgan invests in an investment product, such as a mutual fund, structured product, separately managed account or hedge fund issued or managed by JPMorgan Chase Bank, N.A. or an affiliate, such as J.P. Morgan Investment Management Inc.; (2) when a J.P. Morgan entity obtains services, including trade execution and trade clearing, from an affiliate; (3) when J.P. Morgan receives payment as a result of purchasing an investment product for a client's account; or (4) when J.P. Morgan receives payment for providing services (including shareholder servicing, recordkeeping or custody) with respect to investment products purchased for a client's portfolio. Other conflicts will result because of relationships that J.P. Morgan has with other clients or when J.P. Morgan acts for its own account.
Investment strategies are selected from both J.P. Morgan and third-party asset managers and are subject to a review process by our manager research teams. From this pool of strategies, our portfolio construction teams select those strategies we believe fit our asset allocation goals and forward-looking views in order to meet the portfolio's investment objective.
As a general matter, we prefer J.P. Morgan managed strategies. We expect the proportion of J.P. Morgan managed strategies will be high (in fact, up to 100 percent) in strategies such as cash and high-quality fixed income, subject to applicable law and any account-specific considerations.
While our internally managed strategies generally align well with our forward-looking views, and we are familiar with the investment processes as well as the risk and compliance philosophy of the firm, it is important to note that
J.P. Morgan receives more overall fees when internally managed strategies are included. We offer the option of choosing to exclude J.P. Morgan managed strategies (other than cash and liquidity products) in certain portfolios.
The Six Circles Funds are U.S.-registered mutual funds managed by J.P. Morgan and sub-advised by third parties. Although considered internally managed strategies, JPMC does not retain a fee for fund management or other fund services.
LEGAL ENTITY, BRAND & REGULATORY INFORMATION
In the United States, bank deposit accounts and related services, such as checking, savings and bank lending, are offered by JPMorgan Chase Bank, N.A. Member FDIC.
JPMorgan Chase Bank, N.A. and its affiliates (collectively "JPMCB") offer investment products, which may include bank-managed investment accounts and custody, as part of its trust and fiduciary services. Other investment products and services, such as brokerage and advisory accounts, are offered through J.P. Morgan Securities LLC ("JPMS"), a member of FINRA and SIPC. Annuities are made available through Chase Insurance Agency, Inc. (CIA), a licensed insurance agency, doing business as Chase Insurance Agency Services, Inc. in Florida. JPMCB, JPMS and CIA are affiliated companies under the common control of JPMorgan Chase & Co. Products not available in all states.
---