Investing
The bear necessities
The S&P has shown an almost -30% decline. Read on for our guide to bear markets.
---
Our Top Market Takeaways for March 20, 2020.
MARKETS IN A MINUTE
No rest for the weary
Heading into Friday, stocks seemed to be enjoying a fiscal stimulus-related boost. The breather is welcome (TGIF), but so far, it doesn't look like it will erase the S&P 500's -11% losses this week, or help us forget about the dramatic swings that accompanied the declines. Since the selloff began on February 19, the S&P 500 has seen an average daily move of 4.3%, and five of the last six trading days have seen swings of 5% or more. The VIX, a measure of implied volatility for the S&P 500, remains at all-time highs, and most asset classes are (or are close to) pricing in a recession at this point.
It should come as no surprise that the rate of new COVID-19 infections remains in focus, particularly as Italy officially passed China with the largest human toll related to the outbreak. Countries across the world continue to implement strict containment measures, with transportation links banned or limited, businesses closing and events canceled. Central banks and governments alike have ramped up efforts to cushion the economic blow of the disruption—the Fed announced even more stimulus after Sunday night's unprecedented rate cut, the ECB joined in with a 750 billion EUR QE program, the U.S. government has now passed two waves of fiscal stimulus and introduced a third, and the list goes on.
So how much messier can this get? At 2,409, the S&P 500 is currently sitting just a hair above its December 2018 lows and -28.9% below its February 19 high. In an attempt to better understand the bear market we're currently in and how it might continue to develop, we took a look at historical bear markets for context.
SPOTLIGHT
The bear necessities: Understanding bear markets
History isn't the best indicator of how the future will pan out, but it can provide us with context. In this vein, we took a look at historical bear markets since the Great Depression to understand the different types of bear markets we've seen—not all bear markets are created equal, after all. We acknowledge that such an analysis has shortcomings, particularly as the structures of markets and the economy have changed significantly over time. Nonetheless, we feel this framework is useful for understanding how bear markets can start, and we feel this one differs compared to other instances we've seen.
As David Kostin at Goldman Sachs and other equity strategists across the Street have noted, three types of bear markets appear evident:
Structural: Think the long-term buildup of structural imbalances and financial bubbles, like debt or inflation. Over time, the imbalance grows and grows, and once it becomes unsustainable, the imbalance unwinds and a bear market ensues (and so does a recession, if history is any precedent). The most obvious example of this type of bear market is during the Global Financial Crisis, characterized by the buildup in household debt.
Cyclical: This type of bear market is catalyzed by the ebb and flow of the economic cycle, which is usually a function of rising interest rates. In this sense, the Fed hikes interest rates to a level that is too punitive, restricting the ability of consumers and businesses to borrow and invest. Consumers stop spending, corporate profits start to decline, and sentiment takes a hit.
Event-driven: This is a bear market instigated by an "exogenous shock"—this is what we are experiencing now with the COVID-19 disruption. Other examples might include a war, an oil price shock (we are experiencing one of these right now, too), a crisis in emerging markets, or a technical dislocation.
Here's a look at S&P 500 bear markets and U.S. recessions over time, categorizing each of the bear markets according to the above.
The chart displays, from 1928 through March 19, 2020, the U.S. recessions and S&P 500 bear markets over time. Each type is categorized as structural, cyclical or event-driven, along with the corresponding start date (prior high), end date (trough), drawdown %, prior high to trough length, trough to prior high length and if a recession occurred.
At first glance, this bear market seems event-driven, but there is more than meets the eye.
Disclaimer: No set of circumstances is ever guaranteed. We have never experienced an event-driven bear market precipitated by a global health pandemic, and the renewed fight for oil producer market share and the associated oil price collapse only add to the uncertainty. There are a host of reasons this bear market (and very likely recession) could be worse than what similar events in history might suggest to us. Nonetheless, we think the context that historical bear markets provide can be a helpful template for understanding how such selloffs tend to work.
That all being said, here is what history tells us about event-driven bear markets:
On drawdowns, length and recovery: Event-driven bear markets tend to be shorter lived, lasting for less time and recovering faster on average. However, the severity of the decline tends to be on par with cyclical bear markets and less severe than structural bear markets.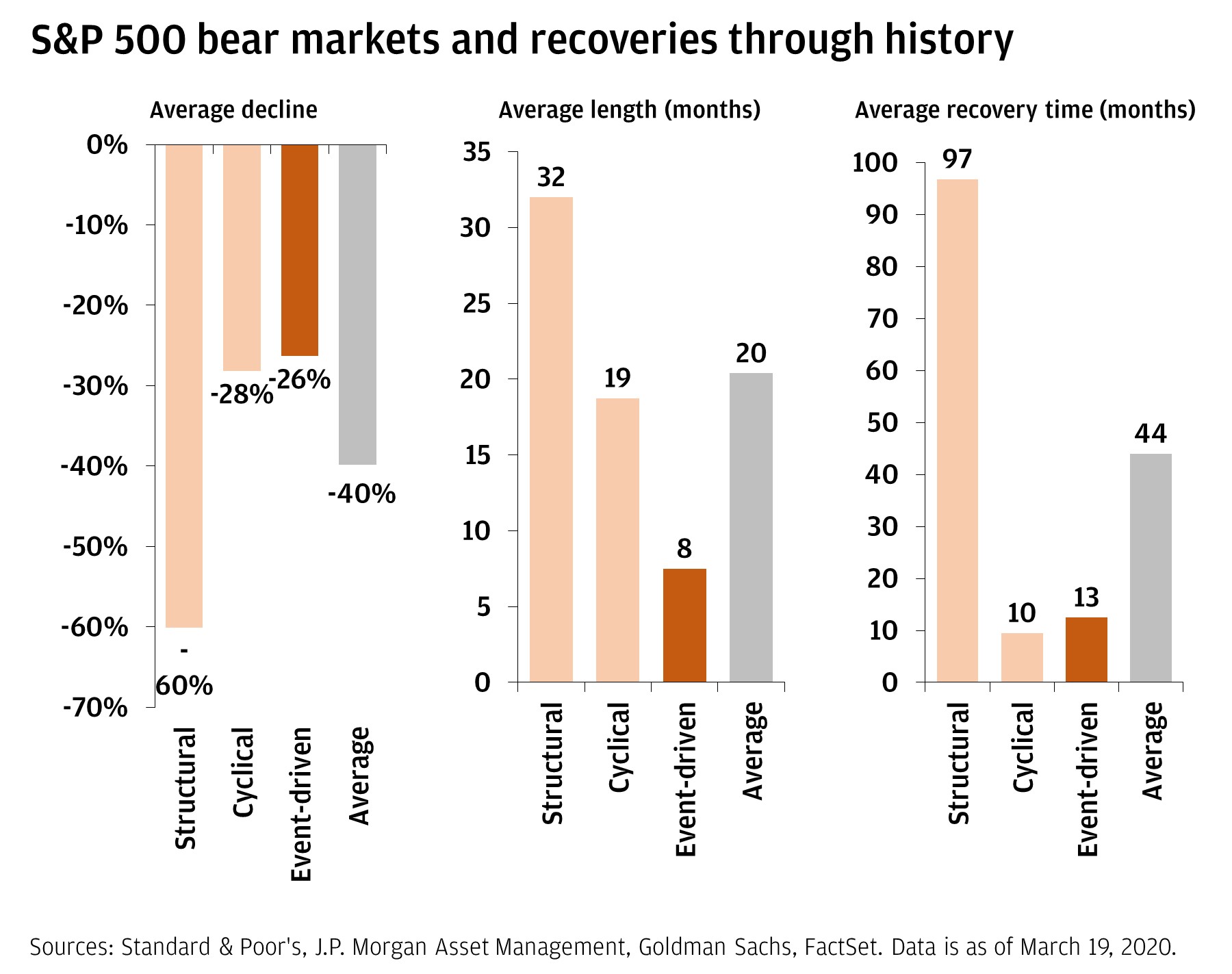 There are three bar charts: the % of average decline, average length (months) and average recovery time (months). Each chart displays the structural, cyclical, event-driven and average S&P 500 bear markets.
On growth: In examining the last four event-driven bear markets—in 1956, 1961, 1966 and 1987, a recession has only occurred in one of those instances: the global recession in 1956. Moreover, due to the (typically) short-term nature of event-driven bear markets, the overall path of GDP growth fails to provide much insight. Unlike the other "event-driven" bear markets, it is our base case that this bear market is associated with a recession.
On earnings: One explanation for why event-driven bear markets tend to recover faster is that there is rarely a lasting drawdown in earnings. Rather, such bear markets tend to be driven by the fear of something happening, and what's feared turns out to not be as bad as what actually transpires (in other words, fears aren't realized). This likely isn't the case this time around: We are likely to see a pretty significant hit to earnings associated with this bear market, as the economy grinds to a halt in the first half of the year.
In this case, it can still be classified as an "event-driven" bear market, given its proximate cause, but the event looks likely to cause the earnings decline that investors were afraid of. We think this is a large reason why markets have seen such wild swings over the last few weeks—everyone is reaching to understand the actual impact that widespread quarantines and shutdowns will have on the economy and corporate productivity.
Our base case is that this bear market is accompanied by a recession, but recessions can come in different sizes. How could this one be worse?
The starting point matters. Coming into this bear market, valuations were already stretched across virtually every major asset class. In short, this means that risk assets have more room to fall compared to other selloffs that began at valuations more in line with their long-term averages. The eventual bottom will likely be determined by the trajectory of the virus, and the efficacy of monetary and fiscal policy.
Poor market functioning and liquidity issues. The market hasn't been functioning normally, and by this we mean that the plumbing that makes up the financial system has been out of whack. As a result of this, investors have not been able to transact in a clear and transparent manner, and central banks' policies are not transmitting as cleanly as desired to the real economy. As a result of the stress this is causing, investors have been selling (pretty indiscriminately) to free up liquidity and meet margin calls.

Credit worries are growing. As concerns rise over the economic disruption caused by COVID-19, so too are worries around corporate defaults. Consider the fact that credit-default swaps (one way to get a sense of corporate defaults) are suggesting that Boeing has a higher chance of defaulting on its debt today than Goldman Sachs did at the height of the Global Financial Crisis. Further, U.S. high yield spreads are now close to 1,000 basis points (bps) (up from 750 bps just a week ago), which suggests that default rates will rise to ~12% (from 2.5% currently). Lastly, a widening in spreads like that between 30-year mortgage rates and 10-year U.S. Treasury yields suggests that banks are either more reluctant to lend, or that their ability to do so is more limited (and therefore more expensive).
Fiscal stimulus disappointment. As we mentioned earlier this week, a $1 trillion package from the U.S. government would likely provide a serious jolt to the U.S. economy. But the size approved by lawmakers thus far amounts to only around a couple hundred billion dollars of relief, or roughly ~1% of GDP. Further discussions for a larger stimulus are in the works, but political hurdles make the timeline and details of future packages uncertain.
Outside of the United States, economies are mixed in the size and targets of their programs—countries like Switzerland (10 billion CHF, ~1.4% of GDP), Australia (~$17 billion, ~1% of GDP), Italy (€25 billion ~1.4% of GDP) and the United Kingdom (30 billion GBP, 1.4% of GDP) have all announced stimulus measures, but other countries like Germany and Japan have yet to come in with robust plans. Should fiscal stimulus fail to pick up where monetary policy leaves off, the downturn could feel more acute.
Bottom line: We are in unchartered territory, and the market swings we are seeing are emblematic of this uncertainty. Markets are very likely to remain volatile in the coming weeks (if not months), as all eyes will be on the details of the coming fiscal packages. Could it get worse? In the near term, yes. But we continue to believe the world will be a better place a year or two from now than it is today. Because of that, for long-term investors, value appears to be emerging.
All market and economic data as of March 2020 and sourced from Bloomberg, FactSet and Gavekal unless otherwise stated.
We believe the information contained in this material to be reliable but do not warrant its accuracy or completeness. Opinions, estimates, and investment strategies and views expressed in this document constitute our judgment based on current market conditions and are subject to change without notice.
RISK CONSIDERATIONS
Past performance is not indicative of future results. You may not invest directly in an index.
The prices and rates of return are indicative, as they may vary over time based on market conditions.
Additional risk considerations exist for all strategies.
The information provided herein is not intended as a recommendation of or an offer or solicitation to purchase or sell any investment product or service.
Opinions expressed herein may differ from the opinions expressed by other areas of J.P. Morgan. This material should not be regarded as investment research or a J.P. Morgan investment research report.
Important Information
All companies referenced are shown for illustrative purposes only, and are not intended as a recommendation or endorsement by J.P. Morgan in this context.
All market and economic data as of March 2020 and sourced from Bloomberg, FactSet and Gavekal unless otherwise stated.
The information presented is not intended to be making value judgments on the preferred outcome of any government decision.
This material is for informational purposes only, and may inform you of certain products and services offered by
J.P. Morgan's wealth management businesses, part of JPMorgan Chase & Co. ("JPM"). Please read all Important Information.
The MSCI China Index captures large- and mid-cap representation across China H shares, B shares, Red chips, P chips and foreign listings (e.g., ADRs). With 459 constituents, the index covers about 85% of this China equity universe. Currently, the index also includes Large Cap A shares represented at 5% of their free float adjusted market capitalization.
The Standard and Poor's 500 Index is a capitalization-weighted index of 500 stocks. The index is designed to measure performance of the broad domestic economy through changes in the aggregate market value of 500 stocks representing all major industries. The index was developed with a base level of 10 for the 1941–43 base period.
The STOXX Europe 600 Index tracks 600 publicly traded companies based in one of 18 EU countries. The index includes small-cap, medium-cap and large-cap companies. The countries represented in the index are Austria, Belgium, Denmark, Finland, France, Germany, Greece, Holland, Iceland, Ireland, Italy, Luxembourg, Norway, Portugal, Spain, Sweden, Switzerland and the United Kingdom.
This material is for informational purposes only, and may inform you of certain products and services offered by
J.P. Morgan's wealth management businesses, part of JPMorgan Chase & Co. ("JPM"). Please read all Important Information.
GENERAL RISKS & CONSIDERATIONS
Any views, strategies or products discussed in this material may not be appropriate for all individuals and are subject to risks. Investors may get back less than they invested, and past performance is not a reliable indicator of future results. Asset allocation does not guarantee a profit or protect against loss. Nothing in this material should be relied upon in isolation for the purpose of making an investment decision. You are urged to consider carefully whether the services, products, asset classes (e.g., equities, fixed income, alternative investments, commodities, etc.) or strategies discussed are suitable to your needs. You must also consider the objectives, risks, charges, and expenses associated with an investment service, product or strategy prior to making an investment decision. For this and more complete information, including discussion of your goals/situation, contact your J.P. Morgan representative.
NON-RELIANCE
Certain information contained in this material is believed to be reliable; however, JPM does not represent or warrant its accuracy, reliability or completeness, or accept any liability for any loss or damage (whether direct or indirect) arising out of the use of all or any part of this material. No representation or warranty should be made with regard to any computations, graphs, tables, diagrams or commentary in this material, which are provided for illustration/reference purposes only. The views, opinions, estimates and strategies expressed in this material constitute our judgment based on current market conditions and are subject to change without notice. JPM assumes no duty to update any information in this material in the event that such information changes. Views, opinions, estimates and strategies expressed herein may differ from those expressed by other areas of JPM, views expressed for other purposes or in other contexts, and this material should not be regarded as a research report. Any projected results and risks are based solely on hypothetical examples cited, and actual results and risks will vary depending on specific circumstances. Forward-looking statements should not be considered as guarantees or predictions of future events.
Nothing in this document shall be construed as giving rise to any duty of care owed to, or advisory relationship with, you or any third party. Nothing in this document shall be regarded as an offer, solicitation, recommendation or advice (whether financial, accounting, legal, tax or other) given by J.P. Morgan and/or its officers or employees, irrespective of whether or not such communication was given at your request. J.P. Morgan and its affiliates and employees do not provide tax, legal or accounting advice. You should consult your own tax, legal and accounting advisors before engaging in any financial transactions.
IMPORTANT INFORMATION ABOUT YOUR INVESTMENTS AND POTENTIAL CONFLICTS OF INTEREST
Conflicts of interest will arise whenever JPMorgan Chase Bank, N.A. or any of its affiliates (together, "J.P. Morgan") have an actual or perceived economic or other incentive in its management of our clients' portfolios to act in a way that benefits J.P. Morgan. Conflicts will result, for example (to the extent the following activities are permitted in your account): (1) when J.P. Morgan invests in an investment product, such as a mutual fund, structured product, separately managed account or hedge fund issued or managed by JPMorgan Chase Bank, N.A. or an affiliate, such as J.P. Morgan Investment Management Inc.; (2) when a J.P. Morgan entity obtains services, including trade execution and trade clearing, from an affiliate; (3) when J.P. Morgan receives payment as a result of purchasing an investment product for a client's account; or (4) when J.P. Morgan receives payment for providing services (including shareholder servicing, recordkeeping or custody) with respect to investment products purchased for a client's portfolio. Other conflicts will result because of relationships that J.P. Morgan has with other clients or when J.P. Morgan acts for its own account.
Investment strategies are selected from both J.P. Morgan and third-party asset managers and are subject to a review process by our manager research teams. From this pool of strategies, our portfolio construction teams select those strategies we believe fit our asset allocation goals and forward-looking views in order to meet the portfolio's investment objective.
As a general matter, we prefer J.P. Morgan managed strategies. We expect the proportion of J.P. Morgan managed strategies will be high (in fact, up to 100 percent) in strategies such as cash and high-quality fixed income, subject to applicable law and any account-specific considerations.
While our internally managed strategies generally align well with our forward-looking views, and we are familiar with the investment processes as well as the risk and compliance philosophy of the firm, it is important to note that
J.P. Morgan receives more overall fees when internally managed strategies are included. We offer the option of choosing to exclude J.P. Morgan managed strategies (other than cash and liquidity products) in certain portfolios.
The Six Circles Funds are U.S.-registered mutual funds managed by J.P. Morgan and sub-advised by third parties. Although considered internally managed strategies, JPMC does not retain a fee for fund management or other fund services.
LEGAL ENTITY, BRAND & REGULATORY INFORMATION
In the United States, bank deposit accounts and related services, such as checking, savings and bank lending, are offered by JPMorgan Chase Bank, N.A. Member FDIC.
JPMorgan Chase Bank, N.A. and its affiliates (collectively "JPMCB") offer investment products, which may include bank-managed investment accounts and custody, as part of its trust and fiduciary services. Other investment products and services, such as brokerage and advisory accounts, are offered through J.P. Morgan Securities LLC ("JPMS"), a member of FINRA and SIPC. Annuities are made available through Chase Insurance Agency, Inc. (CIA), a licensed insurance agency, doing business as Chase Insurance Agency Services, Inc. in Florida. JPMCB, JPMS and CIA are affiliated companies under the common control of JPMorgan Chase & Co. Products not available in all states.
References to "J.P. Morgan" are to JPM, its subsidiaries and affiliates worldwide. "J.P. Morgan Private Bank" is the brand name for the private banking business conducted by JPM.
This material is intended for your personal use and should not be circulated to or used by any other person, or duplicated for nonpersonal use, without our permission. If you have any questions or no longer wish to receive these communications, please contact your J.P. Morgan representative.
© 2020 JPMorgan Chase & Co. All rights reserved.
---