Investing
Surveying the damage
Markets seem to be waiting for the answer to the new most important question: How successful will the economic reopening be?
---
Our Top Market Takeaways for May 8, 2020.
Market Update
5 things to know from this week
As we head deeper into May, it seems likely the most severe economic costs of the COVID-19 crisis might have already passed. Infection rates have peaked, policymakers have responded with historic fiscal and monetary actions, and now the West is following Asia into the "new normal." That's not to say we're past the swirl of splashy headlines and data releases, though. Here's what you need to know from this week:
Job losses continue to soar. Earlier this week, both jobless claims and April's ADP (Private) Employment report were released. This week's jobless claims added another 3.2 million people who filed for unemployment (down from 3.8 million last week), bringing the total to over 33 million people in the last seven weeks. Meanwhile, April's ADP employment fell by ~20.2 million, the biggest decline on record. This morning, we learned that nonfarm payrolls fell by 20.5 million and the unemployment rate shot up to 14.7% in April.
The U.S. Treasury plans to borrow a lot. When it's all said and done, we expect the Treasury to issue ~$4.25 trillion of net Treasury supply this year (inclusive of our estimate of another $750 billion fiscal support bill)—the largest one-year increase since WWII. The ever-growing debt-to-GDP ratio could pose challenges for investors down the road, but we're not terribly concerned about it right now. Every country is borrowing a lot, and U.S. Treasuries continue to have the privilege of steady demand and safe-haven status.
WTI crude jumped ~20% this week. Trading around $24.20 per barrel, the price of WTI crude has nearly tripled in the last three weeks. Brent crude is also now ~$30 per barrel for the first time since March. The improvement is certainly welcome, but we maintain that a sustainable recovery in oil prices relies on the recovery in demand as the lockdowns end.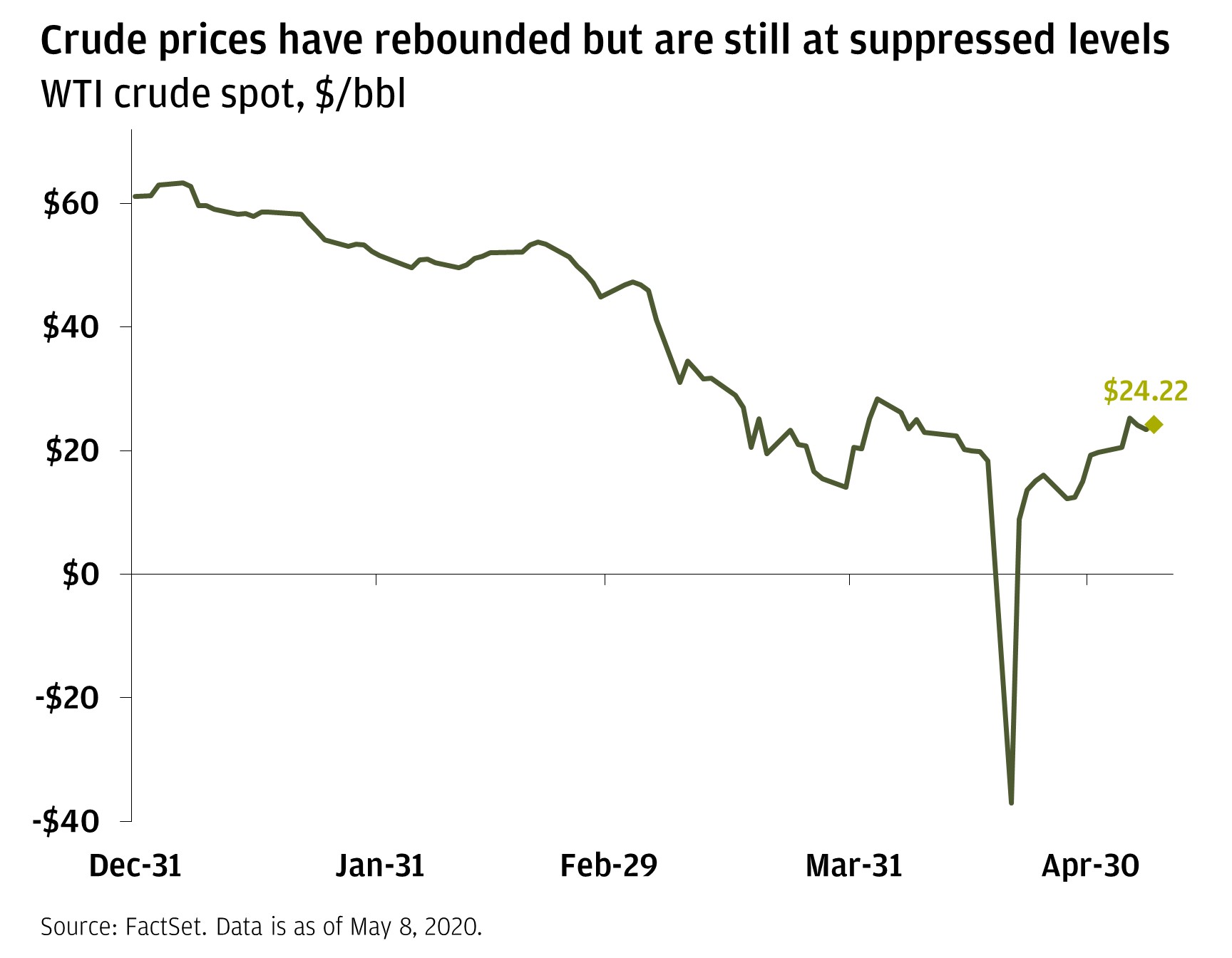 Description: The line chart shows the WTI crude spot in $/bbl from December 31 through May 8, 2020. It shows that there was a large drop below zero during April, but that the price is up to $24.22.
Reopening economies isn't going to be easy. The IHME recently revised its model and doubled its forecasted COVID-19 deaths figure. The culprit: "reopening." With U.S. states all pursuing different timelines and guidelines, states with later open dates will soon learn lessons from those that pushed things along faster. States such as Tennessee, Georgia and Texas all relaxed restrictions this week–-despite both confirmed new cases and deaths per day near their peaks—earlier than most experts would have recommended. However, it's worth noting that these states are still implementing their own social distancing procedures in an attempt to prevent a second wave of infections.
A combination of very low U.S. 10-year Treasury yields (currently at 0.63%) and the Fed's unprecedented market support actions has resulted in an unbelievable demand for investment grade bond issuance. Over $500 billion of investment grade paper has priced in the last six weeks, and year-to-date issuance is +85% ahead of last year's pace, with all-time monthly records in both March and April. Another $70 billion in issuance is expected this week, which is the highest five-day survey forecast ever and a potential new record for May. All this supply is being met with even more demand. The last week of March saw companies borrow a record $109 billion…but it was met with $550 billion of demand from investors. And this week, $23 billion in bonds were priced with order books that were about 4x oversubscribed. It seems like the investment grade market may need to take a breather to digest all the new issuance.
So, where does that leave us? The coast is by no means clear. Markets have been looking through the dire earnings reports and economic data while focusing on the strongest companies equipped to navigate this time. Now, investors are surveying the damage and trying to find a path forward.
Spotlight
Surveying the damage
From February 19 to March 23, the S&P 500 had a -34% decline peak to trough in just over a month. At that time, COVID-19 cases were growing at an exponential rate, people were just beginning to social distance in the United States, and events (from weddings to business travel, to the NBA season) were being canceled at a rapid clip.
Over the next three weeks, the S&P 500 found a bottom, thanks to the CARES Act (which included the Paycheck Protection Program) and additional support from the Fed, and then rallied by ~+25%. On the heels of quick and powerful monetary and fiscal stimulus, investors were starting to believe the Fed would do anything it could to help cushion the economic fallout caused by the virus. Not to mention, many had hopes that the infection curve would begin to flatten in the United States as it had in China and Italy.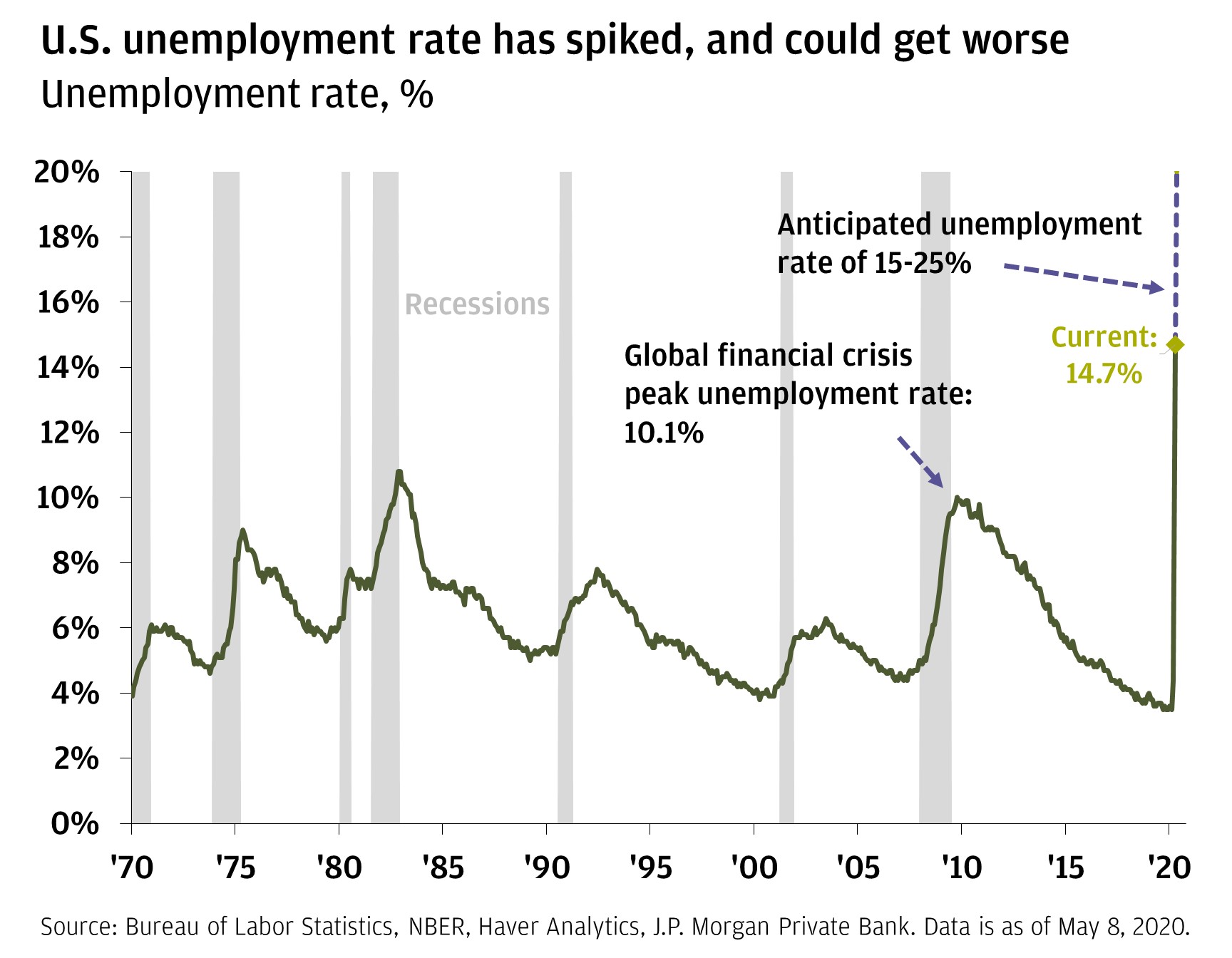 Description: The line chart shows the performance of the S&P 500 indexed to 12/31/2019. It shows that although there was a sharp 34% decline, the index has rallied back up 27%. The chart also highlights key events that impacted the markets, such as the CARES Act passing and the PPP launching.
Now, with new cases plateauing, it seems like the worst of the storm has passed, and we are left to survey the economic damage. Global PMIs are at their lowest levels on record, well below those seen during the Global Financial Crisis. U.S. GDP for the second quarter is expected to plummet, and jobless claims keep on piling up. In only four weeks, the total jobless claims exceeded the job gains experienced through the entire last cycle, and the unemployment rate hit the highest level in recorded history (14.7%) in April. To put this in perspective, the peak unemployment during the Global Financial Crisis was 10.1%. But investors have already accepted that the economy is getting hit hard.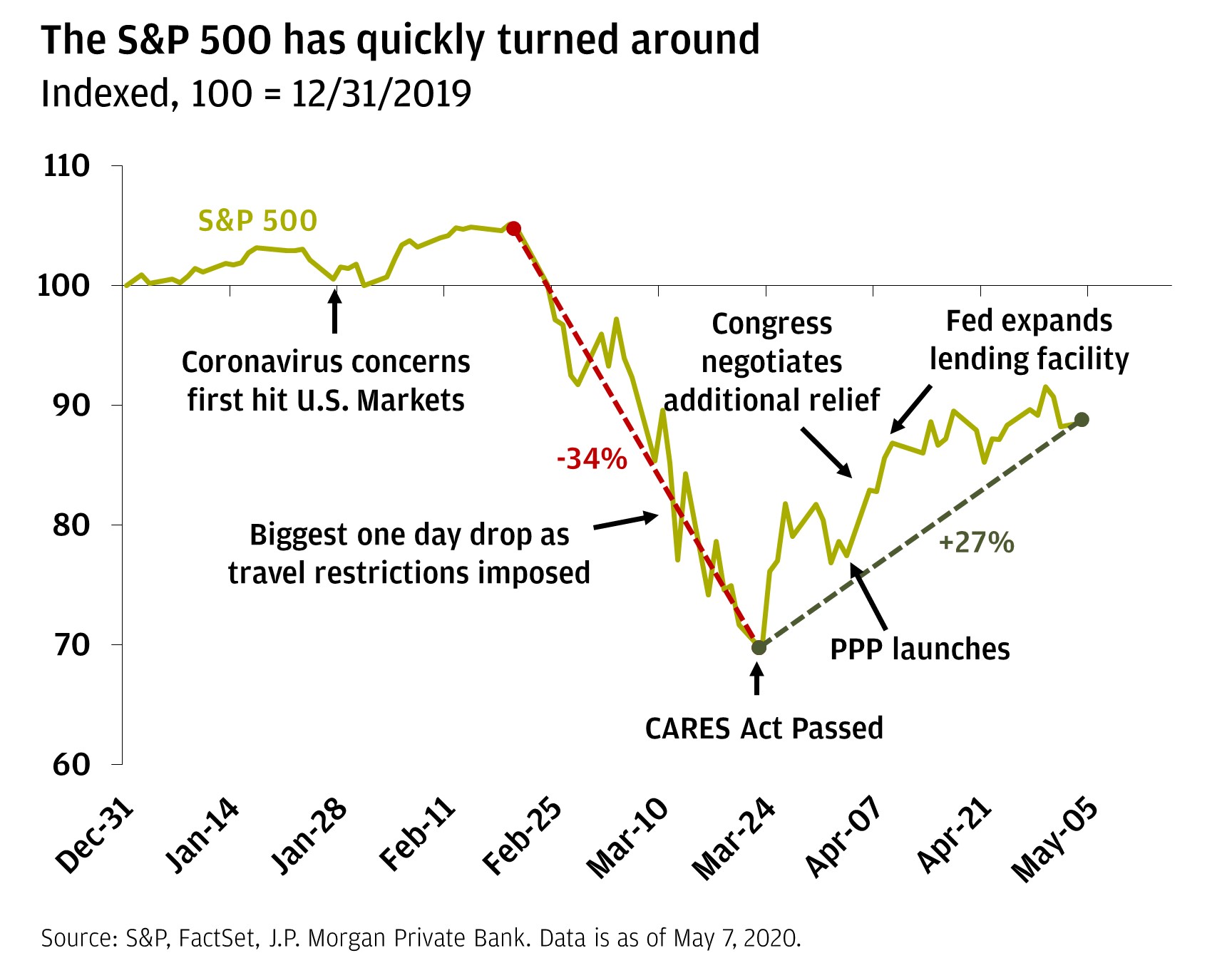 Description: The line chart shows the unemployment rate from 1970 through April 30, 2020. The light grey shaded areas mark times of recession. The chart shows that the peak unemployment rate during the Global Financial Crisis was 10.1% and the projected unemployment rate from the COVID-19 crisis is 15%–25%.
So where does that leave us? After a seven-week stretch in which the S&P 500 averaged daily moves of +/- 7.7%, the market has been at an impasse. Over the last two weeks, the S&P 500 has slowly gained +1.5%, small cap stocks are up +3.5%, gold has been flat (-0.1%), rates remain nearly unchanged at 63 basis points, and the VIX remains in the mid-30s, well below its March peak (82.7). Treasury market volatility is back to where it was before the COVID-19 crisis. Markets seem to be in a holding pattern, waiting for an answer to the new most important question: How successful will the economic reopening be?
The spread of COVID-19 and its containment are key for the investment outlook: The longer activity is shut down, the more painful and slow the recovery could be. As of now, states that represent ~46% of U.S. GDP are either set to relax or are already relaxing restrictions, and many companies are following suit. While reopening is one thing, staying open is another. Investors are watching Tennessee, Georgia, Texas and others closely to see if a resurgence of cases comes with increased economic interaction. If a state has to reimpose a stay-at-home order, it could be very bad for investor sentiment, to say nothing of human health.
Markets may have found an uneasy equilibrium now, but it seems unlikely to last long. Either the news on reopening continues on a tentatively positive note, or not. Everyone knows the most important question for markets, but nobody knows the answer yet.
Culture
Happy Mother's Day
To all of the mothers and mother-figures out there, we're wishing you a very happy Mother's Day this Sunday. Many of us may not be able to get together and celebrate in person, so here's to making the most of video calls, flower deliveries and takeout. Thank you, moms, for everything you do—you inspire us all!
All market and economic data as of May 2020 and sourced from Bloomberg, FactSet and Gavekal unless otherwise stated.
We believe the information contained in this material to be reliable but do not warrant its accuracy or completeness. Opinions, estimates, and investment strategies and views expressed in this document constitute our judgment based on current market conditions and are subject to change without notice.
RISK CONSIDERATIONS
Past performance is not indicative of future results. You may not invest directly in an index.
The prices and rates of return are indicative, as they may vary over time based on market conditions.
Additional risk considerations exist for all strategies.
The information provided herein is not intended as a recommendation of or an offer or solicitation to purchase or sell any investment product or service.
Opinions expressed herein may differ from the opinions expressed by other areas of J.P. Morgan. This material should not be regarded as investment research or a J.P. Morgan investment research report.
Important Information
All companies referenced are shown for illustrative purposes only, and are not intended as a recommendation or endorsement by J.P. Morgan in this context.
All market and economic data as of April 2020 and sourced from Bloomberg, FactSet and Gavekal unless otherwise stated.
The information presented is not intended to be making value judgments on the preferred outcome of any government decision.
This material is for informational purposes only, and may inform you of certain products and services offered by
J.P. Morgan's wealth management businesses, part of JPMorgan Chase & Co. ("JPM"). Please read all Important Information.
The MSCI China Index captures large- and mid-cap representation across China H shares, B shares, Red chips, P chips and foreign listings (e.g., ADRs). With 459 constituents, the index covers about 85% of this China equity universe. Currently, the index also includes Large Cap A shares represented at 5% of their free float adjusted market capitalization.
The Standard and Poor's 500 Index is a capitalization-weighted index of 500 stocks. The index is designed to measure performance of the broad domestic economy through changes in the aggregate market value of 500 stocks representing all major industries. The index was developed with a base level of 10 for the 1941–43 base period.
The STOXX Europe 600 Index tracks 600 publicly traded companies based in one of 18 EU countries. The index includes small-cap, medium-cap and large-cap companies. The countries represented in the index are Austria, Belgium, Denmark, Finland, France, Germany, Greece, Holland, Iceland, Ireland, Italy, Luxembourg, Norway, Portugal, Spain, Sweden, Switzerland and the United Kingdom.
This material is for informational purposes only, and may inform you of certain products and services offered by
J.P. Morgan's wealth management businesses, part of JPMorgan Chase & Co. ("JPM"). Please read all Important Information.
GENERAL RISKS & CONSIDERATIONS
Any views, strategies or products discussed in this material may not be appropriate for all individuals and are subject to risks. Investors may get back less than they invested, and past performance is not a reliable indicator of future results. Asset allocation does not guarantee a profit or protect against loss. Nothing in this material should be relied upon in isolation for the purpose of making an investment decision. You are urged to consider carefully whether the services, products, asset classes (e.g., equities, fixed income, alternative investments, commodities, etc.) or strategies discussed are suitable to your needs. You must also consider the objectives, risks, charges, and expenses associated with an investment service, product or strategy prior to making an investment decision. For this and more complete information, including discussion of your goals/situation, contact your J.P. Morgan representative.
NON-RELIANCE
Certain information contained in this material is believed to be reliable; however, JPM does not represent or warrant its accuracy, reliability or completeness, or accept any liability for any loss or damage (whether direct or indirect) arising out of the use of all or any part of this material. No representation or warranty should be made with regard to any computations, graphs, tables, diagrams or commentary in this material, which are provided for illustration/reference purposes only. The views, opinions, estimates and strategies expressed in this material constitute our judgment based on current market conditions and are subject to change without notice. JPM assumes no duty to update any information in this material in the event that such information changes. Views, opinions, estimates and strategies expressed herein may differ from those expressed by other areas of JPM, views expressed for other purposes or in other contexts, and this material should not be regarded as a research report. Any projected results and risks are based solely on hypothetical examples cited, and actual results and risks will vary depending on specific circumstances. Forward-looking statements should not be considered as guarantees or predictions of future events.
Nothing in this document shall be construed as giving rise to any duty of care owed to, or advisory relationship with, you or any third party. Nothing in this document shall be regarded as an offer, solicitation, recommendation or advice (whether financial, accounting, legal, tax or other) given by J.P. Morgan and/or its officers or employees, irrespective of whether or not such communication was given at your request. J.P. Morgan and its affiliates and employees do not provide tax, legal or accounting advice. You should consult your own tax, legal and accounting advisors before engaging in any financial transactions.
IMPORTANT INFORMATION ABOUT YOUR INVESTMENTS AND POTENTIAL CONFLICTS OF INTEREST
Conflicts of interest will arise whenever JPMorgan Chase Bank, N.A. or any of its affiliates (together, "J.P. Morgan") have an actual or perceived economic or other incentive in its management of our clients' portfolios to act in a way that benefits J.P. Morgan. Conflicts will result, for example (to the extent the following activities are permitted in your account): (1) when J.P. Morgan invests in an investment product, such as a mutual fund, structured product, separately managed account or hedge fund issued or managed by JPMorgan Chase Bank, N.A. or an affiliate, such as J.P. Morgan Investment Management Inc.; (2) when a J.P. Morgan entity obtains services, including trade execution and trade clearing, from an affiliate; (3) when J.P. Morgan receives payment as a result of purchasing an investment product for a client's account; or (4) when J.P. Morgan receives payment for providing services (including shareholder servicing, recordkeeping or custody) with respect to investment products purchased for a client's portfolio. Other conflicts will result because of relationships that J.P. Morgan has with other clients or when J.P. Morgan acts for its own account.
Investment strategies are selected from both J.P. Morgan and third-party asset managers and are subject to a review process by our manager research teams. From this pool of strategies, our portfolio construction teams select those strategies we believe fit our asset allocation goals and forward-looking views in order to meet the portfolio's investment objective.
As a general matter, we prefer J.P. Morgan managed strategies. We expect the proportion of J.P. Morgan managed strategies will be high (in fact, up to 100 percent) in strategies such as cash and high-quality fixed income, subject to applicable law and any account-specific considerations.
While our internally managed strategies generally align well with our forward-looking views, and we are familiar with the investment processes as well as the risk and compliance philosophy of the firm, it is important to note that
J.P. Morgan receives more overall fees when internally managed strategies are included. We offer the option of choosing to exclude J.P. Morgan managed strategies (other than cash and liquidity products) in certain portfolios.
The Six Circles Funds are U.S.-registered mutual funds managed by J.P. Morgan and sub-advised by third parties. Although considered internally managed strategies, JPMC does not retain a fee for fund management or other fund services.
LEGAL ENTITY, BRAND & REGULATORY INFORMATION
In the United States, bank deposit accounts and related services, such as checking, savings and bank lending, are offered by JPMorgan Chase Bank, N.A. Member FDIC.
JPMorgan Chase Bank, N.A. and its affiliates (collectively "JPMCB") offer investment products, which may include bank-managed investment accounts and custody, as part of its trust and fiduciary services. Other investment products and services, such as brokerage and advisory accounts, are offered through J.P. Morgan Securities LLC ("JPMS"), a member of FINRA and SIPC. Annuities are made available through Chase Insurance Agency, Inc. (CIA), a licensed insurance agency, doing business as Chase Insurance Agency Services, Inc. in Florida. JPMCB, JPMS and CIA are affiliated companies under the common control of JPMorgan Chase & Co. Products not available in all states.
References to "J.P. Morgan" are to JPM, its subsidiaries and affiliates worldwide. "J.P. Morgan Private Bank" is the brand name for the private banking business conducted by JPM.
This material is intended for your personal use and should not be circulated to or used by any other person, or duplicated for nonpersonal use, without our permission. If you have any questions or no longer wish to receive these communications, please contact your J.P. Morgan representative.
---