Investing
Protect yourself and seize opportunities in the COVID-19 economy
Understanding and responding to the global pandemic and its fallout
---
The past several weeks have been difficult. Beyond the angst caused by market volatility, the personal nature of COVID-19 has affected us all, in one way or another.

In times like these, we are reminded how important it is to pause and keep a balanced perspective. Adversity is not new to people, economies or financial markets. History tells us the human response always rises to the challenges faced. This time will be no different.
While nobody knows exactly what the coming days, weeks or months will bring, we can prepare for various scenarios. Now is a good time to speak with your J.P. Morgan advisor to review your family's plan so that we can help you stay on track to meet your long-term goals.
It also helps to stay informed about events as they unfold. To that end, here we'd like to share how these shocks are affecting our outlook on the economy and markets for the next several quarters.
The wild card: A global pandemic
The 2020 Outlook that we shared in January rested on three key pillars:
The U.S. expansion would extend another year.
Interest rates would likely stay low.
Portfolios that we managed were prepared to deal with the wild cards we could be facing.
Now, less than three months into the year, the wild card COVID-19 is stress testing those pillars. Our current view is:
It seems likely that the U.S. expansion will end, but policy makers can still avoid a worst-case scenario.
Interest rates are very likely to stay low.
The portfolios we manage are still prepared to deal with wild cards.
How the markets are reacting
The novel coronavirus, which originated in the Hubei region of China, is impacting millions of people around the world. While new case growth in China and Korea is decelerating,1 overall case growth outside of China is on the rise, with especially concerning trends across Europe and in the United States.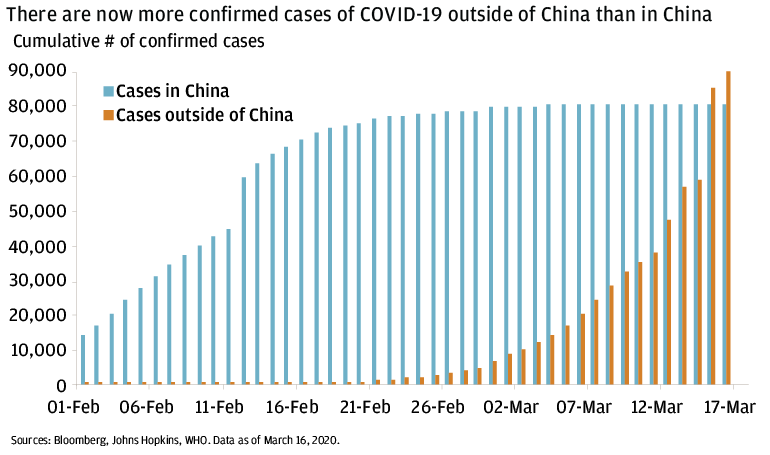 The bar chart shows the number of confirmed cases in China and outside of China from February 2, 2020, through March 17, 2020. It shows that the number has been increasing outside of China but has relatively flattened within China.
Once investors realized the virus was likely to spread meaningfully outside of China, global stocks plunged by over 25%. U.S. government bond yields also fell precipitously from around 1.6% to as low as .30% (an all-time low).
To help alleviate some of the pressure the economy could face from COVID-19, the U.S. Federal Reserve has cut interest rates to zero and relaunched a large-scale asset purchase program to ensure that fixed income markets function properly and to support asset prices. Similarly, the ECB, Bank of England and the People's Bank of China are easing policy to support activity.
The shock of the COVID-19 epidemic has already ended the 11-year bull market in U.S. stocks. The next questions are: Will it end the U.S. expansion? And if it does, what might that could mean for asset prices?
What is happening to our economy
The economy is facing three distinct shocks:
Supply shock—Stringent containment strategies could result in lower production and disrupted supply chains.

Demand shock—The demand question is more nebulous. How much spending will be curtailed? How many flights canceled? Gatherings postponed? We aren't sure, but it seems increasingly likely that enough demand will be delayed and destroyed to see a significantly negative GDP growth number for the United States in the first half of this year.

Oil price shock—This one is a mixed bag. On the plus side, a fall in oil prices is a positive for consumer balance sheets and could lead to more spending on other things. On the minus side, the sudden collapse in oil prices is a clear negative for credit markets (the energy sector is the largest part of most high yield bond indices). Indeed, high yield spreads (a measure of market-perceived future default rates) increased to levels last seen in the oil price collapse of 2015 and 2016.
While the question of GDP growth is important, risk assets have already reflected a much more pessimistic outlook, thanks to the steep decline in equity prices and the rise in credit spreads. The moves in asset prices we have seen are, more or less, what you would expect from an average recession. (See chart.) In a severe scenario, marked by stubbornly high unemployment and rolling corporate defaults, assets would probably fall further.
For things to be worse than markets are expecting, credit availability would have to be hindered materially for a prolonged period, and companies in many industries would have to lay off workers to remain solvent. We will be monitoring two key factors—the amount of credit flowing to the economy and the trajectory of employment.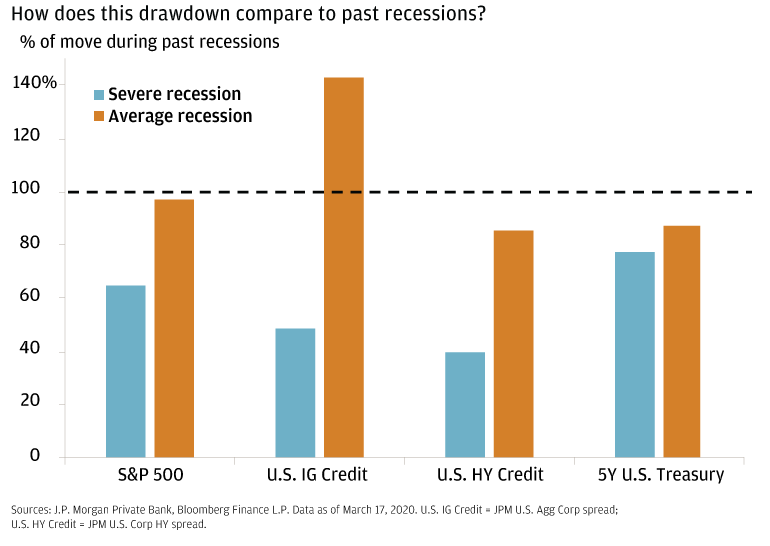 The bar chart shows the percentage of movement during past recessions (severe and average) for the S&P 500, the U.S. IG, the U.S. HY and the 5Y U.S. It compares this drawdown of the average to severe recession.
To backstop the availability of credit, the Fed already has cut rates back to zero and relaunched quantitative easing. In addition, we'd like to see some sort of targeting lending scheme that incentivizes the financial system to extend credit to the most impacted sectors is likely (travel and leisure, energy, etc.). Supportive policies from the People's Bank of China, the European Central Bank and Bank of England also will help.
But, like we wrote in our outlook, monetary policy alone cannot rescue the economy. To offset the disruption, governments around the world also should consider spending more.
Yes, a vaccine would be better than monetary and fiscal stimuli. But lower interest rates, targeted lending schemes and fiscal stimulus could support the economy and ensure that companies can bridge the gap so that they don't have to lay off workers.
What investors can do now
Meanwhile, the COVID-19 shock strengthens our conviction that rates will remain low. Income-seeking investors will have to do even more to expand their toolkits to find yield. Investors should also consider adding other diversifiers to portfolios to help buffer volatility.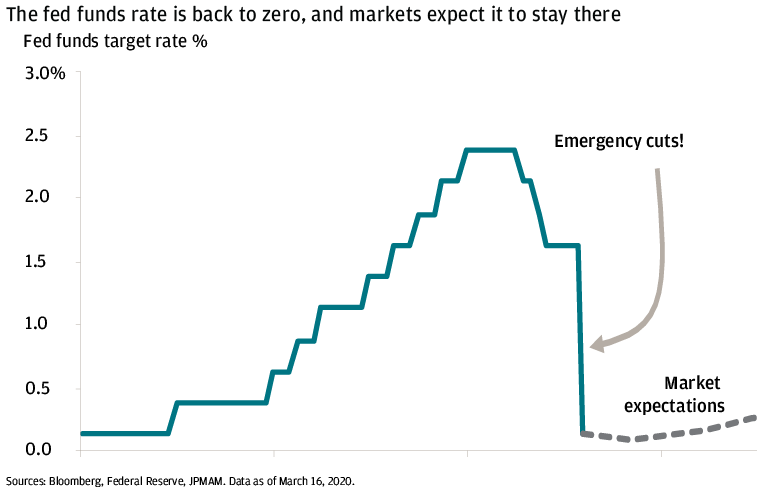 The line chart shows the Fed funds target rate from 2015 through March 16, 2020. It also shows future market expectations for the Fed funds rate to go back to 0%.
We made a point in our outlook to stress that multi-asset portfolios were prepared for wild cards, even this one. We had a slight overweight to equities heading into the year. We were relying on core fixed income to provide protection against potential shocks. A shock has now hit. This year, through March 18, global equities have lost over 28%, while core fixed income has gained 3%. Over the last year, global equities have lost over 18%, but core bonds have gained over 6%.
After the move in markets, most of our portfolios are now underweight equities; we are actively choosing to keep it that way. Overall, we are in a defensive position that, we feel, will allow us to invest through this uncertainty.
There are always be wild cards in investing. The challenge is: How do you respond?
We recommend you consider taking advantage of the low interest rate environment by borrowing. You also may want to use any volatility as an opportunity to invest in such secular drivers as digital transformation, healthcare innovation, or sustainability. (See our article, Find growth now with the investment megatrends of tomorrow). Most importantly, ensure that your investments and the risk you are taking both support your long-term goals.
Ready to help
When you work with your J.P. Morgan advisor to develop your plan, the advisor will run an analysis that simulates thousands of possible paths the markets could take, and what each of those paths might mean for the likelihood of reaching your long-term goals. That way, you can have the comfort of knowing the path you're on is one you've planned for. Above all, we want you to know that you can rely on the global resources and stability of J.P. Morgan Chase. We stand with our clients, ready to help, offer advice and share our best thinking on how to manage through this period.
Footnotes
1 Which suggests that a combination of aggressive containment strategies and transparent and widespread testing can contain the virus.
Important Information
All market and economic data as of March 2020 and sourced from Bloomberg and FactSet unless otherwise stated.
We believe the information contained in this material to be reliable but do not warrant its accuracy or completeness. Opinions, estimates, and investment strategies and views expressed in this document constitute our judgment based on current market conditions and are subject to change without notice.
RISK CONSIDERATIONS
Past performance is not indicative of future results. You may not invest directly in an index.
The prices and rates of return are indicative, as they may vary over time based on market conditions.
Additional risk considerations exist for all strategies.
The information provided herein is not intended as a recommendation of or an offer or solicitation to purchase or sell any investment product or service.
Opinions expressed herein may differ from the opinions expressed by other areas of J.P. Morgan. This material should not be regarded as investment research or a J.P. Morgan investment research report.
All companies referenced are shown for illustrative purposes only, and are not intended as a recommendation or endorsement by J.P. Morgan in this context.
All market and economic data as of March 2020 and sourced from Bloomberg and FactSet unless otherwise stated.
The information presented is not intended to be making value judgments on the preferred outcome of any government decision.
INVESTMENT AND INSURANCE PRODUCTS ARE: • NOT FDIC INSURED • NOT INSURED BY ANY FEDERAL GOVERNMENT AGENCY • NOT A DEPOSIT OR OTHER OBLIGATION OF, OR GUARANTEED BY, JPMORGAN CHASE BANK, N.A. OR ANY OF ITS AFFILIATES • SUBJECT TO INVESTMENT RISKS, INCLUDING POSSIBLE LOSS OF THE PRINCIPAL AMOUNT INVESTED
This material is for informational purposes only, and may inform you of certain products and services offered by J.P. Morgan's wealth management businesses, part of JPMorgan Chase & Co. ("JPM"). Please read all Important Information.
The MSCI China Index captures large- and mid-cap representation across China H shares, B shares, Red chips, P chips and foreign listings (e.g., ADRs). With 459 constituents, the index covers about 85% of this China equity universe. Currently, the index also includes Large Cap A shares represented at 5% of their free float adjusted market capitalization.
The Standard and Poor's 500 Index is a capitalization-weighted index of 500 stocks. The index is designed to measure performance of the broad domestic economy through changes in the aggregate market value of 500 stocks representing all major industries. The index was developed with a base level of 10 for the 1941–43 base period.
The STOXX Europe 600 Index tracks 600 publicly traded companies based in one of 18 EU countries. The index includes small-cap, medium-cap and large-cap companies. The countries represented in the index are Austria, Belgium, Denmark, Finland, France, Germany, Greece, Holland, Iceland, Ireland, Italy, Luxembourg, Norway, Portugal, Spain, Sweden, Switzerland and the United Kingdom.
This material is for informational purposes only, and may inform you of certain products and services offered by
J.P. Morgan's wealth management businesses, part of JPMorgan Chase & Co. ("JPM"). Please read all Important Information.
GENERAL RISKS & CONSIDERATIONS
Any views, strategies or products discussed in this material may not be appropriate for all individuals and are subject to risks. Investors may get back less than they invested, and past performance is not a reliable indicator of future results. Asset allocation does not guarantee a profit or protect against loss. Nothing in this material should be relied upon in isolation for the purpose of making an investment decision. You are urged to consider carefully whether the services, products, asset classes (e.g., equities, fixed income, alternative investments, commodities, etc.) or strategies discussed are suitable to your needs. You must also consider the objectives, risks, charges, and expenses associated with an investment service, product or strategy prior to making an investment decision. For this and more complete information, including discussion of your goals/situation, contact your J.P. Morgan representative.
NON-RELIANCE
Certain information contained in this material is believed to be reliable; however, JPM does not represent or warrant its accuracy, reliability or completeness, or accept any liability for any loss or damage (whether direct or indirect) arising out of the use of all or any part of this material. No representation or warranty should be made with regard to any computations, graphs, tables, diagrams or commentary in this material, which are provided for illustration/reference purposes only. The views, opinions, estimates and strategies expressed in this material constitute our judgment based on current market conditions and are subject to change without notice. JPM assumes no duty to update any information in this material in the event that such information changes. Views, opinions, estimates and strategies expressed herein may differ from those expressed by other areas of JPM, views expressed for other purposes or in other contexts, and this material should not be regarded as a research report. Any projected results and risks are based solely on hypothetical examples cited, and actual results and risks will vary depending on specific circumstances. Forward-looking statements should not be considered as guarantees or predictions of future events.
Nothing in this document shall be construed as giving rise to any duty of care owed to, or advisory relationship with, you or any third party. Nothing in this document shall be regarded as an offer, solicitation, recommendation or advice (whether financial, accounting, legal, tax or other) given by J.P. Morgan and/or its officers or employees, irrespective of whether or not such communication was given at your request. J.P. Morgan and its affiliates and employees do not provide tax, legal or accounting advice. You should consult your own tax, legal and accounting advisors before engaging in any financial transactions.
IMPORTANT INFORMATION ABOUT YOUR INVESTMENTS AND POTENTIAL CONFLICTS OF INTEREST
Conflicts of interest will arise whenever JPMorgan Chase Bank, N.A. or any of its affiliates (together, "J.P. Morgan") have an actual or perceived economic or other incentive in its management of our clients' portfolios to act in a way that benefits J.P. Morgan. Conflicts will result, for example (to the extent the following activities are permitted in your account): (1) when J.P. Morgan invests in an investment product, such as a mutual fund, structured product, separately managed account or hedge fund issued or managed by JPMorgan Chase Bank, N.A. or an affiliate, such as J.P. Morgan Investment Management Inc.; (2) when a J.P. Morgan entity obtains services, including trade execution and trade clearing, from an affiliate; (3) when J.P. Morgan receives payment as a result of purchasing an investment product for a client's account; or (4) when J.P. Morgan receives payment for providing services (including shareholder servicing, recordkeeping or custody) with respect to investment products purchased for a client's portfolio. Other conflicts will result because of relationships that J.P. Morgan has with other clients or when J.P. Morgan acts for its own account.
Investment strategies are selected from both J.P. Morgan and third-party asset managers and are subject to a review process by our manager research teams. From this pool of strategies, our portfolio construction teams select those strategies we believe fit our asset allocation goals and forward-looking views in order to meet the portfolio's investment objective.
As a general matter, we prefer J.P. Morgan managed strategies. We expect the proportion of J.P. Morgan managed strategies will be high (in fact, up to 100 percent) in strategies such as cash and high-quality fixed income, subject to applicable law and any account-specific considerations.
While our internally managed strategies generally align well with our forward-looking views, and we are familiar with the investment processes as well as the risk and compliance philosophy of the firm, it is important to note that J.P. Morgan receives more overall fees when internally managed strategies are included. We offer the option of choosing to exclude J.P. Morgan managed strategies (other than cash and liquidity products) in certain portfolios.
The Six Circles Funds are U.S.-registered mutual funds managed by J.P. Morgan and sub-advised by third parties. Although considered internally managed strategies, JPMC does not retain a fee for fund management or other fund services.
LEGAL ENTITY, BRAND & REGULATORY INFORMATION
In the United States, bank deposit accounts and related services, such as checking, savings and bank lending, are offered by JPMorgan Chase Bank, N.A. Member FDIC.
JPMorgan Chase Bank, N.A. and its affiliates (collectively "JPMCB") offer investment products, which may include bank-managed investment accounts and custody, as part of its trust and fiduciary services. Other investment products and services, such as brokerage and advisory accounts, are offered through J.P. Morgan Securities LLC ("JPMS"), a member of FINRA and SIPC. Annuities are made available through Chase Insurance Agency, Inc. (CIA), a licensed insurance agency, doing business as Chase Insurance Agency Services, Inc. in Florida. JPMCB, JPMS and CIA are affiliated companies under the common control of JPMorgan Chase & Co. Products not available in all states.
References to "J.P. Morgan" are to JPM, its subsidiaries and affiliates worldwide. "J.P. Morgan Private Bank" is the brand name for the private banking business conducted by JPM.
This material is intended for your personal use and should not be circulated to or used by any other person, or duplicated for nonpersonal use, without our permission. If you have any questions or no longer wish to receive these communications, please contact your J.P. Morgan representative.
© 2020 JPMorgan Chase & Co. All rights reserved.
---