Investing
Playing the long game
Time horizon is a critical component to constructing an investment plan.
---
Our Top Market Takeaways for the week ending February 07, 2020.
Market roundup
Recovering from the rout
Stocks are bouncing back this week following the recent market rout. Heading into Friday morning, the S&P 500 was up +3.7% and the Stoxx Europe 600 +3.6%. Onshore Chinese equities, which were closed last week due to an extension of the Lunar New Year holiday, ended the week down -2.6% as investors had their first chance to price in coronavirus fears (although it's worth noting that they retraced much of their earlier losses as the week wore on).
So what can we thank for the rebound? We saw positive developments on multiple fronts.
A slew of solid data. The U.S economy added 225,000 jobs in January (well above expectations), the U.S. trade deficit narrowed in 2019 for the first time in six years, and global manufacturing activity continued to improve. The narrative around a stabilizing economic backdrop remains intact, although we should note that it's likely to hit a speed bump (but not reverse) in the months ahead due to China's efforts to contain further coronavirus transmission by shutting down activity.
Corporate earnings pulling their weight. The S&P 500's fourth quarter 2019 earnings season is now more than halfway through. Of the companies that have reported, over 70% have beaten earnings estimates, and the index as a whole is trending toward modestly positive earnings per share growth for the quarter. For 2020, corporate executives seem to be more optimistic about their prospects, lending support to expectations for an earnings rebound going forward.
Good faith efforts on the trade front. On Thursday, China announced that it would cut tariffs in half on $75 billion worth of goods it imports from the United States. The move puts part of China's end of the "phase one" trade deal into practice, and follows an earlier announcement out of Washington that the United States would lower tariffs on ~$120 billion of Chinese goods. Seeing steps to follow through on aspects of the deal was welcomed as validation that tensions between the two countries, at the very least, aren't getting any worse.
All this considered, we are still wary of wildcard risks (like coronavirus and the U.S. election). There's still uncertainty around how much longer the coronavirus outbreak will persist and how big the economic impact could be (particularly in China). There's also the 2020 U.S. election—one could argue that this week's Iowa caucus did little in providing more clarity on who the Democratic presidential candidate may be. That leaves investors wondering what kinds of policy proposals could be in focus later this year (and how they may impact the economy, taxation and markets).
Despite these wildcards, we remain confident in our outlook and base our investment approach upon a few tried-and-true principles. One of those principles is the power of putting time on your side—we explore that below.
Spotlight
Playing the long game
Part of our job is to help contextualize what matters in the short term for long-term investors. Another is to help investors match their investment goals with the right asset mix to help accomplish them. One of our favorite charts to help guide those conversations is below. It has a few messages.
The first is that time horizon is a critical component to constructing an investment plan. The bars show the maximum and minimum rolling return for a given asset class. For example, the worst-case scenario for a stock investor over a one-year period dating back to 1950 has been -41%. The best-case scenario has been +60%. That is a wide range!
The range can be prohibitive if you have a short time horizon. Said differently, if you need the capital in one year, like for a down payment on a house, an investment in the stock market is probably not appropriate because you risk ending up with only half of your original capital. Even though we don't think it is likely that the stock market will be -40% lower in a year's time, it is still a possible outcome.
The bar chart shows four different timeframes of the rolling annualized total returns from 1950 to 2019: the 1-year returns, the 5-year rolling returns, the 10-year rolling returns, and the 20-year rolling returns. It shows that the range decreases as the amount of time increases.
As you look to longer time horizons, the bars get narrower. Over a 20-year period, the worst experience for a stock investor is +6% annualized. The best is +18% annualized. This is a much narrower range of possible outcomes than the shorter time periods. In this way, the chart helps to set expectations for prospective investors: The longer your time horizon, the narrower the range of possible outcomes.
Time horizon is a critical component to constructing an investment plan.
The second message is that we should blend assets together to accomplish the right mix of potential return and relative certainty of outcome. The bars that represent the range of stock returns (green bars) are wider than the bars that represent returns from fixed income (blue bars). To fine-tune the range of possible outcomes, investors can combine the two assets together in the right mix for their own goals.
Those are the basics; let's get into some details. The chart is constructed using trailing performance data back to the 1950s for U.S. stocks and government bonds. The best one-year period for stocks was from August 1982 to July 1983. The best 20-year period for stocks? That began in May 1980 and ended April 2000. The table below shows the end dates for the best and worst periods for stocks, bonds and a 50/50 portfolio.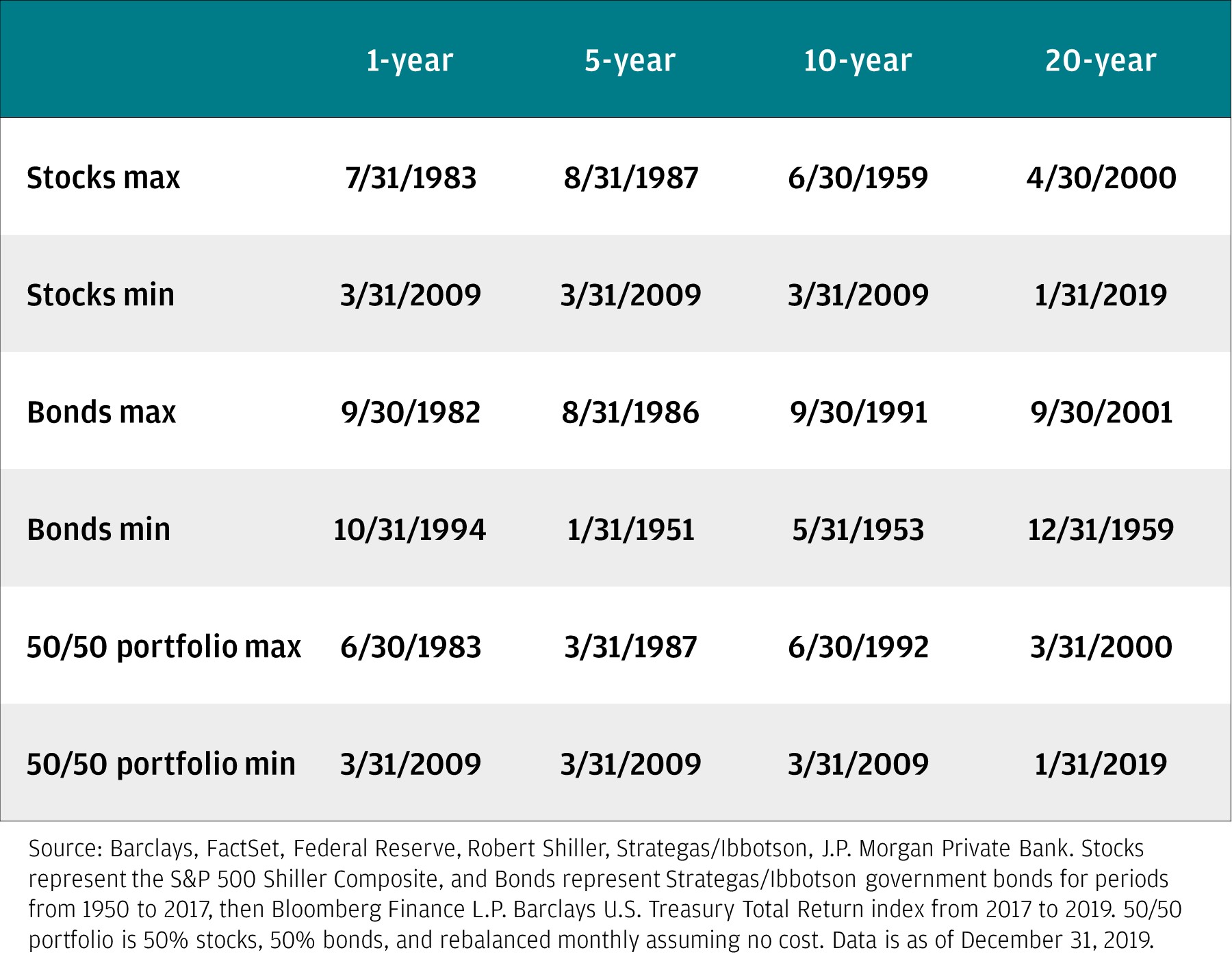 Some of these periods are easy to identify. Over the 1-, 5- and 10-year horizons, the worst period for stocks and portfolios ended at the depths of the Global Financial Crisis. The worst one-year period for bonds was during the Fed's preemptive tightening campaign in 1994 when 10-year yields ripped higher from ~5.5% to 8%. The worst longer-term rolling period for bonds was in the 1950s, when the Fed liberalized interest rate policy after a period of what was effectively yield curve targeting (the combination of low coupons and rising rates was a poor one for bondholders).
On the positive side, it is hard to overstate how important then-Fed Chairman Volcker's victory over inflation was for investors. Eleven of the 12 "best" periods can trace their start back to the broad period when inflation fell from a peak of 15% all the way down to ~2.5%. It also helps to stay invested right to the peak of exuberance, then get out: The best 20-year period for stock investors culminated with the Dot Com bubble in 2000. (Here, we should reiterate that trying to time the market is very tough, and not something we advocate.)
Perhaps the biggest surprise in the table is that the worst 20-year rolling period for both stocks and a 50/50 portfolio ended in January 2019. Yes, just one year ago.
But wait, I thought returns have been spectacular?! Well, they have been over the last 10 years (blue line in the chart below), but not the last 20 (grey line). In this case, the starting point really matters. The 20-year rolling period began in February 1999 when the Dot Com wave was beginning to crest (in that month, companies called pcorder.com and Pacific Internet had spectacular IPOs). Conversely, the 10-year period began in February 2009, close to the nadir of the Global Financial Crisis.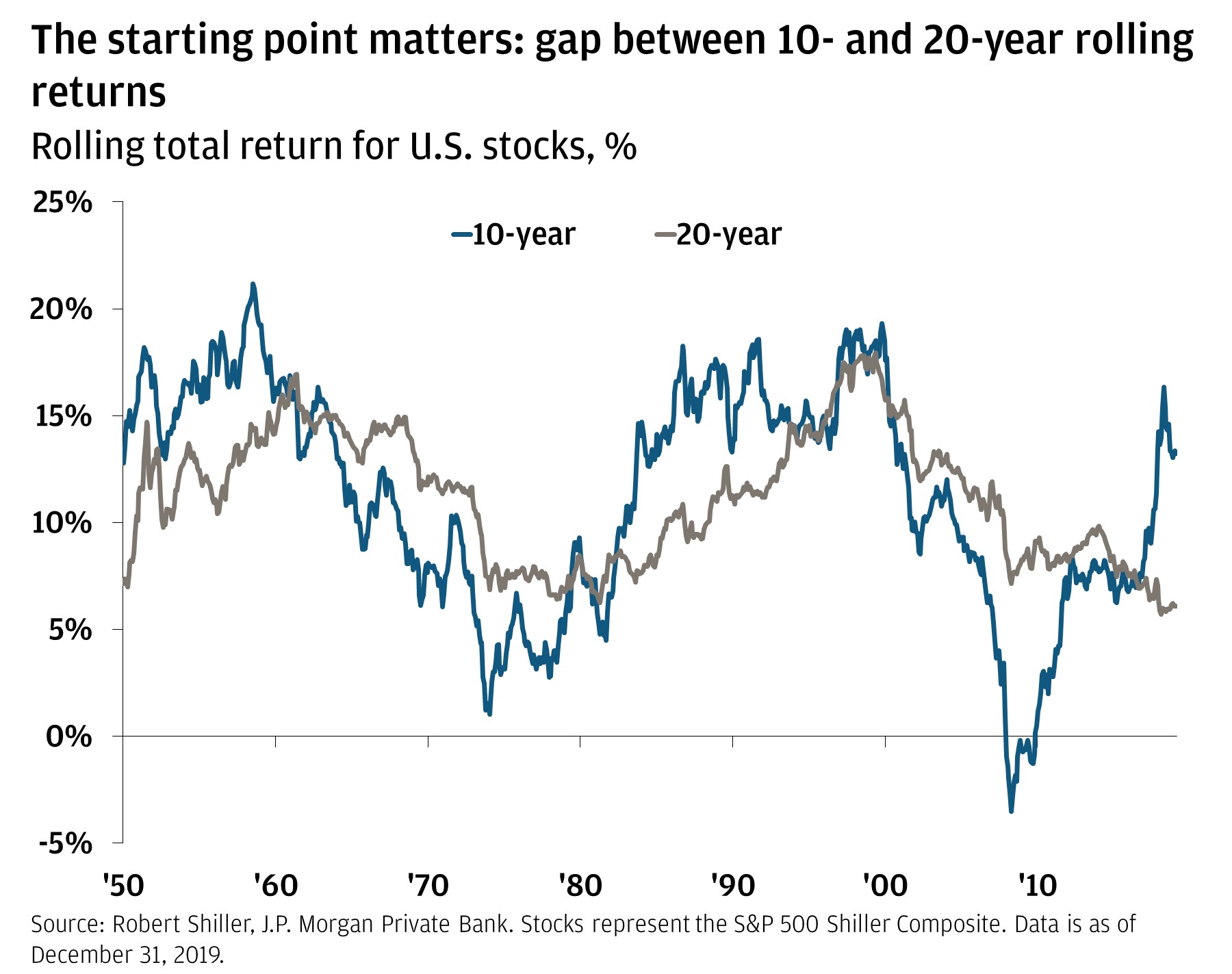 The line chart shows two lines: the 10-year and 20-year rolling total return percentage for U.S. stocks from 1950 through December 31, 2019.

This gap is important because it suggests that two seeming contradictions can be true at the same time. On the one hand, our Long-Term Capital Market Assumptions (which forecast the next 10 years) suggest more muted returns for U.S. stocks. On the other, there is a good chance that equity returns could be better over the next 20 years than they have been over the last 20.
All market and economic data as of January 2020 and sourced from Bloomberg, FactSet and Gavekal unless otherwise stated.
We believe the information contained in this material to be reliable but do not warrant its accuracy or completeness. Opinions, estimates, and investment strategies and views expressed in this document constitute our judgment based on current market conditions and are subject to change without notice.
RISK CONSIDERATIONS
Past performance is not indicative of future results. You may not invest directly in an index.
The prices and rates of return are indicative, as they may vary over time based on market conditions.
Additional risk considerations exist for all strategies.
The information provided herein is not intended as a recommendation of or an offer or solicitation to purchase or sell any investment product or service.
Opinions expressed herein may differ from the opinions expressed by other areas of J.P. Morgan. This material should not be regarded as investment research or a J.P. Morgan investment research report.
Important Information
All companies referenced are shown for illustrative purposes only, and are not intended as a recommendation or endorsement by J.P. Morgan in this context.
All market and economic data as of February 2020 and sourced from Bloomberg, FactSet and Gavekal unless otherwise stated.
The information presented is not intended to be making value judgments on the preferred outcome of any government decision.
This material is for informational purposes only, and may inform you of certain products and services offered by
J.P. Morgan's wealth management businesses, part of JPMorgan Chase & Co. ("JPM"). Please read all Important Information.
The MSCI China Index captures large- and mid-cap representation across China H shares, B shares, Red chips, P chips and foreign listings (e.g., ADRs). With 459 constituents, the index covers about 85% of this China equity universe. Currently, the index also includes Large Cap A shares represented at 5% of their free float adjusted market capitalization.
The Standard and Poor's 500 Index is a capitalization-weighted index of 500 stocks. The index is designed to measure performance of the broad domestic economy through changes in the aggregate market value of 500 stocks representing all major industries. The index was developed with a base level of 10 for the 1941–43 base period.
The STOXX Europe 600 Index tracks 600 publicly traded companies based in one of 18 EU countries. The index includes small-cap, medium-cap and large-cap companies. The countries represented in the index are Austria, Belgium, Denmark, Finland, France, Germany, Greece, Holland, Iceland, Ireland, Italy, Luxembourg, Norway, Portugal, Spain, Sweden, Switzerland and the United Kingdom.
This material is for informational purposes only, and may inform you of certain products and services offered by
J.P. Morgan's wealth management businesses, part of JPMorgan Chase & Co. ("JPM"). Please read all Important Information.
GENERAL RISKS & CONSIDERATIONS
Any views, strategies or products discussed in this material may not be appropriate for all individuals and are subject to risks. Investors may get back less than they invested, and past performance is not a reliable indicator of future results. Asset allocation does not guarantee a profit or protect against loss. Nothing in this material should be relied upon in isolation for the purpose of making an investment decision. You are urged to consider carefully whether the services, products, asset classes (e.g., equities, fixed income, alternative investments, commodities, etc.) or strategies discussed are suitable to your needs. You must also consider the objectives, risks, charges, and expenses associated with an investment service, product or strategy prior to making an investment decision. For this and more complete information, including discussion of your goals/situation, contact your J.P. Morgan representative.
NON-RELIANCE
Certain information contained in this material is believed to be reliable; however, JPM does not represent or warrant its accuracy, reliability or completeness, or accept any liability for any loss or damage (whether direct or indirect) arising out of the use of all or any part of this material. No representation or warranty should be made with regard to any computations, graphs, tables, diagrams or commentary in this material, which are provided for illustration/reference purposes only. The views, opinions, estimates and strategies expressed in this material constitute our judgment based on current market conditions and are subject to change without notice. JPM assumes no duty to update any information in this material in the event that such information changes. Views, opinions, estimates and strategies expressed herein may differ from those expressed by other areas of JPM, views expressed for other purposes or in other contexts, and this material should not be regarded as a research report. Any projected results and risks are based solely on hypothetical examples cited, and actual results and risks will vary depending on specific circumstances. Forward-looking statements should not be considered as guarantees or predictions of future events.
Nothing in this document shall be construed as giving rise to any duty of care owed to, or advisory relationship with, you or any third party. Nothing in this document shall be regarded as an offer, solicitation, recommendation or advice (whether financial, accounting, legal, tax or other) given by J.P. Morgan and/or its officers or employees, irrespective of whether or not such communication was given at your request. J.P. Morgan and its affiliates and employees do not provide tax, legal or accounting advice. You should consult your own tax, legal and accounting advisors before engaging in any financial transactions.
IMPORTANT INFORMATION ABOUT YOUR INVESTMENTS AND POTENTIAL CONFLICTS OF INTEREST
Conflicts of interest will arise whenever JPMorgan Chase Bank, N.A. or any of its affiliates (together, "J.P. Morgan") have an actual or perceived economic or other incentive in its management of our clients' portfolios to act in a way that benefits J.P. Morgan. Conflicts will result, for example (to the extent the following activities are permitted in your account): (1) when J.P. Morgan invests in an investment product, such as a mutual fund, structured product, separately managed account or hedge fund issued or managed by JPMorgan Chase Bank, N.A. or an affiliate, such as J.P. Morgan Investment Management Inc.; (2) when a J.P. Morgan entity obtains services, including trade execution and trade clearing, from an affiliate; (3) when J.P. Morgan receives payment as a result of purchasing an investment product for a client's account; or (4) when J.P. Morgan receives payment for providing services (including shareholder servicing, recordkeeping or custody) with respect to investment products purchased for a client's portfolio. Other conflicts will result because of relationships that J.P. Morgan has with other clients or when J.P. Morgan acts for its own account.
Investment strategies are selected from both J.P. Morgan and third-party asset managers and are subject to a review process by our manager research teams. From this pool of strategies, our portfolio construction teams select those strategies we believe fit our asset allocation goals and forward-looking views in order to meet the portfolio's investment objective.
As a general matter, we prefer J.P. Morgan managed strategies. We expect the proportion of J.P. Morgan managed strategies will be high (in fact, up to 100 percent) in strategies such as cash and high-quality fixed income, subject to applicable law and any account-specific considerations.
While our internally managed strategies generally align well with our forward-looking views, and we are familiar with the investment processes as well as the risk and compliance philosophy of the firm, it is important to note that
J.P. Morgan receives more overall fees when internally managed strategies are included. We offer the option of choosing to exclude J.P. Morgan managed strategies (other than cash and liquidity products) in certain portfolios.
The Six Circles Funds are U.S.-registered mutual funds managed by J.P. Morgan and sub-advised by third parties. Although considered internally managed strategies, JPMC does not retain a fee for fund management or other fund services.
LEGAL ENTITY, BRAND & REGULATORY INFORMATION
In the United States, bank deposit accounts and related services, such as checking, savings and bank lending, are offered by JPMorgan Chase Bank, N.A. Member FDIC.
JPMorgan Chase Bank, N.A. and its affiliates (collectively "JPMCB") offer investment products, which may include bank-managed investment accounts and custody, as part of its trust and fiduciary services. Other investment products and services, such as brokerage and advisory accounts, are offered through J.P. Morgan Securities LLC ("JPMS"), a member of FINRA and SIPC. Annuities are made available through Chase Insurance Agency, Inc. (CIA), a licensed insurance agency, doing business as Chase Insurance Agency Services, Inc. in Florida. JPMCB, JPMS and CIA are affiliated companies under the common control of JPMorgan Chase & Co. Products not available in all states.
References to "J.P. Morgan" are to JPM, its subsidiaries and affiliates worldwide. "J.P. Morgan Private Bank" is the brand name for the private banking business conducted by JPM.
This material is intended for your personal use and should not be circulated to or used by any other person, or duplicated for nonpersonal use, without our permission. If you have any questions or no longer wish to receive these communications, please contact your J.P. Morgan representative.
© 2020 JPMorgan Chase & Co. All rights reserved.
---