Investing
Money market funds: What you need to know
A simple primer explains the different types of money market funds and examines how they've fared in a volatile market environment.
---
Recent market volatility has prompted many clients to ask questions about the safety and stability of the money market fund complex. This primer describes the key characteristics and nuances of different types of money market funds, and provides a lens on how market events over the last few weeks have impacted the space.
What is a money market fund?
A money market fund is a mutual fund that invests in short-term, liquid, high-quality fixed income instruments. Money market funds must maintain a high level of liquid assets, as they offer investors the ability to redeem their shares on a daily basis. Money markets play a critical role in the economy by providing financing to corporations and the government, and they are also closely tied to the banking sector. For these reasons, they are stringently regulated by the Securities and Exchange Commission (SEC).
Different types of money market funds can invest in different types of fixed income securities—for example, government money market funds can invest in Treasuries, agencies and repurchase agreements; "prime" money market funds can invest in government obligations, short-term corporate credit, certificates of deposit and commercial paper, while municipal funds typically invest in short-dated, floating- and fixed-rate municipal securities, among others.
In the United States, the SEC classifies money market funds based on what they invest in. Various SEC rules, many of which emerged from broad reforms enacted in 2016, regulate how money market funds may be sold and managed.
How do you differentiate between types of money market funds?
In 2016, the SEC implemented sweeping reforms of money market funds, designed to make the overall complex safer, more transparent and more stable. Money market funds received one of three designations—government, institutional or retail—and were also classified as having either a fixed or floating net asset value (NAV). The SEC also drew a distinction between "retail investors" (individuals, sole proprietorships) and "institutional investors" (non-individuals, certain irrevocable trusts). These distinctions are important in selecting a money market fund. While retail investors can invest in government, institutional and retail funds, institutional investors can invest only in government funds and institutional funds.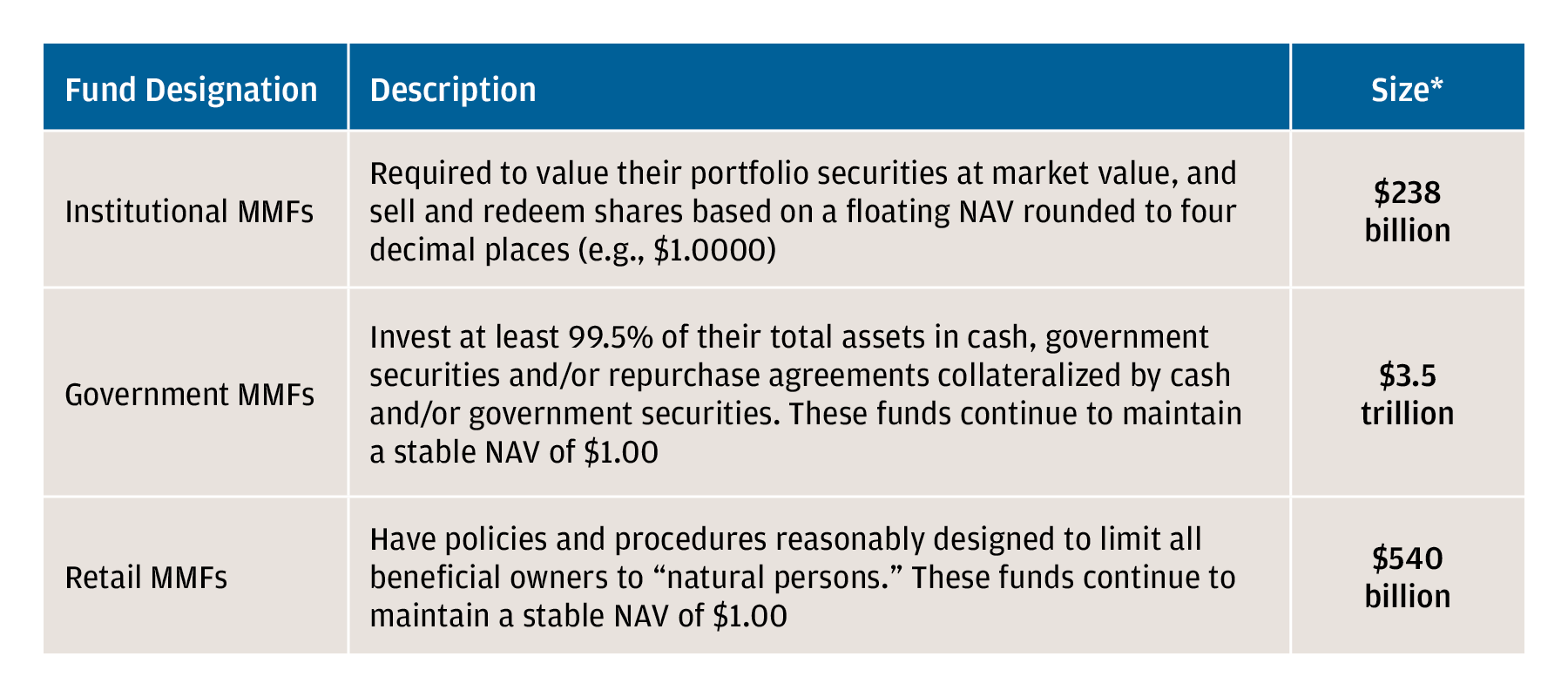 * Source: J.P. Morgan Asset Management and iMoneynet Fund Analyzer; data as of March 27, 2020. Numbers are rounded and for illustrative purposes only.
The chart shows the fund designation, description and size of the SEC fund classifications.
The 2016 reforms also addressed liquidity fees, redemption gates, diversification requirements and stress testing in rules that apply to both retail and institutional prime and municipal money market funds: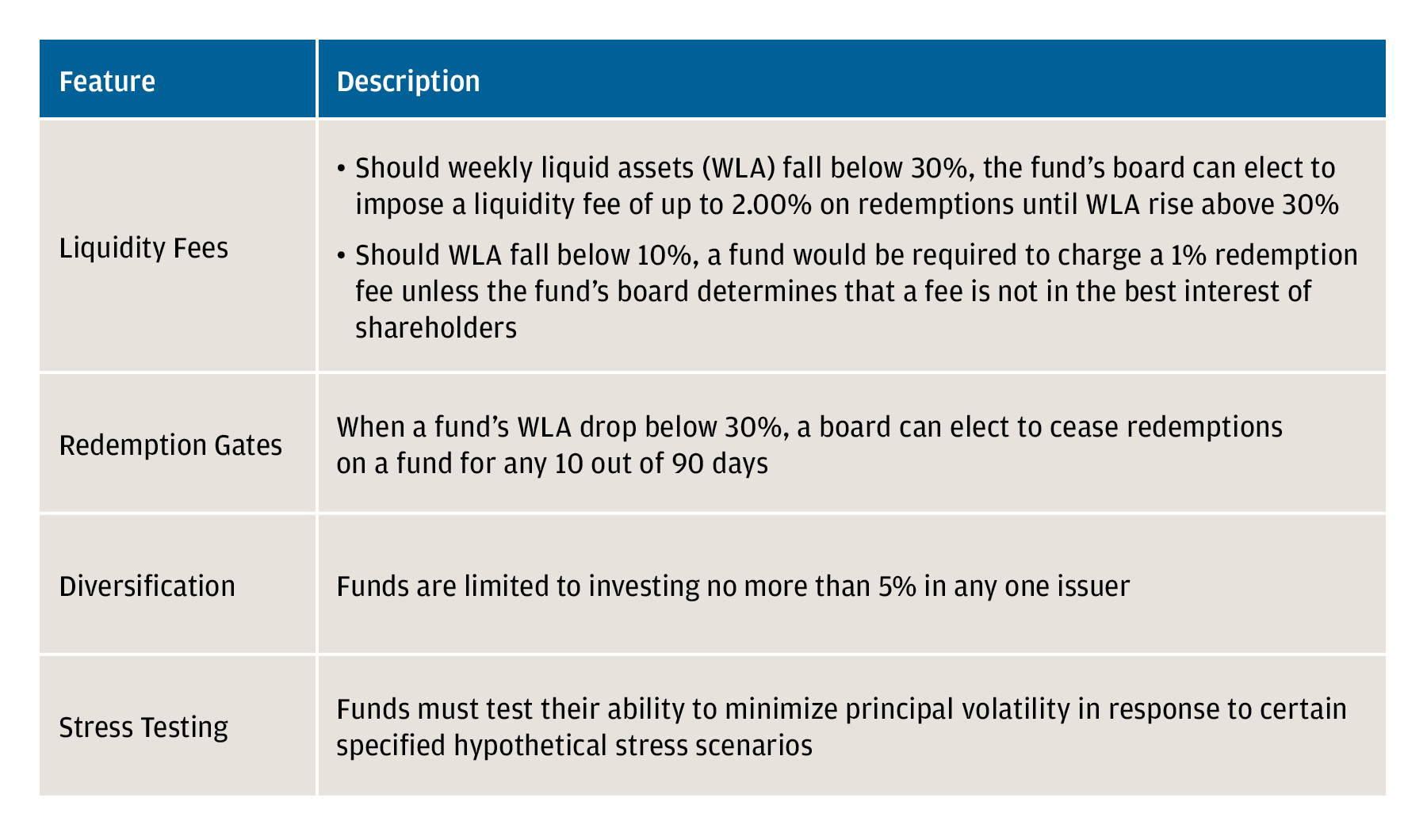 The chart shows money market reform features and describes them.
For details on the full scope of SEC reform, please refer to the SEC website.

What did we see in the money market fund complex over the last few weeks?
As overall market volatility increased, "flight to quality" behavior became evident across markets. Prime money market funds increased their liquidity and reduced their risk profiles in anticipation of outflows, which contributed to increased stress in short-term corporate funding markets. For floating NAV funds, including most institutional prime funds, the NAV moved slightly lower to reflect the market movements, and then rose as short-term credit markets stabilized. It's important to note that the NAV for these funds is meant to fluctuate by design and in accordance with market conditions.
In keeping with the "risk off" behavior evident across markets, many investors sold out of their prime and municipal money market funds and invested in government money market funds. The Federal Reserve (Fed) delivered "emergency" rate cuts totaling 150 basis points (bps) over the last few weeks; its policy actions, combined with the increase in assets moving into government money market funds, will almost certainly drive yields lower on these funds in the coming weeks.
What happens to 100% Treasury money market funds if interest rates go to zero or even negative?
The last time policy rates hovered close to zero (2008–2015), most money market funds waived their fees. We expect something similar to happen this time as rates on the front end of the yield curve stay low for the foreseeable future. This would first become relevant for 100% Treasury money market funds. If rates were to go negative in the front end, money market fund providers and regulators would first need to collectively work out the mechanics of accommodating negative rates. Note that the European money market fund complex is sizable, at EUR1 trillion assets under management (AUM) despite the persistence of negative interest rates in European markets. Still, over the near term, Treasury bill yields are unlikely to go negative. Upcoming supply is set to increase. Partly due to recently announced fiscal stimulus, we expect $2.4 trillion in Treasury supply this year, with more than 50% in the form of Treasury bills.1
1Source: J.P. Morgan as of 3/27/2020.
How do new Fed facilities impact money market funds?
The Fed has been extremely proactive in using all the tools at its disposal to not only support the economy, but also to ease liquidity conditions in fixed income markets. Its actions have already helped reduce price volatility in short-term credit markets. Once all the Fed facilities are up and running, we expect an even more evident snapback, especially in the instruments directly supported by the Fed, including commercial paper, short-term corporate bonds and municipals.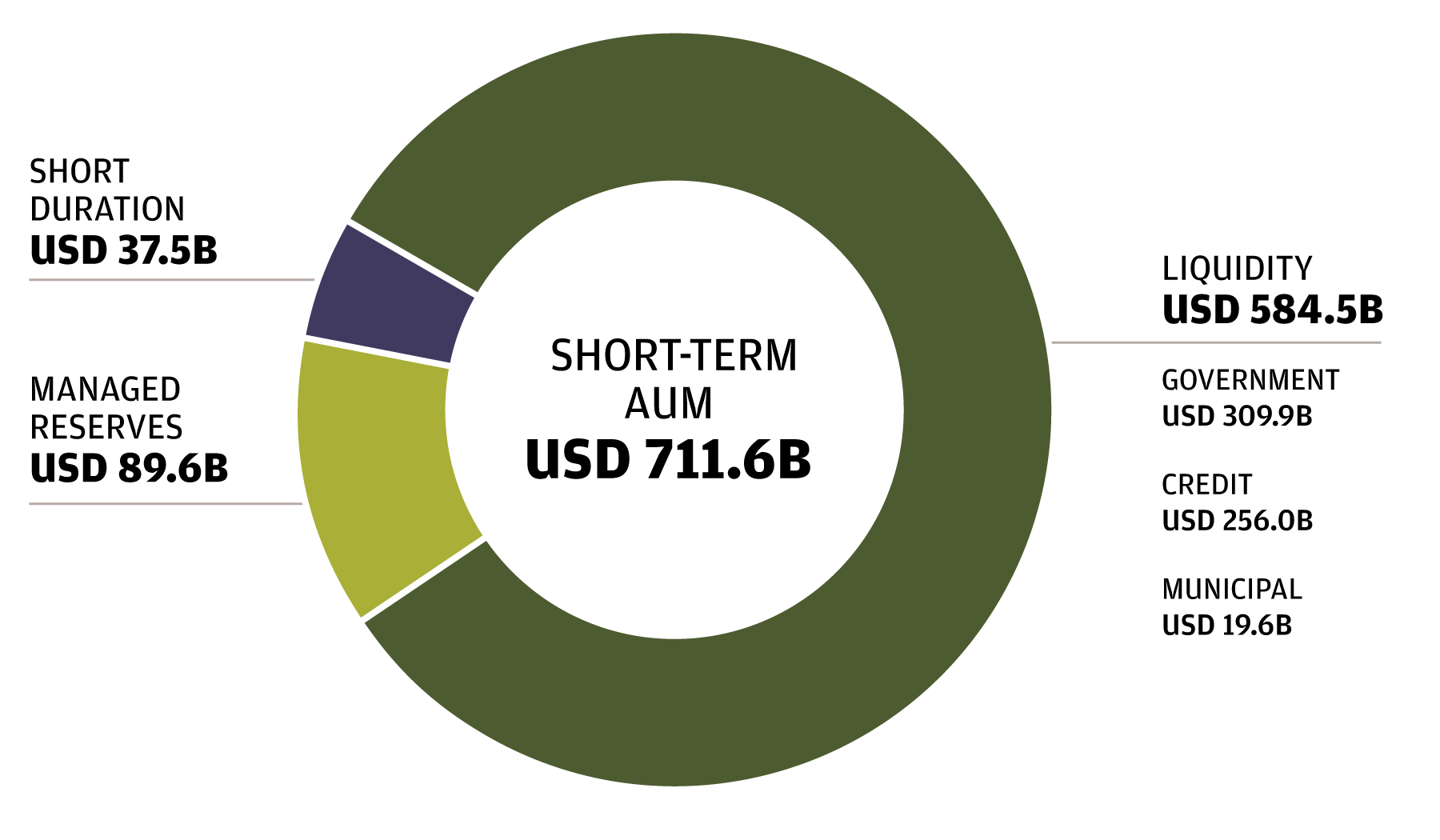 The pie chart shows the breakdown of short-term AUM. It shows the liquidity makes up the largest percentage of short-term AUM.
J.P. Morgan Asset Management has nearly USD2 trillion in AUM with ~USD700 billion in short-term AUM and some of the largest money market funds in the world2
This scale, combined with prudent portfolio and risk management and enhanced tools from money market fund reform, positions funds to handle periods of volatility in markets
J.P. Morgan has 126 dedicated global liquidity professionals in seven countries2
Our senior portfolio managers have years of experience, and have successfully managed the complex through many market-moving events, including the Global Financial Crisis
J.P. Morgan liquidity funds undergo extreme stress testing (spreads, rates, flows, etc.)
2Source: J.P. Morgan Asset Management; data as of December 31, 2019.
Important Information
KEY RISKS:
Bonds are subject to interest rate risk, credit, call, liquidity and default risk of the issuer. Bond prices generally fall when interest rates rise.
Investors should understand the potential tax liabilities surrounding a municipal bond purchase. Certain municipal bonds are federally taxed if the holder is subject to alternative minimum tax. Capital gains, if any, are federally taxable. The investor should note that the income from tax-free municipal bond funds may be subject to state and local taxation and the Alternative Minimum Tax (AMT).
This material is for information purposes only, and may inform you of certain products and services offered by J.P. Morgan's wealth management businesses, part of JPMorgan Chase & Co. ("JPM"). Please read all Important Information.
GENERAL RISKS & CONSIDERATIONS
Any views, strategies or products discussed in this material may not be appropriate for all individuals and are subject to risks. Investors may get back less than they invested, and past performance is not a reliable indicator of future results. Asset allocation/diversification does not guarantee a profit or protect against loss. Nothing in this material should be relied upon in isolation for the purpose of making an investment decision. You are urged to consider carefully whether the services, products, asset classes (e.g., equities, fixed income, alternative investments, commodities, etc.) or strategies discussed are suitable to your needs. You must also consider the objectives, risks, charges, and expenses associated with an investment service, product or strategy prior to making an investment decision. For this and more complete information, including discussion of your goals/situation, contact your J.P. Morgan representative.
NON-RELIANCE
Certain information contained in this material is believed to be reliable; however, JPM does not represent or warrant its accuracy, reliability or completeness, or accept any liability for any loss or damage (whether direct or indirect) arising out of the use of all or any part of this material. No representation or warranty should be made with regard to any computations, graphs, tables, diagrams or commentary in this material, which are provided for illustration/reference purposes only. The views, opinions, estimates and strategies expressed in this material constitute our judgment based on current market conditions and are subject to change without notice. JPM assumes no duty to update any information in this material in the event that such information changes. Views, opinions, estimates and strategies expressed herein may differ from those expressed by other areas of JPM, views expressed for other purposes or in other contexts, and this material should not be regarded as a research report. Any projected results and risks are based solely on hypothetical examples cited, and actual results and risks will vary depending on specific circumstances. Forward-looking statements should not be considered as guarantees or predictions of future events.
Nothing in this document shall be construed as giving rise to any duty of care owed to, or advisory relationship with, you or any third party. Nothing in this document shall be regarded as an offer, solicitation, recommendation or advice (whether financial, accounting, legal, tax or other) given by J.P. Morgan and/or its officers or employees, irrespective of whether or not such communication was given at your request. J.P. Morgan and its affiliates and employees do not provide tax, legal or accounting advice. You should consult your own tax, legal and accounting advisors before engaging in any financial transactions.
LEGAL ENTITY, BRAND & REGULATORY INFORMATION
In the United States, bank deposit accounts and related services, such as checking, savings and bank lending, are offered by JPMorgan Chase Bank, N.A. Member FDIC.
JPMorgan Chase Bank, N.A. and its affiliates (collectively "JPMCB") offer investment products, which may include bank-managed investment accounts and custody, as part of its trust and fiduciary services. Other investment products and services, such as brokerage and advisory accounts, are offered through J.P. Morgan Securities LLC ("JPMS"), a member of FINRA and SIPC. JPMCB and JPMS are affiliated companies under the common control of JPM. Products not available in all states.
References to "J.P. Morgan" are to JPM, its subsidiaries and affiliates worldwide. "J.P. Morgan Private Bank" is the brand name for the private banking business conducted by JPM. This material is intended for your personal use and should not be circulated to or used by any other person, or duplicated for non-personal use, without our permission. If you have any questions or no longer wish to receive these communications, please contact your J.P. Morgan representative.
© 2020 JPMorgan Chase & Co. All rights reserved.
---