Investing
Mind over money
---
Key takeaways
How we think and feel about money has a big impact on how we save, spend and invest.
We can't always change who we are, but we can change financial plans to better align with our behaviors and goals.
Become more intentional with your financial life; re-evaluate old habits to be sure they're consistent with your values.
Start slowly and simply—set small, achievable goals, and don't try to do too much at once.
Have you ever spent money you should have saved? Sold an investment you should have kept? Or made other decisions not in your best financial interests?
You aren't alone.
It can be difficult to envision goals far off in the future, or how small investments can compound into large amounts over time (see chart below). And so we often invest too late, too little or not at all.
Past experiences can also shape our current saving, spending and investing patterns. A millennial who watched her parents struggle through two bear markets might grow up distrusting stocks. Some people raised in poverty may compensate by overspending, while others live too far below their means.
We can't always change our most deep-rooted behaviors, but we can understand them, manage them and build our financial plans around them. Take a step back and think about your values when it comes to money. Are your behaviors consistent with those values? Are they moving you closer to your goals? If not, even small changes can make a big difference.
For example, consider the following scenario where Client A saves $400/month for 10 years, ages 25–35, and then stops contributing. He earns 6% per year. Client B waits until age 35 to start saving and has to save for 30 years to reach the same amount that Client A has by age 65.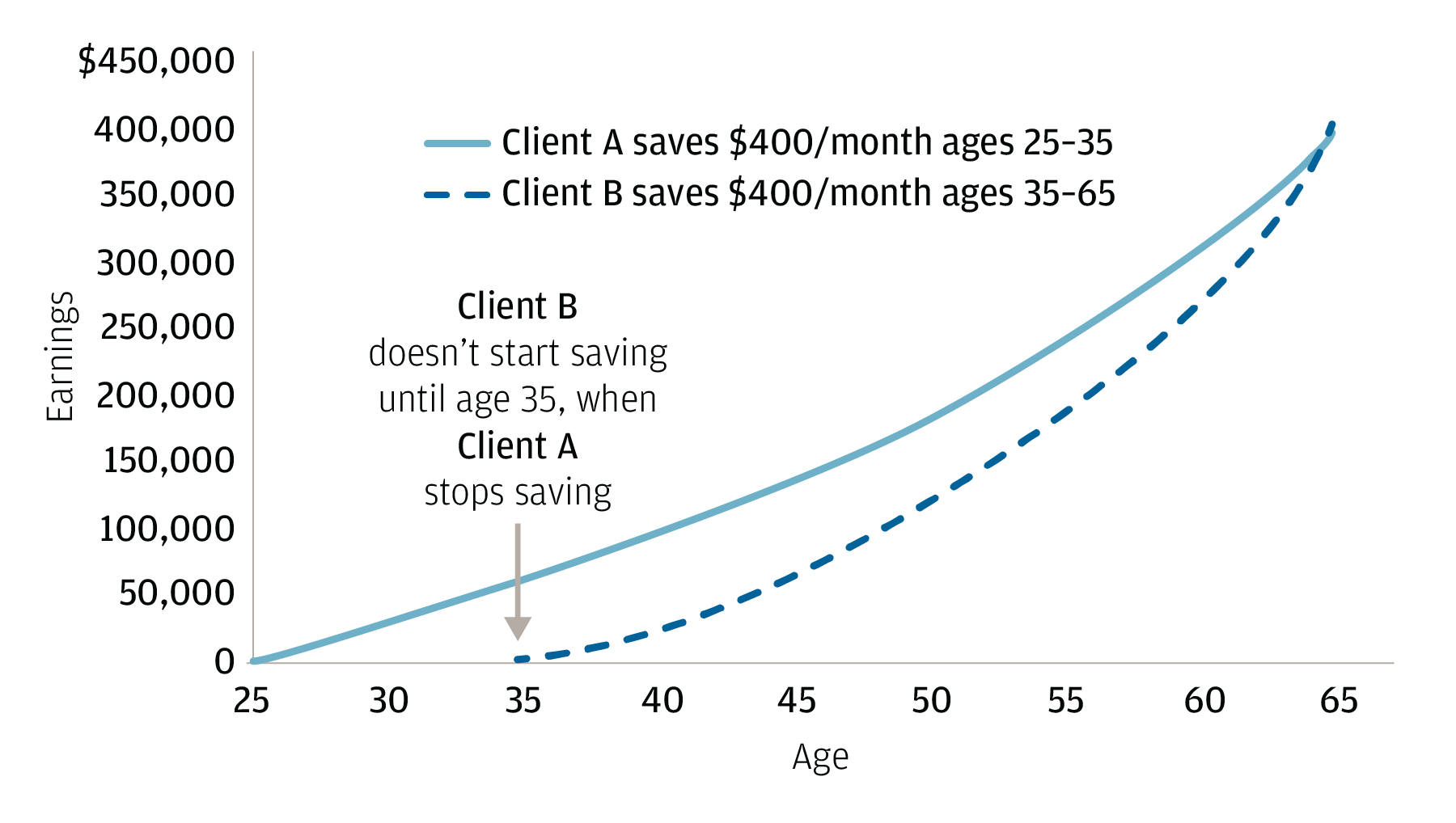 Description: The line graph shows the trajectory of two savers over a 40-year period. Although both of them arrived at the same financial figure, it takes nearly three times as long for the late saver to catch up to the one who got an early start.
Five strategies for managing your financial behaviors
Be the architect of your financial life. Many of us follow old financial habits without ever thinking about whether they're good for us. As a simple first step, roughly estimate how much of your total income is going toward spending, giving, saving and investing. Then ask yourself if that's really how you want your money allocated, and adjust accordingly.
Reframe your financial decisions. Reframing is simply the process of looking at the same situation from a different perspective—a glass half full versus half empty. For example, instead of agonizing over what you'll do without the latest electronic gadget, you can contemplate what to do with the money saved. Or you could reframe a stock market decline as an opportunity to buy low and not as a reason for panic selling.
Align your behaviors—and investments—with your goals. How would you react to a 20% investment loss? If the money was intended for retirement in 30 years, you could calmly and patiently wait for the market to recover. Now imagine how differently—and emotionally—you might react if you needed the same investment for a house down payment in three months. Just remember to stay the course.
Find a trusted person to collaborate with. It could be a spouse, parent, child, financial advisor—anyone with a different mindset who's willing to challenge your views and help you stay focused through good times and bad.
Start with very small, achievable goals. Instead of focusing on the total cost of a home, college or retirement, commit to paying down a credit card or putting a few extra dollars in an IRA. If you're a reluctant saver, consider doing it automatically by contributing part of each paycheck to a company retirement plan or arranging monthly transfers from checking to savings.
Now, let's consider another example:
Risk versus Reward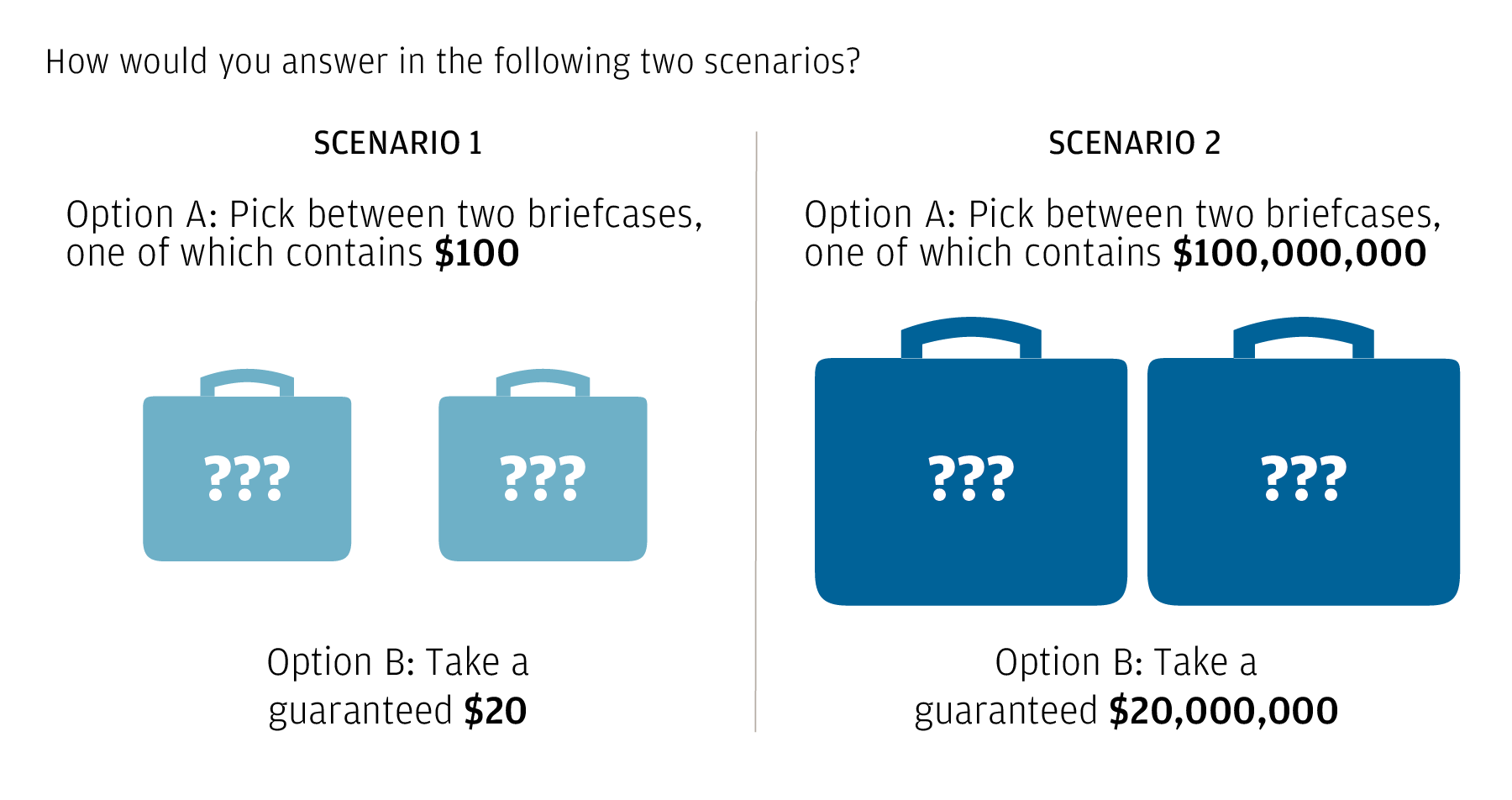 Description: The graphic shows two scenarios with similar odds but different financial outcomes.
Studies have shown that many times, we will choose a more certain option even if it's less financially rewarding than another choice that has a range of outcomes. This risk aversion has been shown to increase as the range of outcomes increase.1
Do you recognize any of these common behaviors? They may offer lessons for your own life.
Loss aversion. People feel the pain of losing money much more deeply than the pleasure of making it. To avoid that pain, you might invest too conservatively or sell too hastily when markets decline, robbing you of the long-term return potential needed to grow accounts and achieve life goals.
Risk aversion. Simply put, we don't like uncertainty. When given a choice, we'll often go with the known, even if the unknown might be more financially rewarding. It's why many workers stay at familiar but unfulfilling jobs instead of changing careers or starting their own businesses.
Inertia. Often we cling to the status quo because trying something different can feel like a painful loss or a frightening uncertainty. Example: passing up free money in employer 401(k) matches because we don't want to see the reduction in our paychecks.
Overconfidence. People who feel more financially secure than they actually are may spend too much or not save enough. Or, they may be overactive traders who believe they can time their investment decisions to "beat the market," but end up doing just the opposite.
Underconfidence. Only one in 10 retirees feels comfortable spending their retirement savings, often because they lack confidence that their money will last. We call this "lifestyle risk," the risk of not enjoying the quality of life you want, can afford and worked hard to achieve.
Herd mentality. Ever wonder why some people buy stocks when others are feeling euphoric or buy stuff to keep up with the Joneses? We tend to do what everyone else is doing, even when their circumstances are completely different.
Next steps: Put these ideas into action
Follow three simple steps to get started:
Identify your top goal and put it in writing. In particular, ask yourself: What is the job I want my money to do for me?
Discuss your goal with someone else, and ask them to write theirs down. Identify ways you could help each other achieve those goals.
Take one small action that would move you closer to your goal.
Access our expertise. Talk with your J.P. Morgan representative about creating a goals-based analysis that reflects your unique needs and behaviors.
Important Information
KEY RISKS
All companies referenced are shown for illustrative purposes only, and are not intended as a recommendation or endorsement by J.P. Morgan in this context.
All market and economic data as of April 2020 and sourced from Bloomberg Finance L.P. and FactSet unless otherwise stated.
The information presented is not intended to be making value judgments on the preferred outcome of any government decision.
INVESTMENT AND INSURANCE PRODUCTS ARE: • NOT FDIC INSURED • NOT INSURED BY ANY FEDERAL GOVERNMENT AGENCY • NOT A DEPOSIT OR OTHER OBLIGATION OF, OR GUARANTEED BY, JPMORGAN CHASE BANK, N.A. OR ANY OF ITS AFFILIATES • SUBJECT TO INVESTMENT RISKS, INCLUDING POSSIBLE LOSS OF THE PRINCIPAL AMOUNT INVESTED
This material is for informational purposes only, and may inform you of certain products and services offered by
J.P. Morgan's wealth management businesses, part of JPMorgan Chase & Co. ("JPM"). Please read all Important Information.
• The MSCI China Index captures large- and mid-cap representation across China H-shares, B-shares, Red chips, P chips and foreign listings (e.g., ADRs). With 459 constituents, the index covers about 85% of this China equity universe. Currently, the index also includes Large-Cap A-shares represented at 5% of their free-float-adjusted market capitalization.
• The Standard and Poor's 500 Index is a capitalization-weighted index of 500 stocks. The index is designed to measure performance of the broad domestic economy through changes in the aggregate market value of 500 stocks representing all major industries. The index was developed with a base level of 10 for the 1941 to 1943 base period.
• The STOXX Europe 600 Index tracks 600 publicly traded companies based in one of 18 EU countries. The index includes small-cap, medium-cap and large-cap companies. The countries represented in the index are Austria, Belgium, Denmark, Finland, France, Germany, Greece, Holland, Iceland, Ireland, Italy, Luxembourg, Norway, Portugal, Spain, Sweden, Switzerland and the United Kingdom.
This material is for informational purposes only, and may inform you of certain products and services offered by J.P. Morgan's wealth management businesses, part of JPMorgan Chase & Co. ("JPM"). Please read all Important Information.
GENERAL RISKS & CONSIDERATIONS
Any views, strategies or products discussed in this material may not be appropriate for all individuals and are subject to risks. Investors may get back less than they invested, and past performance is not a reliable indicator of future results. Asset allocation does not guarantee a profit or protect against loss. Nothing in this material should be relied upon in isolation for the purpose of making an investment decision. You are urged to consider carefully whether the services, products, asset classes (e.g., equities, fixed income, alternative investments, commodities, etc.) or strategies discussed are suitable to your needs. You must also consider the objectives, risks, charges, and expenses associated with an investment service, product or strategy prior to making an investment decision. For this and more complete information, including discussion of your goals/situation, contact your J.P. Morgan representative.
NON-RELIANCE
Certain information contained in this material is believed to be reliable; however, JPM does not represent or warrant its accuracy, reliability or completeness, or accept any liability for any loss or damage (whether direct or indirect) arising out of the use of all or any part of this material. No representation or warranty should be made with regard to any computations, graphs, tables, diagrams or commentary in this material, which are provided for illustration/reference purposes only. The views, opinions, estimates and strategies expressed in this material constitute our judgment based on current market conditions and are subject to change without notice. JPM assumes no duty to update any information in this material in the event that such information changes. Views, opinions, estimates and strategies expressed herein may differ from those expressed by other areas of JPM, views expressed for other purposes or in other contexts, and this material should not be regarded as a research report. Any projected results and risks are based solely on hypothetical examples cited, and actual results and risks will vary depending on specific circumstances. Forward-looking statements should not be considered as guarantees or predictions of future events.
Nothing in this document shall be construed as giving rise to any duty of care owed to, or advisory relationship with, you or any third party. Nothing in this document shall be regarded as an offer, solicitation, recommendation or advice (whether financial, accounting, legal, tax or other) given by J.P. Morgan and/or its officers or employees, irrespective of whether or not such communication was given at your request. J.P. Morgan and its affiliates and employees do not provide tax, legal or accounting advice. You should consult your own tax, legal and accounting advisors before engaging in any financial transactions.
IMPORTANT INFORMATION ABOUT YOUR INVESTMENTS AND POTENTIAL CONFLICTS OF INTEREST
Conflicts of interest will arise whenever JPMorgan Chase Bank, N.A. or any of its affiliates (together, "J.P. Morgan") have an actual or perceived economic or other incentive in its management of our clients' portfolios to act in a way that benefits J.P. Morgan. Conflicts will result, for example (to the extent the following activities are permitted in your account): (1) when J.P. Morgan invests in an investment product, such as a mutual fund, structured product, separately managed account or hedge fund issued or managed by JPMorgan Chase Bank, N.A. or an affiliate, such as J.P. Morgan Investment Management Inc.; (2) when a J.P. Morgan entity obtains services, including trade execution and trade clearing, from an affiliate; (3) when J.P. Morgan receives payment as a result of purchasing an investment product for a client's account; or (4) when J.P. Morgan receives payment for providing services (including shareholder servicing, recordkeeping or custody) with respect to investment products purchased for a client's portfolio. Other conflicts will result because of relationships that J.P. Morgan has with other clients or when J.P. Morgan acts for its own account.
Investment strategies are selected from both J.P. Morgan and third-party asset managers and are subject to a review process by our manager research teams. From this pool of strategies, our portfolio construction teams select those strategies we believe fit our asset allocation goals and forward-looking views in order to meet the portfolio's investment objective.
As a general matter, we prefer J.P. Morgan managed strategies. We expect the proportion of J.P. Morgan managed strategies will be high (in fact, up to 100 percent) in strategies such as cash and high-quality fixed income, subject to applicable law and any account-specific considerations.
While our internally managed strategies generally align well with our forward-looking views, and we are familiar with the investment processes as well as the risk and compliance philosophy of the firm, it is important to note that J.P. Morgan receives more overall fees when internally managed strategies are included. We offer the option of choosing to exclude J.P. Morgan managed strategies (other than cash and liquidity products) in certain portfolios.
The Six Circles Funds are U.S.-registered mutual funds managed by J.P. Morgan and sub-advised by third parties. Although considered internally managed strategies, JPMC does not retain a fee for fund management or other fund services.
LEGAL ENTITY, BRAND & REGULATORY INFORMATION
In the United States, bank deposit accounts and related services, such as checking, savings and bank lending, are offered by JPMorgan Chase Bank, N.A. Member FDIC.
JPMorgan Chase Bank, N.A. and its affiliates (collectively "JPMCB") offer investment products, which may include bank-managed investment accounts and custody, as part of its trust and fiduciary services. Other investment products and services, such as brokerage and advisory accounts, are offered through J.P. Morgan Securities LLC ("JPMS"), a member of FINRA and SIPC. Annuities are made available through Chase Insurance Agency, Inc. (CIA), a licensed insurance agency, doing business as Chase Insurance Agency Services, Inc. in Florida. JPMCB, JPMS and CIA are affiliated companies under the common control of JPMorgan Chase & Co. Products not available in all states.
© 2020 JPMorgan Chase & Co. All rights reserved.
---
---