Investing
Is the worst of the stock market behind us?
Our answer to this—and other key investment questions of the day.
---
Markets don't pause even during terrible times like these, as COVID-19 sweeps the globe and causes profound human suffering. Our job is to advise investors on the markets, portfolio positioning, and potential investment opportunities to help them safeguard their financial well-being.
To that end, we offer this perspective on investing now: It seems less likely that risk assets will hit new lows. However, because significant risks still loom on the horizon, we are exercising an abundance of caution in positioning the portfolios we manage. Even so, we are finding value beneath the surface.
Here is the thinking behind these conclusions:

Have risk assets hit bottom yet?

Quite possibly yes. It is looking more likely that we have seen the worst for risk assets.
On March 23, the S&P 500 reached an intraday low of ~2,190, high yield spreads hit ~1,140 basis points (bps), and investment grade spreads peaked at ~390 bps. At that moment, the S&P 500 had fallen more than 35% from its all-time high on February 19. Since then, the S&P 500 has rallied by over 25%, high yield spreads have tightened by ~300 bps, and investment grade spreads have tightened by ~145 bps.
We have said there are three conditions for declaring the worst is behind us:
The rate of new COVID-19 infections would be declining.
The Fed would be helping to remediate problems in fixed income and money markets.
Fiscal stimulus around the world would be both large enough and well-designed enough to cushion the economic fallout.
These conditions are starting to be met.
COVID-19 infection rate
News around the world on new confirmed COVID-19 infections has been getting better, not worse. Look at the admittedly crude metric of daily new confirmed case growth, and you can see that the rate of new infections has recently stabilized, albeit at a high level.
The market seems to believe the current stabilization means an eventual deceleration in new cases. And the sooner we can get the virus under control, the sooner economies can reopen.
Global daily new confirmed COVID-19 cases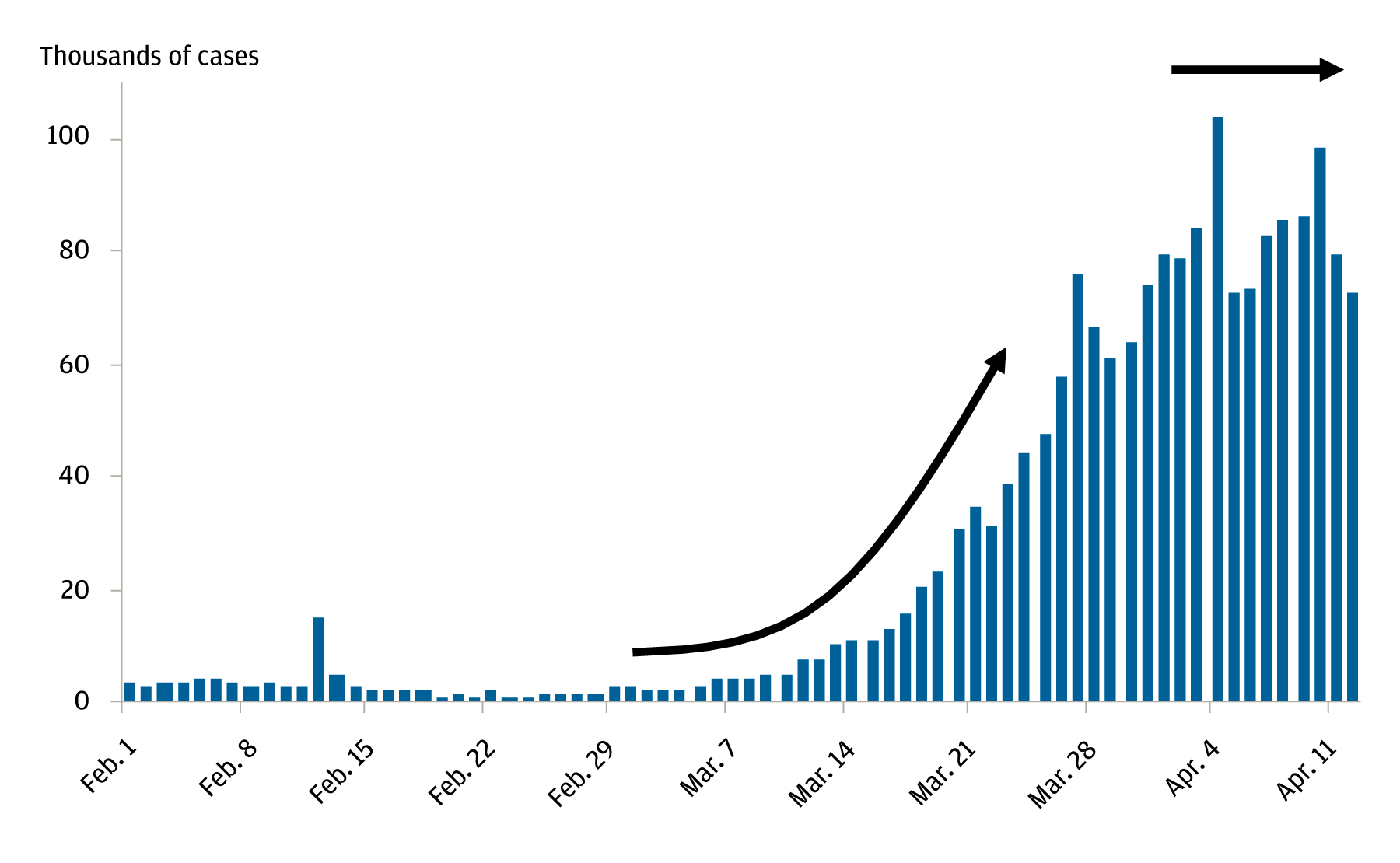 Source: Bloomberg News, Johns Hopkins. April 12, 2020.
Description: The chart displays the global number of the new daily confirmed COVID-19 cases. It displays the number of cases from February 1, 2020 through April 12, 2020. The chart indicates that the total global number of new cases each day increased until starting to relatively flatten in April.
Markets aren't just grasping at straws. Vice President Pence, Gov. Andrew Cuomo and Dr. Anthony Fauci—America's leading expert on infectious diseases and a key member of the White House's coronavirus task force—are just a few of the policymakers who have started to adopt a cautiously optimistic tone. Recent revisions to public health models (such as the one published by the Institute for Health Metrics and Evaluation) show lower mortality totals.
It is way too soon to declare victory. As Michael Cembalest, Chairman of Market and Investment Strategy for J.P. Morgan Asset & Wealth Management, recently pointed out, it can be very dangerous to over-extrapolate short-term trends.
We will know the worst is behind us only when we see a sustained decline in the rate of new infections. Right now, it is reasonable to think a decline may be closer than it was a week or two ago.
Policy support
On two and three, as we have written before, the Federal Reserve and the federal government have been surprisingly proactive in providing policy support to cushion the economic fallout. We expect they will continue to do what it takes to help the economy get back on track.
Even though we are almost certainly going to see a historic decline in economic output and a historic rise in unemployment throughout the second quarter, markets are rallying because the news is getting better, not worse.

What might still drive risk assets down?

Social distancing might last into the summer.
Current market pricing suggests investors are expecting a gradual return to activity to begin by June. If the virus necessitates social distancing into the summer, markets would need to reflect that more negative outlook.
Right now, social distancing is causing a staggering drop in economic activity and wages. However, there was a negligible immediate market response to the release of the U.S. jobs reports and other timely measures in the world, such as purchasing managers indices. That lack of reaction suggests markets might be willing to give a pass to data releases over the next month or two. What may be more important than actual economic data is the path the virus takes.
The American Enterprise Institute argues that social distancing measures should start being relaxed on a regional basis only after a minimum of 14 days of decreasing new cases.1 But it seems like social distancing will be the norm in most of the country at least into May. New cases have just plateaued at a high level in the New York City area, and most public health officials are suggesting that the rest of the country is weeks behind this experience.
Other negative factors
Beyond the virus, it is easy to think of second- and third-order negative impacts that could cause asset prices to fall further. The CARES Act and associated Fed actions could prove to be insufficient in replacing incomes for businesses and households. A disruption to the food supply chain could cause panic buying and empty shelves in grocery stores. Real borrowing rates may not fall despite the Fed's best efforts because the stress in the system is even greater than we think. The many young, unprofitable companies that make up a larger and larger share of market capitalization could fail. Partisanship could rear its ugly head, inhibiting an already needed "Phase 4" fiscal stimulus package. The economic hardship could catalyze a resurgence of populism. The virus could accelerate de-globalization. Finally, the risk of a "second wave" of the virus later in the year cannot be ignored.

How should multi-asset portfolios be positioned?

We are investing the portfolios we manage with an abundance of caution.
In balanced portfolios, we are substantially underweight equities and overweight fixed income and cash. Right now, the S&P 500 is trading at ~2,800. You can think of that as a 17x P/E multiple on $165 of earnings per share in 2021; $165 dollars of earnings in 2021 would be essentially flat from 2019's full-year earnings per share of $163.
The market seems to be expecting an aggressive timeline for a restart of the economy. It also assumes there are no setbacks along the way (from restrained consumption activity, a second wave of virus outbreaks, etc.). We don't think it's likely that there will be new lows in the S&P 500. However, it is likely that we trade lower from here at some point over the next three months.
In short, a downside case seems more probable than an upside case, and the upside case doesn't offer a return commensurate with the risk. We still think equities will be higher in 12–18 months, but we are being cautious about how much risk we are taking and where we are taking the risk we have.

Are there investment opportunities now?

Yes—and high yield is perhaps the most compelling.

We are building a position in high yield bonds in managed portfolios, and think it makes sense from a tactical standpoint. High yield spreads are still wide, and the Fed seems committed to supporting debt markets.
But we also think you should not ignore the stock market; it's a big pond.
Some investors may want to focus on the long-term earnings potential of the largest U.S. corporations. Instead of trying to buy next year's earnings at a 13x or 14x multiple, they may want to buy the S&P at 9x 2030 earnings per share. Now could provide a compelling entry point.
Others may focus on picking the winners and losers. You may want to look into companies that will drive the three megatrends—healthcare innovation, digital transformation and sustainability—that we think will power an eventual recovery. You can also use structured notes to tailor a specific risk-reward profile or to generate yield. Or, if you are worried about what all this stimulus might do to inflation, you could buy some gold.
We are cautious for a reason. Yet, the best bottom-line advice for investors likely remains. Stick with a long-term investment plan that is aligned with your goals. Markets are volatile now. But someday, we will solve the problem of COVID-19, and asset prices will reflect that reality.
1 National coronavirus response: A road map to reopening, American Enterprise Institute, March 29, 2020.
Important Information
KEY RISKS
All companies referenced are shown for illustrative purposes only, and are not intended as a recommendation or endorsement by J.P. Morgan in this context.
All market and economic data as of April 2020 and sourced from Bloomberg and FactSet unless otherwise stated.
The information presented is not intended to be making value judgments on the preferred outcome of any government decision.
INVESTMENT AND INSURANCE PRODUCTS ARE: • NOT FDIC INSURED • NOT INSURED BY ANY FEDERAL GOVERNMENT AGENCY • NOT A DEPOSIT OR OTHER OBLIGATION OF, OR GUARANTEED BY, JPMORGAN CHASE BANK, N.A. OR ANY OF ITS AFFILIATES • SUBJECT TO INVESTMENT RISKS, INCLUDING POSSIBLE LOSS OF THE PRINCIPAL AMOUNT INVESTED
This material is for informational purposes only, and may inform you of certain products and services offered by
J.P. Morgan's wealth management businesses, part of JPMorgan Chase & Co. ("JPM"). Please read all Important Information.
The MSCI China Index captures large- and mid-cap representation across China H shares, B shares, Red chips, P chips and foreign listings (e.g., ADRs). With 459 constituents, the index covers about 85% of this China equity universe. Currently, the index also includes Large Cap A shares represented at 5% of their free float adjusted market capitalization.
The Standard and Poor's 500 Index is a capitalization-weighted index of 500 stocks. The index is designed to measure performance of the broad domestic economy through changes in the aggregate market value of 500 stocks representing all major industries. The index was developed with a base level of 10 for the 1941–43 base period.
The STOXX Europe 600 Index tracks 600 publicly traded companies based in one of 18 EU countries. The index includes small-cap, medium-cap and large-cap companies. The countries represented in the index are Austria, Belgium, Denmark, Finland, France, Germany, Greece, Holland, Iceland, Ireland, Italy, Luxembourg, Norway, Portugal, Spain, Sweden, Switzerland and the United Kingdom.
This material is for informational purposes only, and may inform you of certain products and services offered by
J.P. Morgan's wealth management businesses, part of JPMorgan Chase & Co. ("JPM"). Please read all Important Information.
This material is for informational purposes only, and may inform you of certain products and services offered by J.P. Morgan's wealth management businesses, part of JPMorgan Chase & Co. ("JPM"). Please read all Important Information.
GENERAL RISKS & CONSIDERATIONS
Any views, strategies or products discussed in this material may not be appropriate for all individuals and are subject to risks. Investors may get back less than they invested, and past performance is not a reliable indicator of future results. Asset allocation does not guarantee a profit or protect against loss. Nothing in this material should be relied upon in isolation for the purpose of making an investment decision. You are urged to consider carefully whether the services, products, asset classes (e.g., equities, fixed income, alternative investments, commodities, etc.) or strategies discussed are suitable to your needs. You must also consider the objectives, risks, charges, and expenses associated with an investment service, product or strategy prior to making an investment decision. For this and more complete information, including discussion of your goals/situation, contact your J.P. Morgan representative.
NON-RELIANCE
Certain information contained in this material is believed to be reliable; however, JPM does not represent or warrant its accuracy, reliability or completeness, or accept any liability for any loss or damage (whether direct or indirect) arising out of the use of all or any part of this material. No representation or warranty should be made with regard to any computations, graphs, tables, diagrams or commentary in this material, which are provided for illustration/reference purposes only. The views, opinions, estimates and strategies expressed in this material constitute our judgment based on current market conditions and are subject to change without notice. JPM assumes no duty to update any information in this material in the event that such information changes. Views, opinions, estimates and strategies expressed herein may differ from those expressed by other areas of JPM, views expressed for other purposes or in other contexts, and this material should not be regarded as a research report. Any projected results and risks are based solely on hypothetical examples cited, and actual results and risks will vary depending on specific circumstances. Forward-looking statements should not be considered as guarantees or predictions of future events.
Nothing in this document shall be construed as giving rise to any duty of care owed to, or advisory relationship with, you or any third party. Nothing in this document shall be regarded as an offer, solicitation, recommendation or advice (whether financial, accounting, legal, tax or other) given by J.P. Morgan and/or its officers or employees, irrespective of whether or not such communication was given at your request. J.P. Morgan and its affiliates and employees do not provide tax, legal or accounting advice. You should consult your own tax, legal and accounting advisors before engaging in any financial transactions.
IMPORTANT INFORMATION ABOUT YOUR INVESTMENTS AND POTENTIAL CONFLICTS OF INTEREST
Conflicts of interest will arise whenever JPMorgan Chase Bank, N.A. or any of its affiliates (together, "J.P. Morgan") have an actual or perceived economic or other incentive in its management of our clients' portfolios to act in a way that benefits J.P. Morgan. Conflicts will result, for example (to the extent the following activities are permitted in your account): (1) when J.P. Morgan invests in an investment product, such as a mutual fund, structured product, separately managed account or hedge fund issued or managed by JPMorgan Chase Bank, N.A. or an affiliate, such as J.P. Morgan Investment Management Inc.; (2) when a J.P. Morgan entity obtains services, including trade execution and trade clearing, from an affiliate; (3) when J.P. Morgan receives payment as a result of purchasing an investment product for a client's account; or (4) when J.P. Morgan receives payment for providing services (including shareholder servicing, recordkeeping or custody) with respect to investment products purchased for a client's portfolio. Other conflicts will result because of relationships that J.P. Morgan has with other clients or when J.P. Morgan acts for its own account.
Investment strategies are selected from both J.P. Morgan and third-party asset managers and are subject to a review process by our manager research teams. From this pool of strategies, our portfolio construction teams select those strategies we believe fit our asset allocation goals and forward-looking views in order to meet the portfolio's investment objective.
As a general matter, we prefer J.P. Morgan managed strategies. We expect the proportion of J.P. Morgan managed strategies will be high (in fact, up to 100 percent) in strategies such as cash and high-quality fixed income, subject to applicable law and any account-specific considerations.
While our internally managed strategies generally align well with our forward-looking views, and we are familiar with the investment processes as well as the risk and compliance philosophy of the firm, it is important to note that J.P. Morgan receives more overall fees when internally managed strategies are included. We offer the option of choosing to exclude J.P. Morgan managed strategies (other than cash and liquidity products) in certain portfolios.
The Six Circles Funds are U.S.-registered mutual funds managed by J.P. Morgan and sub-advised by third parties. Although considered internally managed strategies, JPMC does not retain a fee for fund management or other fund services.
LEGAL ENTITY, BRAND & REGULATORY INFORMATION
In the United States, bank deposit accounts and related services, such as checking, savings and bank lending, are offered by JPMorgan Chase Bank, N.A. Member FDIC.
JPMorgan Chase Bank, N.A. and its affiliates (collectively "JPMCB") offer investment products, which may include bank-managed investment accounts and custody, as part of its trust and fiduciary services. Other investment products and services, such as brokerage and advisory accounts, are offered through J.P. Morgan Securities LLC ("JPMS"), a member of FINRA and SIPC. Annuities are made available through Chase Insurance Agency, Inc. (CIA), a licensed insurance agency, doing business as Chase Insurance Agency Services, Inc. in Florida. JPMCB, JPMS and CIA are affiliated companies under the common control of JPMorgan Chase & Co. Products not available in all states.
References to "J.P. Morgan" are to JPM, its subsidiaries and affiliates worldwide. "J.P. Morgan Private Bank" is the brand name for the private banking business conducted by JPM.
This material is intended for your personal use and should not be circulated to or used by any other person, or duplicated for nonpersonal use, without our permission. If you have any questions or no longer wish to receive these communications, please contact your J.P. Morgan representative.
© 2020 JPMorgan Chase & Co. All rights reserved.
---