Wealth Planning
How to become the best architect of your financial life
Follow these tips to design a decision-making framework that reliably leads to smart financial choices.
---
Intentionality.
We often use the word when we talk about money, and for good reason. We want to be sure that our financial decisions have their intended impact. But being intentional can feel overwhelming: What does it mean, exactly? Where do I start?
To answer that question, we draw on a concept known as "choice architecture," the brainchild of Nobel Prize–winning behavioral economist Richard Thaler. Choice architecture can be broadly defined as the designing of choices to predictably influence decision makers.1

When we act as intentional choice architects, we determine what outcomes we want to achieve, and we design our decision-making environments to have the best chance of reaching those goals.

And we can all be architects of our own financial lives to achieve the outcomes we desire. In this article, we present four methods to help you become an intentional choice architect of your financial life, setting yourself up to make smart choices and predictably influence your behaviors.

Think of the architect of a building. It's difficult to imagine that she would not know what a building would be used for before designing it. Being an architect of your financial life is no different. Identifying the desired use of the capital is critical to designing the right strategy to get you where you want to go. For example, is the money intended for annual lifestyle consumption or for perpetual growth of wealth? The design, construction and review of the financial strategy will be entirely different for lifestyle versus growth capital. Lifestyle capital will need to reliably distribute cash every year (without decumulating too quickly), while the growth capital will focus on the continual reinvestment of any monies distributed (in the most efficient way possible).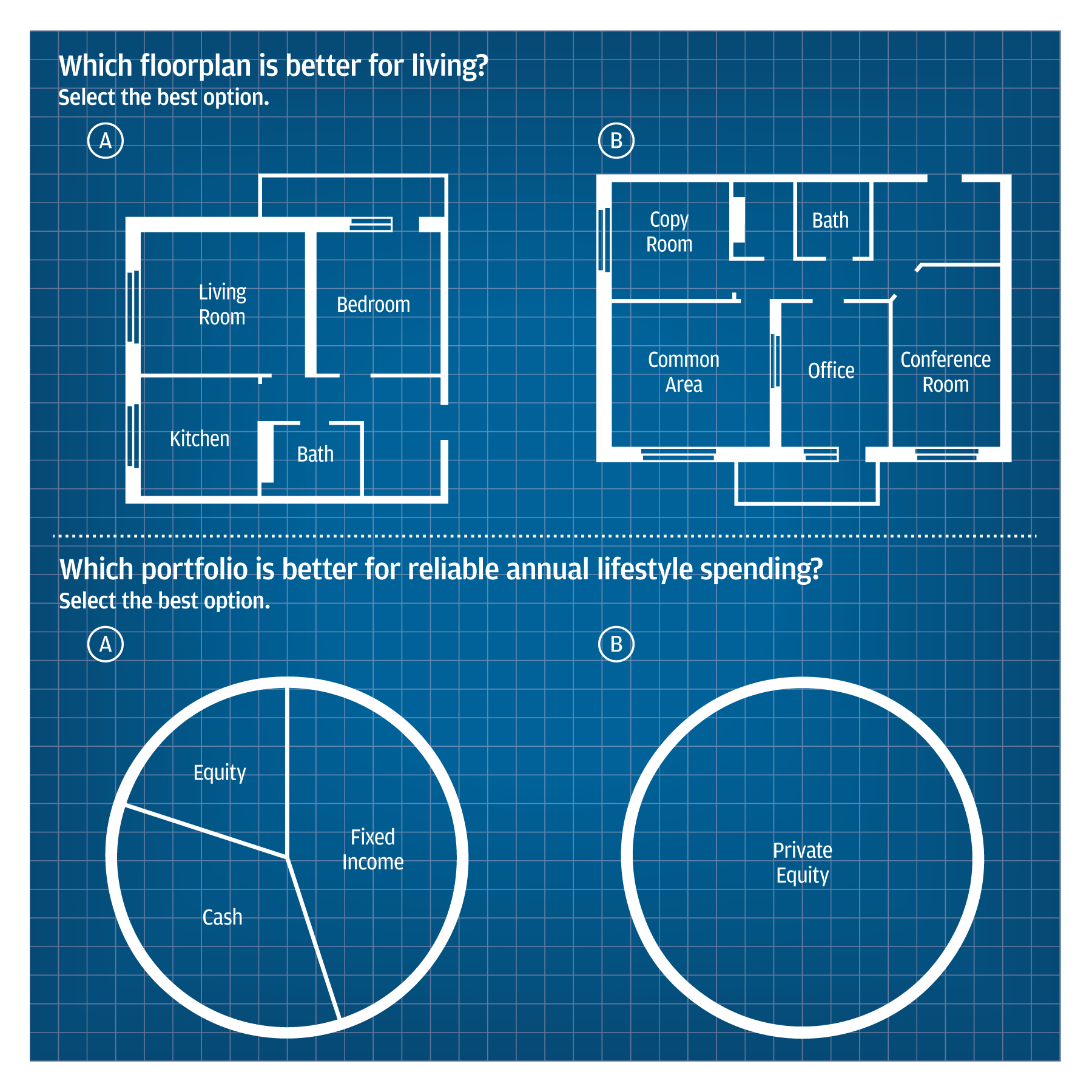 The image shows two floorplans: one of an office building and one of a home. Below, it shows two pie charts: one broken into three parts with equity, cash and fixed income; and one with only one section of private equity.
Four methods to become the architect of your financial life—and predictably influence your behavior

Choose your words carefully

Language is one of the most powerful tools to predictably change life decisions—including financial decisions. Humans understand that people have many word choices available to them. So they know that the specific words chosen to describe decision-making options reveal important information.2 Think of a glass that is half-full or half-empty. "Half-full" signals optimism, while "half-empty" is clearly pessimistic. Or imagine a scenario that has an 80% chance of success versus 20% chance of failure—the meaning is the same in both descriptions, but the framing changes how we see the odds.

To that end, if you are looking to unite family members around a particular goal or "money mission," focus on positive language. The mission should be clearly defined, along with the behaviors that strengthen it. Perhaps the mission aims to use financial capital to support the passions and purposes of family members. Behaviors to further that mission might include pursuing education or taking jobs that bolster those passions or purposes. A different mission—to create a sustainable family business across multiple future generations—would suggest different supporting behaviors: the pursuit of education related to the family business, for example, as well as activities that support family unity.
Harness the power of inertia

For many human beings, inertia is a powerful force (and one that choice architecture takes very seriously). Doing nothing is not only the path of least resistance—it can create much less worry that you'll make the wrong decision compared to doing something. This is especially relevant when it comes to decisions about money.

Ask yourself: If something were to happen to me, what would automatically happen next? Would my family be set up for success?

Laws in the location where you are domiciled will likely determine what would automatically happen (unless other measures have been put in place). Identify which elements in those default rules are aligned, or not aligned, with your intentions. Increasing alignments through wills and estate plans are pieces of choice architecture that can create peace of mind for you and your family.

To make good behaviors more automatic, you might also consider setting up pre-scheduled (same day/date) reviews on a quarterly or annual basis with professional advisors and family. Or you might make systematic both distributions (to manage lifestyle spending) and investment plans (to avoid missing out on market opportunities). In this way, "doing nothing" can itself be a positive behavior that leads to better financial outcomes.
Make good decision making easy

When you make it easy to make good decisions it helps create decision-making frameworks that smooth the way toward what you are trying to accomplish with your money.

Maybe you plan to spend or give away all of your wealth, or maybe you aim to leave a legacy for your heirs. In either case, you need to articulate what amount of cash you should have available to live your life with confidence, and segment that off from the investments you will need to reliably provide for your future lifestyle spending. That's part of your decision-making framework—removing a key part of what makes decisions difficult: determining what to do first.

Then you can consider some of the decisions at hand. Do I have enough to give to children, other family members, the community? Am I clear about the purpose of the gift, and do the recipients understand my intent? Next you can proceed to making the more specific decisions, determining, for example, the most efficient timing and structure of your gift.
Reduce the number of choices

It's fascinating how human beings can be attracted to complexity in financial decision making, even if it leads to bad decisions. But research suggests that when it comes to financial decision making, less can definitely be more.3

Reducing the number of choices can be valuable because we can't effectively process more than a certain amount of information to make decisions in a given period of time. So think about all of the financial decisions you have in front of you. Do you offload decisions to others so that you can give the most important decisions the attention they need? Is your investment strategy overcomplicated, considering what you're trying to achieve with your money? Answering these questions can help you streamline and simplify your financial choices.
Final thoughts

The four methods we have described—choose your words carefully; harness the power of inertia; make good decision making easy; reduce the number of choices—can help you become the architect of your own financial life. None are complicated. As in many human endeavors, simplicity can be a powerful force in financial decision making. If we acknowledge that we are simply human, with limited time, energy and cognitive capacity, then we can design our decision-making environments to predictably influence our behaviors to have the best chance of reaching our financial goals.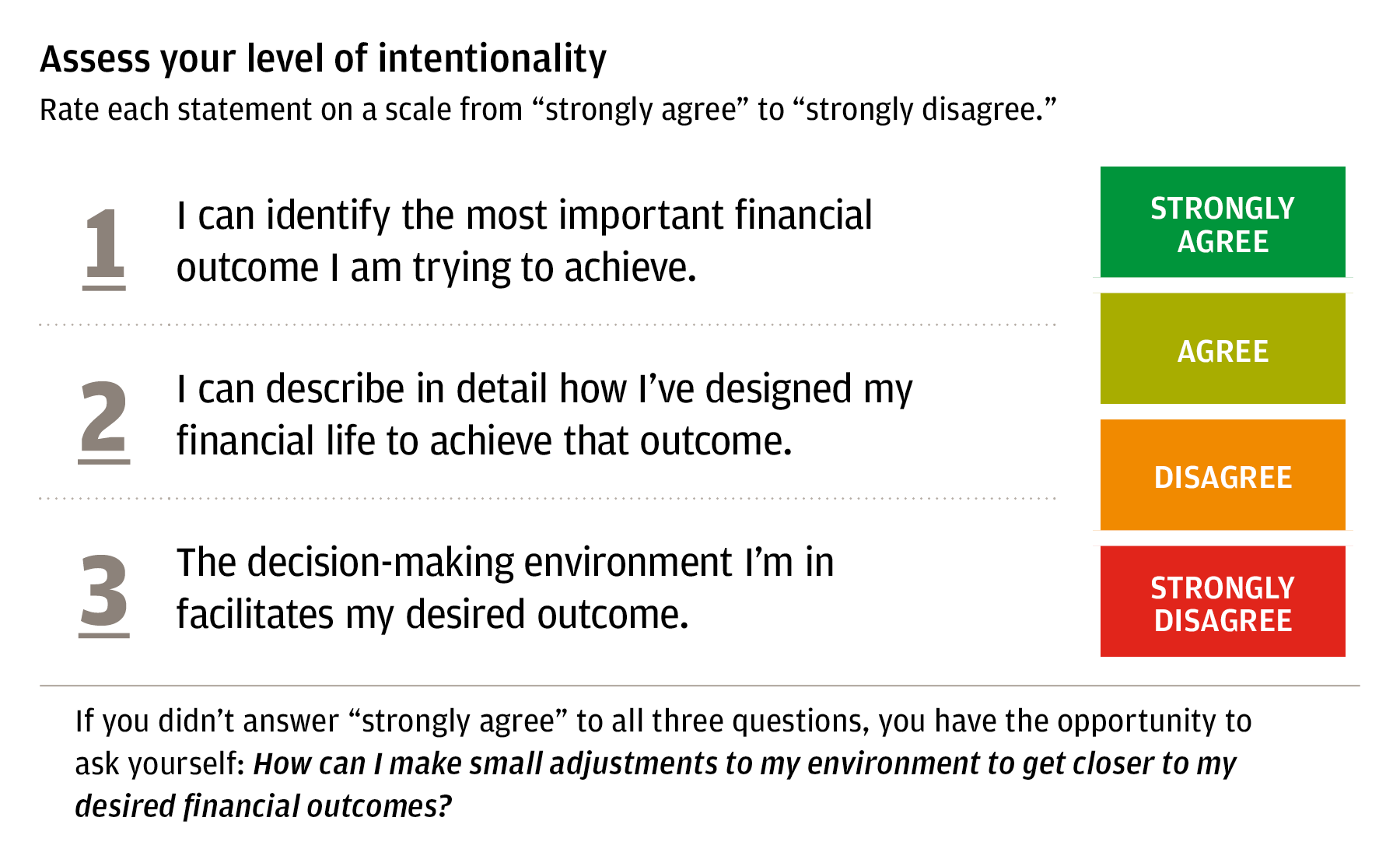 The image shows three questions for the respondent to rank on a scale from strongly agree to strongly disagree.
1 Sunstein, Cass R., et al. Nudge: Improving Decisions About Health, Wealth, and Happiness. 2014.
2 McKenzie, Craig, et al. "Recommendations Implicit in Policy Defaults." Psychological Science, 27 Sept. 2005, pages.ucsd.edu/~mckenzie/McKenzieetal2006PsychSci.pdf.
3 Iyengar, Sheena. "How Much Choice Is Too Much?: Determinants of Individual Contributions in 401K Retirement Plans." In Pension Design and Structure: New Lessons from Behavioral Finance. Ed. O. S. Mitchell and S. P. Utkus. New York: Oxford University Press, 2004.
Important Information
All companies referenced are shown for illustrative purposes only, and are not intended as a recommendation or endorsement by J.P. Morgan in this context.
All market and economic data as of December 2019 and sourced from Bloomberg and FactSet unless otherwise stated.

The information presented is not intended to be making value judgments on the preferred outcome of any government decision.

INVESTMENT AND INSURANCE PRODUCTS ARE: • NOT FDIC INSURED • NOT INSURED BY ANY FEDERAL GOVERNMENT AGENCY • NOT A DEPOSIT OR OTHER OBLIGATION OF, OR GUARANTEED BY, JPMORGAN CHASE BANK, N.A. OR ANY OF ITS AFFILIATES • SUBJECT TO INVESTMENT RISKS, INCLUDING POSSIBLE LOSS OF THE PRINCIPAL AMOUNT INVESTED

This material is for informational purposes only, and may inform you of certain products and services offered by

J.P. Morgan's wealth management businesses, part of JPMorgan Chase & Co. ("JPM"). Please read all Important Information.
• The MSCI China Index captures large- and mid-cap representation across China H shares, B shares, Red chips, P chips and foreign listings (e.g., ADRs). With 459 constituents, the index covers about 85% of this China equity universe. Currently, the index also includes Large Cap A shares represented at 5% of their free float adjusted market capitalization.

• The Standard and Poor's 500 Index is a capitalization-weighted index of 500 stocks. The index is designed to measure performance of the broad domestic economy through changes in the aggregate market value of 500 stocks representing all major industries. The index was developed with a base level of 10 for the 1941–43 base period.
• The STOXX Europe 600 Index tracks 600 publicly traded companies based in one of 18 EU countries. The index includes small-cap, medium-cap and large-cap companies. The countries represented in the index are Austria, Belgium, Denmark, Finland, France, Germany, Greece, Holland, Iceland, Ireland, Italy, Luxembourg, Norway, Portugal, Spain, Sweden, Switzerland and the United Kingdom.
This material is for informational purposes only, and may inform you of certain products and services offered by
J.P. Morgan's wealth management businesses, part of JPMorgan Chase & Co. ("JPM"). Please read all Important Information.
GENERAL RISKS & CONSIDERATIONS
Any views, strategies or products discussed in this material may not be appropriate for all individuals and are subject to risks. Investors may get back less than they invested, and past performance is not a reliable indicator of future results. Asset allocation does not guarantee a profit or protect against loss. Nothing in this material should be relied upon in isolation for the purpose of making an investment decision. You are urged to consider carefully whether the services, products, asset classes (e.g., equities, fixed income, alternative investments, commodities, etc.) or strategies discussed are suitable to your needs. You must also consider the objectives, risks, charges, and expenses associated with an investment service, product or strategy prior to making an investment decision. For this and more complete information, including discussion of your goals/situation, contact your J.P. Morgan representative.
NON-RELIANCE
Certain information contained in this material is believed to be reliable; however, JPM does not represent or warrant its accuracy, reliability or completeness, or accept any liability for any loss or damage (whether direct or indirect) arising out of the use of all or any part of this material. No representation or warranty should be made with regard to any computations, graphs, tables, diagrams or commentary in this material, which are provided for illustration/reference purposes only. The views, opinions, estimates and strategies expressed in this material constitute our judgment based on current market conditions and are subject to change without notice. JPM assumes no duty to update any information in this material in the event that such information changes. Views, opinions, estimates and strategies expressed herein may differ from those expressed by other areas of JPM, views expressed for other purposes or in other contexts, and this material should not be regarded as a research report. Any projected results and risks are based solely on hypothetical examples cited, and actual results and risks will vary depending on specific circumstances. Forward-looking statements should not be considered as guarantees or predictions of future events.
Nothing in this document shall be construed as giving rise to any duty of care owed to, or advisory relationship with, you or any third party. Nothing in this document shall be regarded as an offer, solicitation, recommendation or advice (whether financial, accounting, legal, tax or other) given by J.P. Morgan and/or its officers or employees, irrespective of whether or not such communication was given at your request. J.P. Morgan and its affiliates and employees do not provide tax, legal or accounting advice. You should consult your own tax, legal and accounting advisors before engaging in any financial transactions.
IMPORTANT INFORMATION ABOUT YOUR INVESTMENTS AND POTENTIAL CONFLICTS OF INTEREST
Conflicts of interest will arise whenever JPMorgan Chase Bank, N.A. or any of its affiliates (together, "J.P. Morgan") have an actual or perceived economic or other incentive in its management of our clients' portfolios to act in a way that benefits J.P. Morgan. Conflicts will result, for example (to the extent the following activities are permitted in your account): (1) when J.P. Morgan invests in an investment product, such as a mutual fund, structured product, separately managed account or hedge fund issued or managed by JPMorgan Chase Bank, N.A. or an affiliate, such as J.P. Morgan Investment Management Inc.; (2) when a J.P. Morgan entity obtains services, including trade execution and trade clearing, from an affiliate; (3) when J.P. Morgan receives payment as a result of purchasing an investment product for a client's account; or (4) when J.P. Morgan receives payment for providing services (including shareholder servicing, recordkeeping or custody) with respect to investment products purchased for a client's portfolio. Other conflicts will result because of relationships that J.P. Morgan has with other clients or when J.P. Morgan acts for its own account.
Investment strategies are selected from both J.P. Morgan and third-party asset managers and are subject to a review process by our manager research teams. From this pool of strategies, our portfolio construction teams select those strategies we believe fit our asset allocation goals and forward-looking views in order to meet the portfolio's
investment objective.
As a general matter, we prefer J.P. Morgan managed strategies. We expect the proportion of J.P. Morgan managed strategies will be high (in fact, up to 100 percent) in strategies such as cash and high-quality fixed income, subject to applicable law and any account-specific considerations.
While our internally managed strategies generally align well with our forward-looking views, and we are familiar with the investment processes as well as the risk and compliance philosophy of the firm, it is important to note that
J.P. Morgan receives more overall fees when internally managed strategies are included. We offer the option of choosing to exclude J.P. Morgan managed strategies (other than cash and liquidity products) in certain portfolios.
The Six Circles Funds are U.S.-registered mutual funds managed by J.P. Morgan and sub-advised by third parties. Although considered internally managed strategies, JPMC does not retain a fee for fund management or other fund services.

LEGAL ENTITY, BRAND & REGULATORY INFORMATION

In the United States, bank deposit accounts and related services, such as checking, savings and bank lending, are offered by JPMorgan Chase Bank, N.A. Member FDIC.
JPMorgan Chase Bank, N.A. and its affiliates (collectively "JPMCB") offer investment products, which may include bank-managed investment accounts and custody, as part of its trust and fiduciary services. Other investment products and services, such as brokerage and advisory accounts, are offered through J.P. Morgan Securities LLC ("JPMS"), a member of FINRA and SIPC. Annuities are made available through Chase Insurance Agency, Inc. (CIA), a licensed insurance agency, doing business as Chase Insurance Agency Services, Inc. in Florida. JPMCB, JPMS and CIA are affiliated companies under the common control of JPMorgan Chase & Co. Products not available in all states.

References to "J.P. Morgan" are to JPM, its subsidiaries and affiliates worldwide. "J.P. Morgan Private Bank" is the brand name for the private banking business conducted by JPM.
This material is intended for your personal use and should not be circulated to or used by any other person, or duplicated for nonpersonal use, without our permission. If you have any questions or no longer wish to receive these communications, please contact your J.P. Morgan representative.
© 2020 JPMorgan Chase & Co. All rights reserved.
---