Wealth Planning
How does money really make you feel?
Research lends credence to "more money, more problems." Use these strategies to help you boost the positive impact of money on your life.
---
We intuitively feel that more money should make us happier—greater wealth should equate to a greater sense of satisfaction. But reality is more complicated. A recent academic study examining data from more than 1.7 million people across the globe finds there may be a turning point where higher incomes are correlated with lower levels of life satisfaction.1 In fact, satisfaction seems to "satiate" or max out at about $95,000 in annual income. That's surprising, isn't it? The possibility that life satisfaction peaks at lower-than-expected income levels can help put into perspective both our positive and negative feelings about money.
How do we feel about money? To try to answer that question, we surveyed 1,500 participants, of varying levels of wealth, across countries in Asia, North America, Europe and Latin America. We asked them a series of questions to elicit how they really felt about money in their family lives. We found that participants with greater wealth ($5 million and up in household assets) more frequently described the meaning of money in their families using negative words (complexity, burden, confusion and conflict) when compared with participants with lesser wealth (household assets between $250,000 and $1 million). As someone who works with wealthy families, that's a sobering result. But there's more encouraging news. At all levels of wealth, roughly the same percentage of participants described money in positive terms, using words like opportunity, clarity and empowerment.
The colors of money

The colors of money
Source: J.P. Morgan Private Bank Research, 2019. Total N = 1,500. Percentages reflect responses across all age groups (21–51+). Participants were able to select more than once response.
Essentially, the data confirmed one of my core beliefs. People at any level of wealth have an opportunity to accentuate the positive—and diminish the negative—impact of money in their lives. Here, we highlight our survey results and explore how we can focus on all the positive associations that money (resources) can provide, while simultaneously diminishing the negative effects. The ultimate goal: to act with intent when it comes to money decisions in your family's life. Drawing on our survey research, we offer the following three suggestions to help ensure that you are acting with intent on important family money matters.

Identify someone to facilitate communication in your family
For money to have its intended impact, communication is key. Dialogue creates a dynamic in a family where everything—from feelings about money to ideas about how money should be used—can be out in the open. We asked our survey participants to tell us who in their families, if anyone, prevented this type of information flow. The most common answer, at all wealth levels, was "partner/spouse," and "parents and/or siblings" fell a close second. The least likely to prevent communication was a financial professional or attorney. They know how to structure conversations in positive ways (think: discussions that will create an alignment among your intentions and behaviors, and your family values), and not negative ways (think: discussions that will generate family disagreements).
Dynamics of dialogue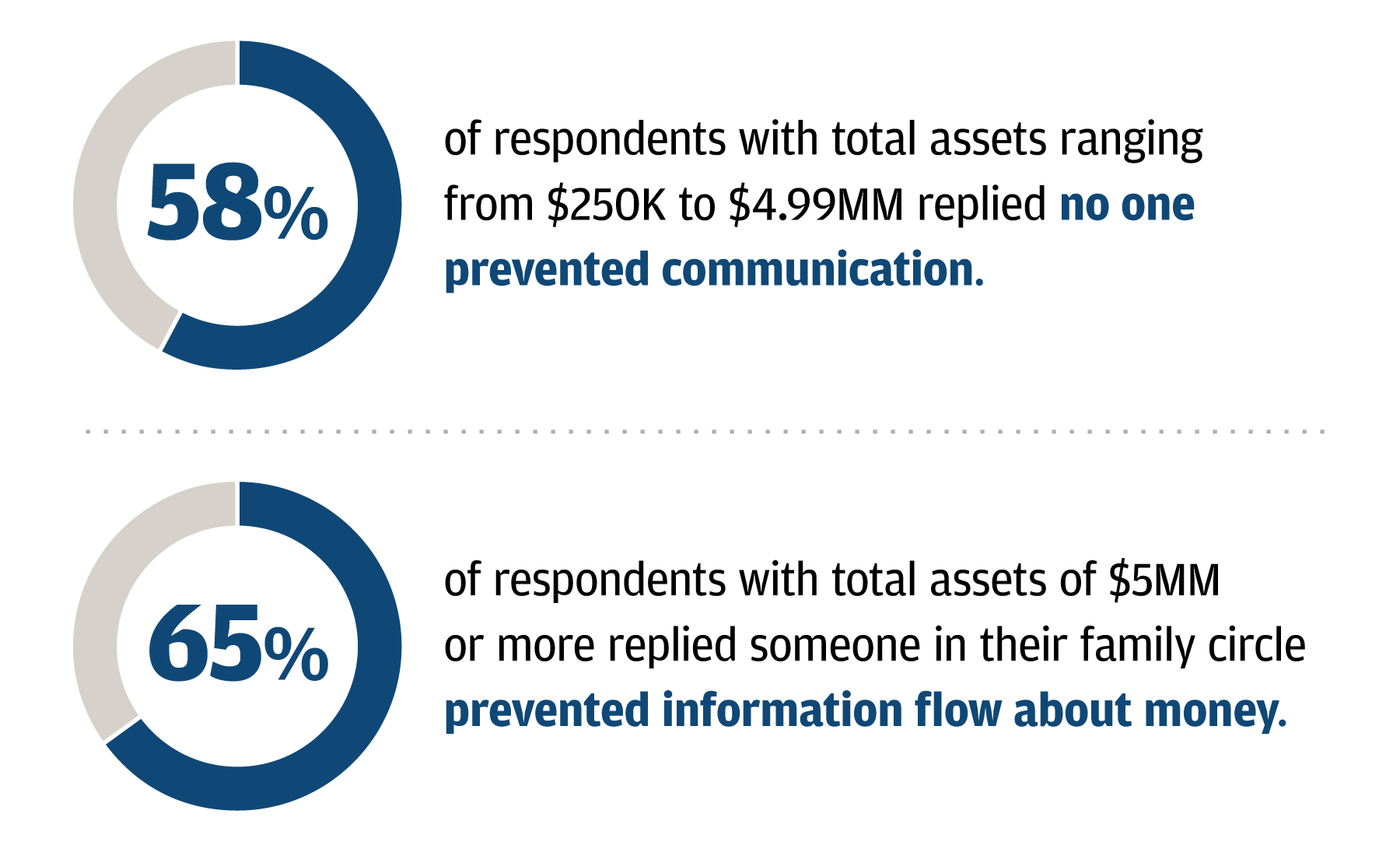 Figure 1: Graphic showing whether different members of the family prevent communication about money decisions at varying wealth levels. For respondents with total assets ranging from $250K to 4.9MM, 58% responded that no one prevented communication, while for respondents with total assets over $5MM, 65% responded that someone in their family circle prevented information flow about money.
---
Explain "why" you're making a gift

Do you explain why you've chosen to give (or not)? Without communication, the recipient is left to come up with the reason, or motive, on their own. Over 70% of people in our study—regardless of wealth level—said that monetary gifts were intended to represent "love," and the next most frequently cited reason was "help/support." Very few respondents reported that the gift was intended as a tax write-off, but let's think about this. Let's say you make an annual exclusion gift. Without communication, would it really be received as it was intended, as a gift of love or support? Or could it mistakenly be perceived as nothing more than a tax strategy to transfer assets in a tax-efficient way?
Typically, gifts have meaning, so making meaning out of money and objects can be the most extraordinary gift of all to both the giver and receiver. In my family, my wife's parents generously pay for my daughter's school tuition. At graduation every year, and at other times as well, we discuss how much education means in our family. In the same breath, my wife, daughter and I also discuss how grateful we are to Nanny and Papa for providing my daughter with the opportunity to fully develop her intellectual potential.
Direct your money challenges and questions to those who can help
When it comes to thoughts and feelings about money, it can be difficult to know who to turn to—especially when there are challenges. Choose your confidants wisely (that's a good idea in matters financial and non-financial). Write down the names of all the people you feel you can share your financial and investment questions and concerns with. Do you have many, a few, or no one? And here's a related question: Do your family members—parents, partners, children—have people they can turn to and, if so, who are they?
The younger children of our clients often let us know that they don't have anyone to talk to about their money challenges, which can include everything from social issues to learning about markets and investments. This highlights the opportunity to help other family members find people who can work with them to address their money challenges.
Final thoughts
"Money has never made men happy, nor will it," Benjamin Franklin wrote. "There is nothing in its nature to produce happiness." We'd put it slightly differently. In and of itself, money does not make us happy. But we all have an opportunity to strengthen the positive, and mitigate the negative, impact of money in our lives. Consider our three tips—facilitate communication; explain the motive behind your gifts; direct your important money challenges to those who can help. They can arm you with the tools you need.
Research methodology
Our global research was conducted in collaboration with iResearch. We surveyed 1,500 people globally, across 11 areas in North America, South America, Europe and Asia (Hong Kong, Singapore, China, Brazil, Mexico, Spain, France, Germany, Italy, United Kingdom and the United States). The population was 45% female, spread across a wide range of age groups 21–35 (34%), 36–50 (34%), and 51+ (32%). Net worth of participants (excluding their personal residences) ranged from USD 250,000 to USD 100 million, with 36% between USD 250,000 and USD 1 million, 34% between USD 1 million and USD 5 million, and 30% USD 5 million+.
1 Source: Jebb, Andrew T., et al. "Happiness, Income Satiation and Turning Points around the World." Nature News, Nature Publishing Group, 8 Jan. 2018, www.nature.com/articles/s41562-017-0277-0.
Important Information
LEGAL ENTITY, BRAND & REGULATORY INFORMATION
In the United States, bank deposit accounts and related services, such as checking, savings and bank lending, are offered by JPMorgan Chase Bank, N.A. Member FDIC.
JPMorgan Chase Bank, N.A. and its affiliates (collectively "JPMCB") offer investment products, which may include bank managed investment accounts and custody, as part of its trust and fiduciary services. Other investment products and services, such as brokerage and advisory accounts, are offered through J.P. Morgan Securities LLC ("JPMS"), a member of FINRA and SIPC. JPMCB and JPMS are affiliated companies under the common control of JPM. Products not available in all states.
References to "J.P. Morgan" are to JPM, its subsidiaries and affiliates worldwide. "J.P. Morgan Private Bank" is the brand name for the private banking business conducted by JPM. This material is intended for your personal use and should not be circulated to or used by any other person, or duplicated for non-personal use, without our permission. If you have any questions or no longer wish to receive these communications, please contact your J.P. Morgan representative.
© 2019 JPMorgan Chase & Co. All rights reserved.