Investing
In Focus: How AI is reshaping the future—and our investments
Now is the time for companies and investors to embrace artificial intelligence and machine learning, or risk being left behind.
---
What comes to mind when you think of Artificial Intelligence?
You might envision a machine performing human-like tasks—seeing, hearing, reading, speaking, thinking and reacting. That's true, and it's remarkable. But what is perhaps most extraordinary and at the heart of AI and machine learning is the ability of machines to process and interpret vast amounts of unstructured data in a way humans cannot.
Because of this, AI enables us to make more informed decisions and achieve better results. In healthcare, for example, AI can lead to breakthroughs in R&D and diagnostics. In finance, it can help research analysts make better forecasts. In manufacturing, it can increase production controls and efficiency.
AI is expected to add an astounding $15.7 trillion to the global economy by 2030.1 That is more than the entire GDP of China today. The potential for this growth results from a number of factors, including:
Increases in worker productivity (higher margins)
Improved personalization of products and services (higher revenues)
Detection and prevention of cybersecurity threats
Identification of cost-savings patterns
By some estimates, AI and machine learning could disrupt the logistics industry and potentially save $500 billion per year in expenses through increases in labor efficiency, decreases in transportation costs, and increasing the efficiency of each trip.2 Other reports estimate that personalization through AI in just three sectors—retail, healthcare and financial services—will lead to an $800 billion revenue shift toward companies successfully implementing AI over five years.3
Forecast of global AI-derived business value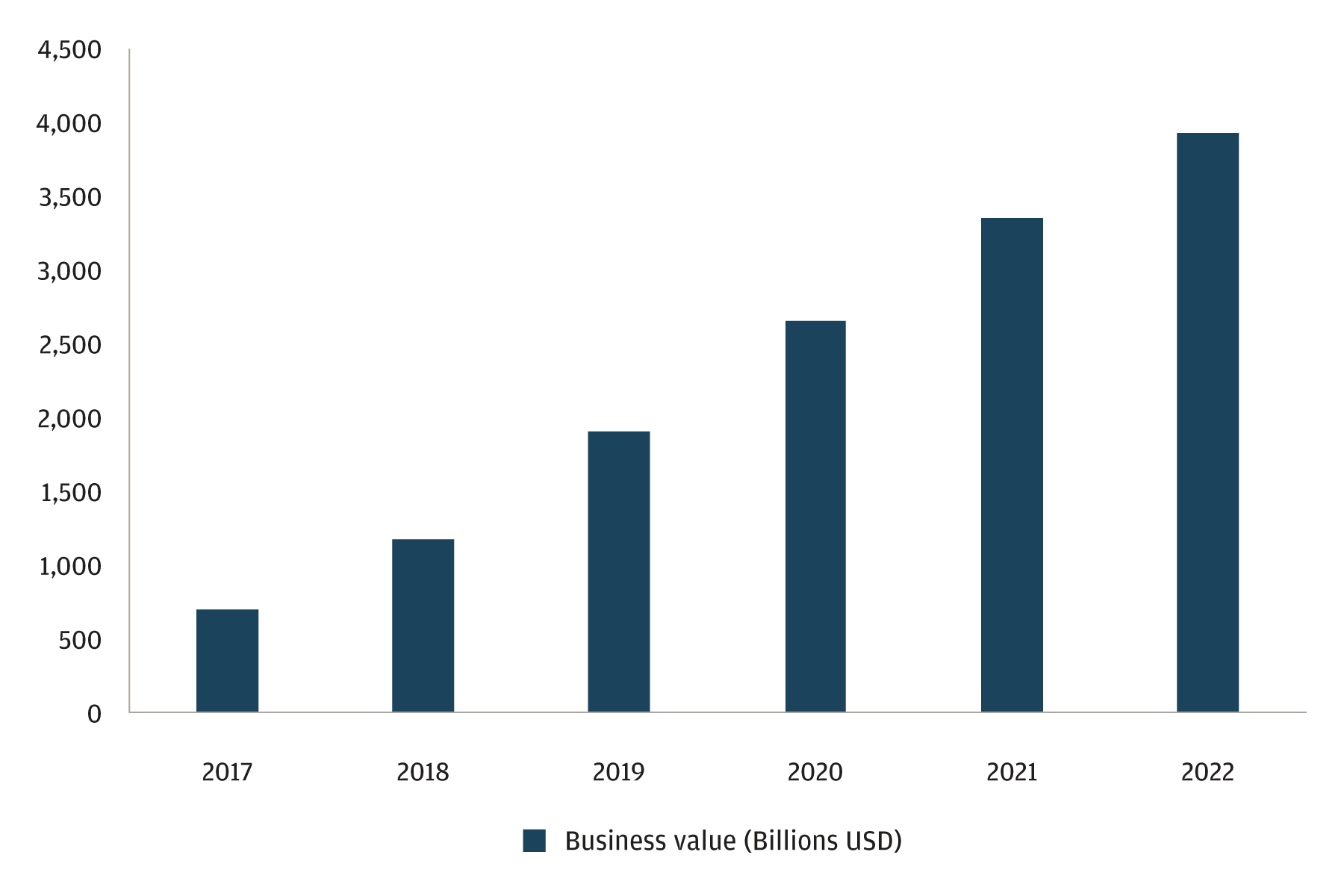 A bar chart depicting a forecast of global AI-derived business value in which business value, shown in billions of U.S. dollars, increases year by year from 2017 to 2022.
Source: Gartner, April 2018. "Forecast: The Business Value of Artificial Intelligence, Worldwide, 2017-2025."
AI investment is ramping up
Global investment and spending on AI are expected to reach $35.8 billion this year, an increase of over 44% from 2018. Spending on AI systems is projected to more than double by 2022 to almost $80 billion, with a compound annual growth rate of 38% over 2018–2022.4 Similarly, the U.S. government has increased investment in unclassified R&D for AI by over 40% since 2015.
At that pace, AI-focused spending will be one of the fastest-growing technology segments.5
In today's data-centric world, companies have a choice to make: either be overwhelmed by the deluge of data or use AI to turn it into a competitive advantage. Most firms seem to recognize this. According to research conducted by NewVantage Partners, 88% of respondents reported feeling a greater urgency to invest in AI in 2019. Still, 77% of respondents reported that "business adoption" of AI initiatives continues to represent a challenge.6 This is likely because the benefits of AI may not come easily, while the risks must be addressed.
Risks of AI adoption
Quality of data, security concerns and cultural considerations due to workforce disruption may limit broad adoption of AI in the near term.
The availability and integrity of data is critical to algorithm development, and output quality can suffer if data are not properly cleaned, catalogued and categorized. Indeed, the process of data clean-up is one of the most pressing and time-consuming issues that companies face.
Additionally, there are also security breaches and bad actors. How can we prevent errors or unauthorized manipulation of data? "Deepfakes," for instance, have become increasingly troublesome. These AI-created videos depict real subjects delivering speeches or messages they never actually gave.7
And then there is job disruption. By some estimates, only 5% of occupations can be entirely automated, but 49% of activities that people are paid to do in the global economy today have the potential to be automated.8 Retraining will be critical in addressing this issue.
Wide-ranging potential
Despite the risks and limitations, AI is making an impact on every industry. Here are some examples:
Retail. AI may soon allow clothing companies to design, market and produce customized apparel. Instead of the traditional uniform manufacturing methods, AI may be used in conjunction with other technologies such as 3D imaging, AR/VR and automated production to create bespoke dresses or suits more efficiently. Similarly, retailers have already begun to use machine learning to anticipate customer orders both online and in stores.9
Healthcare. Using AI, physicians can assist and diagnose patients remotely, which has huge potential to reduce costs. AI is also enhancing the ability to detect and diagnose disease. In 2019, a computer equipped with machine learning capabilities was able to more accurately diagnose lung cancer than radiologists.10
Financial services. Many money managers have already deployed investment strategies informed by machine learning suggestions. AI may be able to not only suggest investment strategies, but also implement them. Still, human oversight and experience will be needed. At J.P. Morgan, we are focused on deploying artificial intelligence to improve investment outcomes. Please see here to learn about how AI and machine learning are influencing investments at J.P. Morgan.
Transportation. Like healthcare, this sector may be able to leverage AI for economic benefits, while also saving lives. In the United States, the National Highway Traffic Safety Administration estimates that 94% of serious car crashes are due to human error.11 Automated (or even semi-automated) vehicles have the potential to remove this factor. Moreover, autonomous vehicles are expected to radically change the American trucking industry. Given that two-thirds of all goods transported in the Unites States are shipped via truck, any advance in autonomous driving could have a meaningful impact. If fully autonomous trucks were to completely replace truck drivers nationwide, operating costs for the trucking industry would decline by 45%.12
Ability of AI systems to correctly identify objects in images (accuracy in percent)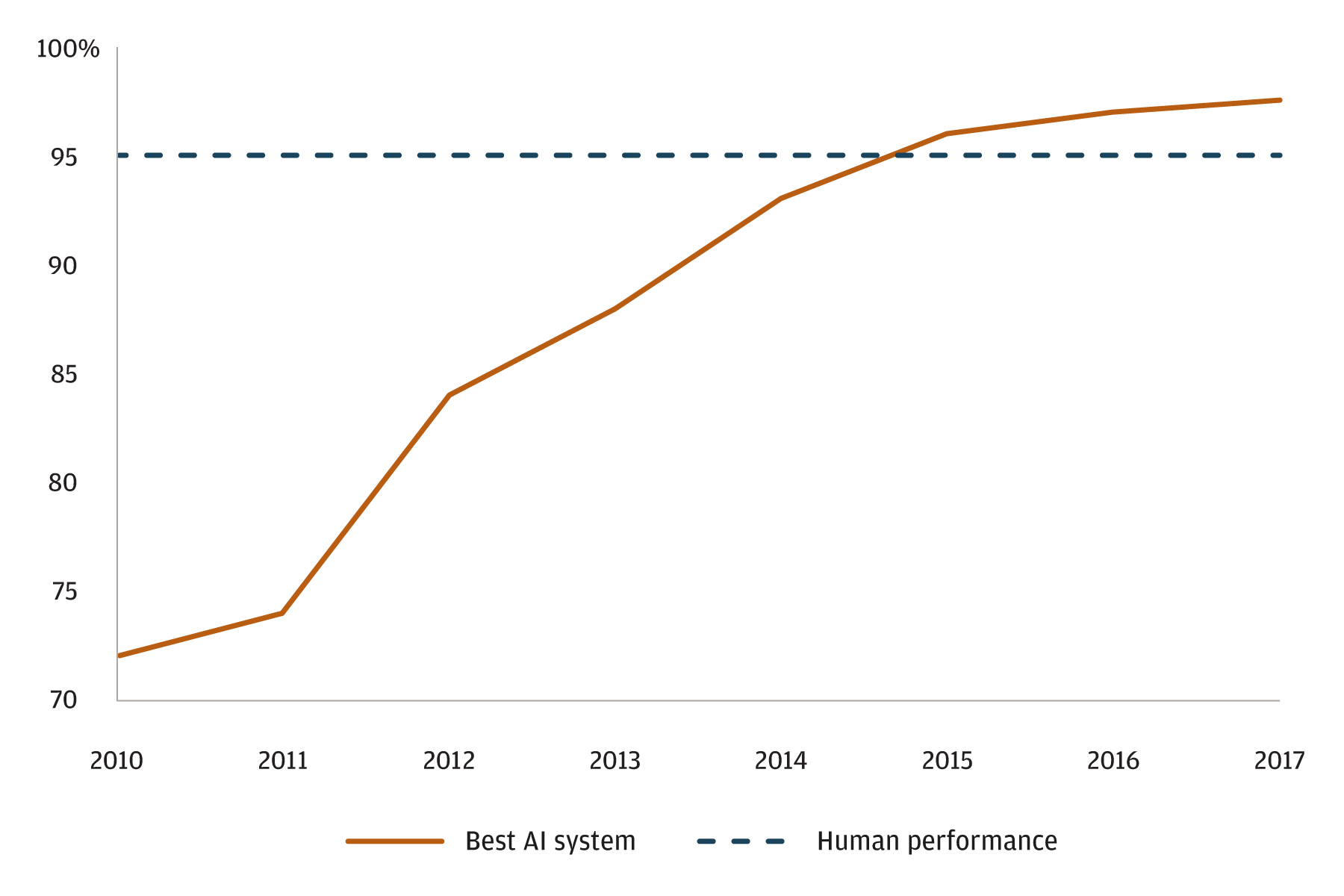 Source: ImageNet Large Scale Visual Recognition Challenge: McKinsey Global Institute analysis as of April 2018.
A line chart illustrating the ability of AI systems to correctly identify objects in images, with accuracy shown as a percentage, where the best AI system is compared to human performance by year from 2010 to 2017.
Investment potential
Only 20% of AI-aware companies today implement it at scale13 in the datasphere of 16.3 zettabytes (the datasphere is projected to grow 10x to 163 zettabytes by 2025).14 For perspective, a single zettabyte is equal to 1 trillion gigabytes.
As investment in AI is projected to quickly scale over the next five years, large companies are looking to add AI capabilities to their platforms. Recently, Salesforce.com announced that it will pay $15.7 billion to acquire Tableau, a business analytics company that helps customers visualize their data. We, of course, are also interested in investing in AI. So how do we do that? Here are five categories of beneficiaries that we have identified:
1. AI platform providers: These software vendors provide ready-to-deploy visualization tools, machine learning algorithms, facial recognition and natural language processing tools, as well as sentiment tracking and chatbots. They enable companies with little experience in the field to deploy AI using self-service tools—saving time, money and effort.
2. Compute enablers: Semiconductors that make graphic processing units (GPUs) or application specific chips (ASIC) create high-powered, AI-capable computing possible. We expect demand for those chips to continue to rise.
3. A focus on AI-driven business models: Both established and emerging companies are starting to put data at the center of everything they do. We look for standout companies that have built their business models around AI and that also offer AI-powered services to their customers. Companies like these can be found in sectors such as cybersecurity, data protection, healthcare, financial services and insurance.
4. Technology consultants: As companies begin their digital-transformation journeys, they quickly realize that when, how and where to deploy AI are complicated questions. Consultants can help.
5. Data vendors: The output of a machine learning algorithm is highly dependent on its training data. Access to large, high-quality datasets is paramount. Not surprisingly, more and more data vendors are emerging—offering anything from satellite images of shadows on floating oil tankers to geolocation-based foot traffic in malls. In fact, our investment bank counts over 500 alternative data vendors.
Conclusion
AI has revolutionizing potential to transform businesses, boost productivity and add value to the global economy. Leading companies across hundreds of industries are harnessing its power to improve their operating efficiency. Moreover, advances in AI applications may be able to help us solve some of the world's largest challenges, both in business and daily life. If the risks are properly addressed, the future of AI looks bright, and carries with it the prospect of various benefits and possibilities for society at large.
1 PwC, 2017, "Sizing the prize: What's the real value of AI for your business and how can you capitalize?"
2 Goldman Sachs, March 9, 2017, "Artificial Intelligence & Machine Learning: Logistics."
3 Boston Consulting Group, May 2017, "Profiting from Personalization."
4 International Data Corporation, March 2019, "Worldwide Semiannual Artificial Intelligence Systems Spending Guide."
5 White House Paper, May 2018, "Summary of the 2018 White House Summit on AI for American Industry."
6 NewVantage Partners, January 2019, "Big Data and AI Executive Survey 2019."
7 USA Today, May 13, 2019, "Wait, is that video real? The race against deepfakes and dangers of manipulated recordings."
8 McKinsey Global Institute, January 2017, "A Future that works: Automation, Employment, and Productivity."
9 PwC, May 2018, "Global Consumer Insights Survey 2018—Artificial intelligence: Touchpoints with consumers."
10 The New York Times, May 20, 2019, "A.I. Took a Test to Detect Lung Cancer. It Got an A."
11 National Highway Traffic Safety Administration, May 2019, "Automated Vehicles for Safety."
12 McKinsey, December 2018, "Distraction or disruption? Autonomous trucks gain ground in U.S. logistics."
13 McKinsey Global Institute, June 2017, "Artificial Intelligence: The Next Digital Frontier?"
14 Seagate and IDC, November 2018, "Data Age 2025: The Digitization of the World From Edge to Core."
---