Investing
Growing Pains
Recent policy moves in China have left investors wondering if larger-scale stimulus is on the way to lift global growth. We don't think so.
---
Our Top Market Takeaways for the week ending December 13, 2019.
Markets in a minute
It was quiet…until it wasn't
Markets were muted for the first half of the week as investors awaited a flurry of news on trade, monetary policy and politics. But by Thursday afternoon, the S&P 500 had rallied to hit its 27th all-time high this year, and the MSCI All-Country World Index (an index of both developed and emerging market stocks) notched its first record since January 2018. What changed? Here's our top three market-movers for the week.
The late-week good feels were in large thanks to (you guessed it) trade. News came last night that the United States and China shook hands on a long-awaited "phase one" trade deal, just days before another tranche of U.S. tariffs was set to kick in on another $160 billion of Chinese goods. Caveating that the finer details on the deal are scarce, both President Trump and Chinese officials confirmed this morning that the recent progress means this weekend's scheduled tariffs will be kept at bay, while other goods will likely see a reduction in currently imposed tariff rates. The deal (once it's signed) is also said to tackle issues on food and agricultural goods, currency matters, technology transfer, intellectual property, transparency, and dispute settlement. This news of de-escalation is certainly welcome, but just remember that the deal isn't signed yet, and markets will likely continue to swing on both good and bad news.
In other news, is the Brexit saga (finally) coming to an end? U.K. voters hit the polls yesterday, and PM Boris Johnson's Conservative Party won a majority of seats. Sterling popped to $1.34 versus the U.S. dollar—its highest level since June 2018, and the United Kingdom's FTSE 250 rose to a record high amid the news. Johnson will likely bring his Withdrawal Agreement Bill back to Parliament before Christmas, making it all the more likely that the United Kingdom will leave the European Union by January 31, 2020. From there, the fun of negotiating the United Kingdom's "transition period" begins.
We also had our last FedTalk of the year. At its December meeting, the Fed kept interest rates unchanged, following three rate cuts earlier this year. Continuing its "data dependent" approach, Fed policymakers signaled rates will stay right where they are through 2020—an encouraging sign that interest rates won't become too punitive anytime soon. But while the Fed may be on hold for now, other central banks, namely China's, are still on the move. So with all this good news, why don't we expect a reacceleration in growth from here?
Spotlight
Is China really stimulating its economy? Not really.
China has ramped up rate cuts over the last few months, and these piecemeal moves have left investors wondering if larger-scale stimulus is on the way to lift global growth à la 2015 (or 2012, or 2009). But spoiler alert: We don't think China has launched any meaningful stimulus, and we don't think it's coming in the near future.
To understand why recent rate cuts aren't really "stimulating" the economy, let's take a look at how the People's Bank of China (PBOC) works.
What can the central bank do in China?
The PBOC has been rapidly adjusting its toolkit to look more like other central banks. In the last few years, it's moved from a crude set of fixed lending and deposit rates to a number of instruments that allow it to better calibrate domestic interest rates. The PBOC can influence the economy in two ways—by setting interest rates (like other central banks) and by actually controlling how much borrowing flows into the economy (this is special).
Try thinking about it in terms of price and quantity. We all know that central banks set the price of credit—lower interest rates make the cost of credit cheaper to help stimulate the economy, while higher rates raise the cost of credit to slow things down when there's a risk of growth overheating. But thanks to the fact that China's largest financial institutions are mostly state-owned (and thus under direct control), the PBOC can control how much credit that banks can provide (the quantity), and thus give direction on who gets more credit. In other words, the PBOC can direct more lending when it wants to stimulate, and restrict lending when it wants to tighten.
Got it… So what are the implications of the recent rate cuts?
We see the recent cuts serving two goals: 1) maintaining stable money supply, and 2) moderately lowering the cost of debt.
The first goal is one of most central banks' basic functions. On the second, China is faced with a tough debt situation. Many businesses are highly leveraged, and lenders (i.e., banks, debt instrument investors) bear high credit risks. Under pressure from sluggish global growth and the trade war, businesses are making less profit, which makes it harder to service their debt. In addition, data shows that the actual cost of credit has remained elevated during the past two years, despite the PBOC's various rate cuts here and there. Therefore, the recent moves look intended to make the cost of debt more manageable for businesses and prevent a debt crisis.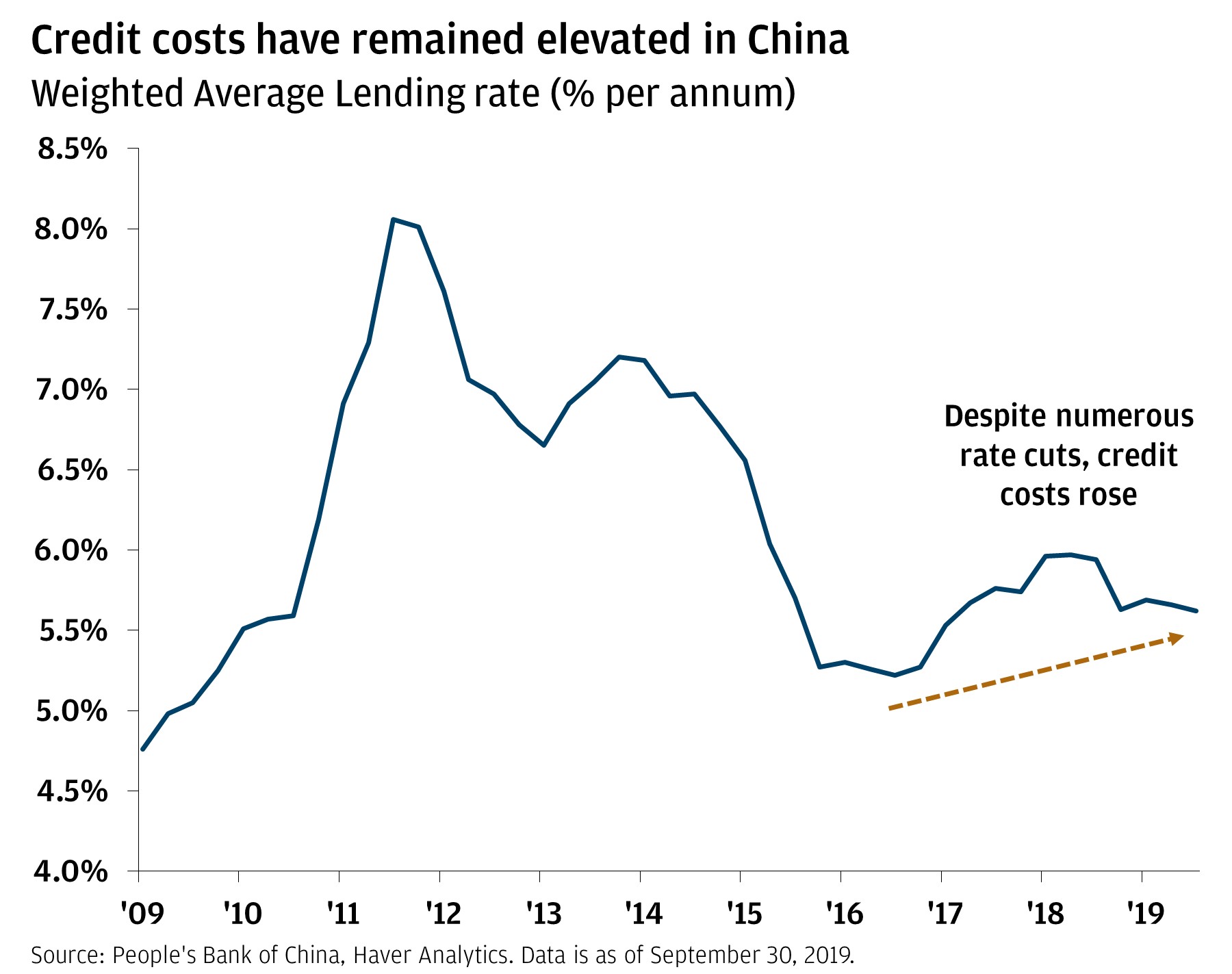 Line graph shows the weighted average lending rate from 2009 through September 30, 2019. It shows that since 2016, despite number rate cuts, credit costs have risen.
---
To avoid unleashing more credit that could further exacerbate debt stress and create asset price bubbles, China has also employed quota controls and crackdowns on shadow banking. As a result, total credit growth since 2018 hasn't grown, and it's actually the lowest since the financial crisis. From this lens, recent moves can't really be regarded as "stimulus."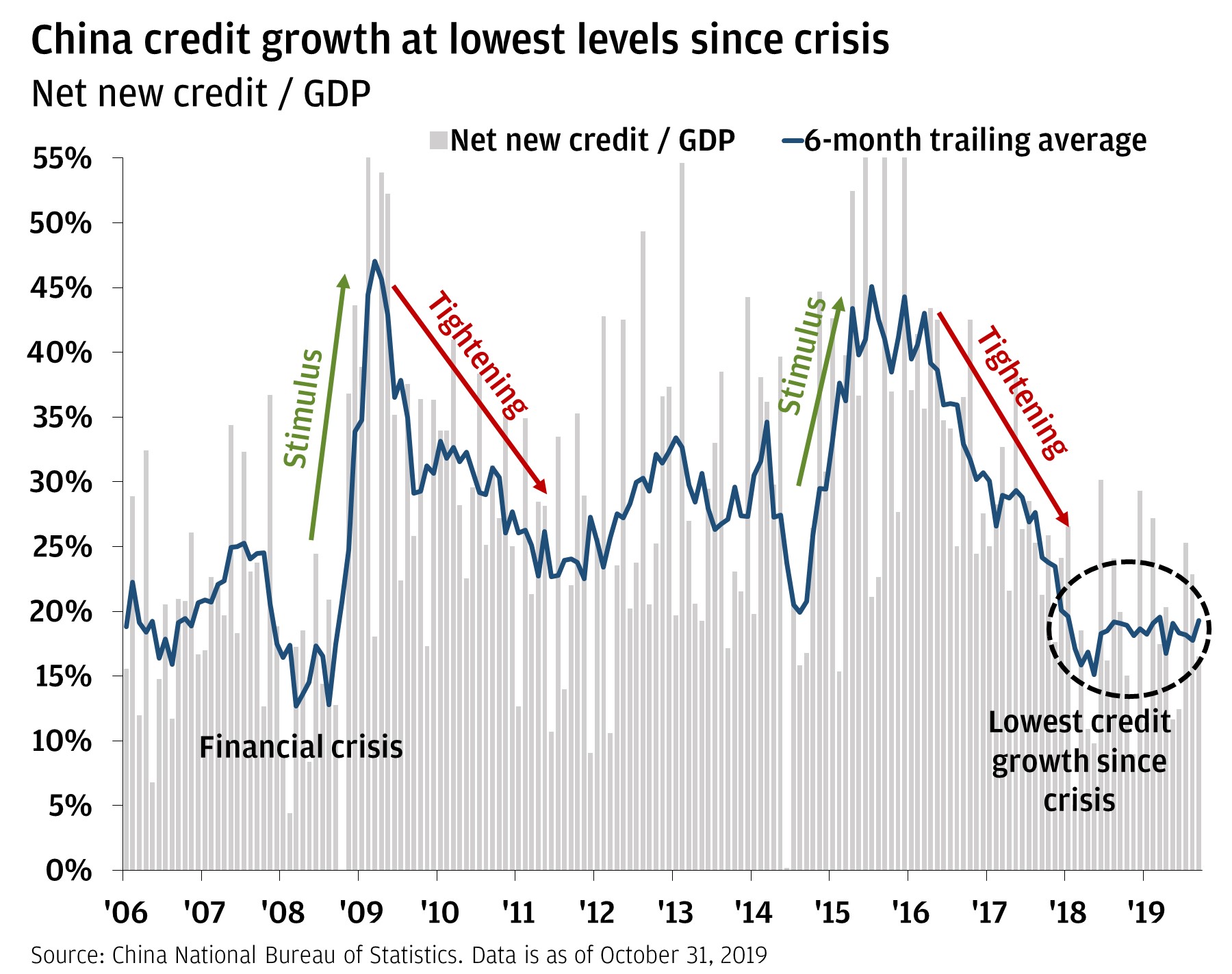 Line graph shows the 6-month trailing average of the net new credit/GDP. The gray bar chart shows the net new credit/ GDP. Both show data from 2006 through October 31, 2019.
---
What's all the hubbub about Chinese stimulus?
China is the world's second-largest economy, and it's experiencing significant cyclical weakness. Historically, this hasn't been good news for global growth. Tax revenues (a good proxy for overall economic activity) and industrial profits growth are both contracting. Import growth is deeply negative, and industrial production (roughly 40% of GDP) growth has slowed sharply. This kind of weakness was only seen in the global financial crisis and the housing recession in 2015. Naturally, the central bank is expected to stimulate growth.
We don't see much space for the PBOC to launch any meaningful stimulus in the near future.
Unfortunately, this is not something China can do at the moment. Why? First off, those high debt levels we mentioned. Secondly, high inflation due to the outbreak of African swine fever has pushed up pork prices. Finally, policymakers have learned the lesson that liquidity injections are more likely to pour into the housing market instead of helping businesses (and with property prices already very unaffordable, they don't want to take the risk). For any nerds like us who like to read Chinese policymaker speeches, they have been exceedingly clear that we should not expect a flood of credit like that seen in the past. Therefore, we don't see much space for the PBOC to launch any meaningful stimulus in the near future. But we do think the policies can help reduce debt costs and stabilize growth.
Culture
Person of the Year
If you don't know her already, meet Greta Thunberg, TIME's 2019 Person of the Year. The 16-year-old Swede has been making major waves over the last year for her activism on climate change. And it all started with skipping school: Back in August 2018, Thunberg spent days in front of Sweden's Parliament with a simple sign reading, "School Strike for Climate." Since then, Thunberg has traveled the world to give impassioned speech after speech to world leaders—a list that includes the heads of state at the United Nations, CEOs at Davos, and the Pope. Her efforts have likewise catalyzed similar efforts by her peers across the globe, with hundreds of thousands of teenagers leading #FridaysForFuture climate strikes. She was even nominated as a candidate for the Nobel Peace Prize earlier this year. Thunberg's accolade as TIME's Person of the Year isn't just special because she's the youngest person ever to receive the designation, but also because it reflects the mobilization of a cause greater than herself. Along with her efforts, 2019 could well be an inflection point for global attention to climate change.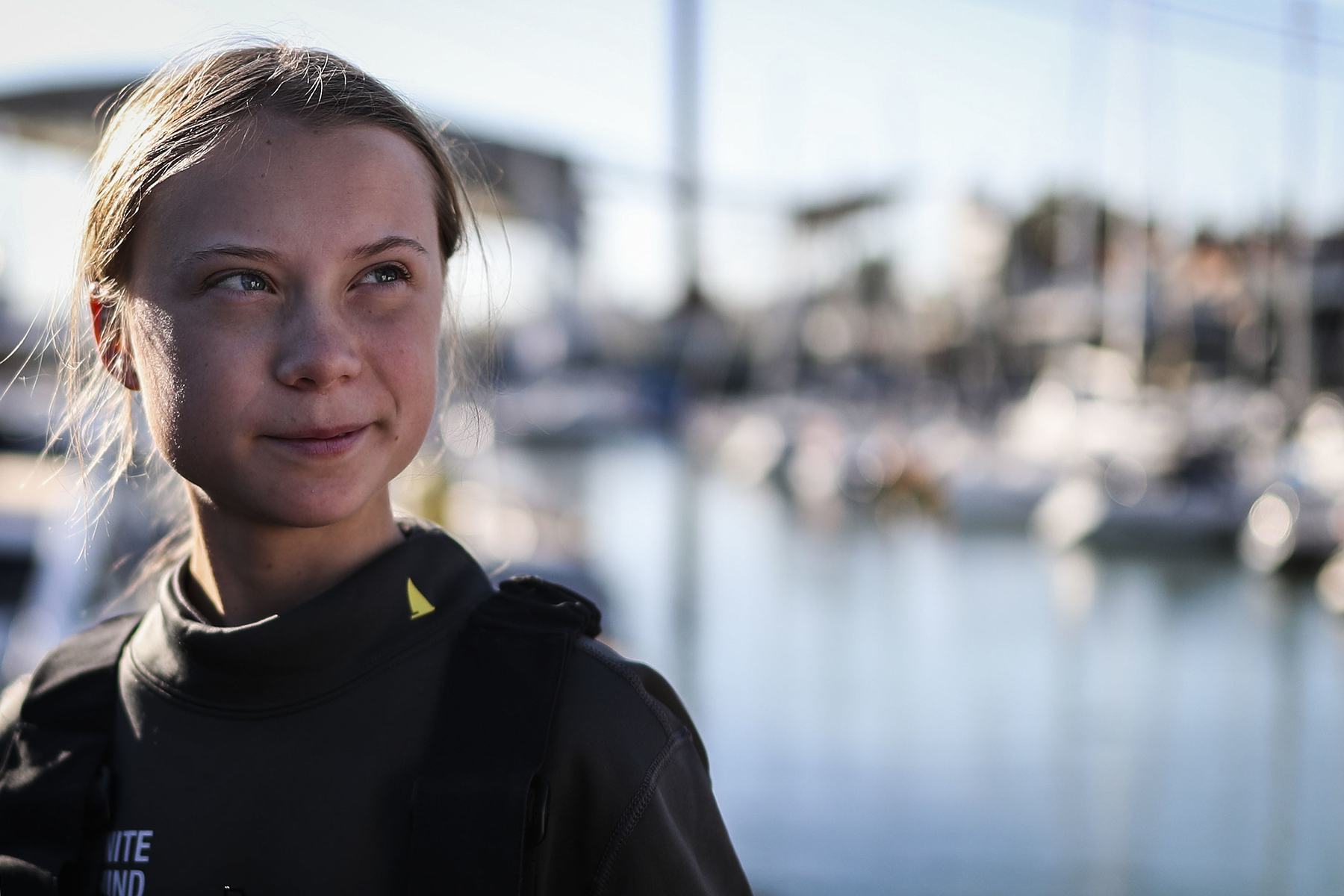 Swedish climate activist Greta Thunberg is pictured after disembarking from the catamaran La Vagabonde at the Santo Amaro docks in Lisbon, on December 3, 2019.
---
All market and economic data as of December 2019 and sourced from Bloomberg and FactSet unless otherwise stated.
We believe the information contained in this material to be reliable but do not warrant its accuracy or completeness. Opinions, estimates, and investment strategies and views expressed in this document constitute our judgment based on current market conditions and are subject to change without notice.
RISK CONSIDERATIONS
Past performance is not indicative of future results. You may not invest directly in an index.
The prices and rates of return are indicative, as they may vary over time based on market conditions.
Additional risk considerations exist for all strategies.
The information provided herein is not intended as a recommendation of or an offer or solicitation to purchase or sell any investment product or service.
Opinions expressed herein may differ from the opinions expressed by other areas of J.P. Morgan. This material should not be regarded as investment research or a J.P. Morgan investment research report.
Important Information
All companies referenced are shown for illustrative purposes only, and are not intended as a recommendation or endorsement by J.P. Morgan in this context.
All market and economic data as of December 2019 and sourced from Bloomberg and FactSet unless otherwise stated.
The information presented is not intended to be making value judgments on the preferred outcome of any government decision.
This material is for informational purposes only, and may inform you of certain products and services offered by
J.P. Morgan's wealth management businesses, part of JPMorgan Chase & Co. ("JPM"). Please read all Important Information.
The MSCI China Index captures large- and mid-cap representation across China H shares, B shares, Red chips, P chips and foreign listings (e.g., ADRs). With 459 constituents, the index covers about 85% of this China equity universe. Currently, the index also includes Large Cap A shares represented at 5% of their free float adjusted market capitalization.
The Standard and Poor's 500 Index is a capitalization-weighted index of 500 stocks. The index is designed to measure performance of the broad domestic economy through changes in the aggregate market value of 500 stocks representing all major industries. The index was developed with a base level of 10 for the 1941–43 base period.
The STOXX Europe 600 Index tracks 600 publicly traded companies based in one of 18 EU countries. The index includes small-cap, medium-cap and large-cap companies. The countries represented in the index are Austria, Belgium, Denmark, Finland, France, Germany, Greece, Holland, Iceland, Ireland, Italy, Luxembourg, Norway, Portugal, Spain, Sweden, Switzerland and the United Kingdom.
This material is for informational purposes only, and may inform you of certain products and services offered by
J.P. Morgan's wealth management businesses, part of JPMorgan Chase & Co. ("JPM"). Please read all Important Information.
GENERAL RISKS & CONSIDERATIONS
Any views, strategies or products discussed in this material may not be appropriate for all individuals and are subject to risks. Investors may get back less than they invested, and past performance is not a reliable indicator of future results. Asset allocation does not guarantee a profit or protect against loss. Nothing in this material should be relied upon in isolation for the purpose of making an investment decision. You are urged to consider carefully whether the services, products, asset classes (e.g., equities, fixed income, alternative investments, commodities, etc.) or strategies discussed are suitable to your needs. You must also consider the objectives, risks, charges, and expenses associated with an investment service, product or strategy prior to making an investment decision. For this and more complete information, including discussion of your goals/situation, contact your J.P. Morgan representative.
NON-RELIANCE
Certain information contained in this material is believed to be reliable; however, JPM does not represent or warrant its accuracy, reliability or completeness, or accept any liability for any loss or damage (whether direct or indirect) arising out of the use of all or any part of this material. No representation or warranty should be made with regard to any computations, graphs, tables, diagrams or commentary in this material, which are provided for illustration/reference purposes only. The views, opinions, estimates and strategies expressed in this material constitute our judgment based on current market conditions and are subject to change without notice. JPM assumes no duty to update any information in this material in the event that such information changes. Views, opinions, estimates and strategies expressed herein may differ from those expressed by other areas of JPM, views expressed for other purposes or in other contexts, and this material should not be regarded as a research report. Any projected results and risks are based solely on hypothetical examples cited, and actual results and risks will vary depending on specific circumstances. Forward-looking statements should not be considered as guarantees or predictions of future events.
Nothing in this document shall be construed as giving rise to any duty of care owed to, or advisory relationship with, you or any third party. Nothing in this document shall be regarded as an offer, solicitation, recommendation or advice (whether financial, accounting, legal, tax or other) given by J.P. Morgan and/or its officers or employees, irrespective of whether or not such communication was given at your request. J.P. Morgan and its affiliates and employees do not provide tax, legal or accounting advice. You should consult your own tax, legal and accounting advisors before engaging in any financial transactions.
IMPORTANT INFORMATION ABOUT YOUR INVESTMENTS AND POTENTIAL CONFLICTS OF INTEREST
Conflicts of interest will arise whenever JPMorgan Chase Bank, N.A. or any of its affiliates (together, "J.P. Morgan") have an actual or perceived economic or other incentive in its management of our clients' portfolios to act in a way that benefits J.P. Morgan. Conflicts will result, for example (to the extent the following activities are permitted in your account): (1) when J.P. Morgan invests in an investment product, such as a mutual fund, structured product, separately managed account or hedge fund issued or managed by JPMorgan Chase Bank, N.A. or an affiliate, such as J.P. Morgan Investment Management Inc.; (2) when a J.P. Morgan entity obtains services, including trade execution and trade clearing, from an affiliate; (3) when J.P. Morgan receives payment as a result of purchasing an investment product for a client's account; or (4) when J.P. Morgan receives payment for providing services (including shareholder servicing, recordkeeping or custody) with respect to investment products purchased for a client's portfolio. Other conflicts will result because of relationships that J.P. Morgan has with other clients or when J.P. Morgan acts for its own account.
Investment strategies are selected from both J.P. Morgan and third-party asset managers and are subject to a review process by our manager research teams. From this pool of strategies, our portfolio construction teams select those strategies we believe fit our asset allocation goals and forward-looking views in order to meet the portfolio's investment objective.
As a general matter, we prefer J.P. Morgan managed strategies. We expect the proportion of J.P. Morgan managed strategies will be high (in fact, up to 100 percent) in strategies such as cash and high-quality fixed income, subject to applicable law and any account-specific considerations.
While our internally managed strategies generally align well with our forward-looking views, and we are familiar with the investment processes as well as the risk and compliance philosophy of the firm, it is important to note that
J.P. Morgan receives more overall fees when internally managed strategies are included. We offer the option of choosing to exclude J.P. Morgan managed strategies (other than cash and liquidity products) in certain portfolios.
The Six Circles Funds are U.S.-registered mutual funds managed by J.P. Morgan and sub-advised by third parties. Although considered internally managed strategies, JPMC does not retain a fee for fund management or other fund services.
LEGAL ENTITY, BRAND & REGULATORY INFORMATION
In the United States, bank deposit accounts and related services, such as checking, savings and bank lending, are offered by JPMorgan Chase Bank, N.A. Member FDIC.
JPMorgan Chase Bank, N.A. and its affiliates (collectively "JPMCB") offer investment products, which may include bank-managed investment accounts and custody, as part of its trust and fiduciary services. Other investment products and services, such as brokerage and advisory accounts, are offered through J.P. Morgan Securities LLC ("JPMS"), a member of FINRA and SIPC. Annuities are made available through Chase Insurance Agency, Inc. (CIA), a licensed insurance agency, doing business as Chase Insurance Agency Services, Inc. in Florida. JPMCB, JPMS and CIA are affiliated companies under the common control of JPMorgan Chase & Co. Products not available in all states.
References to "J.P. Morgan" are to JPM, its subsidiaries and affiliates worldwide. "J.P. Morgan Private Bank" is the brand name for the private banking business conducted by JPM.
This material is intended for your personal use and should not be circulated to or used by any other person, or duplicated for nonpersonal use, without our permission. If you have any questions or no longer wish to receive these communications, please contact your J.P. Morgan representative.
© 2019 JPMorgan Chase & Co. All rights reserved.
---