Wealth Planning
Does your generation know best when it comes to money?
Hint: Maybe not. Across age groups financial decision making is surprisingly similar. These three tips can help us make better decisions together.
---
Human beings spend a lot of time pondering the differences in how other humans think and behave. As a cognitive psychologist, I find it fascinating. As someone who aspires to help families make better decisions about money, one particular case in point resonates: the generational differences—and similarities—in approaches to money.
Over many decades, and across many regions and societies, young people have typically gotten a bad rap. Whether it's the anti-materialist "hippies" of Woodstock or the pampered rich kids on Instagram, the younger generation is often perceived as entitled, irresponsible and focused only on immediate gratification. But in my work with young people, I see a level of engagement, curiosity and optimism that makes me (a middle-aged dad of a 10-year-old daughter) truly hopeful about the future.
Talking about younger people in a negative way undoubtedly stifles, rather than facilitates, cross-generational communication. As humans we share many more similarities than differences, after all. As we discuss in this article, the most productive family conversations about money identify generational similarities and differences in values and perspectives, and respectfully address those differences to ultimately find common ground. In this way, families can collaborate effectively to move closer to their shared financial goals.
To shed light on this complicated topic, we conducted global research across 11 different countries with 1,500 participants. Here, we highlight the findings of that research as it pertains to how different age groups think and feel about money decision making—now and in the past—and how that translates into their present money behaviors. Finally, we offer research-based tips to encourage cross-generational communication and collaboration.
The facts: Past and present
To understand our global behaviors around money decision making in families—and how far we've come in a very short period of time—let's compare the past to the present. While fathers tended to be the primary family decision makers in the past, it appears that, across the globe, the dynamics today have shifted dramatically. The majority of our research participants, regardless of generation or gender, identified themselves as the primary money decision makers in their families.
Who's the boss? In my family now, the main decision maker on money is: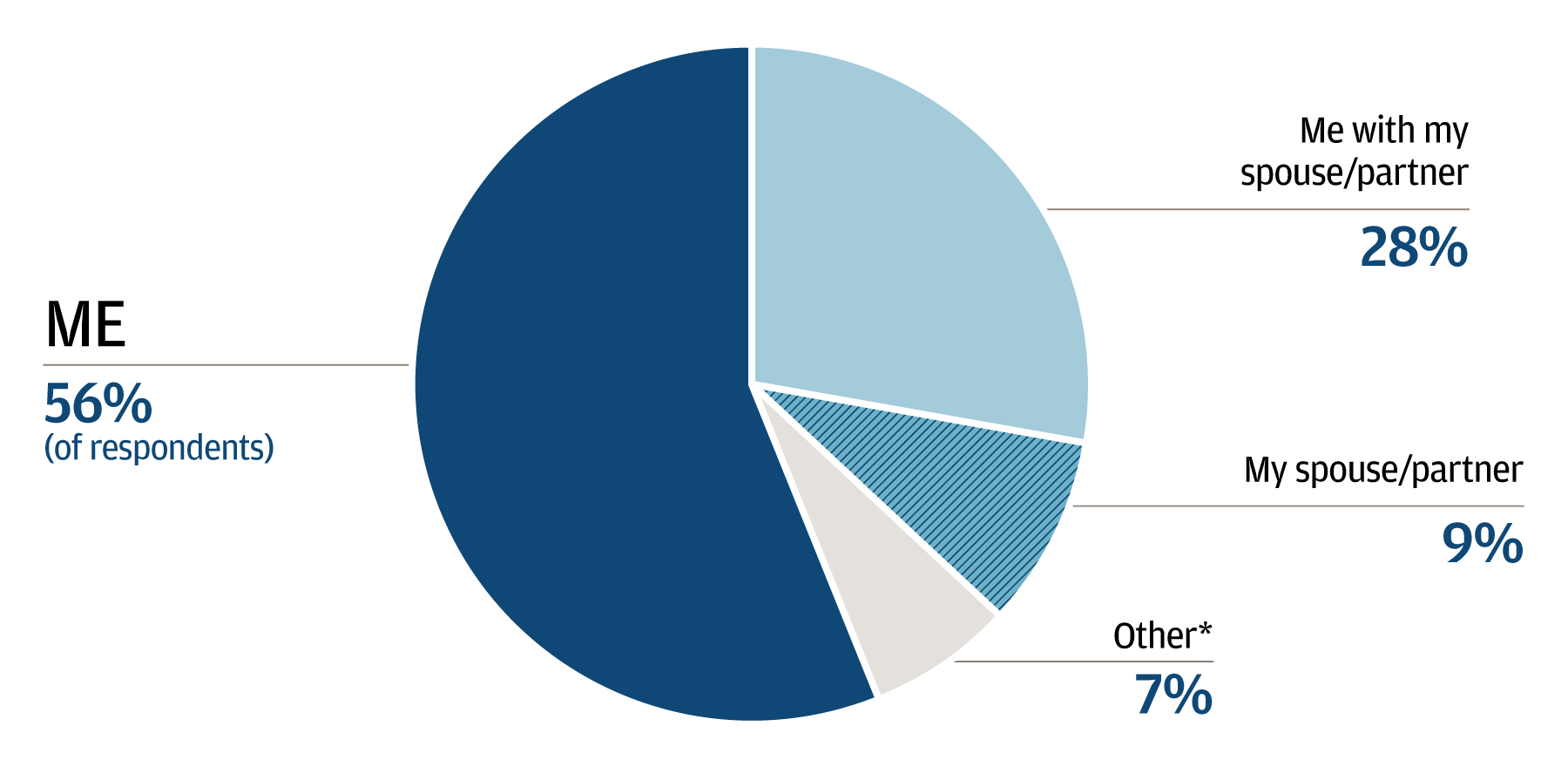 Graphic showing that 56% of survey respondents across all ages would classify themselves as the main money decision makers in their families.
---
When our research participants were asked how they made important money decisions, the most common response was on their own. This was closely followed by with a financial advisor. While solo decision making can be a good thing, such individualism also introduces elements of risk: When I have questions, who are the trusted people I can turn to? How do I start conversations about money with others when my money decisions will affect them?
Split decisions: While many consult an advisor or a partner, more than half of our respondents said they make money decisions on their own.

Graphic showing how respondents make important money decisions, top responses being 51% "on my own," followed by 45% "with a financial advisor" and then 40% "with my partner or spouse."
---
So how can these open questions be addressed? Numerous studies suggest that collaborating on money decisions can help people reach better outcomes.1 And intuitively, we probably know that younger and older generations can learn from one another. What our research has taught us is that cross-generational collaboration may not be as disruptive as people think: Generations are more similar than different—the generation gap may not be as wide as people think.
To this point, we asked survey participants to pick the term that best describes themselves when it comes to money. Saver? Spender? Investor? Giver? Taker? Purpose-driven? Intentional? Frugal? Spendthrift? We found there is less generational difference than you might expect. "Investor" was the most common response choice (40%) across generations, followed by "Purpose-driven/Intentional" (29%).
Financial identity: How would you describe yourself when it comes to money?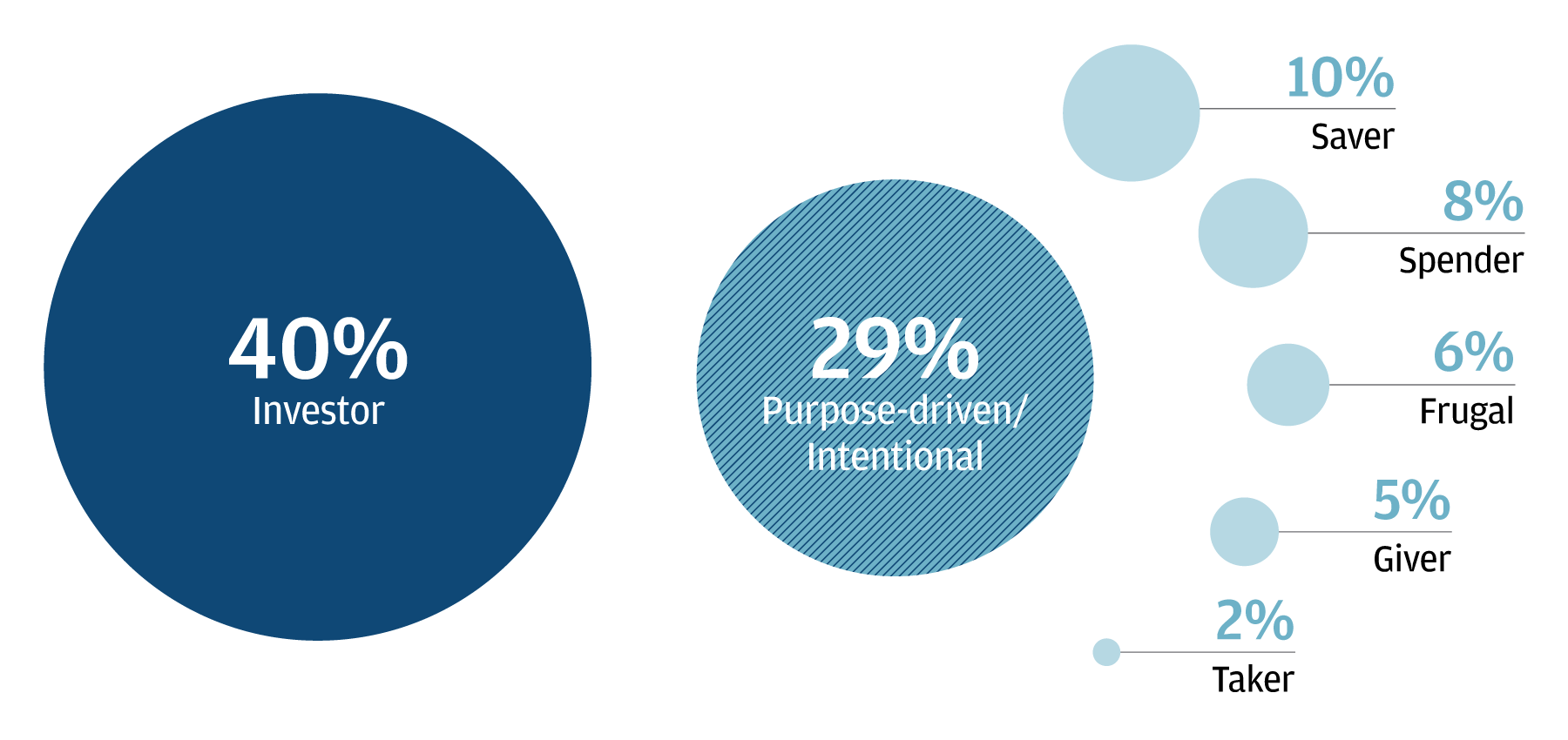 Graphic showing how respondents describe themselves when it comes to money, top responses being 40% investor, 29% purpose-driven/intentional and 10% saver.
---
Collaboration in action
All the information we've collected helps us understand the range of values and perspectives that drive money decisions across generations. What steps can we actively take to promote better communication, understanding and, ultimately, outcomes? Here are three tips to help you work together to make the most of your money.
Tip 1: Talk more about money.
In this realm, older generations can take a cue from the younger ones, who spend far more time discussing important money matters. In our survey, 51% of respondents 21–35 years old said they spent more than four hours in the past week talking about money versus only 23% of those over 50. And remember, a money conversation is not about clocking in the hours. The key is to be intentional about the time you spend.
Valuable time: The younger age groups collectively spent more time in a week discussing money with family.
Graphic showing how much time in the past week respondents have spent speaking with their family about money decisions. Within the 21–35 age group, 51% of respondents spend 4+ hours discussing per week, whereas 40% in the 36-50 age group and 23% of respondents over 51 spend 4+ hours.
---
How to get there:
Consider setting up a weekly or a monthly meeting for your immediate family where you talk only about important money matters. You might begin with a "gratitude circle," where each individual talks about what they have been grateful for during the past week. Then move into your agenda.
Tip 2: Plan together.
Ask yourself: Do I know the path my family members want to take with money over time? If you're not 100% sure of the answer, there's a reason to start planning together across generations.
How to get there:
As a practical first step, consider sharing what your intentions are across generations. Are you planning to grow your wealth over time and even beyond your lifetime? Or are you looking to spend or give everything away? For example, if the goal is to grow wealth forever, then it's critical to understand how younger generations are expected to participate in that effort.
Tip 3: Keep your confidence in check.
About 75% of participants rated themselves an "8" or higher on a 10-point confidence scale. Confidence is a good thing, but overconfidence can be counterproductive when it leads to excessive trading or an action-bias. And regardless of age, education can benefit everyone in the family.
Money mastery: Across generations, most respondents said they are highly confident in their knowledge of finances and investments.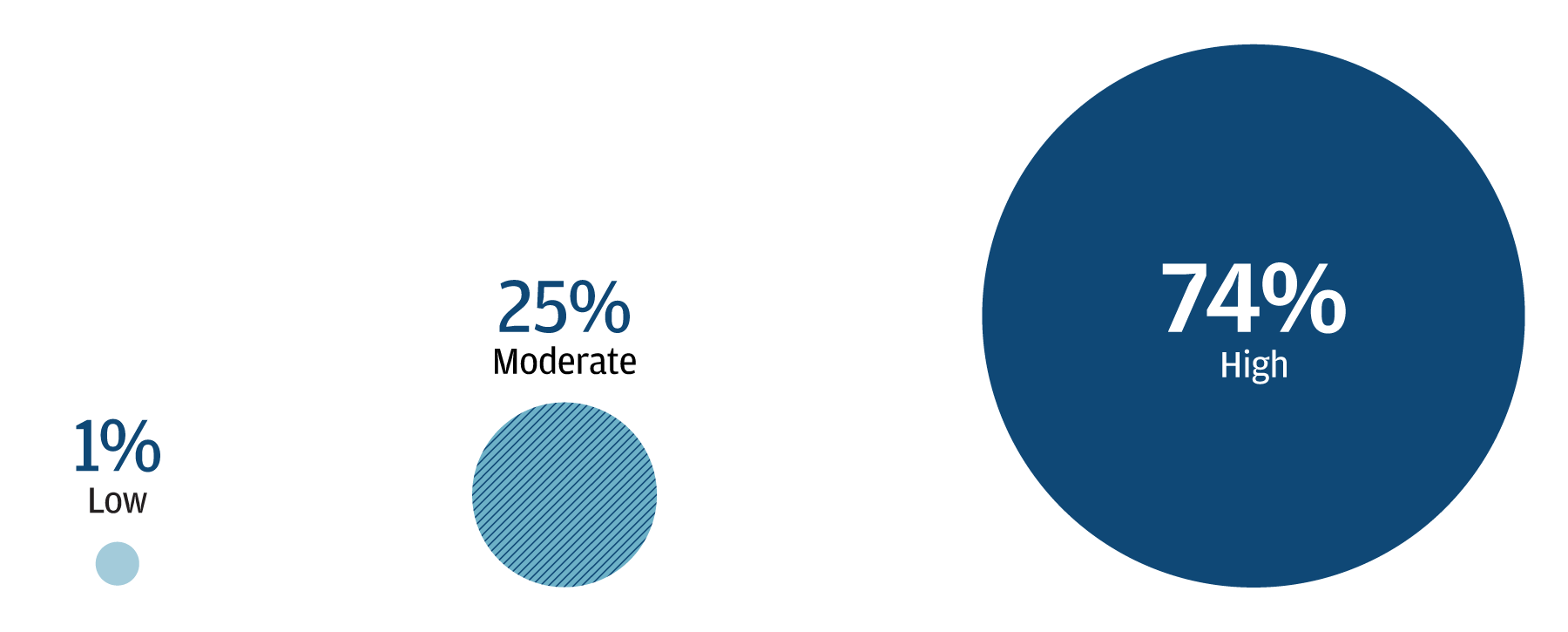 Money mastery: Across generations, most respondents said they are highly confident in their knowledge of finances and investments.
Note: Participants were asked to rate their confidence level on a scale of 1 to 10 (ratings 1-3 low; 4-7 moderate; 8-10 high).
Source: J.P. Morgan Private Bank Research, 2019. Total N = 1,500. Percentages reflect responses across all age groups (21-51+).
Graphic shows how survey respondents rate how confident they are in their knowledge of financial investment matters. Almost 74% of respondents say they have high confidence ranking themselves over 8 on a 10-point confidence scale.
---
How to get there:
Many families that I work with arrange educational sessions as a family unit, taught by a financial professional or a conversant family member. For example, I've set up sessions with families, including members of all ages, on the power of compounding. The subject resonates because people often vastly underestimate the opportunity cost of delayed saving and investment.2
To those in the older generations: Have you taken the time to talk to the younger members of your family about the importance of investing early and often? And to the younger generations: Are you taking enough risk in your own financial life? Are you aware of the risks the older generations are taking? Too much risk can compromise spending and other goals, so helping older generations be extremely deliberate about immunizing themselves against those risks can be critical.
Final thoughts
Popular notions of an entitled younger generation and generation gaps too wide to bridge have persisted over the decades and across the globe. But as our research has shown, the reality is quite different.
The most productive money conversations are collaborative, with each generation benefiting from the other's life experiences and drawing on shared perspectives. We think our three tips—talk more, plan together, keep confidence in check—can help you work together across generations to reach your family's financial goals. With apologies to author C. S. Lewis, two (or more) heads are better than one, "not because either is infallible, but because they are unlikely to go wrong in the same direction."
RESEARCH METHODOLOGY
Our global research was conducted in collaboration with iResearch. We surveyed 1,500 people globally, across 11 areas in North America, South America, Europe and Asia (Hong Kong, Singapore, China, Brazil, Mexico, Spain, France, Germany, Italy, the United Kingdom and the United States). The population was 45% female, spread across a wide range of age groups 21–35 (34%), 36–50 (34%), and 51+ (32%). Net worth of participants (excluding their personal residences) ranged from USD 250,000 to USD 100 million, with 36% between USD 250,000 and USD 1 million, 34% between USD 1 million and USD 5 million, and 30% USD 5 million+.
1Source: Liersch & Suri: Making Group Decisions the Behavioral Finance Way. Investmentsandwealth.org. 2017. https://investmentsandwealth.org/getattachment/7b899122-df28-4537-9410-feb1bcdeb044/IWM17MayJun-MakingGroupDecisionsBFWay.pdf.

2Source: Benartzi, S. (2019, June 16). If You Don't Save Enough, Perhaps You Have "Exponential Growth Bias." Retrieved from The Wall Street Journal: https://www.wsj.com/articles/if-you-dont-save-enough-perhaps-you-have-exponential-growth-bias-11560737101.
---
Important Information
LEGAL ENTITY, BRAND & REGULATORY INFORMATION
In the United States, bank deposit accounts and related services, such as checking, savings and bank lending, are offered by JPMorgan Chase Bank, N.A. Member FDIC.
JPMorgan Chase Bank, N.A. and its affiliates (collectively "JPMCB") offer investment products, which may include bank-managed investment accounts and custody, as part of its trust and fiduciary services. Other investment products and services, such as brokerage and advisory accounts, are offered through J.P. Morgan Securities LLC ("JPMS"), a member of FINRA and SIPC. JPMCB and JPMS are affiliated companies under the common control of JPM. Products not available in all states.
JPMorgan Chase Bank, N.A. (JPMCBNA) (ABN 43 074 112 011/AFS Licence No: 238367) is regulated by the Australian Securities and Investment Commission and the Australian Prudential Regulation Authority. Material provided by JPMCBNA in Australia is to "wholesale clients" only. For the purposes of this paragraph the term "wholesale client" has the meaning given in section 761G of the Corporations Act 2001 (Cth). Please inform us if you are not a Wholesale Client now or if you cease to be a Wholesale Client at any time in the future.
This material has not been prepared specifically for Australian investors. It: may contain references to dollar amounts which are not Australian dollars; may contain financial information which is not prepared in accordance with Australian law or practices; may not address risks associated with investment in foreign currency denominated investments; and does not address Australian tax issues.
References to "J.P. Morgan" are to JPM, its subsidiaries and affiliates worldwide. "J.P. Morgan Private Bank" is the brand name for the private banking business conducted by JPM. This material is intended for your personal use and should not be circulated to or used by any other person, or duplicated for non-personal use, without our permission. If you have any questions or no longer wish to receive these communications, please contact your J.P. Morgan representative.