Investing
China's path to recovery
As China was the first to suffer from COVID-19, it has also been the first to begin restarting its economy. What can we learn from its path to recovery?
---
Our Top Market Takeaways for April 7, 2020.
MARKET UPDATE
Are we out of the woods yet?
Stocks soared on Monday on news that COVID-19 fatalities looked to be slowing in some hotspots like New York and hard-hit countries like Spain, Italy and Germany. The S&P 500 (+7.0%) had its best day in a fortnight, now +19% higher from its low reached on March 23. The index has only seen 16 daily moves of that magnitude or more since 1950, and six of them have occurred this year.
Denmark and Austria became the first countries in Europe to announce steps to gradually relax lockdown guidelines, and Germany is said to be drawing up similar plans to be decided over the next two weeks. The Chinese city of Wuhan—the first to suffer an outbreak—will follow the rest of Hubei Province and relax restrictive measures. After 76 days of a historic lockdown, transportation will resume and travel restrictions on residents who hold "green" health QR codes (a technology to track infections, "green" means symptom-free) will be lifted tomorrow.
While the news of slowing infections in some areas is certainly welcome, the virus remains a very real threat. UK Prime Minister Boris Johnson was moved to intensive care last night following his hospitalization on Sunday. Japan declared a state of emergency after cases made a comeback in areas like Tokyo and Osaka. Cases in the United States are nearing 370,000 and the death toll is now over 11,000. As long as the virus exists somewhere, the rest of the world will be focused on its path.
Nonetheless, there are tentative signs that social distancing is working, and there is more focus on what the world will look like "after." As Wuhan gets back into motion this week, some are looking to China as a test case for how the economy might rebound.
SPOTLIGHT
China: How quickly can the economy rebound?
As China was the first to deal with the shock of COVID-19, it has also been the first to begin restarting its economy after containment. There are, of course, limitations to using China as a template for how the rest of the world may get back on track, but the ebbs and flows of China's economic cycle have been very important to investors over the last decade. As the world's second-largest economy and a key player in global supply chains, it is worth closely following China's transition from "lockdown" to "normalcy."
China is now recovering, but how quickly?
The full scale of China's economic shock during the first quarter is just now coming into view. Based on reported business resumption rates and an analysis of daily activity data, we estimate that at the end of February, China's economy was operating at just 57% of its typical output. Within the context of these numbers, it is very likely China's economy underwent a severe economic contraction in Q1, potentially by as much as 20% on a year-over-year basis.

Despite this weakness, and as COVID-19 gradually came under control, economic activity rebounded as more businesses resumed operations and consumers increased spending. Initially, progress was slow; key indicators such as coal consumption for electricity, property sales and traffic congestion appeared to hover around 70% of 2019 levels, implying very weak year-on-year growth. Over the past week, however, data has improved rapidly, climbing to as high as 90% of typical output.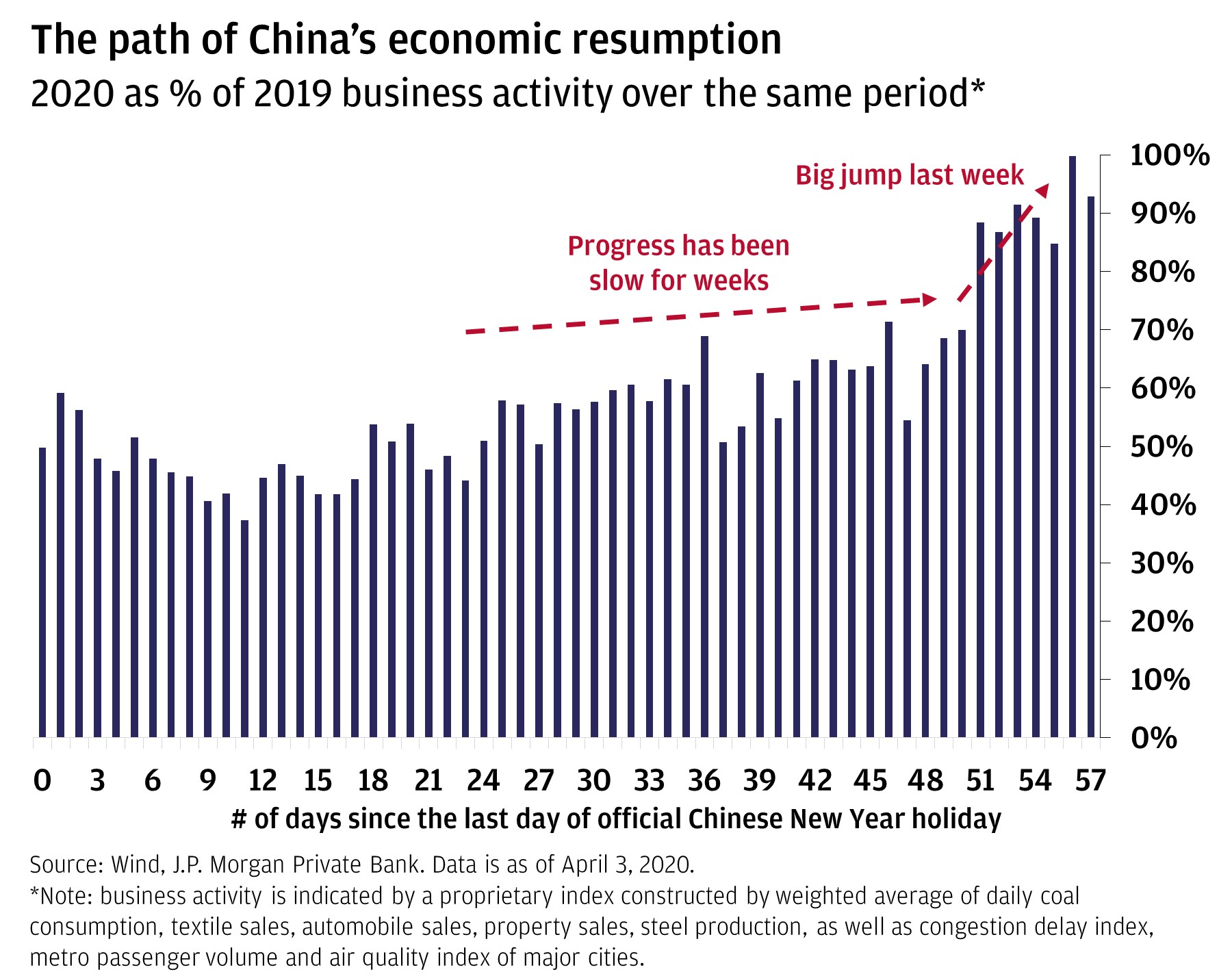 Description: The bar chart shows 2020 as a % of 2019 business activity over the same period in the year before based on the number of days it has been since the last day of the official Chinese New Year holiday. It shows that progress has been slow for weeks, but there was a big jump in business activity in the last week.
As mentioned above, this recent resumption toward normal activity is crucial. China will face headwinds from collapsing global trade in the coming quarter. The extent to which it can resume activity will be a key factor as to whether the economy grows in 2020 or contracts. The amount of uncertainty makes it difficult to forecast growth, but we think the most likely outcome is that businesses get stuck at around 90% of typical output in Q2, leading to real GDP growth in China of approximately 1% in 2020.
As we learn more as to the outbreak's economic impact on the rest of the world, it could very well be the case that this outlook is too optimistic—extreme contractions are expected in the U.S. and European economies in the weeks ahead. However, China's economy is more domestically oriented than in the past, so whether the economy can maintain this positive momentum toward full economic resumption or it falls back below trend will depend on the policies implemented by Beijing.

What policy support can we expect?
How the Chinese economy rebounds will be determined in large part by the policy support committed to by Beijing. While policymakers in the developed world are offering "all they have," China is still determining its full-scale approach. Most support in China so far has come from the monetary side. The People's Bank of China has cut the reserve requirement ratio (RRR) twice this year, cut key policy rates such as the 7-day reverse repo rate, carried out liquidity injections in the interbank market, and expanded relending and refinancing facilities to bolster lending. However, while these moves are supportive in nature, they, similar to their developed market counterparts, can do little to stimulate in an environment of high uncertainty.

Fiscal policy will be needed, but so far the government has only carried out smaller-scale relief programs. Moving forward, there have been clear signals from top leadership of "more proactive and forceful" fiscal policies that will expand the fiscal deficit. Overall, we are expecting a bump in the issuance of special treasury bonds and local government special purpose bonds to help fund infrastructure investment, increased subsidies and welfare programs, a loan payment deferral program, and other measures meant to boost consumption.

While the actual scale of the fiscal stimulus package is still unclear (we will see more details when the budget gets passed later this month), it's worth noting that we are not expecting a "four trillion yuan" fiscal bazooka as we saw during 2008–09, when the general government fiscal budget moved from a surplus to a near 3% deficit. Total stimulus was as high as 12% of GDP, including the off-balance sheet debt financing by local government financing vehicles (LGFVs).

For China, current policy space is much more limited than the post–Global Financial Crisis era. According to Xinhua News, China's consolidated fiscal deficit, which is simply measured as the difference between government expenditure and government revenues, reached 5.59% of GDP at the end of 2019 (including general government funds) after the tax/fee cuts over the past two years. The official deficit reached 2.79%, which is subject to a 3% cap. Although it's very likely the 3% cap will be lifted, space for further stimulus would be limited to around 2%–3% of GDP (well below that seen in 2008–09).
In addition to limited budget space, fiscal stimulus decisions also have to be made in conjunction with still elevated debt levels, surging housing prices and potential crowding-out of the private sector.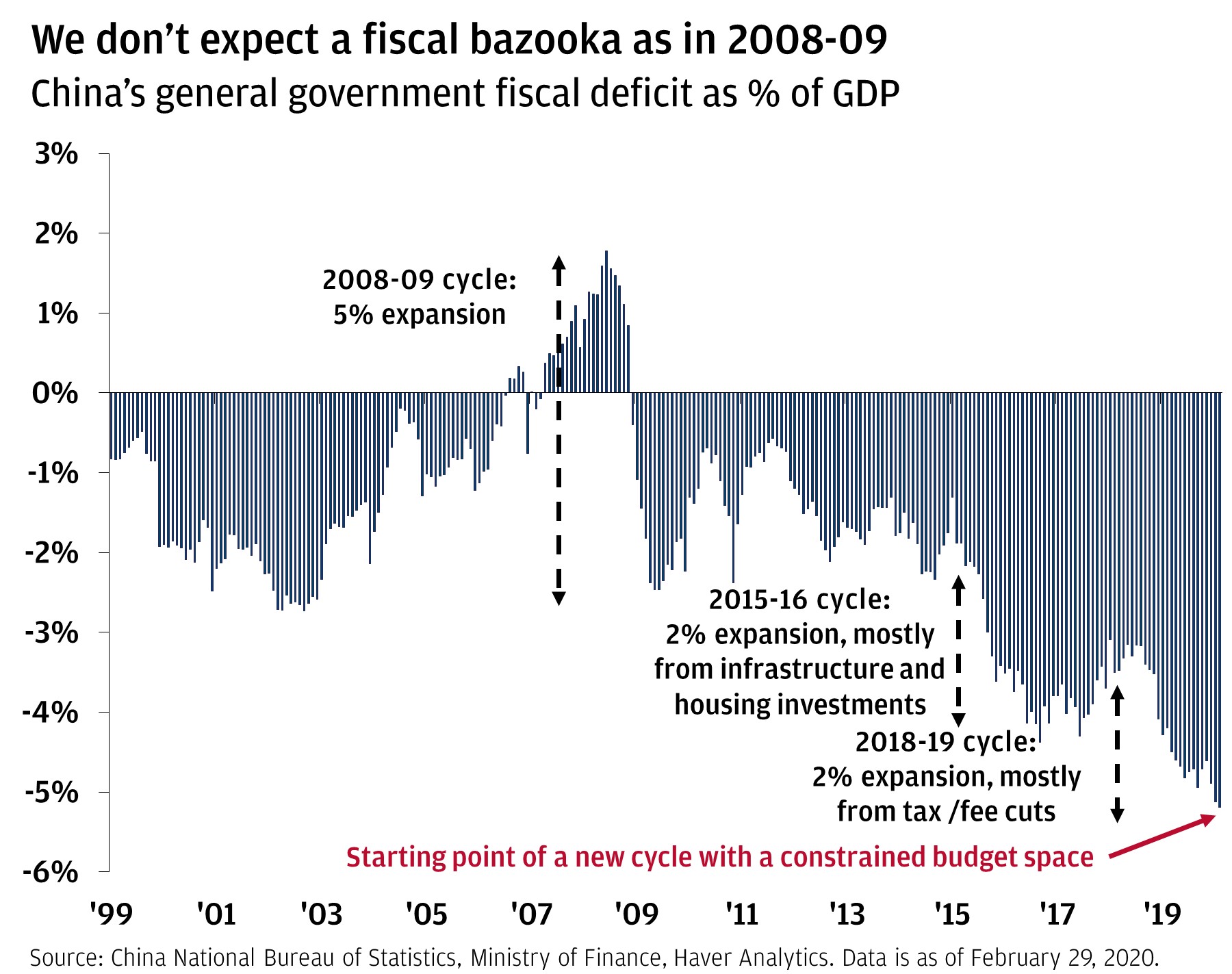 Description: The bar chart shows China's general government fiscal deficit as a percentage of GDP from 1999 through February 29, 2020. It highlights an expansion in 2008–2009, 2015–2016 and 2018–2019. It shows that now is the starting point of a new cycle with a constrained budget space.
We believe effective stimulus would direct credit and subsidies to the most affected sectors instead of the broader economy, focus on measures that support domestic demand from households, and avoid a crowding-out effect on the private sector. We have already observed caution from local governments toward lifting housing market restrictions (which should be viewed as a positive because of the growing imbalances in the housing market). And in addition to traditional infrastructure investment, potential policy could focus on "new infrastructure" projects such as upgrades to digital technology and renewable energy development. In the near term, measures to carefully manage local government and banking sector balance sheets would be key to keeping structural risks under control.

The limits of a "China Template"
In discussing China's path back to "normal," it's worth pointing out that there are limitations to making comparisons for how the outbreak's timeline and aftermath might play out in the rest of the world. The situation in China is different from conditions in the West in a number of important ways:
On testing. COVID-19 testing was easily accessible and free across most East Asian countries—most people who felt they needed a test were able to get one. This differs in how testing has been rolled out in the United States and European countries, which have seen massive delays, and in some cases, requisite criteria to be in place to get tested. Obviously, testing is critical to ensure you have controlled an outbreak.
On travel. Travel is merely discouraged in the United States, not outright banned. Travel volumes are down substantially, but the ability to travel increases the likelihood that more regions experience their own outbreaks.
On tracking, contact tracing and information. China and other Asian countries such as South Korea have utilized technology to track COVID-19 cases, hone in on outbreaks, and follow up with those who may have been exposed. A number of applications even update residents within a building if distancing guidance is disobeyed. A number of big data efforts, such as those produced by Palantir, are being used by the CDC in the United States and NHS in the United Kingdom, but so far, efforts on an individual scale are minimal at best. This will be critical in making sure small outbreaks do not become big outbreaks when the economy re-opens.
On the importance of trade. The United States is primarily a services-driven economy, and in this sense, does not have as much of a reliance on external demand. The bounce-back may be just as reliant on consumers' willingness to get out of the house and spend as it is on government policy. On the other hand, while China has taken steps to transition its economy toward the consumer, trade is still very important, and thus stands to be impacted more by reduced demand around the world.
Just as the initial containment strategy differed between China and the West, so will the eventual recovery. The West can look to China or Korea for examples to follow and those to avoid, but the inherent differences make a like-for-like comparison impossible. Perhaps the one true similarity is that the nature of the virus makes it so that when it is a problem somewhere, the ripple effects will be felt everywhere.
All market and economic data as of April 2020 and sourced from Bloomberg, FactSet and Gavekal unless otherwise stated.
We believe the information contained in this material to be reliable but do not warrant its accuracy or completeness. Opinions, estimates, and investment strategies and views expressed in this document constitute our judgment based on current market conditions and are subject to change without notice.
RISK CONSIDERATIONS
Past performance is not indicative of future results. You may not invest directly in an index.
The prices and rates of return are indicative, as they may vary over time based on market conditions.
Additional risk considerations exist for all strategies.
The information provided herein is not intended as a recommendation of or an offer or solicitation to purchase or sell any investment product or service.
Opinions expressed herein may differ from the opinions expressed by other areas of J.P. Morgan. This material should not be regarded as investment research or a J.P. Morgan investment research report.
Important Information
All companies referenced are shown for illustrative purposes only, and are not intended as a recommendation or endorsement by J.P. Morgan in this context.
All market and economic data as of April 2020 and sourced from Bloomberg, FactSet and Gavekal unless otherwise stated.
The information presented is not intended to be making value judgments on the preferred outcome of any government decision.
This material is for informational purposes only, and may inform you of certain products and services offered by
J.P. Morgan's wealth management businesses, part of JPMorgan Chase & Co. ("JPM"). Please read all Important Information.
The MSCI China Index captures large- and mid-cap representation across China H shares, B shares, Red chips, P chips and foreign listings (e.g., ADRs). With 459 constituents, the index covers about 85% of this China equity universe. Currently, the index also includes Large Cap A shares represented at 5% of their free float adjusted market capitalization.
The Standard and Poor's 500 Index is a capitalization-weighted index of 500 stocks. The index is designed to measure performance of the broad domestic economy through changes in the aggregate market value of 500 stocks representing all major industries. The index was developed with a base level of 10 for the 1941–43 base period.
The STOXX Europe 600 Index tracks 600 publicly traded companies based in one of 18 EU countries. The index includes small-cap, medium-cap and large-cap companies. The countries represented in the index are Austria, Belgium, Denmark, Finland, France, Germany, Greece, Holland, Iceland, Ireland, Italy, Luxembourg, Norway, Portugal, Spain, Sweden, Switzerland and the United Kingdom.
This material is for informational purposes only, and may inform you of certain products and services offered by
J.P. Morgan's wealth management businesses, part of JPMorgan Chase & Co. ("JPM"). Please read all Important Information.
GENERAL RISKS & CONSIDERATIONS
Any views, strategies or products discussed in this material may not be appropriate for all individuals and are subject to risks. Investors may get back less than they invested, and past performance is not a reliable indicator of future results. Asset allocation does not guarantee a profit or protect against loss. Nothing in this material should be relied upon in isolation for the purpose of making an investment decision. You are urged to consider carefully whether the services, products, asset classes (e.g., equities, fixed income, alternative investments, commodities, etc.) or strategies discussed are suitable to your needs. You must also consider the objectives, risks, charges, and expenses associated with an investment service, product or strategy prior to making an investment decision. For this and more complete information, including discussion of your goals/situation, contact your J.P. Morgan representative.
NON-RELIANCE
Certain information contained in this material is believed to be reliable; however, JPM does not represent or warrant its accuracy, reliability or completeness, or accept any liability for any loss or damage (whether direct or indirect) arising out of the use of all or any part of this material. No representation or warranty should be made with regard to any computations, graphs, tables, diagrams or commentary in this material, which are provided for illustration/reference purposes only. The views, opinions, estimates and strategies expressed in this material constitute our judgment based on current market conditions and are subject to change without notice. JPM assumes no duty to update any information in this material in the event that such information changes. Views, opinions, estimates and strategies expressed herein may differ from those expressed by other areas of JPM, views expressed for other purposes or in other contexts, and this material should not be regarded as a research report. Any projected results and risks are based solely on hypothetical examples cited, and actual results and risks will vary depending on specific circumstances. Forward-looking statements should not be considered as guarantees or predictions of future events.
Nothing in this document shall be construed as giving rise to any duty of care owed to, or advisory relationship with, you or any third party. Nothing in this document shall be regarded as an offer, solicitation, recommendation or advice (whether financial, accounting, legal, tax or other) given by J.P. Morgan and/or its officers or employees, irrespective of whether or not such communication was given at your request. J.P. Morgan and its affiliates and employees do not provide tax, legal or accounting advice. You should consult your own tax, legal and accounting advisors before engaging in any financial transactions.
IMPORTANT INFORMATION ABOUT YOUR INVESTMENTS AND POTENTIAL CONFLICTS OF INTEREST
Conflicts of interest will arise whenever JPMorgan Chase Bank, N.A. or any of its affiliates (together, "J.P. Morgan") have an actual or perceived economic or other incentive in its management of our clients' portfolios to act in a way that benefits J.P. Morgan. Conflicts will result, for example (to the extent the following activities are permitted in your account): (1) when J.P. Morgan invests in an investment product, such as a mutual fund, structured product, separately managed account or hedge fund issued or managed by JPMorgan Chase Bank, N.A. or an affiliate, such as J.P. Morgan Investment Management Inc.; (2) when a J.P. Morgan entity obtains services, including trade execution and trade clearing, from an affiliate; (3) when J.P. Morgan receives payment as a result of purchasing an investment product for a client's account; or (4) when J.P. Morgan receives payment for providing services (including shareholder servicing, recordkeeping or custody) with respect to investment products purchased for a client's portfolio. Other conflicts will result because of relationships that J.P. Morgan has with other clients or when J.P. Morgan acts for its own account.
Investment strategies are selected from both J.P. Morgan and third-party asset managers and are subject to a review process by our manager research teams. From this pool of strategies, our portfolio construction teams select those strategies we believe fit our asset allocation goals and forward-looking views in order to meet the portfolio's investment objective.
As a general matter, we prefer J.P. Morgan managed strategies. We expect the proportion of J.P. Morgan managed strategies will be high (in fact, up to 100 percent) in strategies such as cash and high-quality fixed income, subject to applicable law and any account-specific considerations.
While our internally managed strategies generally align well with our forward-looking views, and we are familiar with the investment processes as well as the risk and compliance philosophy of the firm, it is important to note that
J.P. Morgan receives more overall fees when internally managed strategies are included. We offer the option of choosing to exclude J.P. Morgan managed strategies (other than cash and liquidity products) in certain portfolios.
The Six Circles Funds are U.S.-registered mutual funds managed by J.P. Morgan and sub-advised by third parties. Although considered internally managed strategies, JPMC does not retain a fee for fund management or other fund services.
LEGAL ENTITY, BRAND & REGULATORY INFORMATION
In the United States, bank deposit accounts and related services, such as checking, savings and bank lending, are offered by JPMorgan Chase Bank, N.A. Member FDIC.
JPMorgan Chase Bank, N.A. and its affiliates (collectively "JPMCB") offer investment products, which may include bank-managed investment accounts and custody, as part of its trust and fiduciary services. Other investment products and services, such as brokerage and advisory accounts, are offered through J.P. Morgan Securities LLC ("JPMS"), a member of FINRA and SIPC. Annuities are made available through Chase Insurance Agency, Inc. (CIA), a licensed insurance agency, doing business as Chase Insurance Agency Services, Inc. in Florida. JPMCB, JPMS and CIA are affiliated companies under the common control of JPMorgan Chase & Co. Products not available in all states.
References to "J.P. Morgan" are to JPM, its subsidiaries and affiliates worldwide. "J.P. Morgan Private Bank" is the brand name for the private banking business conducted by JPM.
This material is intended for your personal use and should not be circulated to or used by any other person, or duplicated for nonpersonal use, without our permission. If you have any questions or no longer wish to receive these communications, please contact your J.P. Morgan representative.
© 2020 JPMorgan Chase & Co. All rights reserved.
---