Investing
Can the good times keep rolling?
---
Our Top Market Takeaways for the week ending January 31, 2020.
Markets roundup
Wild cards dealt

Markets continued their fixation on the coronavirus outbreak. The S&P 500 headed into Friday down -0.4% on the week, and areas of the market particularly exposed to consumer activity and transportation (like airlines and Chinese casinos) have been hit even harder. The flight to safety has also been apparent in Treasury bonds (10-year yields are 13 basis points lower from last week, now around 1.55%) and gold (which is trading near its highest levels since 2013 at $1,580/oz.).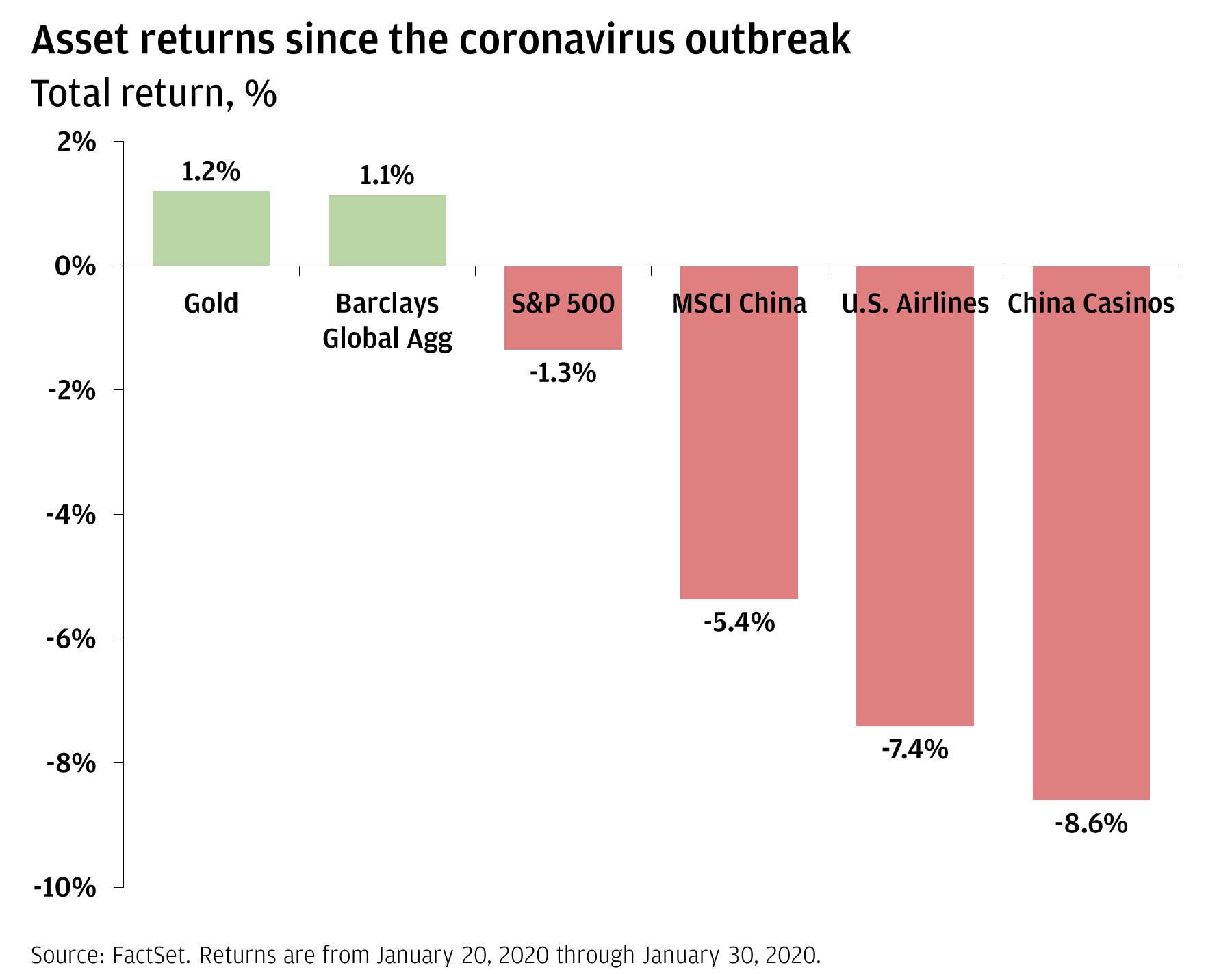 The bar chart shows the total return percentage by asset class since the coronavirus outbreak. The only two asset classes that have seen an increase in return percentage are gold and the Barclays Global Agg.

As we discussed in last week's Top Market Takeaways, we're not surprised to see this kind of skittishness in markets (especially in Asia, the epicenter of the outbreak) as the situation continues to develop. That said, if history is any guide, we think there's a low likelihood of a lasting market impact.
In other news this week:
The Federal Reserve's January meeting was a snooze. It kept interest rates on hold at a range between 1.50% to 1.75% and opted to keep repo market operations intact until April.
Brexit happens today (for real this time)—47 years since the United Kingdom became an EU member, and almost four years since its exit referendum. The United Kingdom will now enter a transition period—currently set to last until the end of this year—during which it will negotiate its future trading relationship with the EU and other partners. The saga is far from over, and things could still get messy as all the details are hammered out.
Q4 2019 earnings are in for over 40% of companies in the S&P 500. So far, 74% of companies have exceeded earnings expectations. Some standouts include Apple (which beat estimates for both earnings and revenue, posting its second strongest quarter for revenue in the company's history), Microsoft (whose Office 365 and Azure cloud computing business were bright spots), and Amazon (revenue surged over 20%, driven by faster shipping and Prime membership subscriptions that now top 150 million—or half the adult population of the United States). In all, this earnings season has kept us comfortable in our forward-looking view of mid-to-high single-digit earnings growth in the year ahead.
Spotlight

Can the good times keep on rolling?
Over the last 10 years, investors in the S&P 500 have earned a +13.5% annualized return. But those returns are in the rearview mirror, and equities certainly don't look cheap. Further, the outlook is clouded by uncertainty. Will tensions in the Middle East derail markets? What about a global pandemic? Or the U.S. election?
Even in light of short-term risks, we believe equities will be able to continue to fulfill their role as the growth engine of an investment portfolio over the long term.
The capitalistic society in which we live continues to reward risk-taking, entrepreneurship and efficiency. Beyond that, though, we have three key reasons for being positive on equities over the long term.
[1] Public equities are becoming a scarce resource. Remember supply and demand from Econ 101? If not, here is a quick refresher. Supply and demand interact to set prices. When supply is reduced, and demand stays the same, prices rise. Consider that:
Over the past 20 years, the number of U.S. listed companies has fallen from over 8,000 to just over 4,000.
IPO activity has fallen with regulatory changes, and strategic public buyers have built market share through acquisitions.
Private equity has been active in taking companies private, but less active in returning them to public ownership.
If we still believe in the forces of supply and demand, it seems reasonable to make the argument that equity prices should rise, given the structural reduction in supply.
[2] Equities are not expensive relative to Treasury bonds. It is no secret that the S&P 500 is trading at its highest price-to-earnings ratio since the tech bubble, but there is a strong argument to be made that there is more here than meets the eye.
The equity earnings yield for the S&P 500 is about 5.45%, while the U.S. 10-year Treasury yield is around 1.55%. This means that equity investors are earning about a 3.9% premium over Treasury bonds. This is well above the 20-year average of 2.5% (in theory, investors should earn a premium for taking equity risk relative to Treasury bond risk, even though they weren't really throughout the 1990s). An average equity risk premium of 2.5%, assuming 10-year Treasury yields move higher toward 2%, implies a 22x forward price-to-earnings multiple. That is not our base case in the near term, but it isn't out of the realm of possibility, either.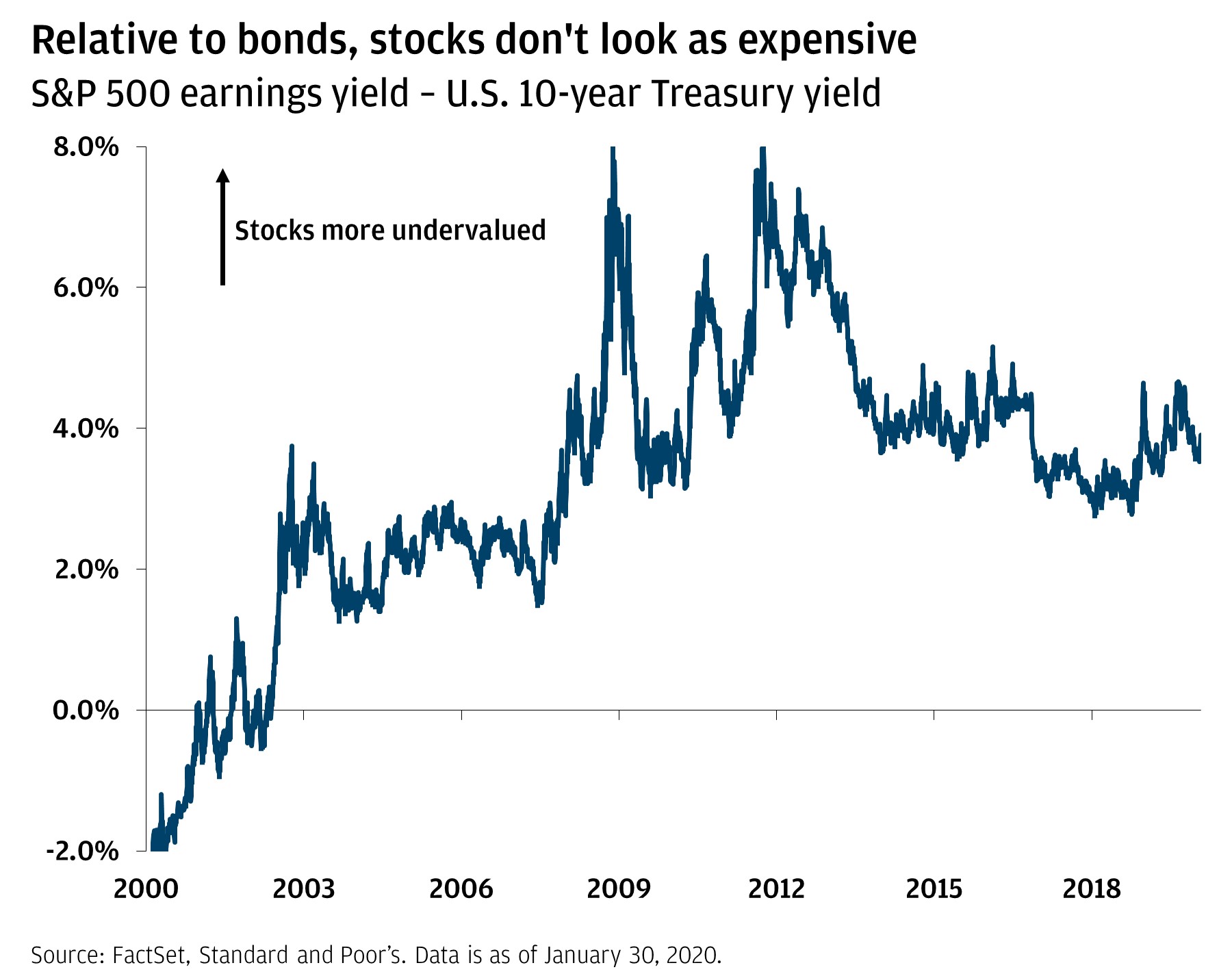 The line chart shows the U.S. 10-year Treasury yield subtracted from the S&P 500 earnings yield from 2000 through January 30, 2020. The higher the percentage is, the more undervalued stocks are. It shows that this peaked in 2009 and 2012.

[3] Large-cap companies, especially in the United States, are generating more cash flow for shareholders than ever. This is because most large U.S. multinationals have become "platform companies," meaning they design and market products, but outsource production. Some examples of this are Apple choosing to outsource aspects of production to Taiwan Semiconductor Manufacturing, and Nike selecting to outsource shoe manufacturing to Vietnam. This dynamic seems to have freed up the cash that would have been spent on Property, Plant and Equipment that can now be used to grow dividends, increase share buybacks, engage in M&A, and increase technology investment to increase efficiency. We believe free cash flow generation will remain strong, despite the risks from more protectionist trade policies.
Time, and a portfolio that is properly aligned with the intent of the capital, has a way of making up for temporary pitfalls—even the worst ones.
OK, that makes sense, but how do I know that I'm not going to get in right at the peak of this cycle?
Well, we don't know, and part of investing in equities is enduring painful drawdowns while benefiting from long rallies. Think about it this way: The worst time that you could have invested in equities in the post-war period was October 2007. The S&P 500 suffered a -57% peak to trough drawdown. To make up for that loss, investors needed to rally back by over 130%, which took about four years. But if a U.S. equity investor had endured that experience until now, they would have a total return of over 170%. Adding buffers to portfolios, like core fixed income, can smooth the drawdown further, and lead to a faster recovery. Time, and a portfolio that is properly aligned with the intent of the capital, has a way of making up for temporary pitfalls—even the worst ones.
Even though we don't know if this marks a cyclical peak, we don't think it does. On the fundamentals, the major headwinds have all either receded (escalating trade war, decelerating manufacturing activity) or have become tailwinds (tighter monetary policy to easier monetary policy). On a more psychological basis, there is little evidence of exuberance in markets. Consider that since the beginning of 2019, investors have pulled almost -$150 billion from equity funds, while adding $540 billion to bond funds.
We want to reiterate that this argument is not meant to overextend risk to equities, but more to help level-set investor expectations and ensure equity exposure is aligned with the purpose of the capital. If your money is meant to be spent, less of it should be exposed to stocks!
But given late-cycle fears, investors who should have exposure to equities in order to drive long-term returns may have unwittingly reduced exposure by allocating too much of their capital to cash or fixed income. Of course, there are always going to be questions and concerns on the horizon, but ultimately, time horizon and the priority level of a given goal should guide your investments.
All market and economic data as of January 2020 and sourced from Bloomberg and FactSet unless otherwise stated.
We believe the information contained in this material to be reliable but do not warrant its accuracy or completeness. Opinions, estimates, and investment strategies and views expressed in this document constitute our judgment based on current market conditions and are subject to change without notice.
RISK CONSIDERATIONS
Past performance is not indicative of future results. You may not invest directly in an index.
The prices and rates of return are indicative, as they may vary over time based on market conditions.
Additional risk considerations exist for all strategies.
Important Information
All companies referenced are shown for illustrative purposes only, and are not intended as a recommendation or endorsement by J.P. Morgan in this context.
All market and economic data as of January 2020 and sourced from Bloomberg, FactSet and Gavekal unless otherwise stated.
The information presented is not intended to be making value judgments on the preferred outcome of any government decision.
This material is for informational purposes only, and may inform you of certain products and services offered by
J.P. Morgan's wealth management businesses, part of JPMorgan Chase & Co. ("JPM"). Please read all Important Information.
The MSCI China Index captures large- and mid-cap representation across China H shares, B shares, Red chips, P chips and foreign listings (e.g., ADRs). With 459 constituents, the index covers about 85% of this China equity universe. Currently, the index also includes Large Cap A shares represented at 5% of their free float adjusted market capitalization.
The Standard and Poor's 500 Index is a capitalization-weighted index of 500 stocks. The index is designed to measure performance of the broad domestic economy through changes in the aggregate market value of 500 stocks representing all major industries. The index was developed with a base level of 10 for the 1941–43 base period.
The STOXX Europe 600 Index tracks 600 publicly traded companies based in one of 18 EU countries. The index includes small-cap, medium-cap and large-cap companies. The countries represented in the index are Austria, Belgium, Denmark, Finland, France, Germany, Greece, Holland, Iceland, Ireland, Italy, Luxembourg, Norway, Portugal, Spain, Sweden, Switzerland and the United Kingdom.
This material is for informational purposes only, and may inform you of certain products and services offered by
J.P. Morgan's wealth management businesses, part of JPMorgan Chase & Co. ("JPM"). Please read all Important Information.
GENERAL RISKS & CONSIDERATIONS
Any views, strategies or products discussed in this material may not be appropriate for all individuals and are subject to risks. Investors may get back less than they invested, and past performance is not a reliable indicator of future results. Asset allocation does not guarantee a profit or protect against loss. Nothing in this material should be relied upon in isolation for the purpose of making an investment decision. You are urged to consider carefully whether the services, products, asset classes (e.g., equities, fixed income, alternative investments, commodities, etc.) or strategies discussed are suitable to your needs. You must also consider the objectives, risks, charges, and expenses associated with an investment service, product or strategy prior to making an investment decision. For this and more complete information, including discussion of your goals/situation, contact your J.P. Morgan representative.
NON-RELIANCE
Certain information contained in this material is believed to be reliable; however, JPM does not represent or warrant its accuracy, reliability or completeness, or accept any liability for any loss or damage (whether direct or indirect) arising out of the use of all or any part of this material. No representation or warranty should be made with regard to any computations, graphs, tables, diagrams or commentary in this material, which are provided for illustration/reference purposes only. The views, opinions, estimates and strategies expressed in this material constitute our judgment based on current market conditions and are subject to change without notice. JPM assumes no duty to update any information in this material in the event that such information changes. Views, opinions, estimates and strategies expressed herein may differ from those expressed by other areas of JPM, views expressed for other purposes or in other contexts, and this material should not be regarded as a research report. Any projected results and risks are based solely on hypothetical examples cited, and actual results and risks will vary depending on specific circumstances. Forward-looking statements should not be considered as guarantees or predictions of future events.
Nothing in this document shall be construed as giving rise to any duty of care owed to, or advisory relationship with, you or any third party. Nothing in this document shall be regarded as an offer, solicitation, recommendation or advice (whether financial, accounting, legal, tax or other) given by J.P. Morgan and/or its officers or employees, irrespective of whether or not such communication was given at your request. J.P. Morgan and its affiliates and employees do not provide tax, legal or accounting advice. You should consult your own tax, legal and accounting advisors before engaging in any financial transactions.
IMPORTANT INFORMATION ABOUT YOUR INVESTMENTS AND POTENTIAL CONFLICTS OF INTEREST
Conflicts of interest will arise whenever JPMorgan Chase Bank, N.A. or any of its affiliates (together, "J.P. Morgan") have an actual or perceived economic or other incentive in its management of our clients' portfolios to act in a way that benefits J.P. Morgan. Conflicts will result, for example (to the extent the following activities are permitted in your account): (1) when J.P. Morgan invests in an investment product, such as a mutual fund, structured product, separately managed account or hedge fund issued or managed by JPMorgan Chase Bank, N.A. or an affiliate, such as J.P. Morgan Investment Management Inc.; (2) when a J.P. Morgan entity obtains services, including trade execution and trade clearing, from an affiliate; (3) when J.P. Morgan receives payment as a result of purchasing an investment product for a client's account; or (4) when J.P. Morgan receives payment for providing services (including shareholder servicing, recordkeeping or custody) with respect to investment products purchased for a client's portfolio. Other conflicts will result because of relationships that J.P. Morgan has with other clients or when J.P. Morgan acts for its own account.
Investment strategies are selected from both J.P. Morgan and third-party asset managers and are subject to a review process by our manager research teams. From this pool of strategies, our portfolio construction teams select those strategies we believe fit our asset allocation goals and forward-looking views in order to meet the portfolio's investment objective.
As a general matter, we prefer J.P. Morgan managed strategies. We expect the proportion of J.P. Morgan managed strategies will be high (in fact, up to 100 percent) in strategies such as cash and high-quality fixed income, subject to applicable law and any account-specific considerations.
While our internally managed strategies generally align well with our forward-looking views, and we are familiar with the investment processes as well as the risk and compliance philosophy of the firm, it is important to note that
J.P. Morgan receives more overall fees when internally managed strategies are included. We offer the option of choosing to exclude J.P. Morgan managed strategies (other than cash and liquidity products) in certain portfolios.
The Six Circles Funds are U.S.-registered mutual funds managed by J.P. Morgan and sub-advised by third parties. Although considered internally managed strategies, JPMC does not retain a fee for fund management or other fund services.
LEGAL ENTITY, BRAND & REGULATORY INFORMATION
In the United States, bank deposit accounts and related services, such as checking, savings and bank lending, are offered by JPMorgan Chase Bank, N.A. Member FDIC.
JPMorgan Chase Bank, N.A. and its affiliates (collectively "JPMCB") offer investment products, which may include bank-managed investment accounts and custody, as part of its trust and fiduciary services. Other investment products and services, such as brokerage and advisory accounts, are offered through J.P. Morgan Securities LLC ("JPMS"), a member of FINRA and SIPC. Annuities are made available through Chase Insurance Agency, Inc. (CIA), a licensed insurance agency, doing business as Chase Insurance Agency Services, Inc. in Florida. JPMCB, JPMS and CIA are affiliated companies under the common control of JPMorgan Chase & Co. Products not available in all states.
References to "J.P. Morgan" are to JPM, its subsidiaries and affiliates worldwide. "J.P. Morgan Private Bank" is the brand name for the private banking business conducted by JPM.
This material is intended for your personal use and should not be circulated to or used by any other person, or duplicated for nonpersonal use, without our permission. If you have any questions or no longer wish to receive these communications, please contact your J.P. Morgan representative.
© 2020 JPMorgan Chase & Co. All rights reserved.
---