Payments Optimisation
The €104 billion question: How should merchants take advantage of mobile-commerce growth in Europe?
---
Mobile-commerce sales in Europe are growing – to the tune of €104 billion in the next 3 years in the region's seven largest markets.1
What steps should merchants take to take advantage of this opportunity and grow their mobile-commerce business?
My take: Complete the mobile-commerce triangle with a payments optimisation strategy designed specifically for mobile.
Set up success with an omnichannel approach to content: Recognise that mobile is a standalone sales channel but it is also a research channel that drives desktop sales.2
Don't try and squeeze your desktop store to fit a mobile space: Develop a mobile-first approach for mobile stores. Merchants with the best user experience make the most sales.3
Make your payments invisible:

Implement the payments optimisation tactics that will complete your mobile-commerce strategy, with a specific focus on tokenisation and authentication.
How big is the opportunity?
Smartphones are deeply entrenched in the daily lives of Europeans but e-commerce sales on mobile platforms are not currently as advanced as you might expect. However, that is expected to change significantly, with the UK setting the pace.
Take Germany, for example. This advanced economy spends €74.5 billion a year online, but only 27% of these sales are made via mobile.4
In France, only two out of every ten sales are completed on a mobile device.5 Contrast this to global e-commerce giant China , where 76% of sales are made on the move,6 or to fast-growing Indonesia where the figure is 52%.7
Of Europe's top five markets, only one country has passed the 50% mark – but that particular country is the UK,8 far and away Europe's largest e-commerce market and something of a trendsetter.
Takeaway: We expect to see high mobile growth over the next 24 months across Europe, including key markets such as Italy (28%), France (25%), Spain (22%), UK (20%) and Germany (18%) and the Netherlands (31%).9
1. Recognise that mobile is still an important research channel that drives desktop sales
The average global cart abandonment by desktop is 73.1%, but this increases to 85.6% when it comes to mobile.10 Conversion rates are also lower on smartphones, with just 2.3% of mobile visits converting to sales, compared to 4.8% for desktop.11 Applied to the European market, that 2.5% difference translates to a forecasted €33bn in 2020.12
However recent user research in Europe suggests that 54% of traffic to online stores happens on mobile devices, but mobile only delivers 32% of revenue.13 That ratio holds true across all categories: overall e-commerce, pure e-commerce merchants, multi-channel merchants and retailers.14
So the crucial point for merchants is that the business opportunity lies not just in aiming to close that 2.5% gap but also in recognising that mobile will continue to operate as a research channel, with the eventual conversion taking place in the desktop store.
Takeaway: Aiming to drive all mobile journeys through to conversion may be counter-productive if the consumer is actually only there for a quick three-minute research on the morning metro.15 Start by making your mobile store highly-visible and a pleasant place to spend some time. Then measure success by a full range of metrics: search, social search, engagement, return visits, mobile conversions and conversions that start on mobile and finish on the larger screens.
Learn more about optimising e-commerce revenue with a comprehensive payments dash-board
2. Merchants with the best user experience win out so don't try to squeeze your desktop store into your mobile channel
Great mobile user experience (UX) for e-commerce is characterised by crystal-clear imagery, simplified site navigation and content that has been designed specifically for mobile.
Offering only a desktop version of the site means smaller words, distorted product images and cramped menus when viewed on mobile. It will also result in slower load times, which can increase abandonment rates by 75%.16
The Asia-Pacific (APAC) region, where mobile commerce has surged ahead, can offer forward-looking ideas and inspiration for European merchants. In China, e-commerce functions are fully integrated into social messaging apps such as WeChat. In Indonesia, micro-enterprises are prioritising selling via social media, which means social commerce is now estimated to account for 40% of all ecommerce sales in the country.17
Takeaway: Taking a mobile-first approach means developing dedicated apps and responsive checkout journeys, rather than expecting the desktop shopping experience to be suitable for phones.18
Consult your acquirer on the split between apps and browser in a particular country. The following countries, Italy (54.6%), Finland (55.0%) and Spain (52.6%) lead the charge on mobile-commerce completed in-app in Europe, while in the UK the figure is 43.5% and in Germany it's 46.2%. France is around a 50/50 split.19
Learn more about Asian payment trends and optimising your business for app commerce
3. Optimise your payment flows for mobile, with a specific focus on tokenisation and authentication
With a thriving mobile store, research-friendly content and user-friendly journeys, the final optimisation is to streamline your mobile payments process. In terms of barriers to conversion, German consumers see "Problems with Payment Process" (43%) is just as much of a challenge as "Websites not being user-friendly" (42%).20
Consult your acquirer on the most suitable optimisations for your payment flows and your business model.
The key considerations at the top of any mobile payments strategy are likely to be:
Make payments easy for return customers
If we return to the example of our morning commuter, a significant challenge for mobile shoppers is that they don't want to enter a 16-digit Personal Account Number while on a packed bus. Even in the comfort of their own home this can also be a challenge as significant levels of mobile commerce takes place late at night when customer payment cards may be in another room in the house.21
By allowing your customers to create an account where they can store their preferred payment details (known as card-on-file payments) merchants can help optimise flows and aim to increase conversions.
Cards remain the dominant payment method in Europe,22 and promoting card-on-file as standard for mobile apps could help enable quicker check-outs.
Storing sensitive data brings its own complication so consult your acquirer on processes such as tokenisation that will replace your customer's payment account data with a token (a value that cannot be converted back to card or account information within your network).
Make it easy for your customers to authenticate themselves
PSD2's Strong Customer Authentication (SCA) requirements are due to reach full enforcement across Europe in 2020,
The latest version of 3D Secure (the standard industry protocol for SCA) has been designed for mobile devices and will support new authentication technologies such as fingerprint or face recognition.23
Clearly all European merchants will need to comply with the regulations 24 – but as the technology has been designed to minimise disruption to the payment flow25, providing a mobile-specific two-step authentication process could make the payment process more user-friendly and help bridge that conversion gap.
Learn more about the latest developments in SCA
Takeaway: Many of the world's leading e-commerce merchants are making the payment stage effectively invisible. The shift in attitude that is driving these developments is to think of the customer experience as 'ordering' or 'getting' a product or service, rather than 'paying' for it. Take advantage of mobile-commerce opportunities by embedding this kind of customer-centric thinking in every aspect of your business.
Payments Trends in Europe
Learn more about turning payments data into actionable insights for your e-commerce business
Getting data analysis right can help ensure that you successfully navigate the more complex payment processes and card rules.
Consult your acquirer on this three-step strategy:
Analyse your transactios
Track payment patterns
Spot new business opportunities
To learn more about tokenisation, mobile-commerce developments, reducing fraud rates and expanding your e-commerce business internationally, contact your J.P. Morgan representative or call our merchant support team on:
Europe: +353 1 726 2909
UK: +44 845 399 1130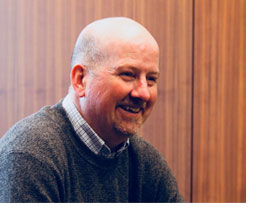 Ray McDonnell
Managing Director of J.P. Morgan Merchant Services in Europe
Ray McDonnell is co-lead of J.P. Morgan Merchant Services Europe, the merchant acquiring and payment processing arm of J.P. Morgan Chase & Co. Ray oversees all European sales and client services activity. He has over 25 years of international sales experience across payments, electronics and technology sectors. His areas of expertise include strategic and conceptual selling, process control and project and relationship management. Ray has extensive experience in providing global and European merchant's customer-not-present solutions for all their end to end payments, fraud and acquiring requirements.