Payments Optimisation
Go deep on data and grow your e-commerce business
---
As we look forward to an action-packed 2020 at our European headquarters in Dublin, we've been discussing the stand-out data trend right now in payments and e-commerce. Previously we would supply a thin-and-crispy pizza analysis to merchants showing them the aggregate view of their payments. Now our team of analysts are treating merchants' data to a deep-dish slice of lasagne: we're helping them analyse their layers of granular data and then showing them what else we're seeing across the global e-commerce market. And it's all prepared to order, so they can pick out the mushrooms or whatever else they don't like!
The payments sector in Europe will be fundamentally transformed in 2020 with the EU-wide enforcement of PSD2. Getting data analysis right can help ensure that you successfully navigate the more complex payment processes and card rules.
My take:
Analyse your transactions: Make fraud rates and authentication rates just as important as authorisation rates in your payments dashboard
Track payment patterns: Build a profile of payments declines across issuers, countries, markets and timings
Spot new business opportunities: Follow the world's leading e-commerce merchants by consulting your acquirer on "the rest of the pie" – what trends are they seeing that can inform your strategy?
Expand your payment metrics and run a Transaction Risk Analysis programme
Measuring success by authorisation rates alone may seem like the most obvious route to success in your acquiring strategy, but a singular focus on authorisations could potentially lead to hidden costs from fraud further down the line.
And with the onset of Strong Customer Authentication, confirming a customer's true identity is just as critical as approving their payment.
Takeaway: We are consistently advising clients to look in depth at fraud rates and authentication rates, and to implement a more rounded metrics approach that aims for the optimal customer experience rather than just the highest authorisation rates.
Learn more about optimising e-commerce revenue with a comprehensive payments dashboard
Track payment patterns
Your payments data is a mine of information on approvals, declines, costs and fraud. For example, if you can understand approvals and declines across many variables (countries, regions, times of day, week or month, cart totals, devices, IP addresses and billing addresses), this information can inform your timing strategy for recurring payments.
But, each merchant's customer profile is different, so you should conduct thorough analytics on your own billings before taking action. This could include using artificial intelligence (AI) to build up a profile of declines via different issuers, or creating performance benchmarks for payments from individual countries.
Takeaway: It's also about looking carefully at the performance of each element in your payment ecosystem, seeing if they can be improved, and understanding how each of those elements could be affecting your costs – not just the revenues that come through the door.
Learn more about improving authorisation performance for card-not-present payments
Work with your acquirer to turn your payments data into actionable insights
Let's return to the importance of the overall customer experience.
In order to create a more frictionless payment experience for customers, our experience with many of the world's leading merchants shows that they now conduct their own transaction risk analysis (TRA), analysing various factors about a transaction to determine if it is fraudulent.
But this requires a host of data, such as where the customer is making the purchase, what type of product it is, as well as their purchase and payment history. So merchants are increasingly looking for help interpreting their own information.
Remember that team of analysts? That's where they come in.
Takeaway: Today's most advanced merchants have access to their own data at scale. We are increasingly helping them analyse this data to build TRA models, track payment patterns, and spot new opportunities.
Identify new business opportunities
How does this analysis deliver business insights?
We compare clients' fraud data with industry fraud rates to look at how the clients' patterns compare with wider trends.
Then we look at the client's business model in detail, which informs our strategy.
Based on the patterns we see in the data together with the business analysis, we deliver actionable insights.
The key is for merchants to work in cooperation with issuers, acquirers and credit card companies, as each set of stakeholders controls different data. A smooth exchange of information between all the elements of the payments ecosystem will benefit everyone.
Now…can I interest anyone in my recipe for chargeback calzone?
Payments Trends in Europe
The €104 billion question: How should merchants take advantage of mobile-commerce growth in Europe?
Learn about the customer behaviours and payments trends shaping the growth of mobile-commerce:

Set up success with an omnichannel approach to content
Develop the best possible mobile user experience for your e-commerce customers
Implement the payments optimisation tactics that will complete your mobile-commerce strategy
To benefit from our data consultancy, contact your J.P. Morgan representative or call our merchant support team on:
Europe: +353 1 726 2909
UK: +44 845 399 1130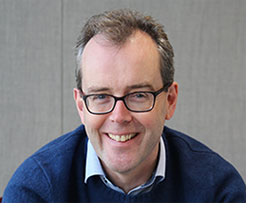 Brian Gaynor is co-lead of J.P. Morgan Merchant Services Europe, the merchant acquiring and payment processing arm of J.P. Morgan Chase & Co. As the Head of Product and Strategy for the European Merchant Services business, Brian is responsible for product development within Europe and its integration with clients' systems along with the management of the impacts of regulatory change on the business. Brian has over 30 years' experience in product and technology development across the payments, telecommunications, internet and life assurance industries.